Serum is one of the vital steps in skin care to ensure that your skin glows beautifully, restore its condition and stay wrinkle-free! It's part of my skin care routine and I just can't emphasize enough of its importance for our healthy skin! Today, I have the pleasure to write a Hollaface serum review. 
What is Hydra Concentrate Youth Serum Pro Edition – Hollaface Serum?
The Hollaface Hydra Concentrate Youth Serum Pro Edition is a seriously plumping, hydrating, and renewing serum fueled with 4 kinds of Hyaluronic Acids with Snow Mushroom to convey multi-profundity hydration and stout the vibe of almost negligible differences and kinks for a noticeably smoother tone. Boosted with Wild Chrysanthemum Flower for a moment renewed looking skin.
Buy your Hollaface Serum here:
Unboxing The Hollaface Serum
This Hollaface serum review won't be complete without an unboxing part! 
The brown box in the size of a tablet comes with a cover that looks like the back of a tarot card. The logo of the brand is centralized with a light ray background and encapsulated within a flowery border. The slogan "face your dream" is written subtly on the border as well. 
As I open the box, I'm greeted with a nice postcard that gives off a sense of mystery. The uniquely scattered pattern of sparks, leaves, flowers and more with a focused image in the middle that looks like a tiger caught my eye.
On top of it is the phrase "the year to face your dream". That spells inspiration to start the year. That's a nice inspirational phrase that speaks well with their brand's catchphrase as well!
The handwritten message writes: 
"Holla Valerie,
Thank you so much for this opportunity. Super excited for you to try out our newest serum.
Hollaface"
Well, thank you too!
The packaging is pretty well-wrapped with layers of paper to protect it. Once I've unwrapped all those layers, that's when my eyes set upon the beauty of this packaging. The golden labels on the box are both simple and elegant. 
It's lovely!
In the following section of this Hollaface serum review, we're gonna touch about how to use it.
How to use Hollaface serum?
This Hollaface serum review ain't just gonna be talking about the product itself. I'm going to teach you how to apply it to be effective too! 
Serum is like the second last step of most skin care steps, even mine! So, before applying this serum, it's recommended to go through a complete skin care routine to ensure that your skin is well pampered! Check out my post on that if you haven't already 😉
After you've gone through all the stages of skin cleansing, scrubbing and all, it's finally time to apply this serum. Here's how:
Apply a few drops to your palm. 
Rub it across your palm gently to evenly spread the serum all over your palm. Alternatively, you can also drop it right onto your face directly. 
Gently massage your entire face with it. Make sure all the surface of the skin is covered. Use the pressing motion and dab it around. 
Wait a while and let your skin absorb the serum. Once done, you can apply moisturizer to end the skin care routine! 
That's pretty much it! For best effect, apply it daily as part of your normal face cleansing routine. 
Note that everyone's skin reacts differently. As a rule of thumb, whenever you try a new skin care product, take note if there's any signs of irritation. 
Wash it off immediately if you experience any rash or inflammation on your skin. In the case when this happens, that doesn't mean you have to throw the whole bottle of product away. Maybe your mom or sister's skin will be able to accept and appreciate it more.
Now, we're gonna touch about the experience of using it in the next section of this Hollaface serum review!
Next on this Hollaface serum review, we're gonna talk about the sensation of using it! Appearance wise, the serum is contained in a transparent bottle with a white colored dropper lid. A simple and beautiful gold label fits the front of the bottle. 
Minimalist. Just the way I like it.
I opened the lid and took a sniff. It has a light natural scent to it that is pleasant. It's the smell of chrysanthemum nectar. Considering that this serum is fragrance-free, it's probably the entirety of the natural scent of that flower which is not bad! 
Then, I put a few drops on my hand. It has this slightly thicker consistency than other serums that I've used before. I spread it across the palm of my hands before applying it to my face. 
As I do that, I can feel the sticky feeling to it then I pat on my face gently. To my amazement it absorbs quite quickly despite the slightly thicker texture to it. 
So, I had to add a few more drops, this time directly to my face. I massage gently around my face to ensure every inch of my face is well covered with it. 
What I love about skin care products is that they come with their own texture and unique  scent. I quite enjoyed the gentle chrysanthemum nectar scent that this Hollaface serum has! It makes me look forward to my next skin care session!
What makes this serum different from others? I'll go through the ingredients in depth on the next part of this Hollaface serum review. Read on!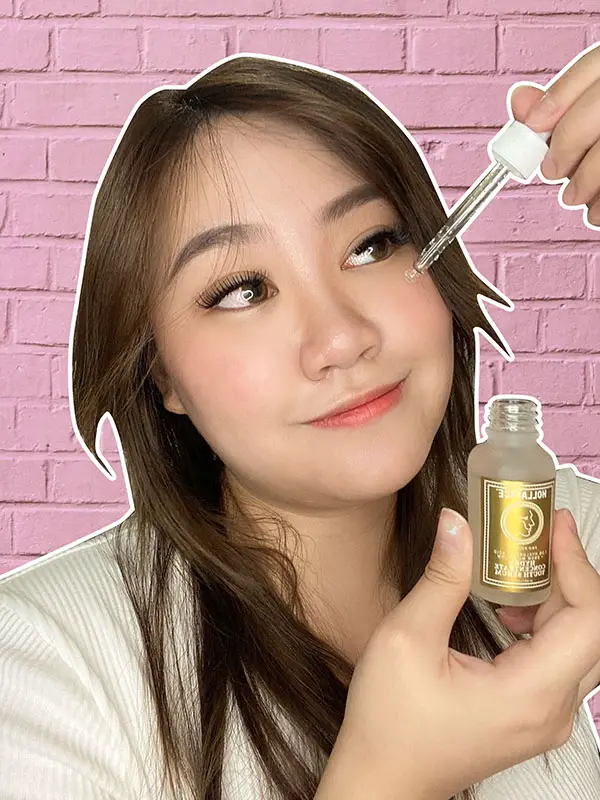 Hollaface Serum Ingredients
Next on Hollaface serum review, ingredients! This Hollaface serum ingredients contains 4 key ingredients that work together to deliver a hydrating and revitalizing effect so it plumps the fine lines and wrinkles to give you the smoother and revitalized looking complexion. 
Here's the list of the key Hollaface serum ingredients: 
Hyaluronic acid – 1.5% 
Hyaluronic Acid sounds a lot more alarming than it is and a large number of us wouldn't fantasize about placing corrosive on our countenances, in any case, Hyaluronic Acid is really a gel-like substance that has the remarkable capacity to hold dampness.
Truth be told, our bodies produce it normally. It is likewise found in our eyes, joints, and connective tissue.
As we age and our skin becomes drier and less flexible thus. Because of its ability to hold a lot of water, skin stays saturated and assists with forestalling the improvement of kinks, and fills in currently present kinks to decrease their appearance.
Their hyaluronic acid combines all the 4 types to deliver hydration to the skin at multiple levels. Hyaluronic acid (HA) is the principle part of what gives your skin structure, and is answerable for that full and hydrated look. HA can tie up to multiple times its weight in water! At the end of the day, it capacities as a humectant and holds water atoms onto the outer layer of your skin to keep it overall quite hydrated.
Superfood Snow Mushroom 
The snow mushroom hydrates and plumps the skin for prolonged hydration with minimal pore appearance. Snow Mushrooms (Tremella Fuciformis) have been a staple in customary Chinese medication and cooking for millennia, however are a little while ago getting on in the realm of skincare. 
Regardless of being a mushroom, it looks more like a white coagulated bloom. A wonderful skin hydrator, many compare its properties to Hyaluronic Acid.
Very much like Hyaluronic Acid, it's a humectant that draws and ties water into the skin. While HA is in fact ready to hold more dampness, Snow Mushroom's thick particles are more modest and better ready to infiltrate the skin. It's likewise accepted that Snow Mushroom Extract shapes an adaptable film on the outer layer of the skin that can secure hydration to a certain degree.
5% Niacinamide and Zinc PCA 
They enhance skin's radiance by restoring the skin moisture. Niacinamide can assist with building proteins in the skin and lock in dampness to forestall natural harm. Niacinamide can assist your skin with growing a ceramide (lipid) barrierTrusted Source, which can, thus, hold dampness. 
This is beneficial for all skin types. Niacinamide can simultaneously revamp sound skin cells while likewise safeguarding them from harm brought about by bright beams. Research has likewise observed that a similar focus was useful in lessening a few indications of sun harm that accompany maturing. This incorporates scarcely discernible differences and kinks.
Zinc PCA is a characteristic compound that is known for its skin fixing properties. Zinc PCA is a water-dissolvable zinc salt that is obtained from PCA, a normally happening amino corrosive that is available in the skin. This dynamic fixing is utilized in a wide scope of skin health management items and skin inflammation medicines as well as creams.
Zinc PCA provides various advantages for skin, which is the reason it may very well be found in a choice of our healthy skin items. The advantages of Zinc PCA include:
A fabulous element for those with sleek skin
Controls oil creation and mattifies the skin.
Profoundly compelling at treating and diminishing skin breakouts and clogged pores
Advances skin mending
Successfully enters the skin to keep up with skin hydration level
Zinc PCA is an extraordinary skincare element for the individuals who endure skin inflammation or spot inclined skin. This is on the grounds that Zinc PCA has calming properties thus will assist with lessening any enlarging and redness around your skin breakouts. 
That's good news especially when it's near the time of the month for a girl! That should help a bit with those pop ups that occur from raging hormones. 
Zinc PCA additionally serves to control how much oil your skin produces while its antibacterial properties help to restrict how much skin inflammation causes microscopic organisms which could prompt further breakouts.
Wild Chrysanthemum Flower
Chrysanthemum has for quite some time been utilized in conventional medication, and they initially filled in China, yet are currently developed and reaped all through the world – both for their lovely appearance, and for the utilization of their blossoms in the making of chrysanthemum extricate.
Large number of various assortments and cultivars exist, so there are many kinds of chrysanthemums that are utilized to make beauty care products and skincare items.
This ingredient revitalizes and soothes skin. Chrysanthemum extract in skincare is totally safe. This ingredient can be normal, natural, and non-poisonous, and won't cause any adverse consequences when utilized appropriately. 
It rejuvenates the skin, especially the skin beneath the eyes. It's exceptionally delicate, so it's an incredible choice for rejuvenating the skin around your eyes and eyelids, and elsewhere that the skin is meager and fragile. 
From mitigating wounds on the face to assisting with sun-related burns, you can utilize chrysanthemum can assist with an assortment of normal skincare aggravations.
Here's the full ingredients list for your curiosity: 
Water, Glycerin, Niacinamide, Propanediol, Sodium Hyaluronate, Sodium Hyaluronate Crosspolymer, Sodium Acetylated Hyaluronate, Hydrolyzed Sodium Hyaluronate, Pentylene Glycol, Phenoxyethanol, Ethylhexylglycerin, Tremella Fuciformis Polysaccharide, Zinc PCA, Chrysanthemum Sinense Flower Extract, Sodium Phytate, Citric Acid. 
Citrus extract has a defensive cancer prevention agent, and remedial anti aging impacts assisting with turning around apparent indications of photodamage. Citrus extract works by shedding the upper layer of dead skin cells to assist with cleaning pores, even complexion and mellow and smooth the skin.
It's fair to note that most serums take 6 to 8 weeks before a visible result is shown. I reckon it would be the same for this as well. Let's wait and see!
Buy your Hollaface Serum here:
Writing this Hollaface serum review has really been interesting. Right from unboxing to applying it onto my face. The experience is fun and I am so looking forward to seeing how it will transform my skin.
I hope this review has given you a greater understanding on what the product is all about. From its usage to the ingredients, I hope it has been insightful. 
Once again, I would like to express my appreciation to Hollaface for the opportunity. 
Have you tried the serum yourself? How did it go? Let me know in the comments!
Disclaimer: This Hollaface serum review post is just for entertainment purposes only. Skin care is a very personal thing and kindly understand that each person's skin may react differently to the skin care product. So, apply it at your own risk. Do advise a professional if you have skin conditions before applying it. Valerie Seow shall not be held responsible for any side effects that may occur from the use of this product.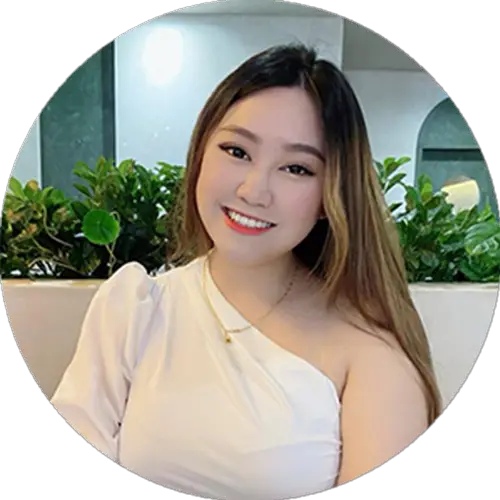 Valerie is a Malaysia blogger living in the city of KL. She has a selective preference for beauty products ranging from skin care to makeup. Join her as she shares her insights as a beauty blogger!

Follow her @valerie.seow on Instagram.