Enzyme bath is like the new kid on the block. Other than acupuncture, massage and all those wellness related treatments, enzyme bath is now making its way onto the scene.
I happened to stumble upon an ad about enzyme bath from Hasstha Wellness Centre. It was catchy to me.
Enzyme bath is basically sawdust of trees such as cedar and cypress tree mixed with enzymes to produce heat. This enzyme is said to help enhance the skin. The treatment also boasts to improve blood circulation, relieve muscle pain as well as helping in detox.
With curiosity, I knew I had to go and check it out. So, off to Hasstha Wellness Centre we go!
As I arrived at the centre, they kindly asked us to switch to slippers before we walked further in. Appointment was made earlier but it wasn't that crowded anyway.
Before the enzyme bath began, the staff there led me into a room and took my weight and blood pressure. She took note of my blood pressure.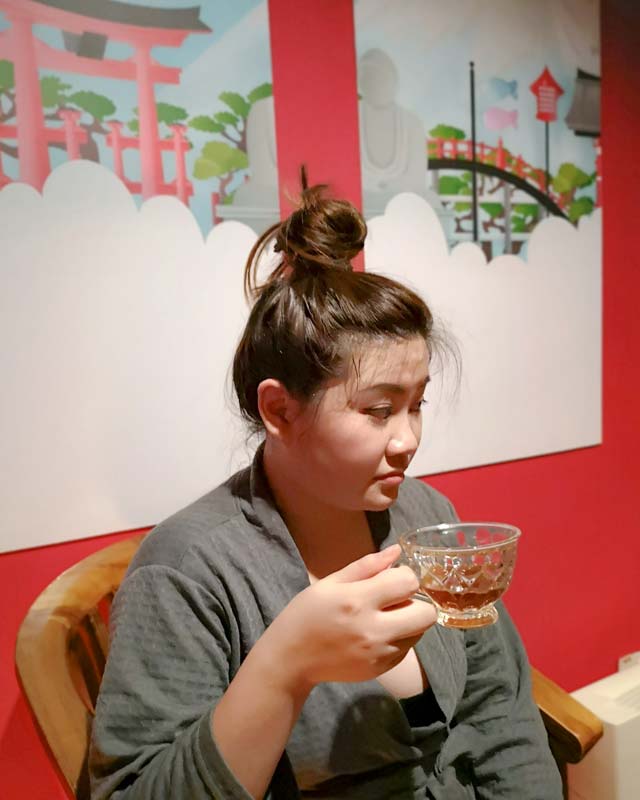 I got into the enzyme bath chamber. There was a classic cupboard at one corner. It's filled with ornaments. 
There's two chairs and a table placed at the corner facing the entrance. A vase of cherry blossoms sits in between. 
A few sets of Chinese paintings stretch across the wall. The overall room takes the oriental theme for their decor. 
The lady told me to suit up and left the room to give me the privacy to change.
There was a set of disposable safety clothing which was blue. Looks like I'm gonna turn into a teletubby. 
I had never worn a full body disposable clothing before. I may have seen one or two of these from the movies with zombies. That's not the same type as this. Close though. 
I stretched one of my legs into the suit. Then, I did the same for the others. It was smooth. Nothing too technical. 
They got this zipper at the front that I can pull all the way to cover my nose. I'll look like a ninja. 
I was tempted to but I didn't. 
There was a bathtub size container at one corner of the room. That's the enzyme bath.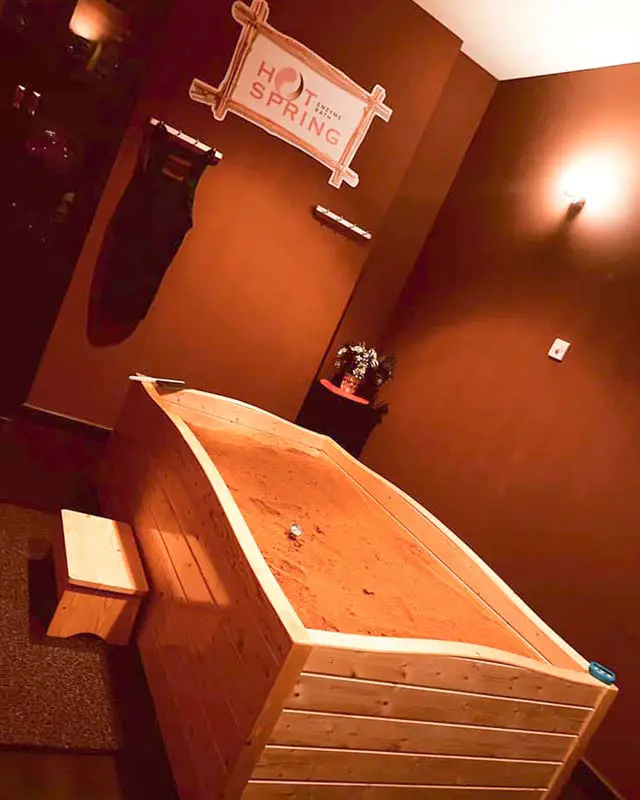 The lady came back to check and brought a cup of ginger tea. There was also another cup of sweet drink that I think is made of rock sugar. 
She said my blood pressure was low so I need some sugar in my system. I had to drink them before jumping into the enzyme bath. 
I don't like the taste of ginger. It is nasty to me. I can't help but to stick my tongue out in disgust after taking a few gulps. 
With that, I'm ready. 
How was the enzyme bath like?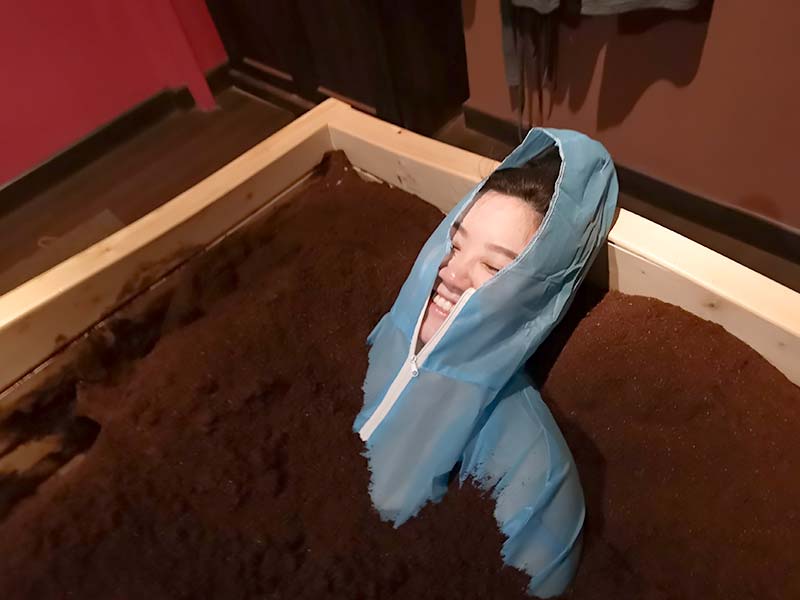 The lady staff used a spade and scooped out the sawdust to the side. She's making a hole right there to bury me. 
From far, it looked like dirt. Or more or less like those cocoa powder that the barista will put on top of the latte. 
It was an interesting sight. 
Seeing her pushing the sawdust is like ASMR to the eyes. There's a little child instinct in me wanting to play with it like kids with sand. 
I'm holding that thought. I need to retain my composure. I can't let her silently judge me later. After a while, she's done. 
There's a mini stool on the side of the tub of sawdust. She held my arm as I stepped on it to get into the enzyme bath. 
Bathing here means you will get buried. Not long after I laid down. She started covering me with the sawdust. 
It felt weird. 
Is this how getting buried alive feels like? She used the spade to scoop. Starting from the lower body. As it goes nearer to my face, she switched to use her hands. 
As she continue to cover me with the sawdust, she gradually use slower and gentler motion.
She covered me all the way till my neck. She set a timer of 15 minutes for the first round. An additional 5 minutes will be added later if I can take it.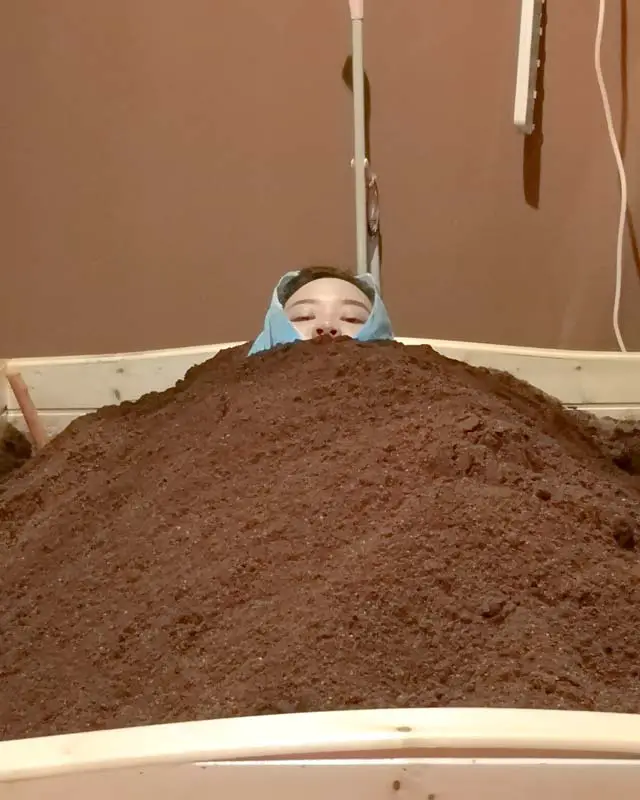 Some people can't take it, she said. So, a starting point of 15 minutes is the best. She set the timer and then walked out. 
The orange lighting was warm and cozy. It was relaxing. I closed my eyes and tried to enjoy the experience. The sawdust smells medicinal. 
I started to feel the slight increase in temperature. Time passed for a while and she came back to check on me. 
I began to sweat. The enzyme is bringing my temperature up. The lady staff took a towel to wipe the sweat forming on my nose and forehead. 
My eyes opened upon contact. She said that sometimes she's scared thinking that customers may pass out without her knowing. 
So, simple acts like striking a conversation and wiping the sweat helps to identify if the customer is still conscious. 
She also shared the benefits of enzyme bath. Like it can help in weight loss, reduce fatigue, and help with irregular periods. 
Before I knew it, 15 minutes passed. She asked if I'm okay and still can go on. 
I said yes. 
She reset the timer. There, I continue the enzyme bath for a few more minutes. 
I could feel every pore of my body sweating. Wearing breathable undergarments is best for this. That's my advice. 
That's it, time's up!
She asked how I felt. Well, it was mostly sweaty. I can sit for much longer. But, the treatment session is set to last for about 30 minutes only. 
She removed the sawdust to the side like an archaeologist uncovering a fossil. As soon as the sawdust no longer hindered my exit, I stood up.
She was holding my arm to help me keep my balance. I stood up like a buried ancient relic coming to life. 
Heaps of sawdust fell off my teletubby costume. I wiggled to shake more of them off. 
Then, I stretched one of my legs out to the stool next to the tub. I pulled out my other leg carefully so as not to get too much of the sawdust out. 
As soon as I stood steadily on the carpet, I began to remove the disposable blue clothing. I'm done being a teletubby for today. 
I was all sweaty! 
I wore a bathrobe and sat for a while. There's still ginger beverage ready on the side. 
Once I've done cooling off, I changed back to my clothes and walked out. The polite staff did offer if I wanted to do massage as well. But nah, I'm going off to my next plan.  
There's another enzyme bath session waiting next week. The package entitled me with 2 sessions. 
After confirming the date, I headed out with a new experience in my life. 
I am a fan of the wellness lifestyle. I have tried acupuncture, cupping and massage. This enzyme bath is something new to my list. 
It was a unique experience. 
It's fair to note that enzyme bath will have a more significant effect if it's done periodically over a month. So, taking it once or twice might not produce the miracle that you want. 
The enzyme bath was warming. At night, I felt warmer than before. Maybe it's the ginger tea, maybe it's both the ginger tea and enzyme bath working together. 
Either way, this helps keep my body warm which is good for a girl. 
If you like wellness, give it a try. Let me know what you think about it! 
Hasstha Wellness Centre Details
Hasstha Wellness Centre
C-33 G, Jln Profesor Diraja Ungku Aziz, Seksyen 13, 46200 Petaling Jaya, Selangor
03-7932 0044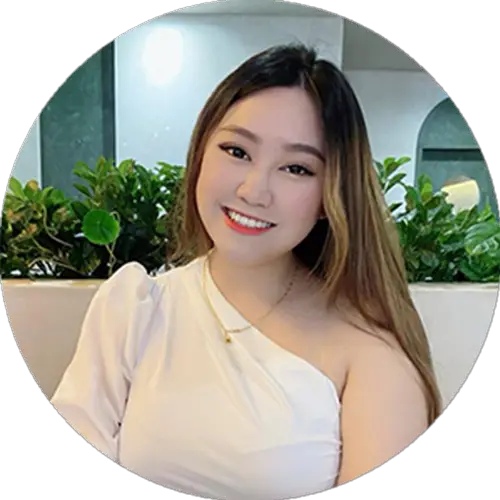 Valerie is a Malaysia blogger residing in the city of KL. She has a thirst for adventure, an aptitude for fashion & a selective taste for yummy food. Join her journey as she explores the world!
Follow her @valerie.seow on Instagram.