Lai Foong Lala Noodles Review
Lai Foong lala noodles is one of the best foods in Petaling Street, Kuala Lumpur. It's a huge hot bowl of noodle soup with an unbeatable generous portion of lala (a type of Asian shell clam) that warms you up from the inside.
Its fragrance could wake up your soul! 
The taste of the savory soup is elevated with their wine, ginger and other ingredients. It's one of those foods that you can take when you're having that time of the month.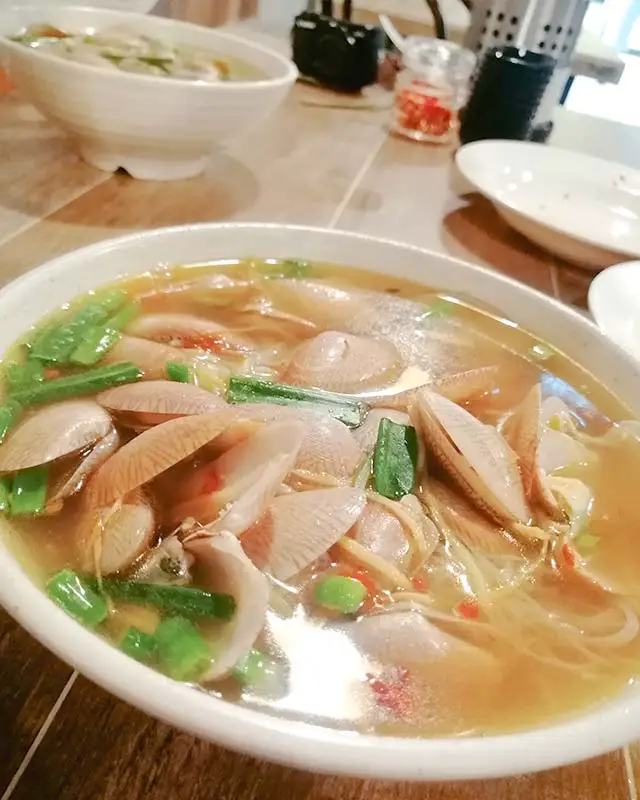 You hear me right ladies! The ginger itself is known to help with menstrual pain. But, it has a nasty taste that wards off people like me. 
Under normal circumstances, no normal human beings would even think of eating ginger raw or cooked. If there is, it's probably those higher level beings.
However, with Lai Foong lala noodles, it makes the ginger very acceptable to the palate. It's that tiny little bites that tell your raging period pain to calm down and have some clams. 
Lai Foong Lala Noodles, Excellent Taste In Every Bite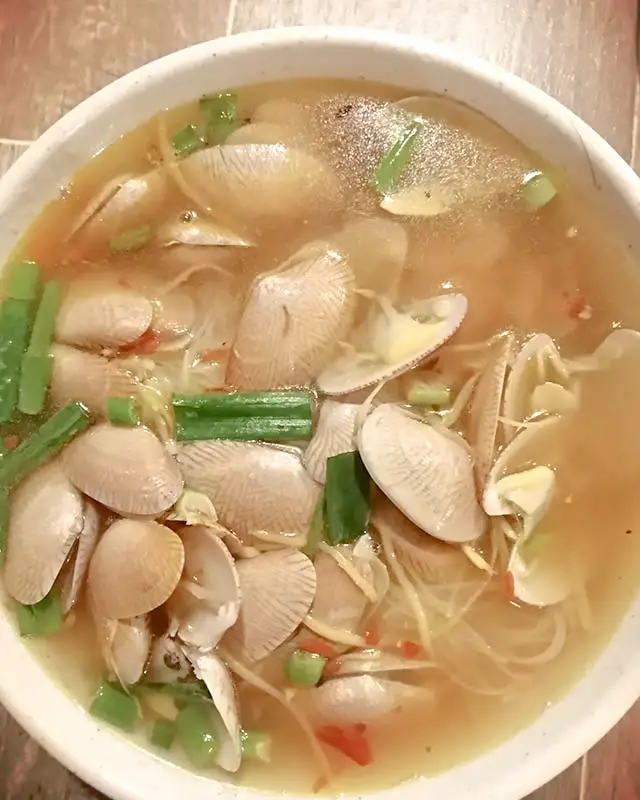 When I first came here for dinner, I was stuffed like a pinata. We visited several cafes nearby during tea time. 
I knew that I had to eat, stuff myself more. Otherwise, hunger would consume me later at night. I gotta survive. 
With the help of Google maps, I made my move to the restaurant on foot. We ordered their signature food which is the lala noodles and waited. 
If my tummy could talk, it would say "don't hurt me no more". But then, we're kinda tired and there's nowhere else to go. We just want to eat up and head back home. 
A waitress walked by with a plate of the lala noodles. It's for the next table. Like being touched by a miracle, the flavorful fragrance from the soup excites our nose. 
We woke up. The tiredness reduced and our appetite opened its arms to whatever that's coming. The feeling of stuffiness is gone.
Our bowls of lala noodles came and it's the most beautiful thing ever. The steaming hotness from the soup is like the sight of steamy vapour from an onsen. The fragrance immediately attacks us in a pleasant way that makes us ask for more. 
We tried the soup. It's warm and fragrant with the wine. There's slight spiciness from the ginger and the savoriness just scratches that itch in our throat that we never knew was there before this. 
I took a bite off the clam. The tiny little meat bites felt rewarding. Alongside the superior soup, it's literally a beauty that you can taste.
A plate was given to us to put all those clam shells. We ate and ate without talking much. Before we knew it, a mountain of clam shells piled up on the plate. 
We have come several times since then. What I would recommend is to order their herbal drinks as well. The food is heaty and with the hot weather outside, you might want something to cool yourself. 
This is possibly the best lala in KL. But hey, that's just me. What do you think?
Remember when I said that Lai Foong lala noodles were unbeatable? I kid you not. 
This bowl of lala soup noodles costs only RM 11. 
I am confident to say that you can't find any better food like this at this price with this quality and a generous portion of clams anywhere else in Kuala Lumpur. If there is, let me know in the comments! 
Besides, from what I heard, it's a family-run business. So, it's pretty certain that you won't be able to find this taste anywhere outside the WHOLE wide world. *gasps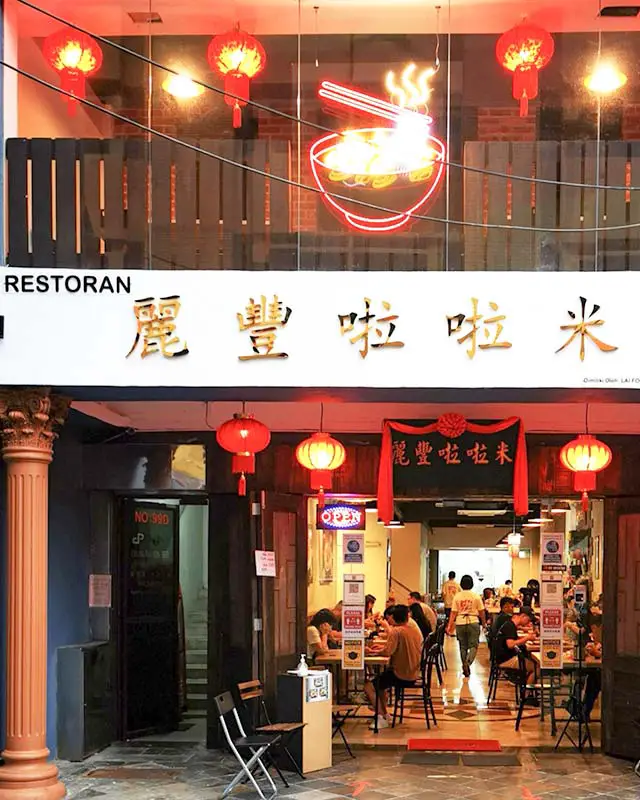 The restaurant itself has a traditional Asian vibe to the interior. There is a shop signage at the front that is written in Chinese characters which is very oriental. 
This restaurant is strong with brown. From wooden doors to tables and chairs, it's all matching about the same color. 
The lighting is warm. So, it kinda makes you calmer. The place is not too bad in my humble opinion.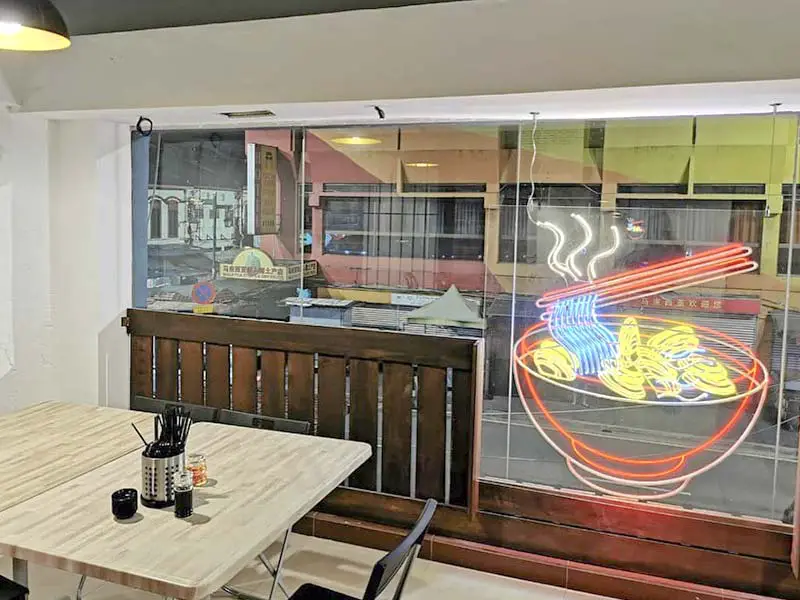 They also have a 2nd floor in case the crowd gets too busy. Their neon sign is quite an attention-grabber at night too!
How To Go to Lai Foong Lala Noodles Kuala Lumpur?
The place is accessible in two main ways – driving and MRT. 
The nearest MRT station nearby is the Pasar Seni MRT. No matter which parts of the state you are, as long as you have a MRT station nearby, you can get here. 
After that, it's approximately 500 metres of walking from the station to the restaurant. 
As for the other method, by driving, getting a parking space can be tricky. This Petaling Street restaurant is located on a street with no immediate parking nearby. The roads are narrow and parking sideways temporarily will get yourself bombarded with a series of honking and mocking. 
I don't recommend that. 
However, there is a 24-hour parking lot nearby. 
It's not all sunshine and rainbows. This parking spot gets tons of bad reviews because of the expensive parking rate. But who knows, you might find it worth it after tasting the Lai Foong lala noodles yourself! Or maybe delivery would be better?
Lai Foong Lala Noodle Delivery
Lai Foong lala noodle restaurant offers delivery service. You can order online for their delivery via their platform or WhatsApp to 0163764928 to place your order.
Note that their operation hours for the online website are from 10.30am until 7pm. Limited to KL, Selangor, and Klang Valley area only. Do check their Facebook page for updates.
And delivery will stop between 12pm to 2pm as it's their busiest hours.
This KL restaurant makes a nice meal for lunch in rainy days. The warm bowl of fragrant soup will heat you up gently from the inside.
Being near Petaling Street is an advantage too. You can hop on to the next attraction right after!
Hope this review helps. Have you tried Lai Foong lala noodles in Kuala Lumpur? Would you put it as one of the best foods in the Petaling Street list? Have you tasted better? Let me know in the comments.
Lai Fooong Lala Noodles Details
Lai Foong Lala Noodles Kuala Lumpur
99, Jalan Sultan, City Centre, 50000 Kuala Lumpur, Wilayah Persekutuan Kuala Lumpur
016-376 4928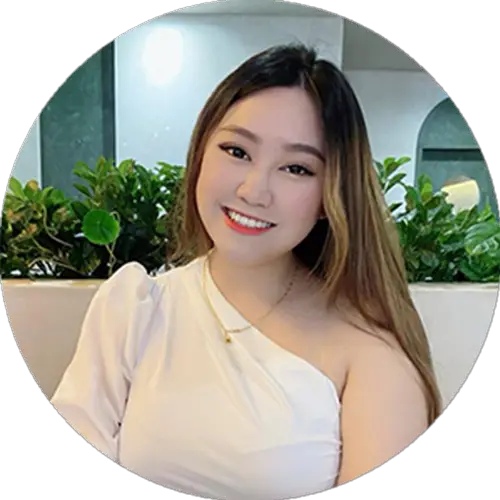 Valerie, Malaysia Blogger
Valerie is a Malaysia blogger residing in the city of KL. She has a thirst for adventure, an aptitude for fashion & a selective taste for yummy food. Join her journey as she explores the world!
Follow her @valerie.seow on Instagram.