Ruma Puteh located in Taman Tasek Titiwangsa is a house turned into a cafe with tons of Instagrammable spots all around. One of the highlights being the multiple arc walkway entrance that has caught the eyes of many influencers to take a photo or two of themselves right then and there. 
Ruma Puteh is a great addition to the list of Instagrammable cafes in Kuala Lumpur. It is established near several attraction points such as the Istana Budaya and National Art Gallery. 
This aesthetic cafe opened in February 2021. It has already caught the attention of many due to its catchy environment.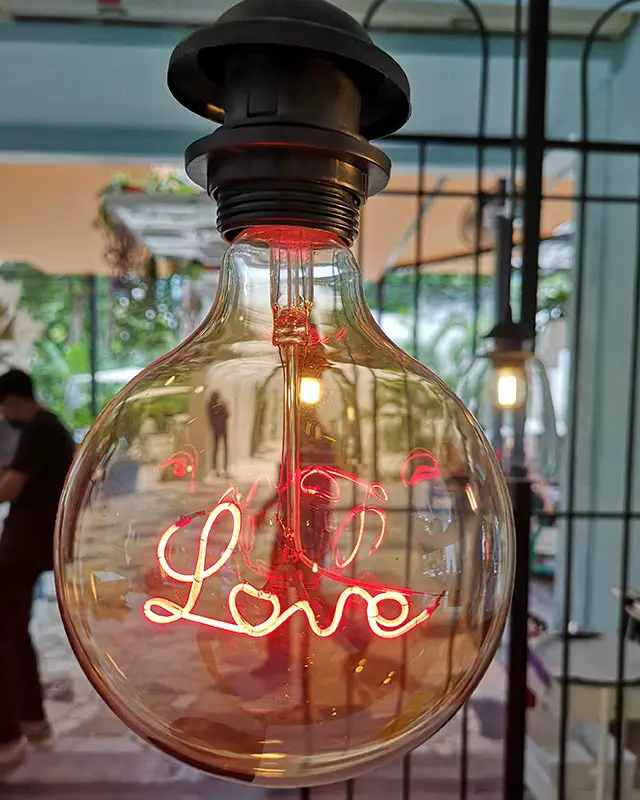 Without doubt, this cafe will keep going on the rise with both locals and tourists. The queue is probably gonna get longer and longer!
So head early! They open at 11 in the morning. Do consider making your reservations in advance if you decide to drop by near peak hours.
The Ambiance of Ruma Puteh
Right on the dot, as you approach Ruma Puteh, it immediately greets you with the stunning white multi-arch entrance. There's tons of giant greens all around it as well that serves as little privacy screens. 
The cafe adapts the concept of outdoor garden and indoor minimalist interiors. The outdoor seating is surrounded with lush greens and a lot of planters here and there. 
As for the indoor seating, it stores various interesting spots that just gets me all excited. Naturally, indoor is my preference as I'm a polar bear that can't live without air conditioning!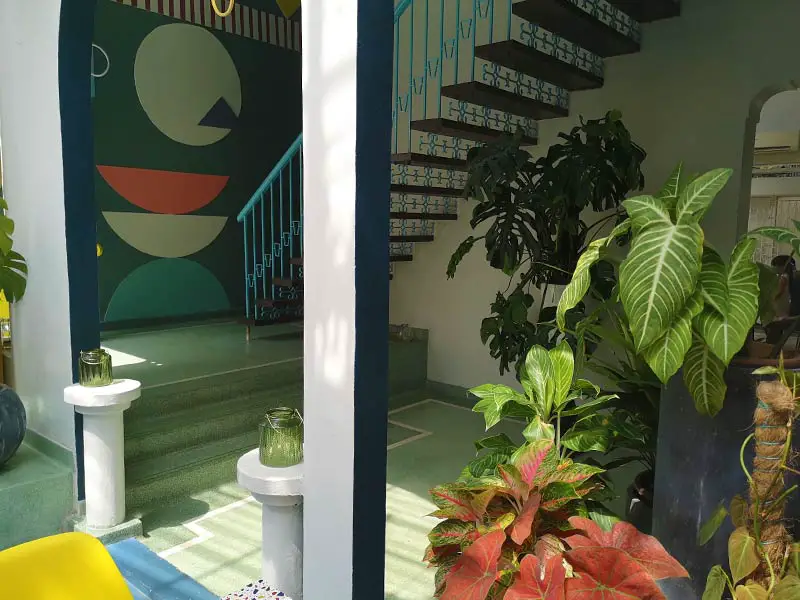 The cafe uses the white color as a main accent for its interior design. This suits the name of the cafe itself very well.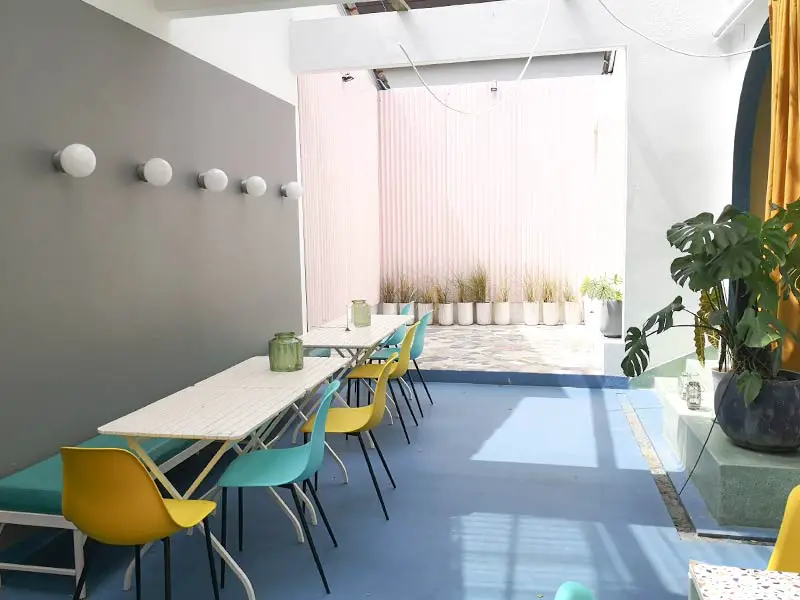 Right at the end of the cafe, there will be a slight change with the interiors. The sharp blue flooring is definitely hard to miss. 
There's also walls of different color accents such as orange, dark green that comes in geometrical patterns. 
The location is very relaxing and suitable for gatherings with friends and family regardless of the time of the day.
There's really an abundance of photography spots all around. Whoever designed this place truly grasps that the idea of a cafe these days must always include note-worthy photography corners.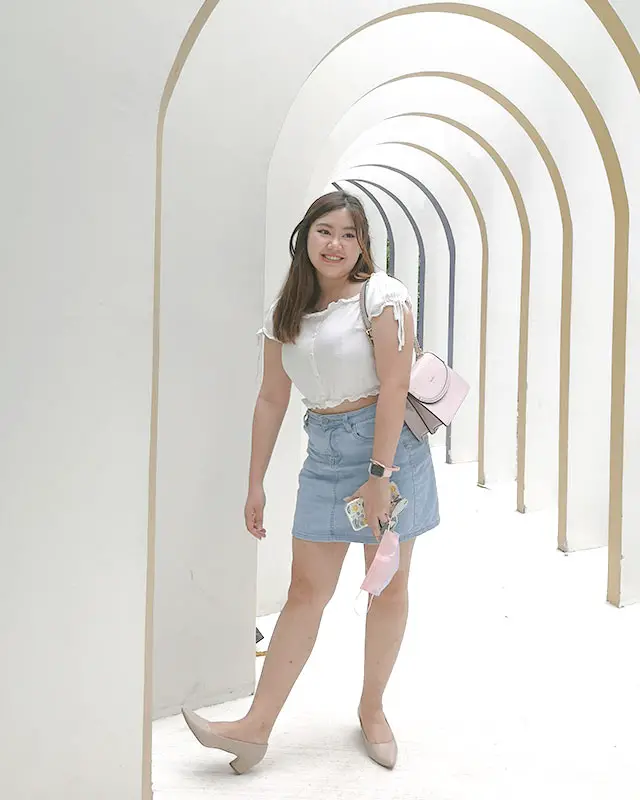 This spot gets the most attention in the whole Ruma Puteh. We can't stop but to notice that there's always people posing there every second. 
I recommend coming in here super early so you get the white arc all for yourself.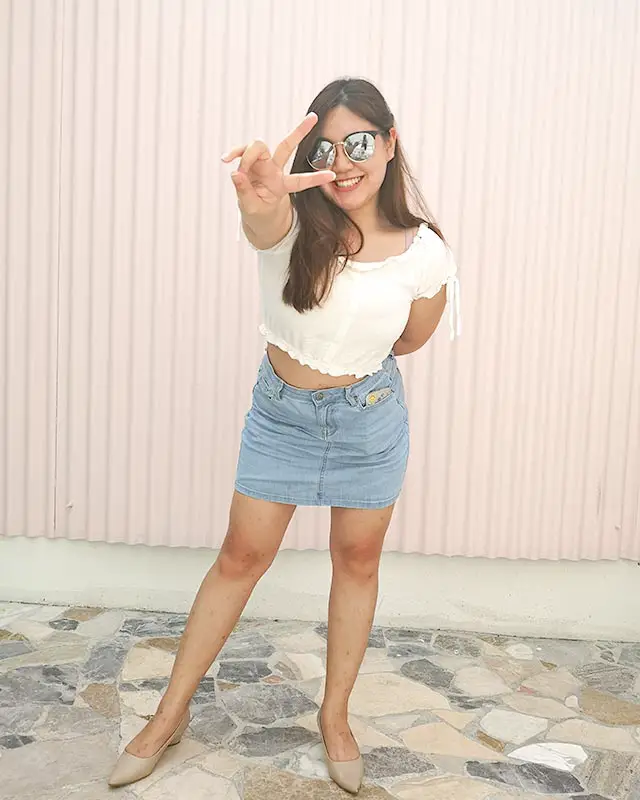 The pink wall is located deep inside a corner of the cafe. It's basically a pastel pink colored roof sheet. 
I love the minimalist feel it gives off. So, I took a shot there.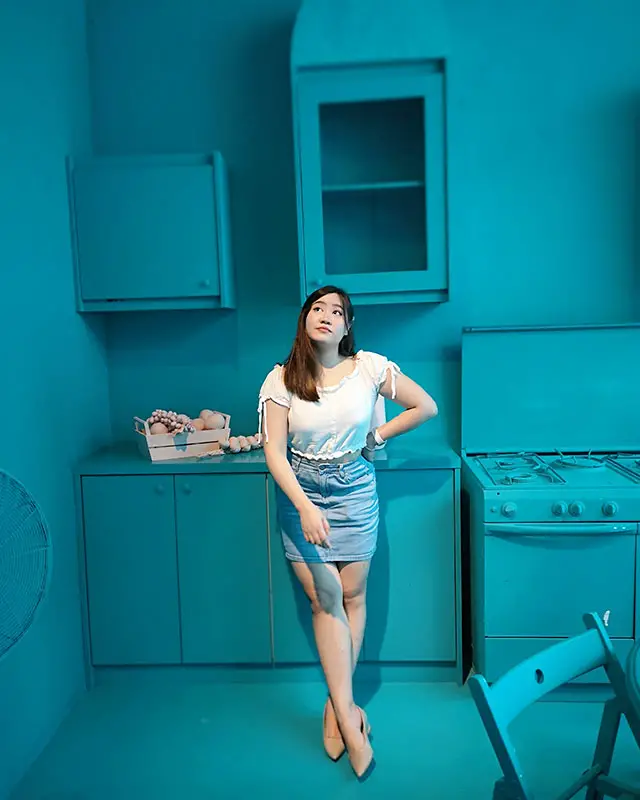 This room is epic! Everything is painted in a sharp blue color. The setting is created to simulate a classic kitchen. 
There are cabinets, fan, stove, tables, chairs and chandelier all painted in blue. Even the plants are blue as well! Don't worry, they're fake plants.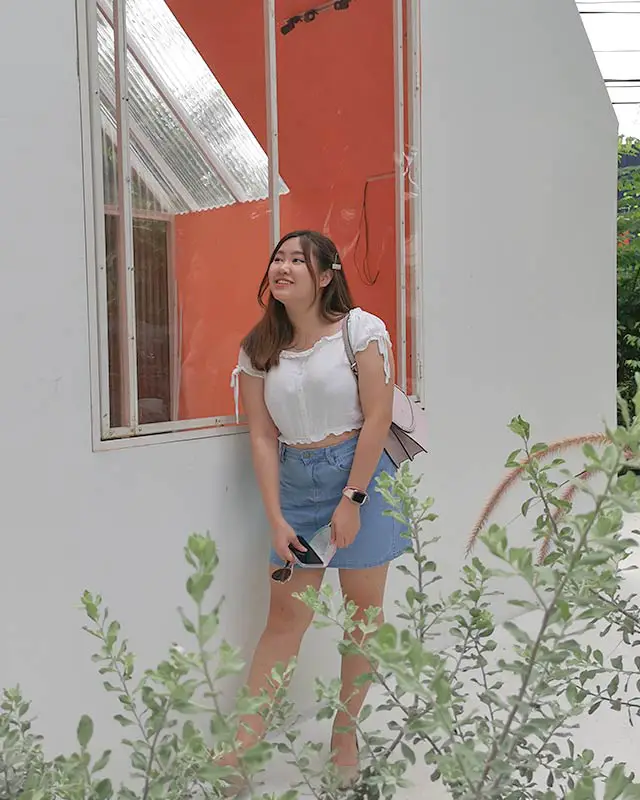 The mini house is located just outside, next to the white arc. The inside is painted orange with nothing much in store. 
It does make a nice background to take a cool shot behind some bushes.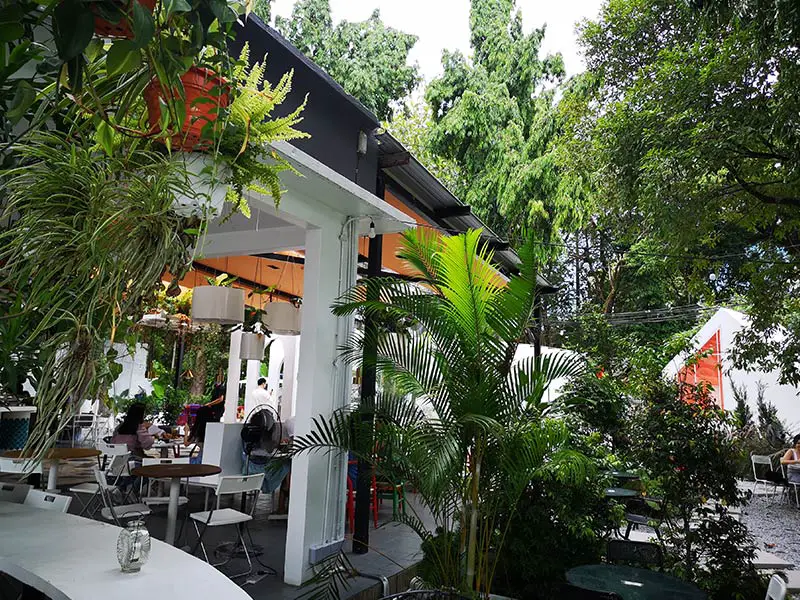 Sitting under the shades of the tree, surrounded by nature can be relaxing. It is also a great background for your photos!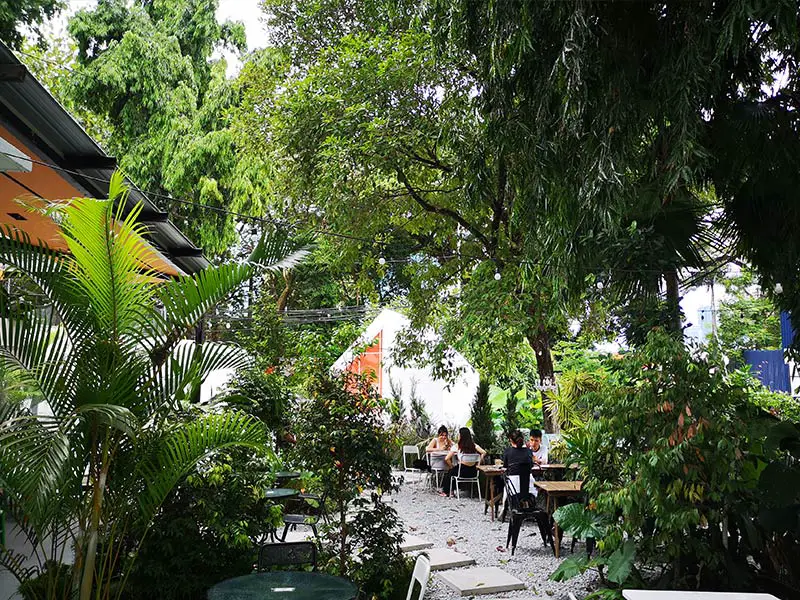 Ruma Puteh serves a variety of local comfort food and Western cuisine. We selected nasi kerabu and bugis laksa to fill our tummy. 
We had to wait for a while for the food to arrive. Hopefully, they will improve this side of their service.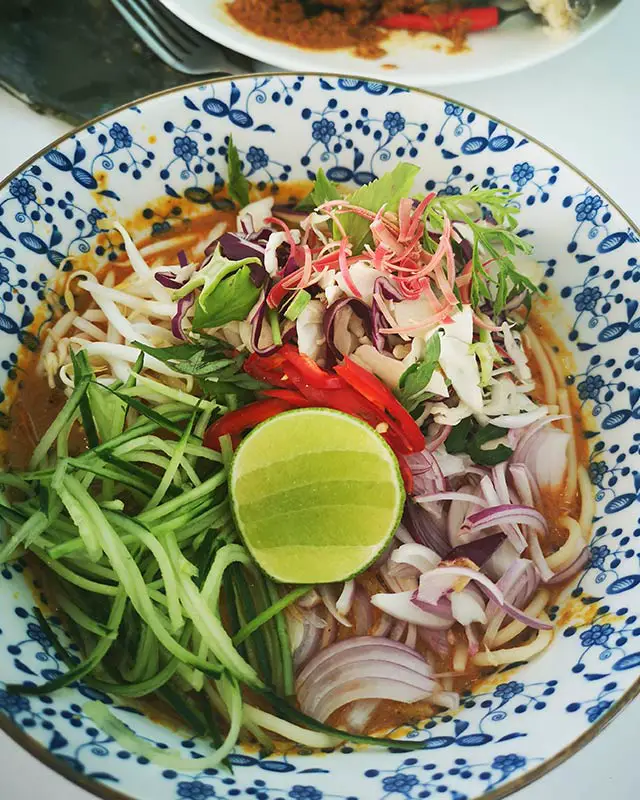 The bugis laksa is spaghetti served with fish broth and tons of raw vegetables on top with a scoop of sambal belacan on the side. There wasn't much strong taste to it. 
It's also probably going to be more satisfying if they add a decent volume of protein into the recipe as well. It's not for me but others might like it.
On the other side is the nasi kerabu which almost reaches the RM 30 mark. 
Their nasi kerabu has a catchy blue rice served with chicken, fish crackers, egg, budu and their in-house sauce. Budu is a traditional condiment made out of anchovies.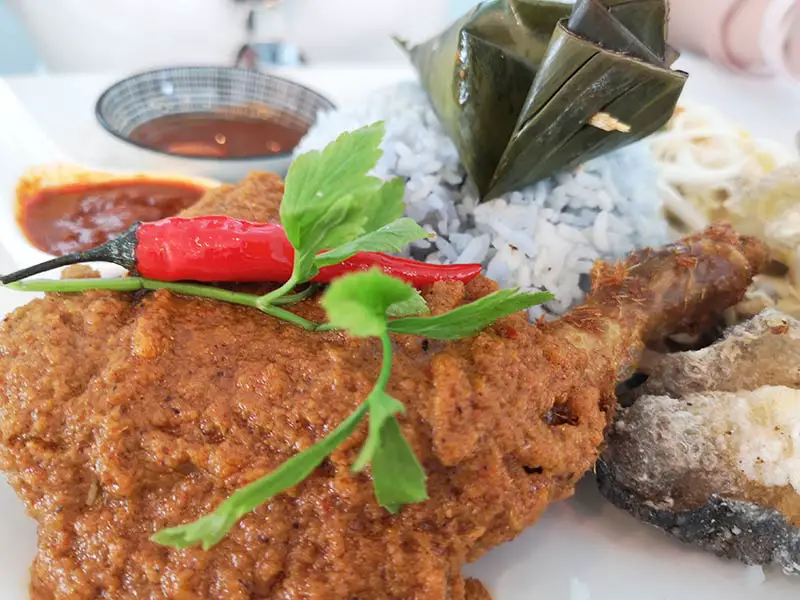 The taste was less flavorful than I expected it to be. Maybe it's just me. If you've tried it, what do you think? Let me know in the comments!
We got a recommendation that the lontong darat is decent and worth trying. 
The drinks include local favorites such as teh tarik and kopi o. They also serve a plethora of coffee varieties such as espresso, cappuccino, mocha, matcha latte and caramel latte.
They have house coolers that are perfect to get a little relief from the hot weather of Malaysia. There's velvet lime, orange sunrise, smashing apple and ocean breeze are on the menu. 
Another quirky item on the list goes with the name ruma tempayan. They sure know how to spark curiosity in naming their coolers. 
I didn't try these. If it's good, let me know in the comments!
Fans of healthy food also get a taste of their in-house healthy beverage – green detox, beet booster and power punch. 
Serving a variety of cakes and tea such as chamomile, earl grey and popular matcha, it makes this spot an ideal location for tea time as well.
Ruma Puteh is a residential area. So, there's tons of road side parking outside. 
Do park at your own risk because these are not legit parking spots. 
The culture of parking on the road side and turning them from 2 lanes into 1 lane is pretty common especially in landed residential areas. Please be considerate and make sure your vehicle is not blocking any entrances. 
There's a food centre further in where you can park as well. We parked right there and walked over.
Ruma Puteh is an ideal spot to bring your partner for a date. The myriad of Instagrammable spots makes it good to take sweet photos. 
The ample space outdoors is nice for your children to be running around as well. But, do keep them under control so as not to disturb other guests. 
The ambiance is perfect for tea time and to catch up with friends that love nature as well. 
Price wise is at the intermediate range. With a gorgeous atmosphere like this, it's just well worth it! 
I hope this Ruma Puteh review will encourage you to give it a try. Which is your favorite Instagram spot in the whole cafe? Let me know in the comments!
Ruma Puteh
60A, Jalan Kuantan, Taman Tasik Titiwangsa, 54200 Kuala Lumpur, Wilayah Persekutuan Kuala Lumpur
014-714 0993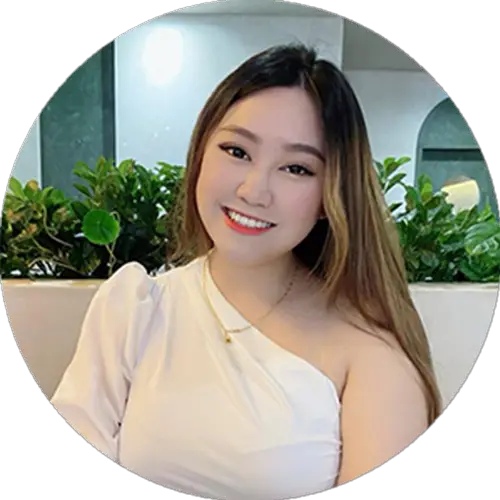 Valerie, Malaysia Blogger
Valerie is a Malaysia blogger residing in the city of KL. She has a thirst for adventure, an aptitude for fashion & a selective taste for yummy food. Join her journey as she explores the world!
Follow her @valerie.seow on Instagram.