Merchant's Lane is a jewel of the city. It hides behind a small cyan door that makes you wonder if you're at the right place. At least, that's what happened to me!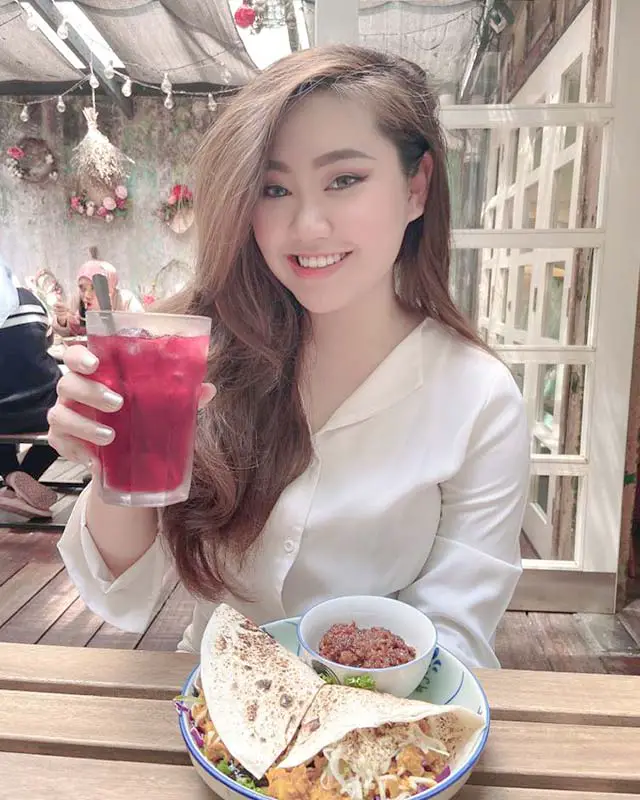 The cafe offers a quiet ambiance to escape from all the city buzz. It brings you to an entirely different environment filled with vintage charms, wooden elements and flower motives.
Merchant's Lane in Kuala Lumpur serves a unique International cooking with a twist of local fusion. They also come with a selection of cakes that is sure to satisfy your sweet tooth.
The Ambiance of Merchant's Lane
Upon opening the small door, you'll be greeted with a flight of stairs. It is well lit with red light. There's also distant chattering that gets louder with every step.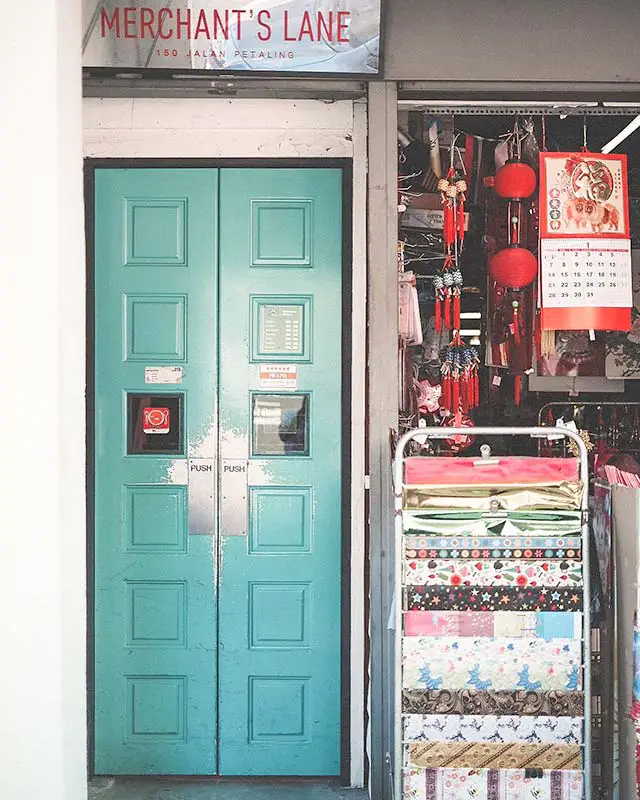 As soon as you climb up the stairs, that's where the hype sets in. The place is absolutely stunning. It was quite merry. The front section of the cafe was entirely seated with people.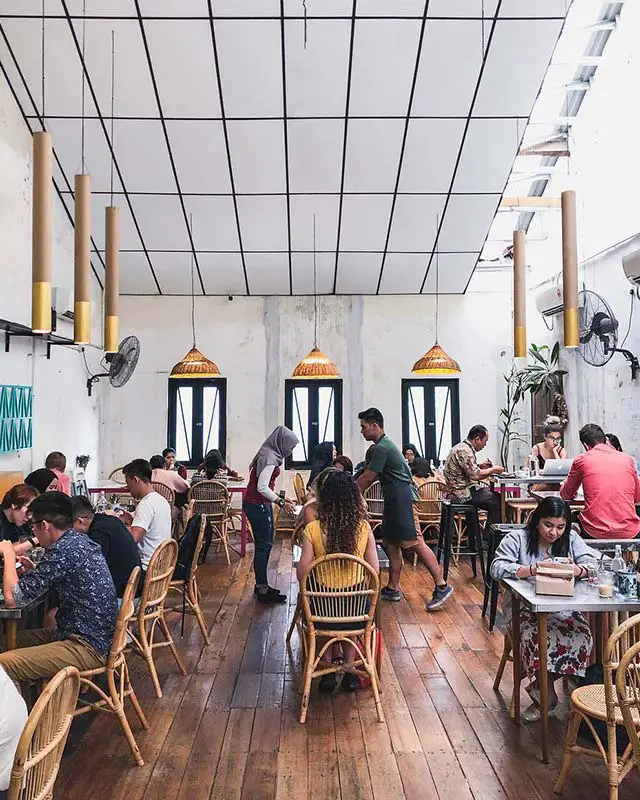 The rustic interior immediately sets me back into an era when I wasn't even born yet. It's like those old houses that I get to see when I go back to Kampung to visit my grandparents.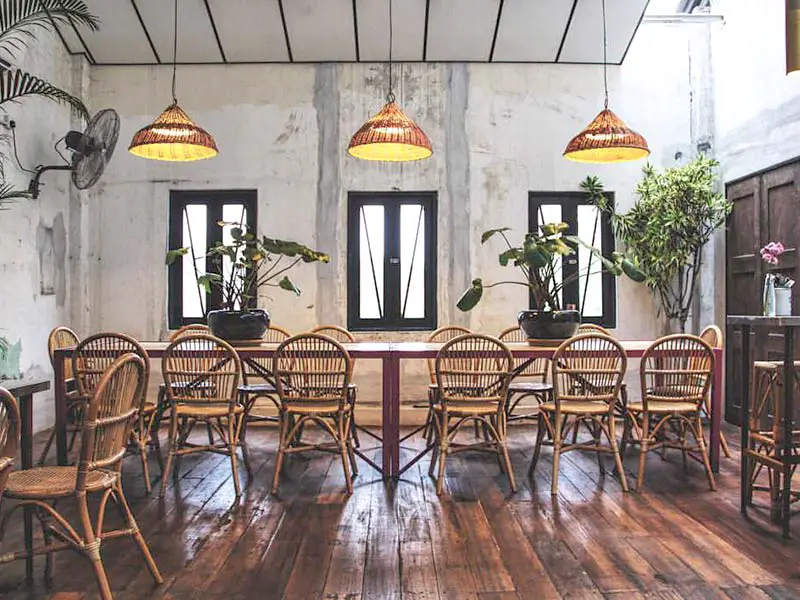 It was quite crowded at the front section of Merchant's Lane cafe. The waiter led us to the middle section. 
The middle section is absolutely gorgeous. There's translucent roofing and open air space where sunlight can shine through.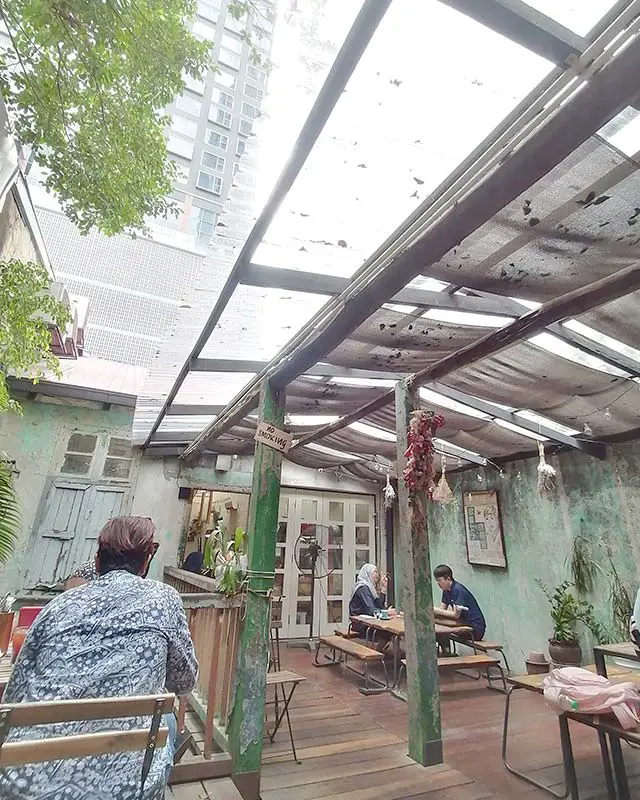 As we walk further in, it makes me wonder how far the place goes. 
On one side of the wall, there's a lively tree root that has seemingly fused with the walls. There are potted palm trees that add to the natural ambiance.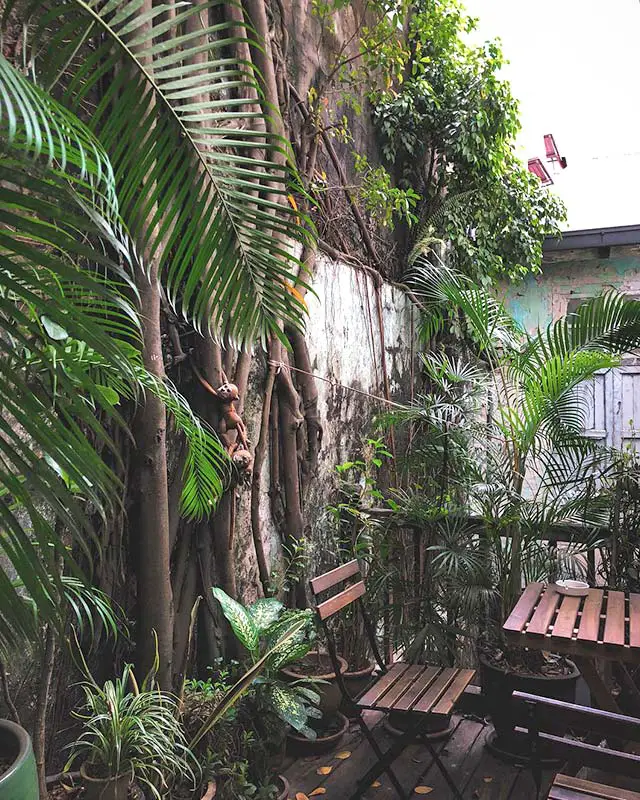 We got a seat here in the mid section of Merchant's Lane. It was a bit warm.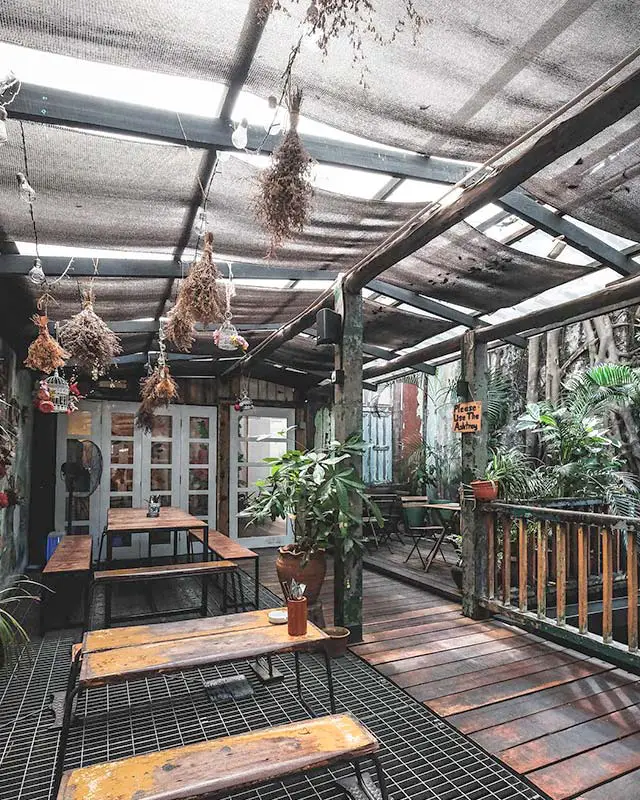 The third section of the cafe connects to the kitchen. There's a toilet at the end as well. This section brings us back to a classic living room. 
The wall with flower tapestry is popping. It was filled with lounge chairs and a coffee table. Incense coils hung over the ceiling, filling up the air space.
They're not exactly at the height where I would feel comfy to eat. It's more suited for chit chat with a slice of cake and a cup of coffee.
The Food of Merchant's Lane
East meets West in their well-crafted menu choices. They place quite unique names on the food that intrigues me. It can go as catchy as oppa's burrito to as funny as cow food. 
The food in Merchant's Lane menu is a creative combination of elements from different country's cuisine or an upgraded version of their food such as their kai fan.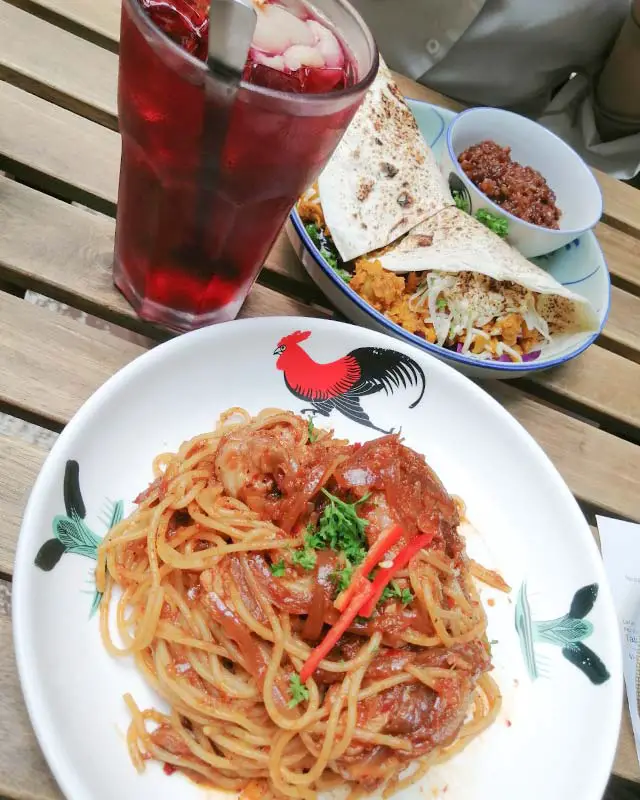 We picked Italian chow mein and their cheesy chicken tortilla. 
The chicken tortilla is fragrant with spices. It comes with a chunky peanut paste on the side. It's so flavorful with slight crunchiness on the greens. This is to my liking!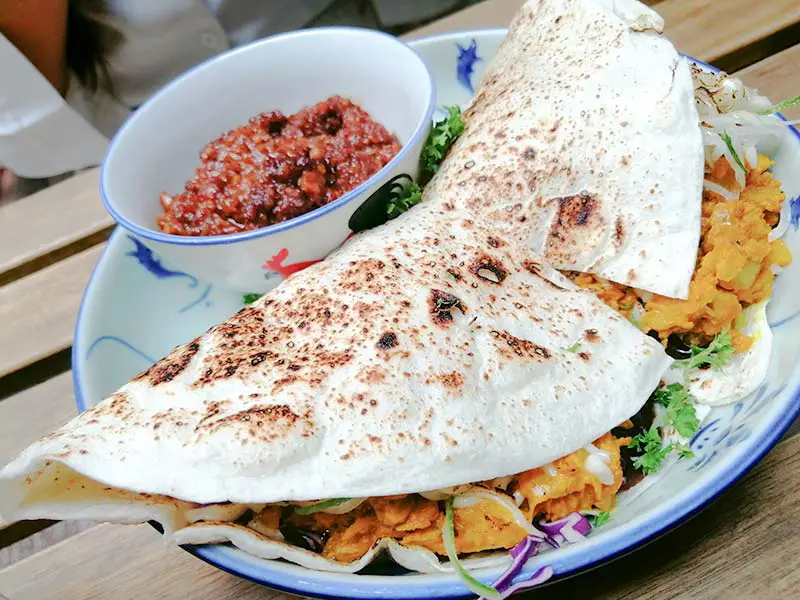 As for the chow mein, it looks like mi goreng but with pasta. It is stir fried with rendang to give it a load of savoriness.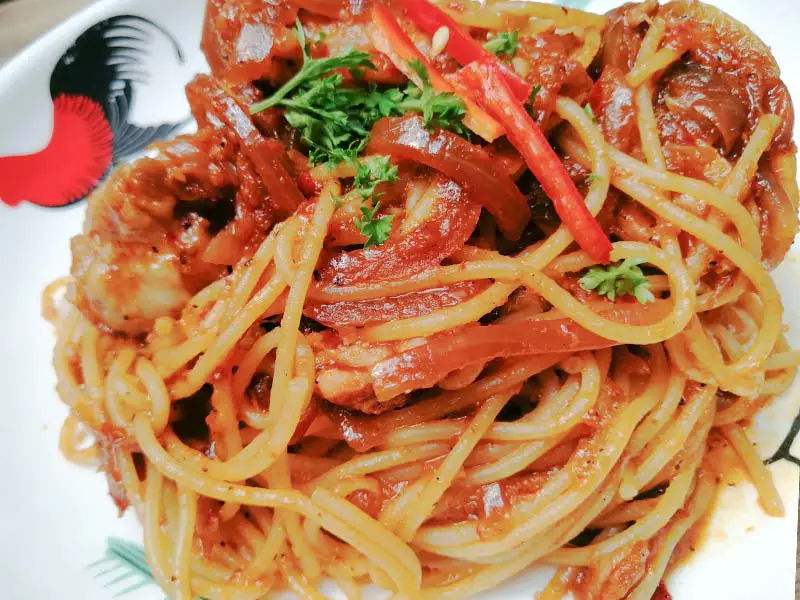 The portion was good. However, I do hope it would have more protein weight to it. It's best to go with a few sips of beverage as it can be drying to the mouth.
How to go to Merchant Lane?
Merchant's Lane is conveniently placed near Petaling Street. To locate it, Google Map is your best friend! It is important to highlight that it is just next to Kiat Leong Stationery & Trading. 
So, put Merchant's Lane on the map and make your way there either on foot or drop-off from any e-hailing services.
Keep your Google map apps on and pick the walking direction. Walk towards the stationery shop from where you park. 
The small cyan door next to it is the one you need to keep an eye on. The signboard for Merchant Lane is quite hidden. Just right on top of the small cyan door.
So, you can't exactly see it from far or anywhere across the street. You have to walk all the way to the front of the stationary shop in order to see it. 
Parking near Merchant's Lane is quite limited. However, there is an open space parking just opposite Beryl's Lot 18. So, you can put this on your navigation and head there directly.  
It goes without saying that there will be an expensive parking rate charged at the open space. The road is covered with pebbles as well. Not anything fancy but it's what they got. 
Keep an eye for any empty parking along the way there. Who knows, you might get lucky. 
If somehow you manage to get DBKL parking, those with yellow lines. You can easily make your payment to the local authorities via a parking app such as Flexi Parking. 
Unfortunately, DBKL parkings is quite limited. 

When we drove there, we managed to get a parking spot along Jalan Balai Polis. We were quite lucky. It's also probably because it's a weekday.
Merchant's Lane is a gem of a cafe that is distinctive with its worn down interior which is also what makes it standout and different from other cafes around.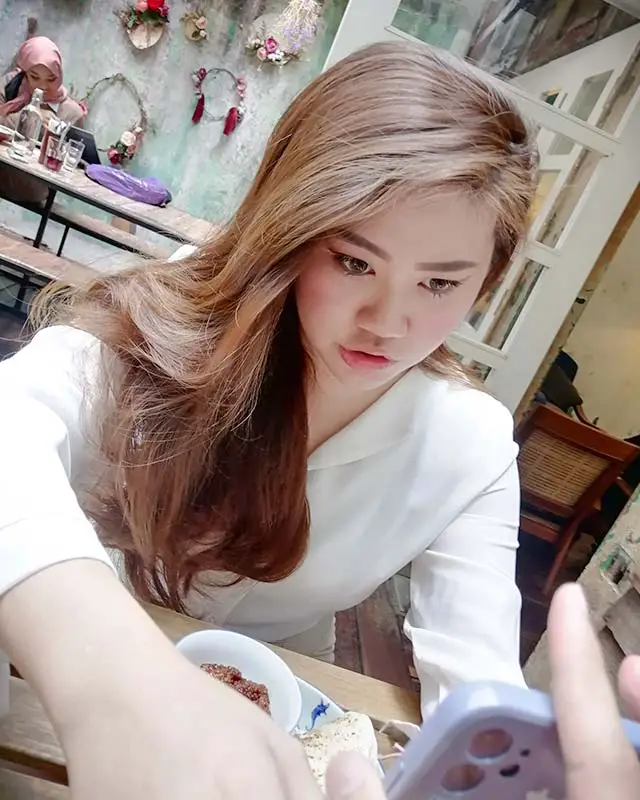 No doubt it has an exclusive vibe that you can't find elsewhere especially in the busy city of Kuala Lumpur. It's a nice place to bring your date!
The food portions are mostly huge so it's perfect for sharing with a lunch partner. They're saying that their kai fan is not bad at all. It's certain that I'll put that on the list to try on my next visit. 
Because it's quite a popular place, the queue can be quite long as well. It's just the nature of things. So, head there before 12 pm to get a seat without the long tormenting wait! 
I hope that this Merchant's Lane review helps to give you an idea on what this cafe in KL is all about. I haven't tried everything on their menu. So, feel free to put your favorite dish of the cafe in the comments and I will probably give it a try the next time!
Merchant's Lane
150, Jalan Petaling, City Centre, 50000 Kuala Lumpur, Wilayah Persekutuan Kuala Lumpur
03-2022 1736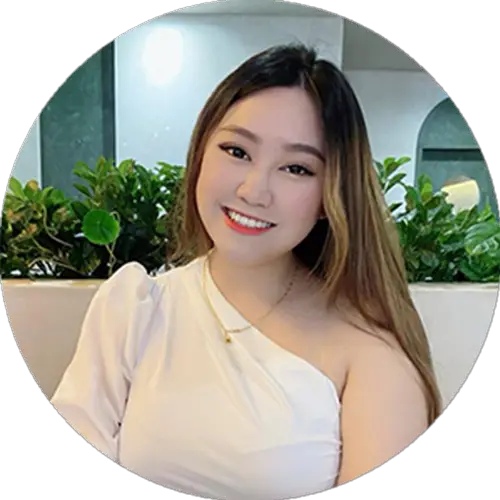 Valerie, Malaysia Blogger
Valerie is a Malaysia blogger residing in the city of KL. She has a thirst for adventure, an aptitude for fashion & a selective taste for yummy food. Join her journey as she explores the world!
Follow her @valerie.seow on Instagram.