This cafe serves delicious international food fusion such as pancake, tortilla and pasta with their very special local twist. Read more about Merchant's Lane review on my blog. Anyway, here's Merchant's Lane menu for their food here: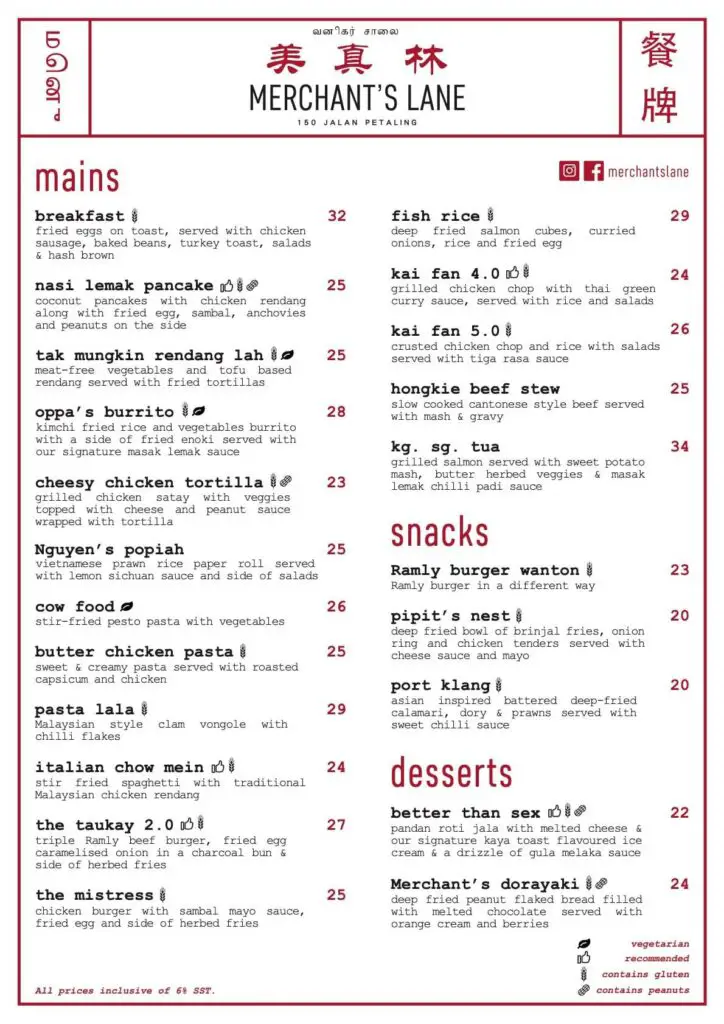 Merchant's Lane makes a nice tea time spot with their variation of classic and modern drinks. They cater for coffee, chocolate and tea lovers.
Healthy eaters too will find their superfruit juice a delight. Their rose honey milk is another attraction that people can't stop taking picture of. Here's Merchant's Lane menu for their drinks: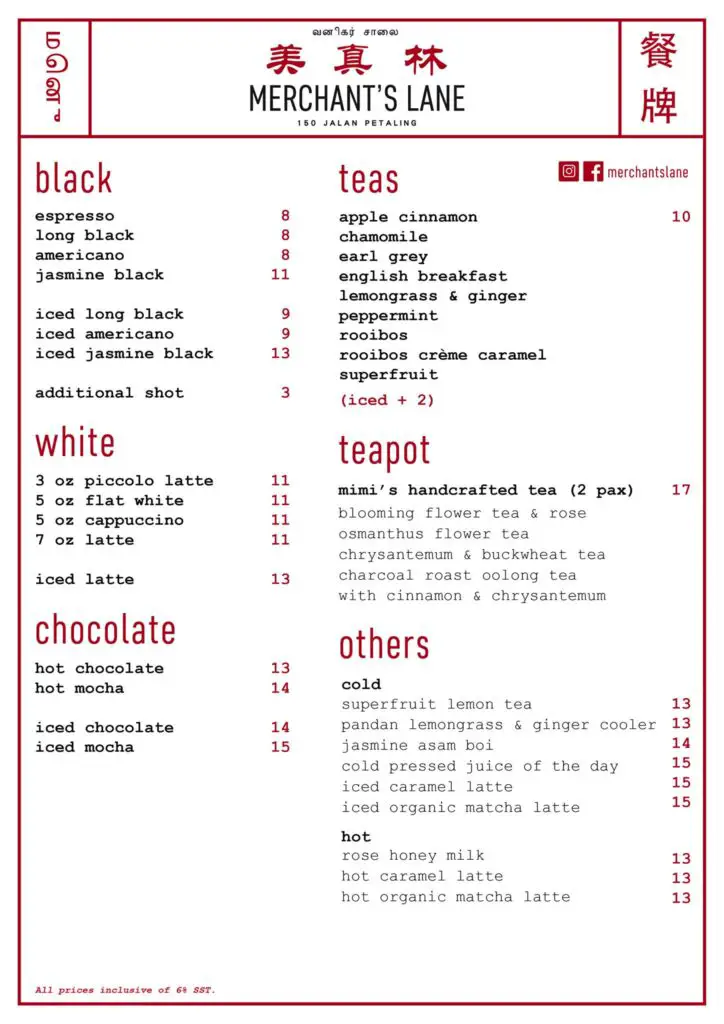 Just in case if the images of the menu can't load, here's the textual backup of Merchant's Lane menu below.
mains
breakfast      32

fried eggs on toast, served with chicken sausage, baked beans, turkey toast, salads & hash brown
nasi lemak pancake      25

coconut pancakes with chicken rendang along with fried egg, sarnbal, anchovies and peanuts on the side
tak mungkin rendang lah      25

meat-free vegetables and tofu based rendang served with fried tortillas
oppa's burrito     28
kimchi fried rice and vegetables burrito with a side of fried enoki served with our signature masak lemak sauce
cheesy chicken tortilla     23
grilled chicken satay with veggies topped with cheese and peanut sauce wrapped with tortilla
Nguyen's popiah    25
vietnamese prawn rice paper roll served with lemon sichuan sauce and side of salads
cow  food     26
stir-fried pesto pasta with vegetables
butter  chicken  pasta     25
sweet & creamy pasta served with roasted capsicum and chicken
pasta lala    29
Malaysian  style  clam  vongole  with chilli flakes
italian  chow  mein     24
stir fried spaghetti with traditional Malaysian chicken rendang
the  taukay  2.0     27
triple Ramly beef burger, fried egg caramelised onion in a charcoal bun & side of herbed fries
the mistress    25
chicken burger with sarnbal mayo sauce, fried egg and side of herbed fries
fish rice    29
deep  fried  salmon  cubes, curried onions, rice and fried egg
kai  fan 4.0     24
grilled chicken chop with thai green curry sauce, served with rice and salads
kai  fan 5.0      26

crusted chicken chop and rice with salads served with tiga rasa sauce
hongkie beef  stew    25
slow cooked cantonese style beef served with mash & gravy
kg.  sg.  tua    34
grilled salmon served with sweet potato mash, butter herbed veggies & masak lemak chilli padi sauce
snacks
Ramly  burger  wanton    23
Ramly burger in a different way
pipit's nest    20
deep fried bowl of brinjal fries, onion ring and chicken tenders served with cheese sauce and mayo
port klang l    20
asian inspired battered deep-fried calamari, dory & prawns served with sweet chilli sauce
desserts
better  than sex     22
pandan roti jala with melted cheese & our signature kaya toast flavoured ice cream & a drizzle of gula melaka sauce
Merchant's dorayaki     24
deep fried peanut flaked bread filled with melted chocolate served with orange cream and berries
black
espresso     8
long black     8
americano    8
jasmine black    11
iced long black     9

iced americano     9
iced jasmine black    13
additional shot    3
white
3 oz piccolo latte    11
5  oz flat white    11
5 oz cappuccino    11
7 oz latte    11
iced latte    13
chocolate
hot chocolate     13

hot mocha    14
iced chocolate    14
iced mocha    15
teas
apple cinnamon                                                  10
chamomile earl grey
english breakfast
lemongrass & ginger
peppermint
rooibos
rooibos creme caramel
superfruit
teapot
mimi 's handcrafted tea (2 pax)     17
blooming flower tea & rose
osmanthus flower tea
chrysantemum & buckwheat tea
charcoal roast oolong tea with cinnamon & chrysantemum
others
cold
superfruit lemon tea                13
pandan lemongrass & ginger cooler 13
jasmine asam boi                   14
cold pressed juice of the day       15
iced caramel latte                 15
iced organic matcha latte    15
hot
rose honey milk                     13
hot caramel latte                   13
hot organic matcha latte      13
Merchant's Lane cafe also offer delivery of their delicious menu choices via beepit. Get your cravings satisfied while staying at home.
The accuracy of their menu is correct at the time of posting. If they've updated the menu, do let me know and I'll refresh the listing!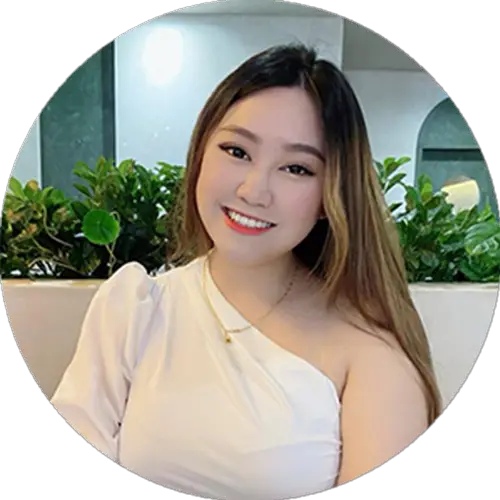 Valerie, Malaysia Blogger
Valerie is a Malaysia blogger residing in the city of KL. She has a thirst for adventure, an aptitude for fashion & a selective taste for yummy food. Join her journey as she explores the world!
Follow her @valerie.seow on Instagram.