Pokok KL is a beautiful cafe in a glasshouse. This cafe in KL is surrounded by walls and roofs of glass that allows sunshine to come through. 
The beauty of being surrounded in greens in a quiet side of the city just brings peace to my heart. 
For vampires out there, do remember to put on sunblock!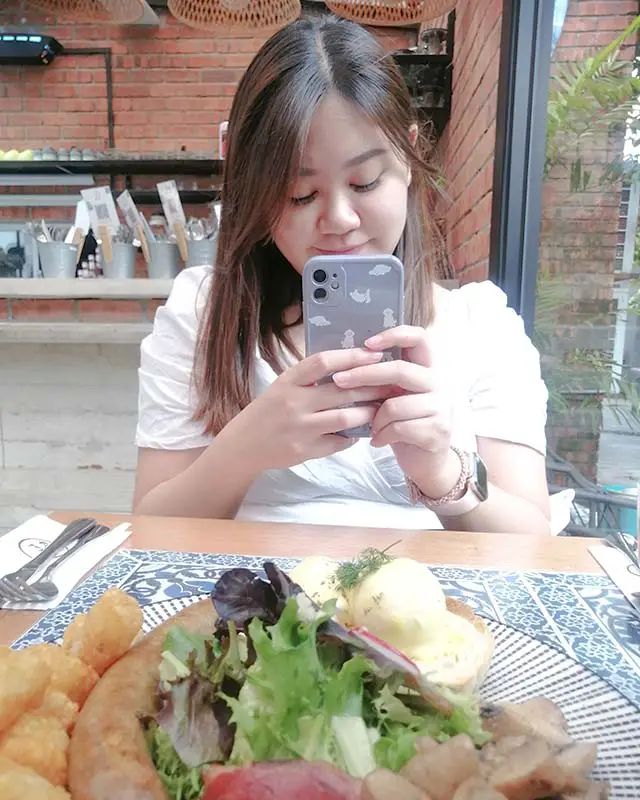 A Little Story About Pokok KL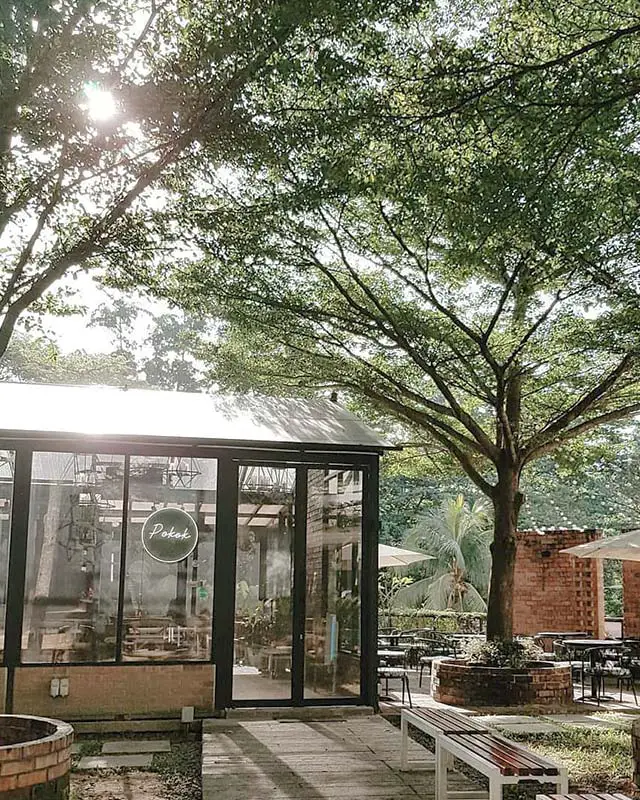 Pokok KL is a cafe located inside MAHSA university. One of the co-founder of this beautiful glasshouse cafe, Dato' Sharon Haniffa owns the university itself.
It goes without saying, the cafe becomes quite a popular spot among the students. So, the queue can be crazy.
The cafe itself later expands and is open to events and catering. This is to help the cafe to keep on going at a great mile even when semester break steps in.
Today, they stretch their services even further by offering online grocery and convenience store delivery in partnership with Grab.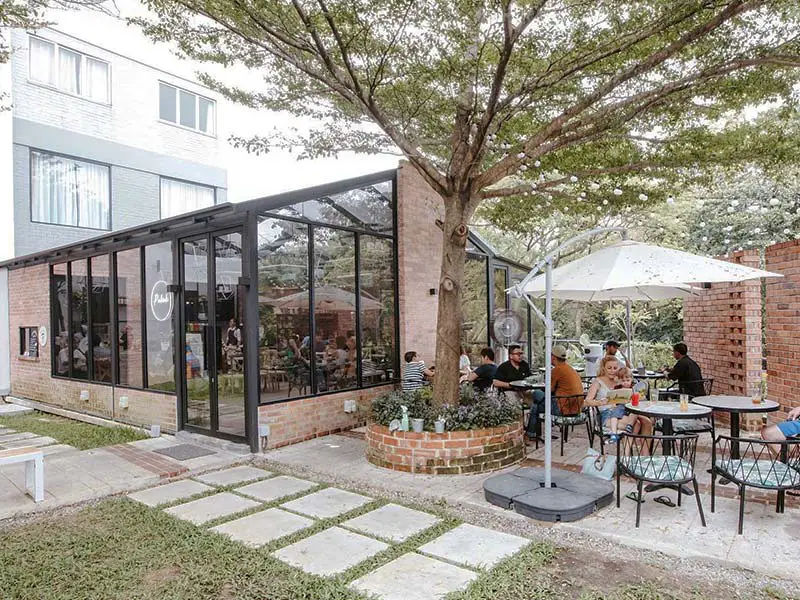 Pokok KL becomes quite an attraction to local cafe hoppers. It's without doubt the stunning glass house architecture does attract a crowd of peeps that wants to fill their Instagram album. 
There's surrounding trees on the path to the entrance which makes one nice photo spot. There's also hanging planters inside the glasshouse as well. 
The interior is basically constructed of black metal frames of glass panels and erected with rustic brick walls.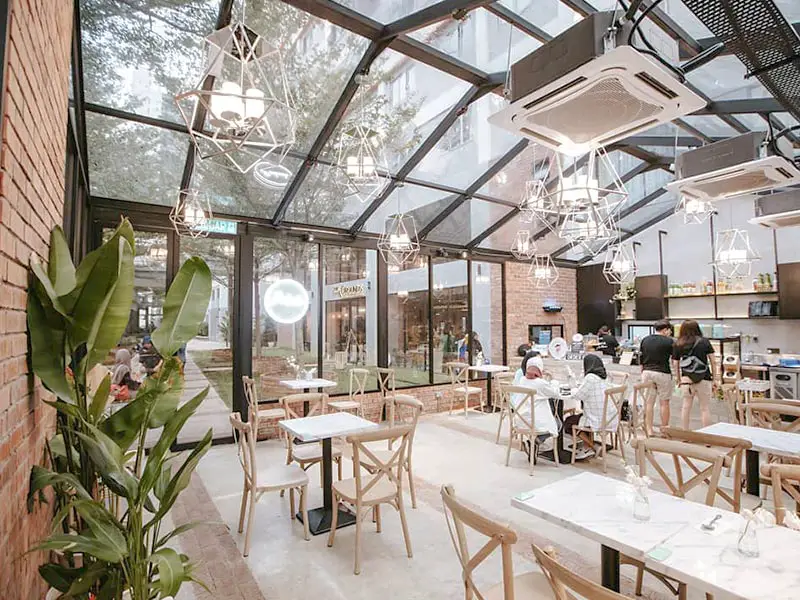 With tons of sunshine coming through, you can be sure that it is a great place for plants as well as Instagram influencers that want to add this nice piece of ambience into their collection.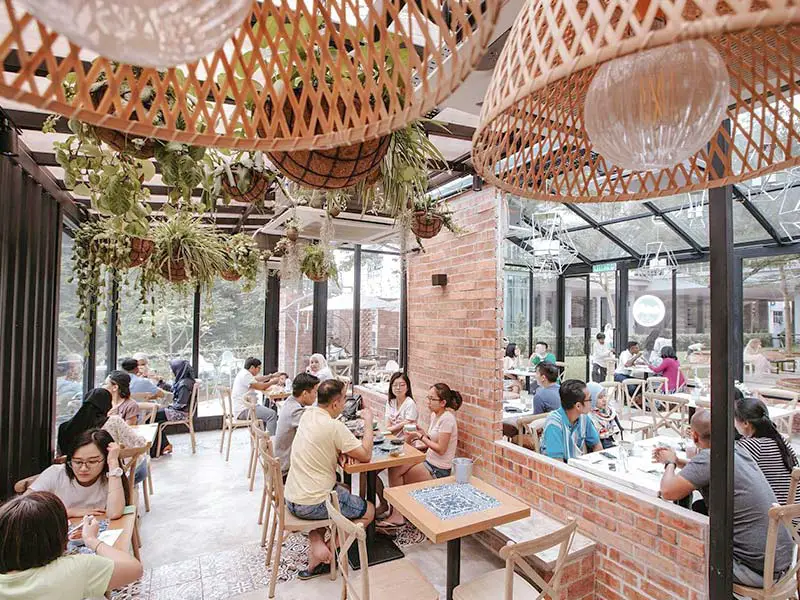 The interior air space is filled with hanging planters, basket lights and modern lighting at different section of the cafe.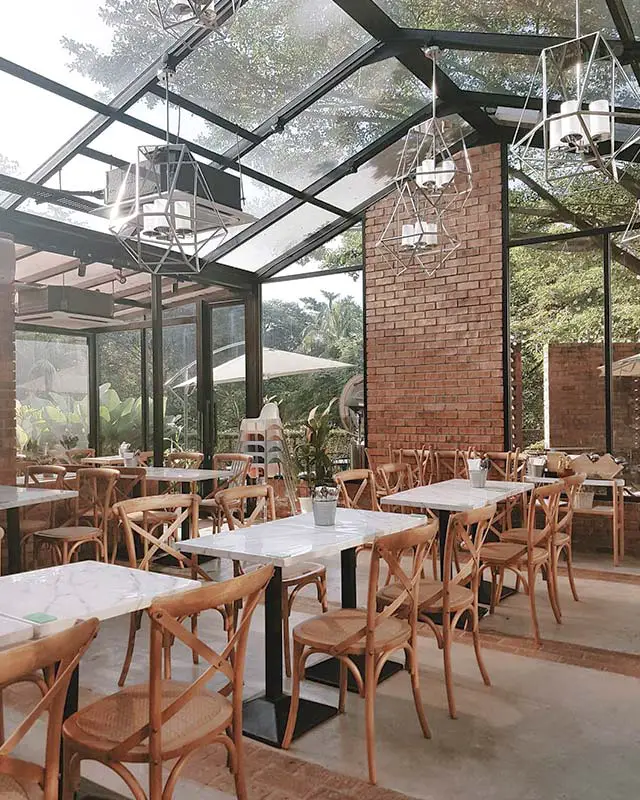 There's also outdoor seating which is nice for those who love to bask themselves in nature. However, due to the fact that Malaysia is a tropical country, there is a possibility that mosquitoes will come and join as well. 
So, do keep a natural mosquito spray handy in your pocket and be considerate when applying it.  
There's broadcast of music in the outdoor seating areas. This just makes it much more enjoyable for everyone to appreciate their meals and company. 
The cafe is more suited to small groups. The glasshouse is small and cozy. It's probably wise to call in and make a reservation if you're coming with your squad. 
We reached slightly before lunch hour and we had to queue though it's for a short while. I recommend coming in as early as 10 am which is the start of their opening hours to escape the crowd. 
We sat at an inner corner of the Pokok KL cafe. The place was crowded to the maximum. No seats were left empty.  
The environment was not exactly warm or cool as well. So, wear something airy and comfy.
Pokok KL serves an array of dishes from local to western. They have soup, salad, pasta, dessert and pastries such as pies and croissants as well. 
They don't stray far from serving local Malaysian favorites, nasi lemak as well. Their nasi lemak also happens to be their signature dish. 
Their huge nasi lemak dish includes the classic cucumber slices, peanut & anchovies, sliced hard boiled egg, veggie on the side, fried chicken leg and sambal. 
We tried their big breakfast. The big sausage on the plate was really good. There's also scrambled eggs on the toast, mushrooms, tomatoes and orange potato balls. It's heavy and savory, just perfect to satisfy the morning hunger.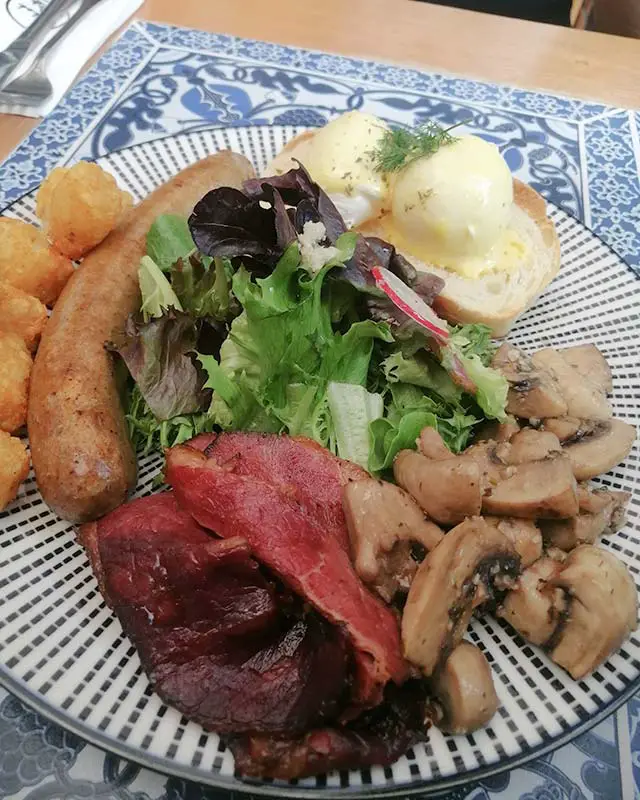 We also got the classic fish and chips. The huge fish meat chunk is placed on top of the fries. There's a small plate of sour cream and vegetables on the side. Nothing extraordinary to it. Just same old, same old.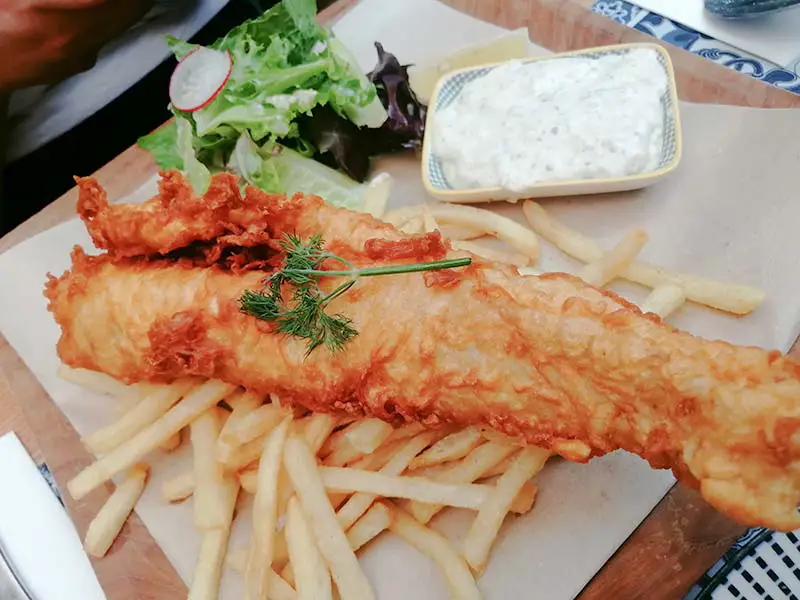 We have recommendations later on about their mushroom soup. The mushroom soup is served generously in a shareable big bowl. 
It's worth it to put that in the order and share it with your companions. The rich texture and taste of the mushroom soup is something that is worth shouting about. 
Dessert wise, it is recommended to give the brownie with vanilla ice cream a try. The soft sweet brownie mix with the cool ice cream is bound to tingle your taste buds. 
The cheesecake is also another fantastic dessert of Pokok KL that people talk about. So, be sure to take some bites out of that. Let me know in the comments what you think about it! 
The average price of their breakfast is at a minimum of RM 20. Most of the price of their main meals is in the intermediate range compared to other cafes in KL. 
Given the unique environment with a lot of delicious food to try, it is certainly a nice place to hang out and experience something different with family and friends.
Finding the cafe can be a bit difficult because it is quite hidden from the main road. You have to trust the Google map that shows it's there.
Once you've pinpoint its location, find a parking spot nearby. 
Parking was not exactly kind. Free parking is quite limited. You have to work your way to find a parking spot for your car either outside or somewhere in the building. 
The open space is opposite Pokok KL where they impose a parking fee. 
There's also street parking which may put your car at risk of getting towed. So, park at your own risk.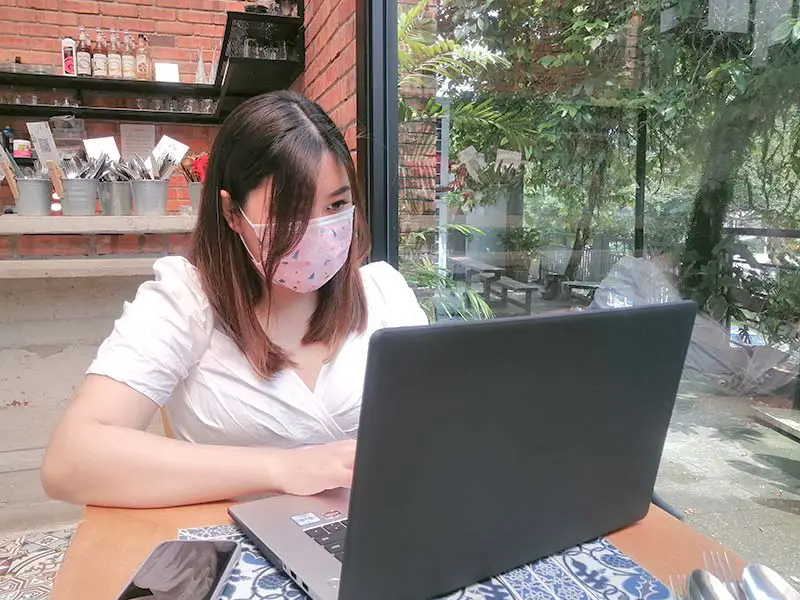 Pokok KL is a beautiful cafe. The ambiance is one of a kind and brings the customers close to nature. 
It is an amazing Instagrammable cafe that needs to be in your must-visit cafe list. There is so much that they have to offer on their menu. 
We didn't get to try all their food but we do keep an eye out on what people are talking about and try them one at a time. 
It is one of the top cafes in KL. So, your enemy is the crowd. Peak hours will set you back in the waiting list for over 40 minutes. 
However, something worth praising is their service. Right after you get a seat, they'd be sure to attend to you and get your food served as quickly as possible. 
Despite the long queue, I must say that they definitely know how to handle a crowd. 
I hope this Pokok KL review will help you if you're planning for a date! If you somehow tasted something amazing that deserves a shout out, let me know in the comments!
POKOK KL Cafe
MAHSA Avenue (Jalan Universiti Campus), Block B, Level 1 Jalan Ilmu, off, Jln Profesor Diraja Ungku Aziz, 59100 Kuala Lumpur
03-8408 1811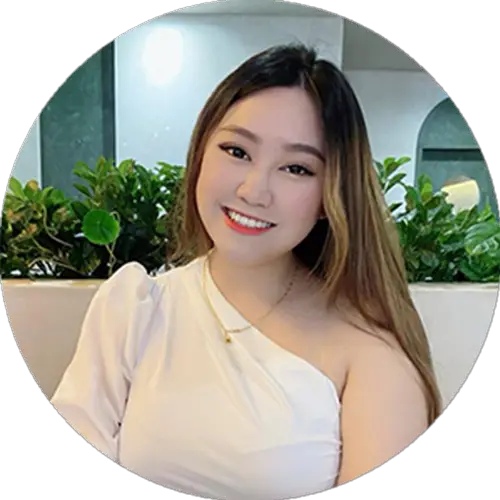 Valerie, Malaysia Blogger
Valerie is a Malaysia blogger residing in the city of KL. She has a thirst for adventure, an aptitude for fashion & a selective taste for yummy food. Join her journey as she explores the world!
Follow her @valerie.seow on Instagram.