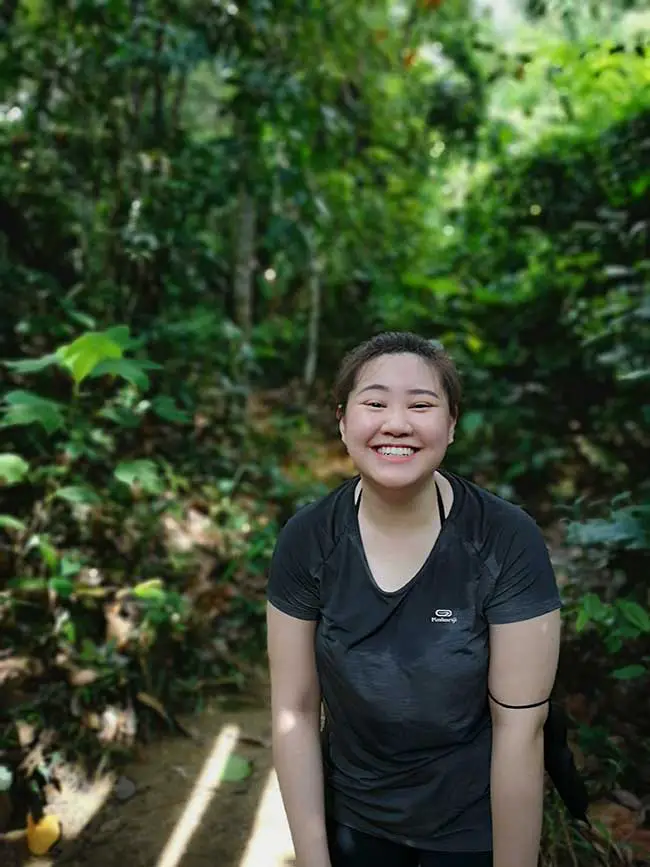 Bukit Gasing is a famous hiking spot and is well-known among all hikers. It's one of those popular spots that everyone who hiked is sure to have been there. It was a Saturday morning when we decided to pay our first visit to Bukit Gasing for hiking. 
I must admit, we didn't go with all the preparations set. We just got water bottles, a bit of bug spray and headed out without other proper measures. So, you might find some valuable lessons here!
Our Bukit Gasing Hiking Trip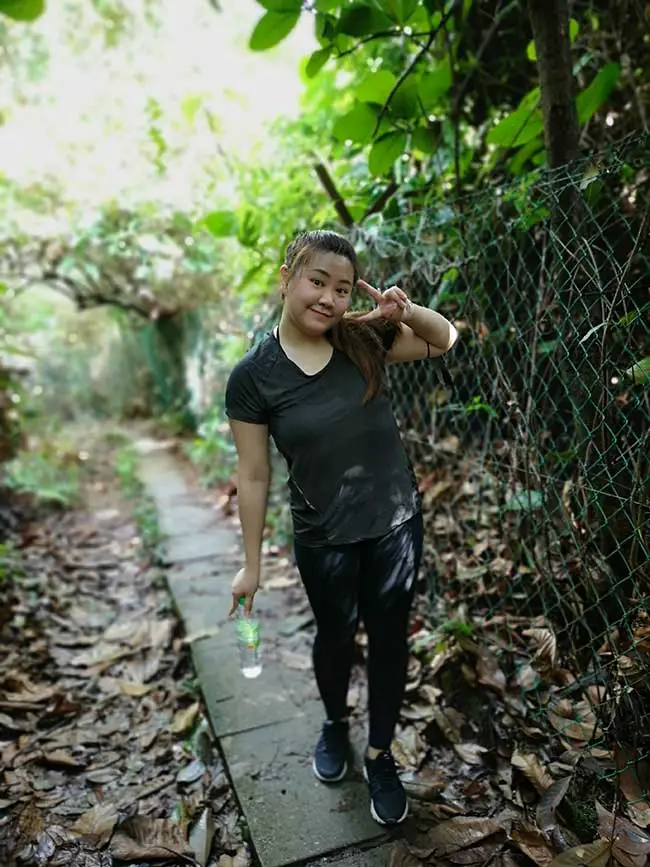 We met up at a MRT station nearby before heading to Bukit Gasing for our hiking. It was not within our expectations but there were Beam scooters there in that particular station. We had our fun there while waiting for all our members to assemble. 
And guess what? We have a special guest called Ginger. He's a domestic cat that has never joined any hike before. So, this hike is our first and also for him as well. 
As soon as our members arrived, we headed there with the help of Google maps. When I arrived, I was weirded by the entrance. 
Where's the arc that says "Welcome to Bukit Gasing"? I wondered. 
Judging from the tons of vehicles parked on the roadside, we can't be wrong. There's also a couple of hikers resting on the road side as well. 
Uncle Google was not wrong about it either. It does indeed show that it's part of Bukit Gasing. I guess it's just one of the many entrances. 
We parked on the roadside and equipped ourselves with all the necessities. Sprayed mosquito deterrent and went off. No sunblock. Which is something we regret later on.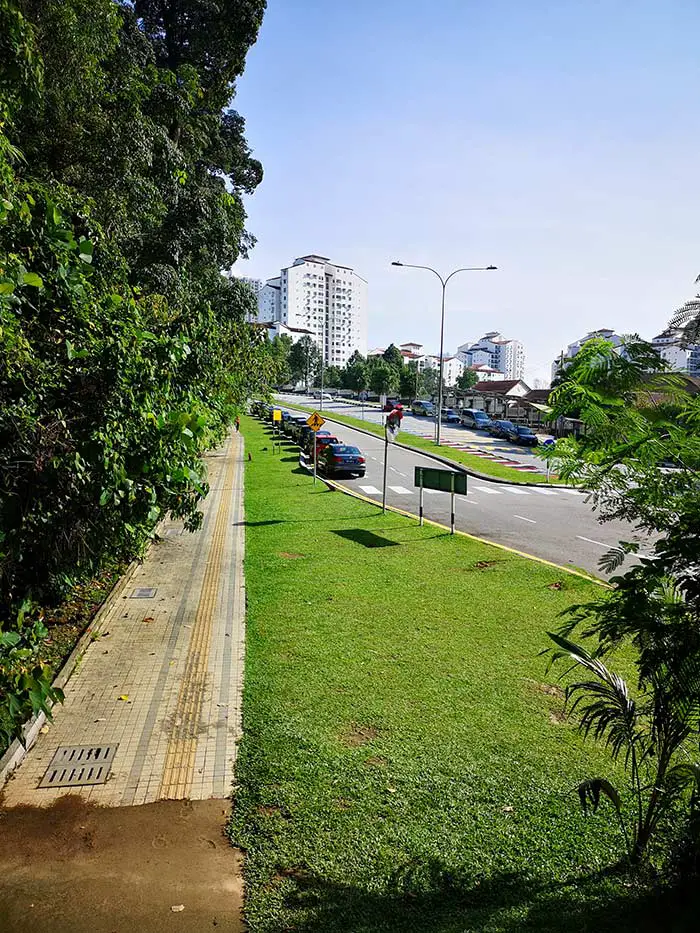 There was a flight of stairs heading up and we saw the trail. It was shadowed by nature and the grounds were wet. It probably rained last night so it was slightly muddy. Some of the trails are a bit slippery so be careful. 
There were a few hikers walking out as we had just begun our hike. It's about 9 am. We started our Bukit Gasing hiking a bit late.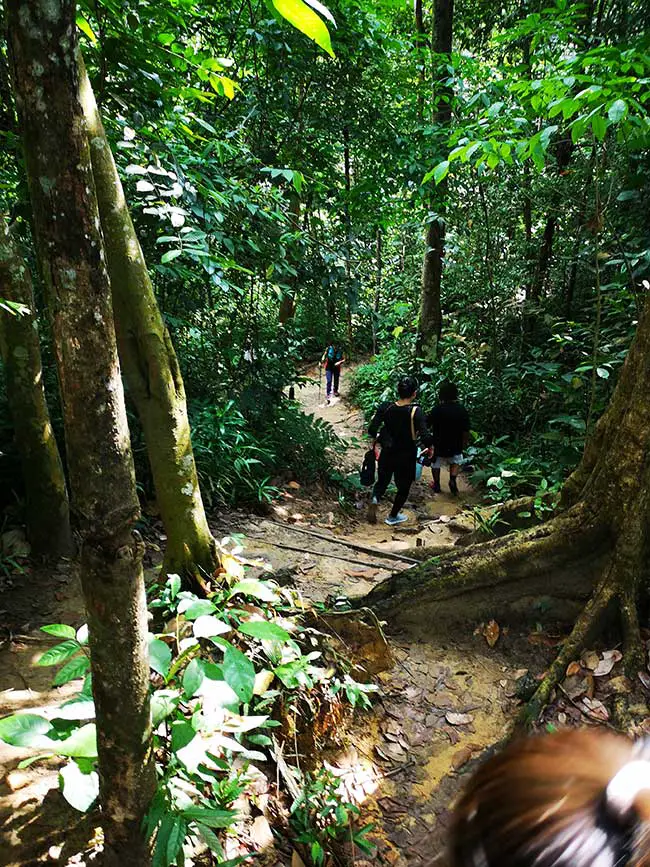 The sun was shining through the leaves. The green forest was beautifully painted by the sun rays. The sun was accompanying our journey all the way. 
We checked the weather forecast. It wasn't that accurate and we're glad that it is so. It was showing a thunderstorm and there we were with the sun's bright smile shining upon us. 
The trail was smooth and even until we reached the spot where we had to climb up. 
We encountered a bunch of people. They were friendly. It's like a nice thing here where people greet and talk to each other. 
Our friend asked about the nearest paved road. We had a short chat and introduced Ginger to them.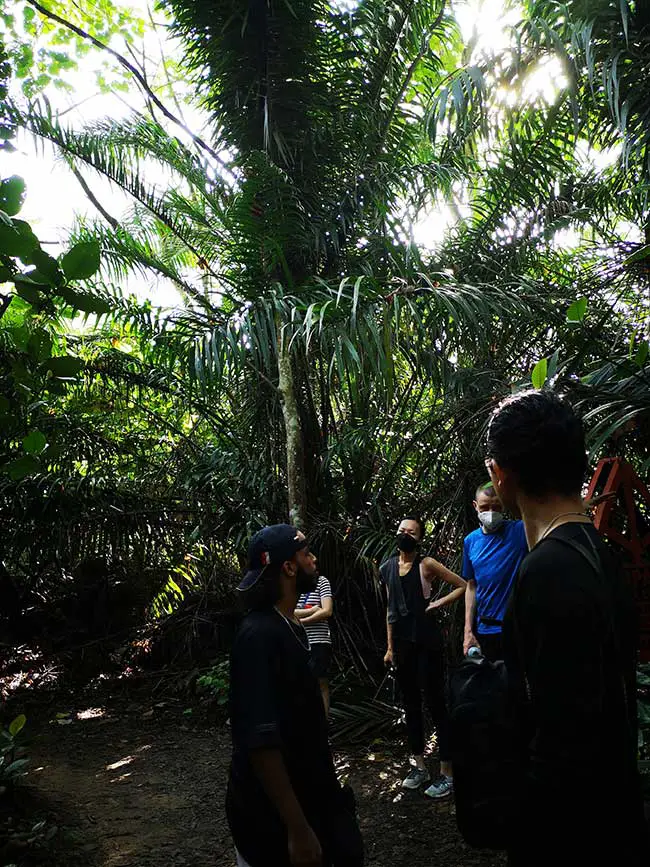 As we moved on, we saw more people. Whenever we reached a junction, we stopped and decided where to go. It was really confusing for us and we didn't know where to turn. 
Eventually we reached another junction with some benches. Our friend opened up his cat bag and let Ginger out. We chilled there for a while. 
Ginger was trembling. 
It's intimidating for him. Lots of noises and he never went into a forest before. 
The sight of Ginger sparked the curiosity of others. Some came by and talked to us. He was like the spotlight of the hiking trip. 
Ginger sniffed around and started to walk bit by bit instead of hiding under the bench. He is starting to get used to forest life.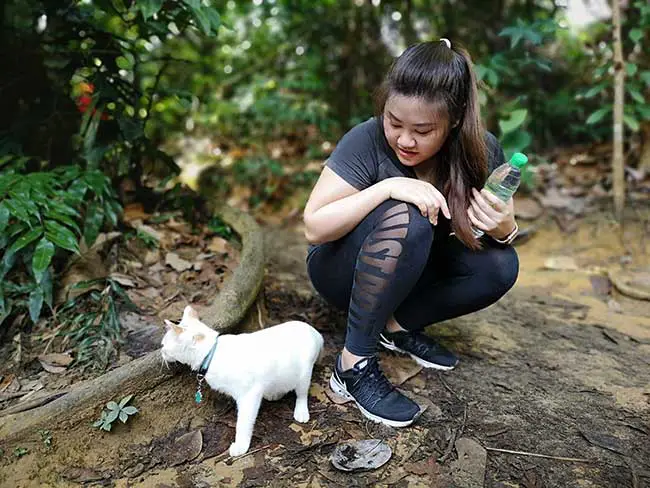 We had to put him back into the cat bag before going on. He was just getting started and we can feel that he's excited to explore more. 
The trails were long but they got better and less muddy as it went. We finally reached another junction where there's a map board on the ground. It shows the map of Bukit Gasing.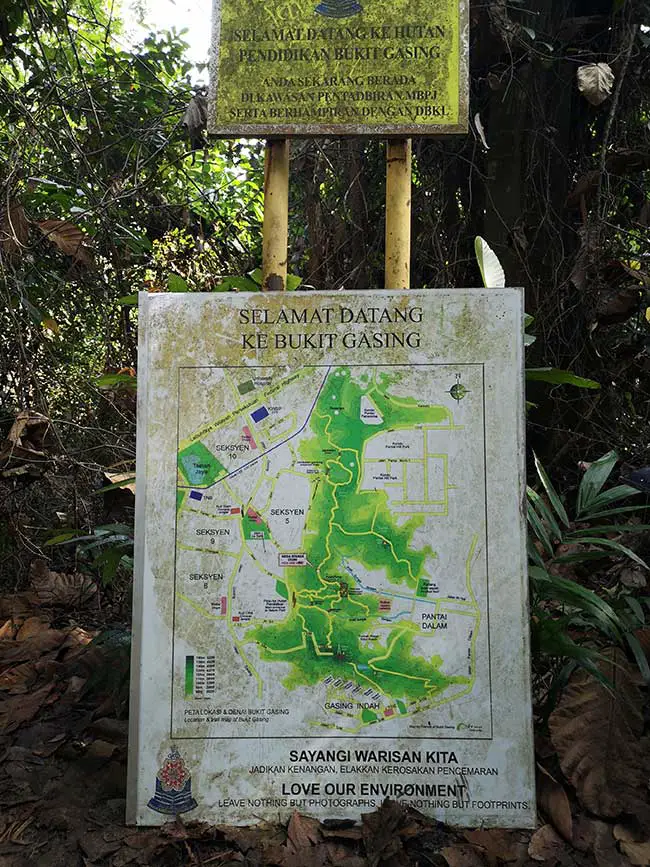 We were taking photos all over the place. The other hikers were kind enough to wait for us to take the picture before passing by.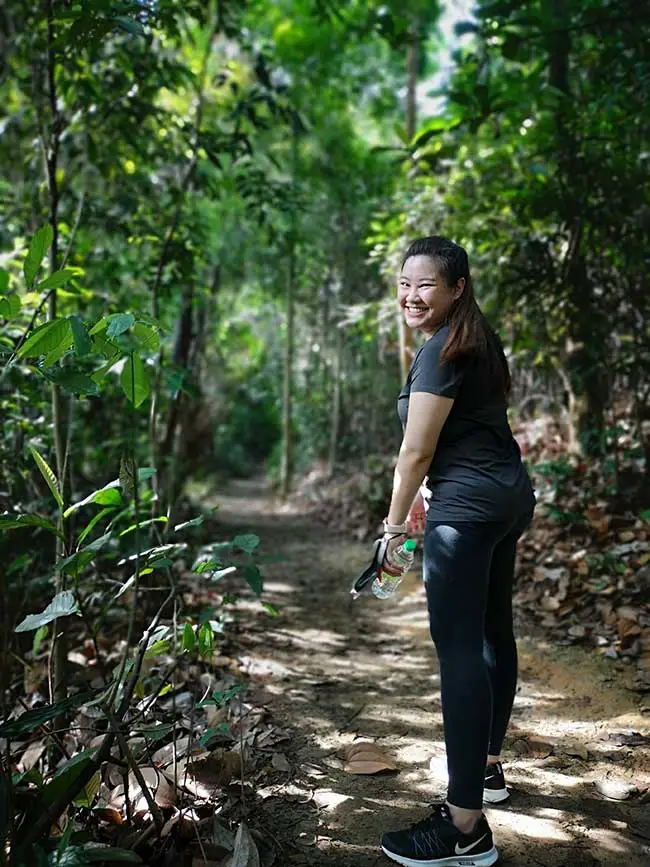 The map shows that there was a watchtower. We picked the route to head there. The trail was set along a fence. It led us to an overgrowth of trees. 
The path was practically carved through it. So, you walk through it like it's a tunnel. 
We reached another junction where an auntie was so excited to see Ginger. She requested to take a photo with him.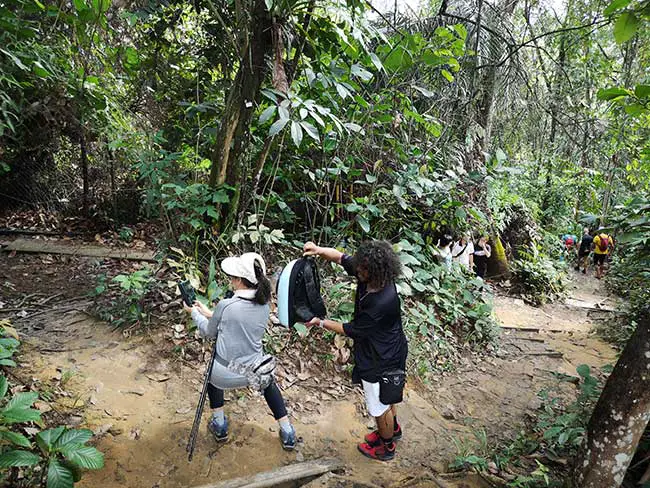 She revealed that she loves cats and has two of them. The cat bag was pretty exciting to her as well. She asked us where to get it. We took some nice shots there as well before we parted ways.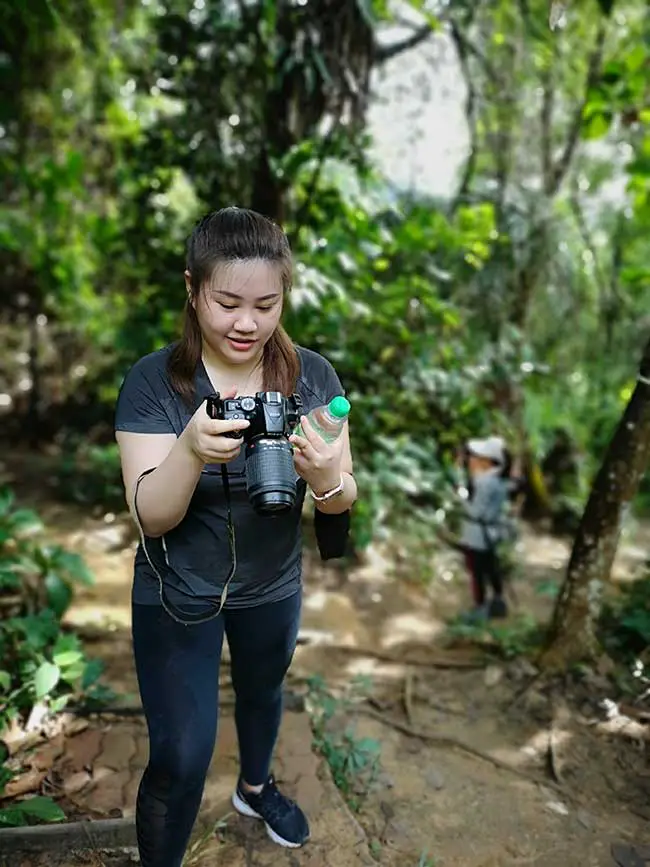 It was tiring to hike. 
All we did was picking those trails where we just needed to hike down instead of up. The steps of the trail are pretty well formed with wooden boards making up the staircase.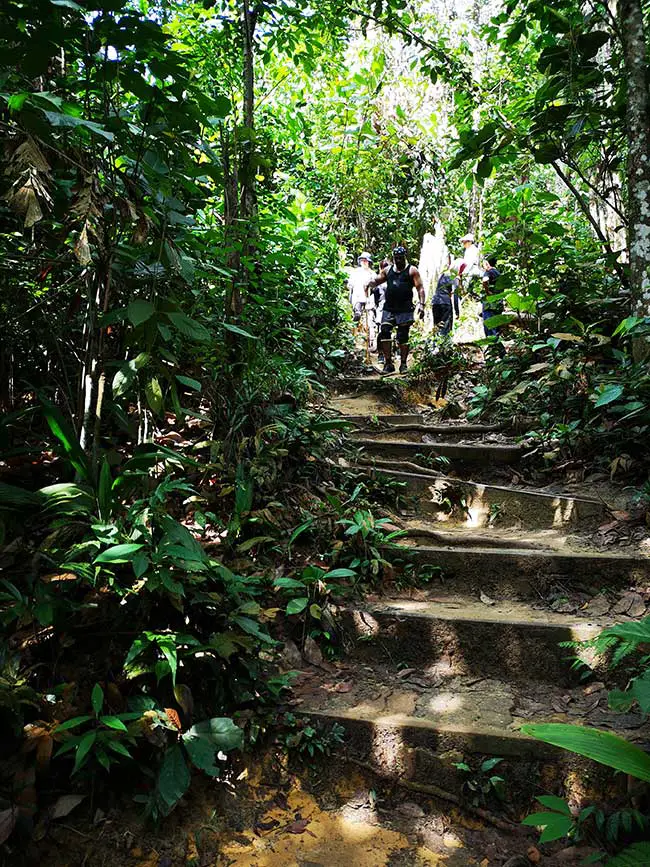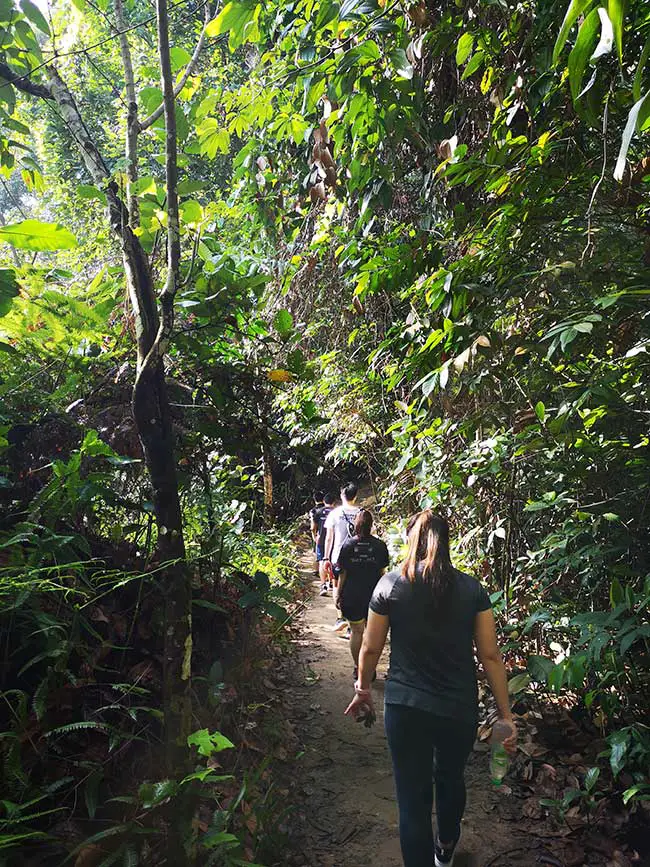 We also manage to spot some uncommon plantations that look quite interesting. Being in nature is nice and the air smells amazing. No air purifier on earth could provide such quality air with the lovely forest scent.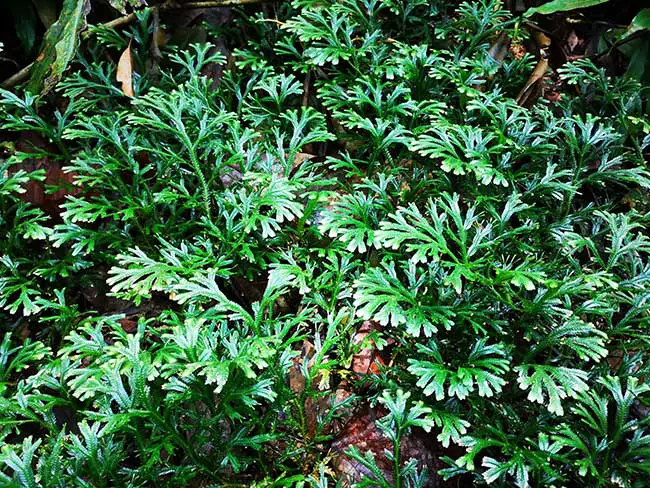 Our struggles eventually led us to a paved stairs. Finally, something solid. We rested there a while and let Ginger out to explore.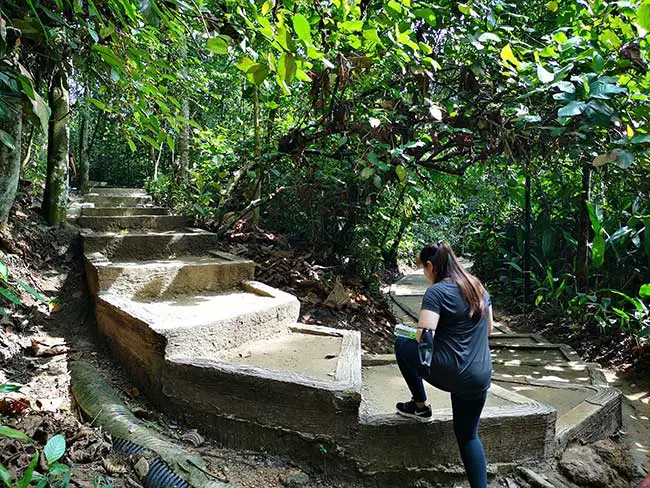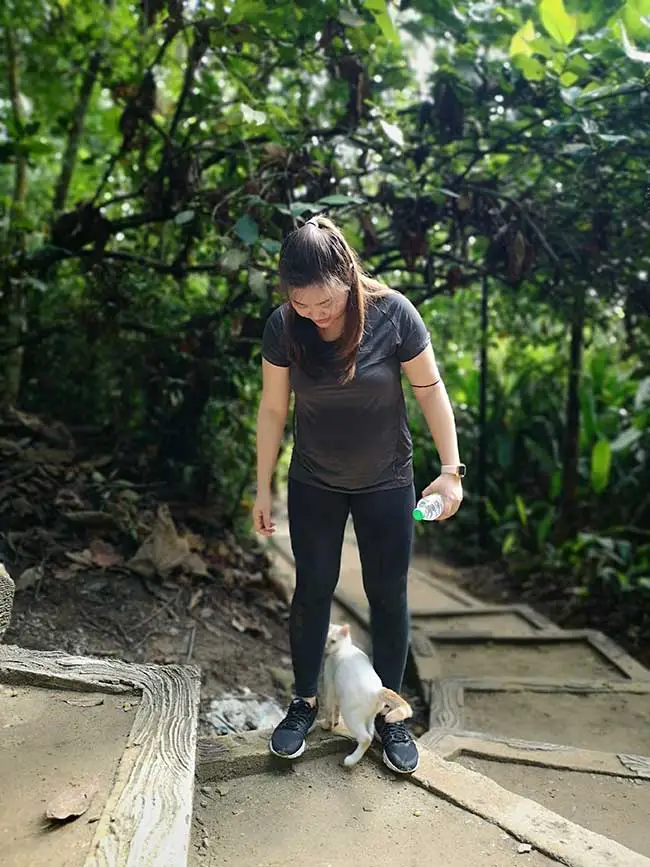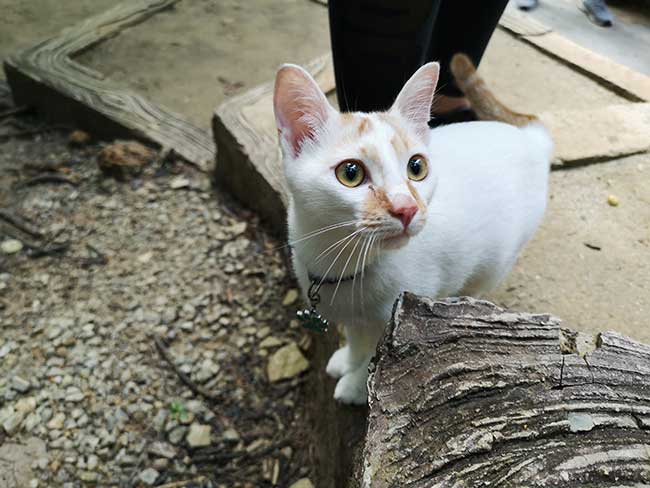 Other hikers passed by and some of them were resting nearby as well. Our friend told Ginger to not hide under the branches. 
The other hiker replied "Okay". 
We all burst out with laughter. Not certain if he knew we were talking to Ginger, our friend explained just in case there's a misunderstanding.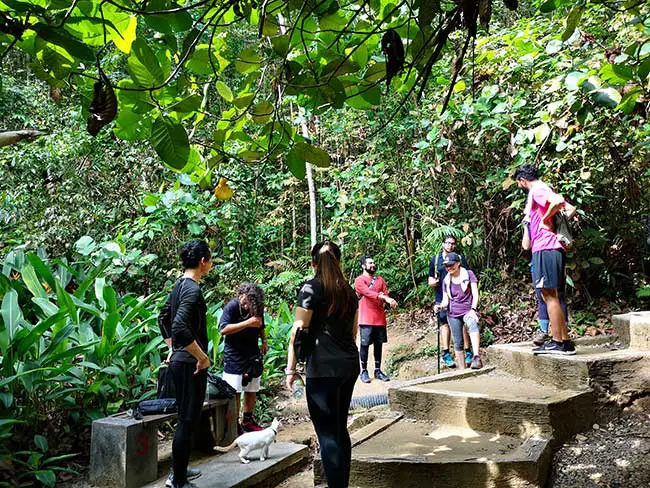 Another bunch of hikers came by and was caught by the adorableness of Ginger. We had a short chat. Then, Ginger tried to follow them. 
The trails here are so clean. It's like there's someone cleaning the trails with a leaf blower.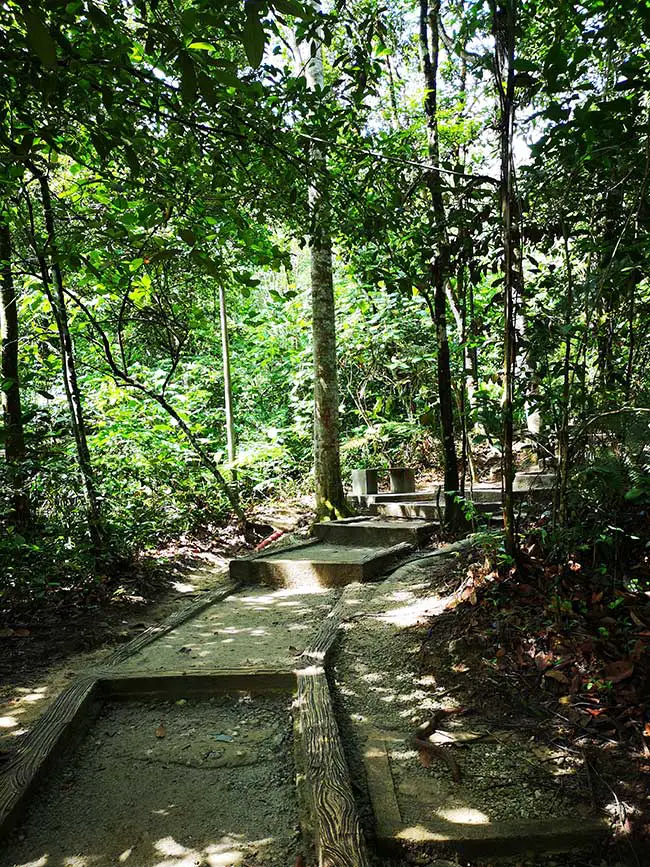 Anyway, we continued our hike by following the trails. There was only one path that seemed like going down a hill. So, we followed that.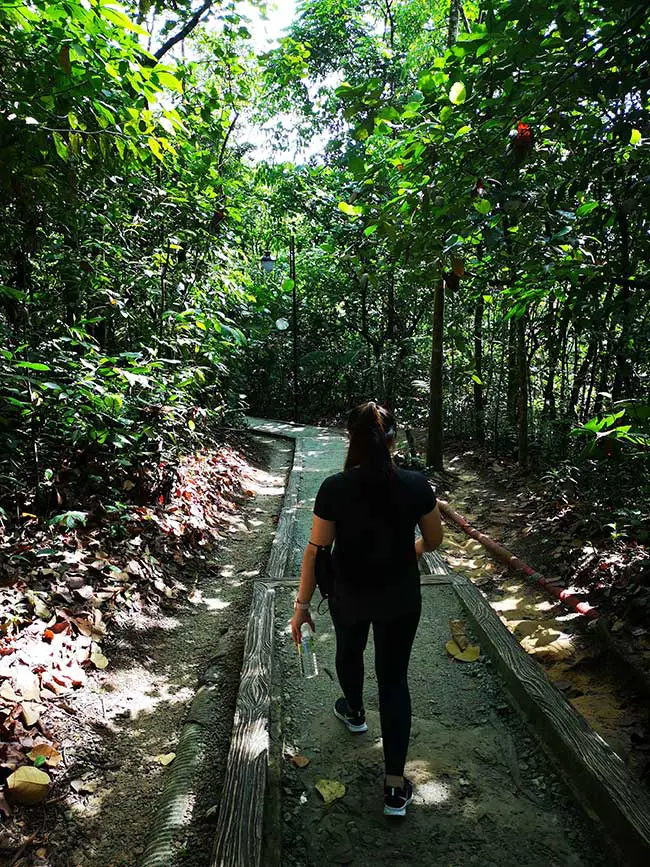 The flight of stairs led us to an open park. Back to civilization at last! 
There's a small stream and a lot of people sitting around. There's a gazebo and little bridges all over.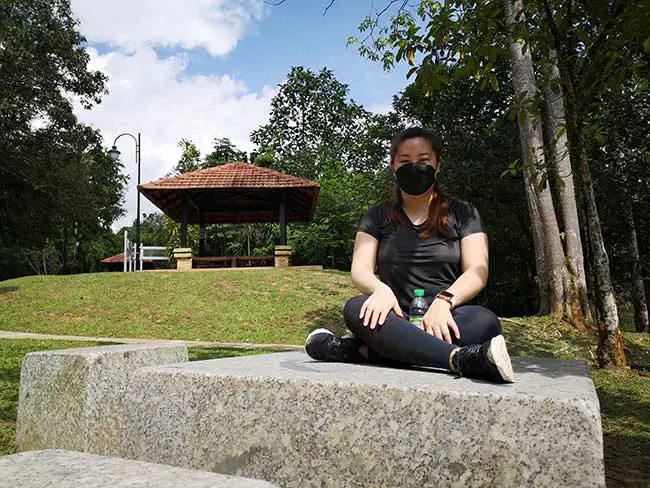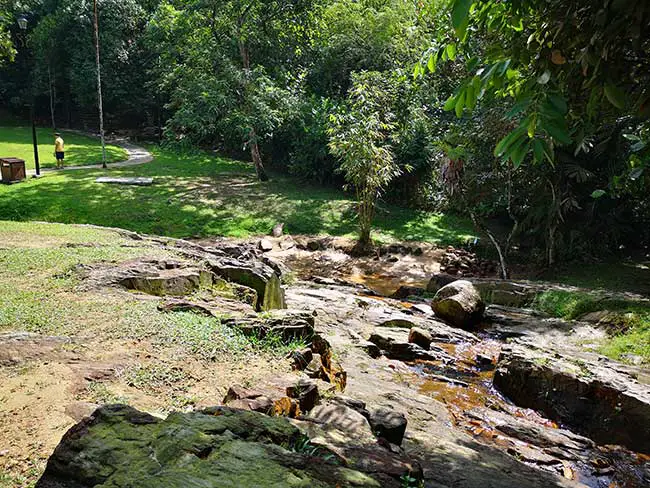 The stream was shallow. There was a family playing in the stream right at the bottom of it. 
It turns out, the main park is called Taman Rimba Bukit Kerinchi.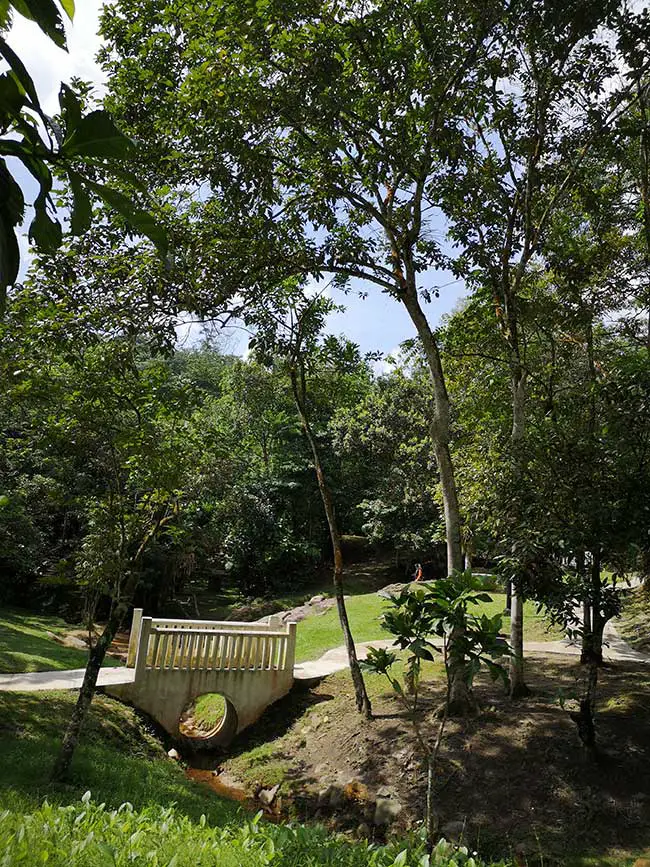 Okay, it's not exactly Bukit Gasing anymore. But, believe me, we should have been here in the first place! 
It will be a good place to start the hike instead of the muddy trails and mosquito attacks.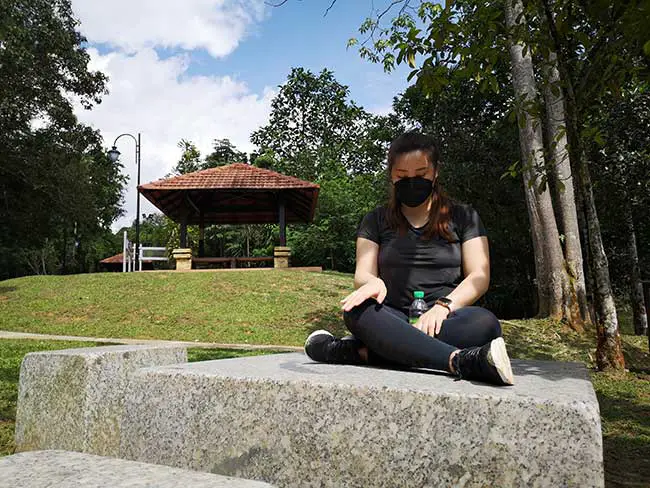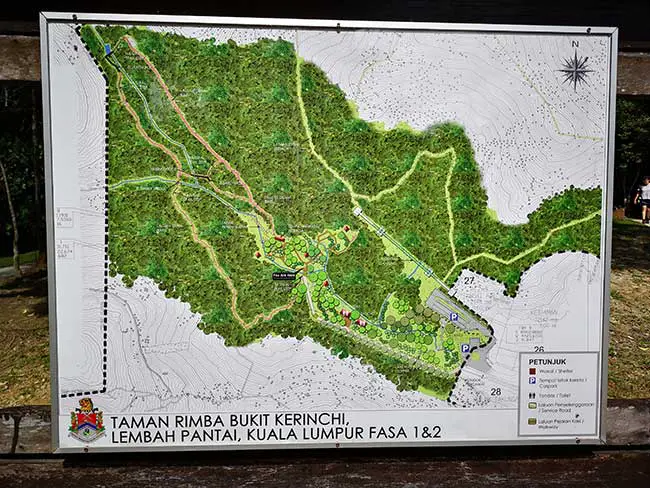 We rested around and took some photos. There's vast green grass that makes it a nice picnic space. 
There's a pond there as well and it's teeming with life! There's small fishes.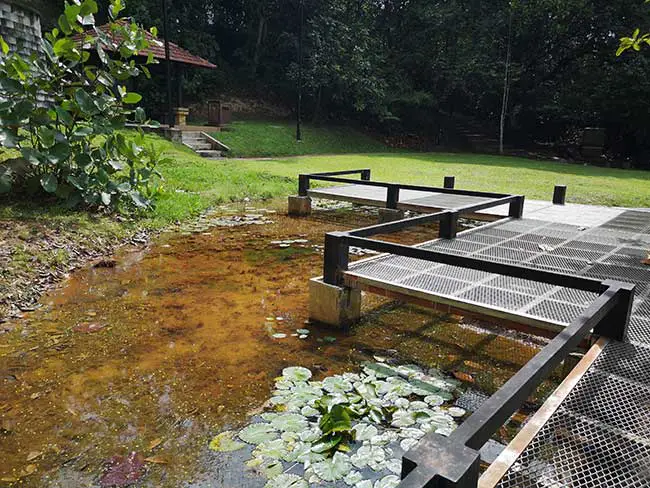 I managed to spot a few fruit trees. One of them is a jackfruit tree. There's a huge fruit just sticking on the trunk high up. 
If we have the tools, alas we won't be all drained and actually have something to fill our tummy with. 
Once we all caught up with our breaths, we headed over to the paved road leading to the guard shack. There was a bike with ice cream outside just waiting for hungry hikers like us. 
Along the way out, we saw the steel stairs. We knew we had to go and explore it. So, after we're done with the ice cream, we walked back in and climbed the steel stairs.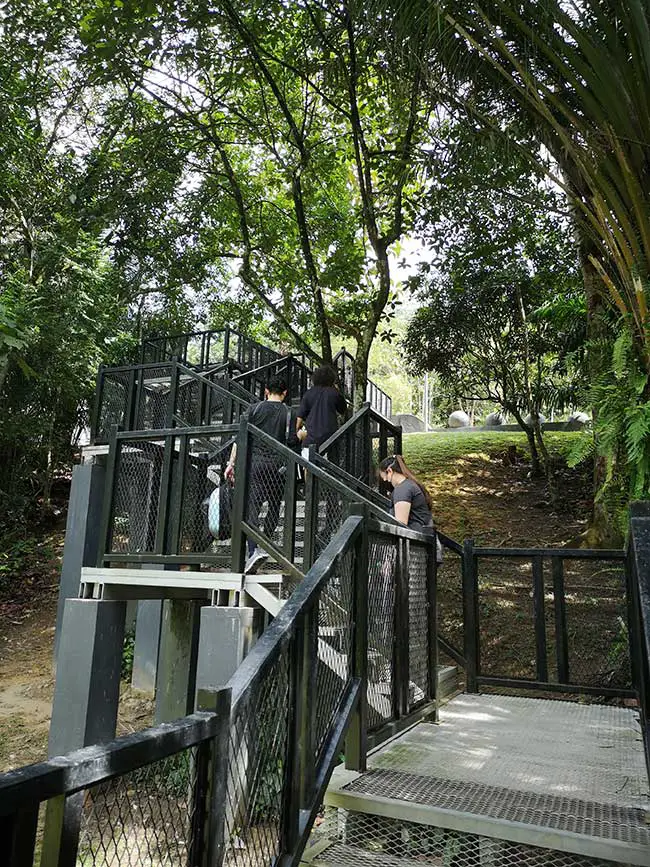 We were tired but this sense of exploration is just overwhelming and we have to answer the call.
We climbed up and we saw the steel bridge. Oh, man.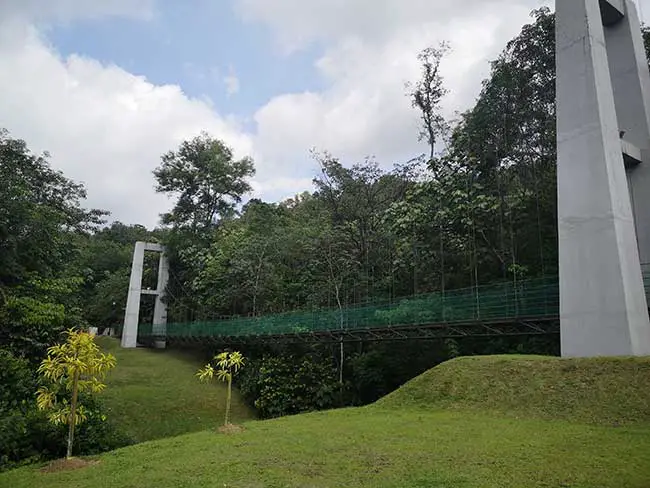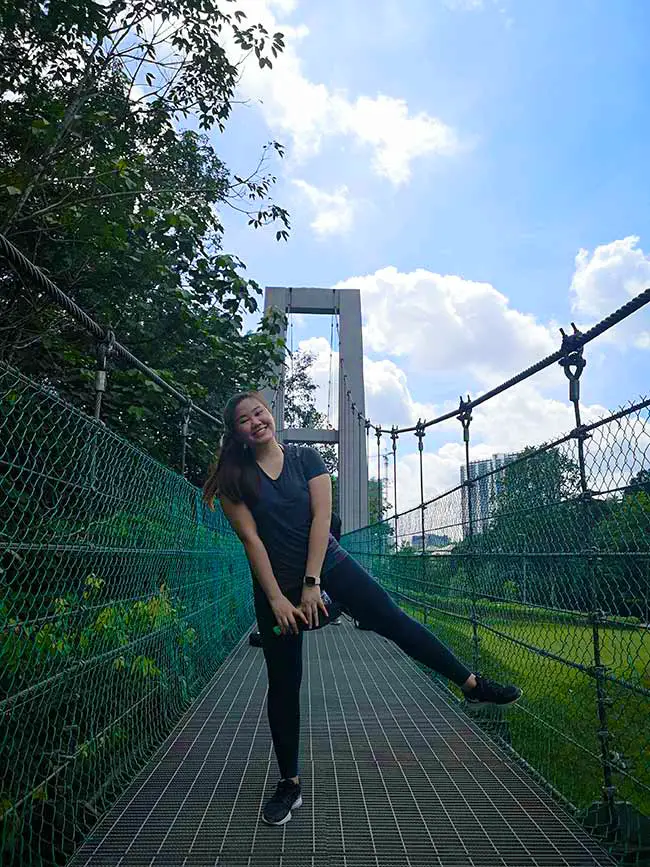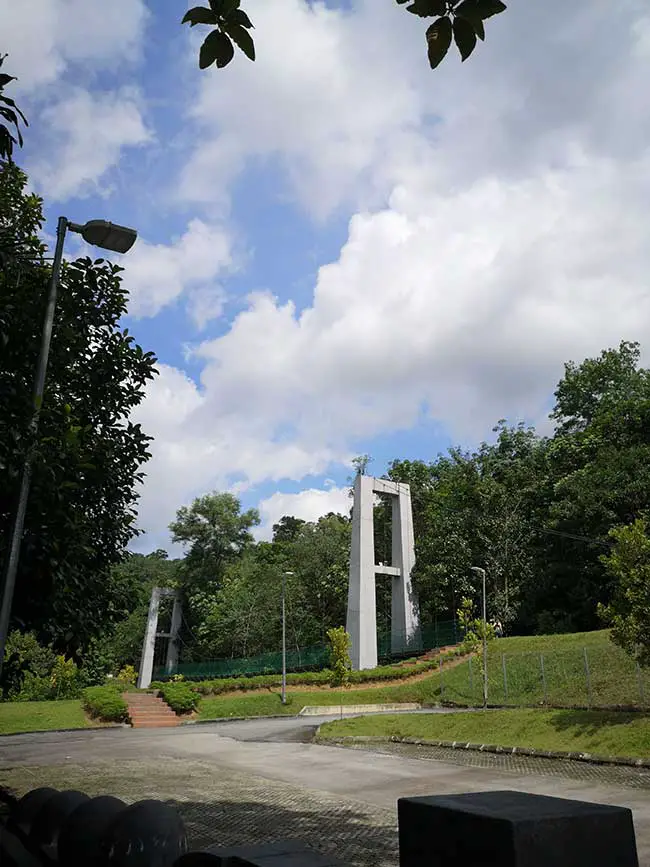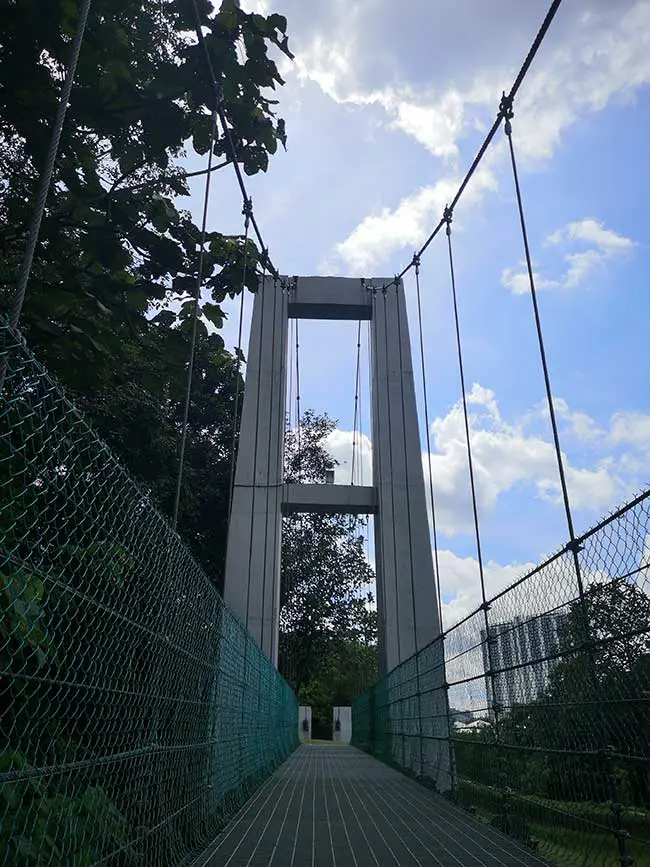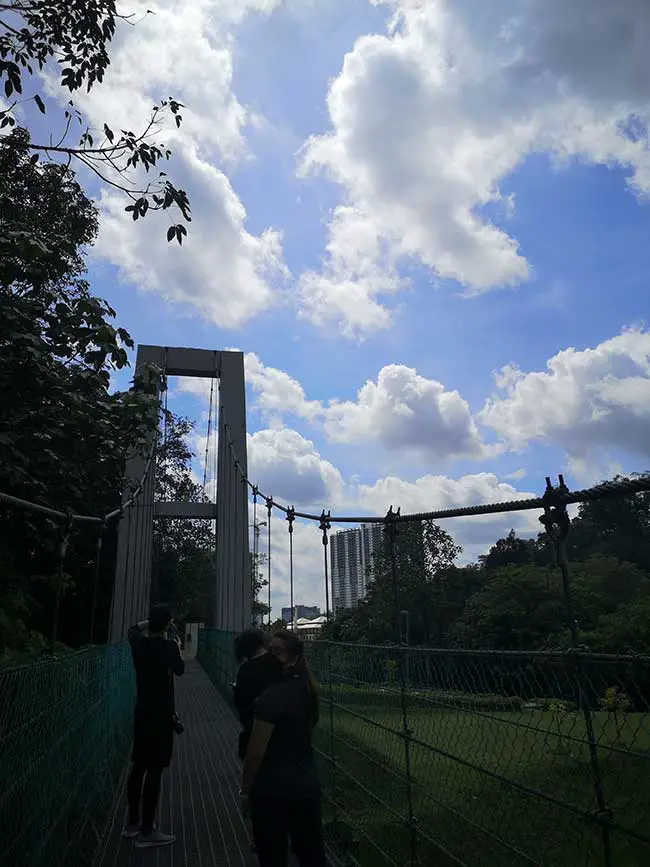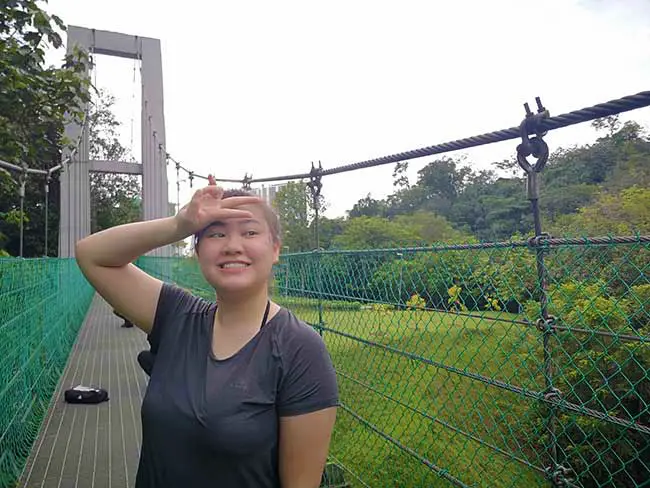 Now, we have to head there. We just have to despite how tired we were. The bridge was made out of a steel grid with rectangular patterns that is just the convenient size of a mobile phone. 
Just looking at it makes me grip my phone harder. 
We paced our way towards the center of the bridge and it started to get all wobbly. We're like 2 to 3 floors off ground. 
It sparked a discussion if we will survive if the bridge collapses. We came to a conclusion that it's a yes. Just avoid falling onto the solid rocks down there and we'll be fine. 
The sky was beautiful. The clouds provided its gentle shade. Our hiking trip is quite blessed by far. 
Then, one problem came to mind. Our exit point is far from our entry point. Google shows that it's 26 minutes of walking to the spot where we parked the car. 
Remember about not putting sunblock earlier? This is the time where regret sets in. We walked under the sun.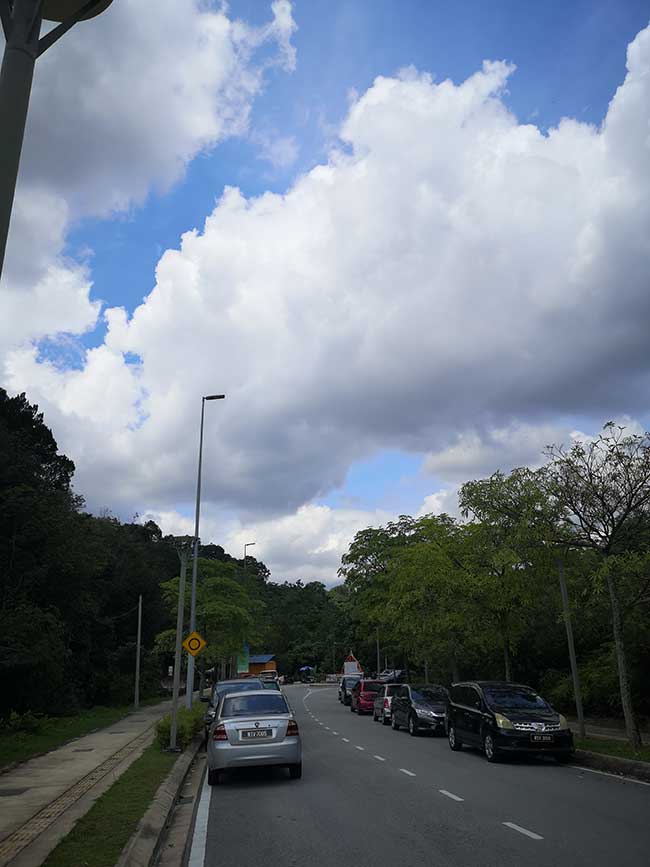 Proper planning is important so you get in and out at the same entrance. We learned that the hard way. That's the only major setback in the whole hiking trip. Well, better hike next time! 
About Bukit Gasing
Bukit Gasing, otherwise called Hutan Pendidikan Bukit Gasing, is located between Kuala Lumpur and Petaling Jaya. This spot was once a rubber estate yet has transformed into quite possibly the most visited places for local people and tourists the same today.
It's a popular hiking spot!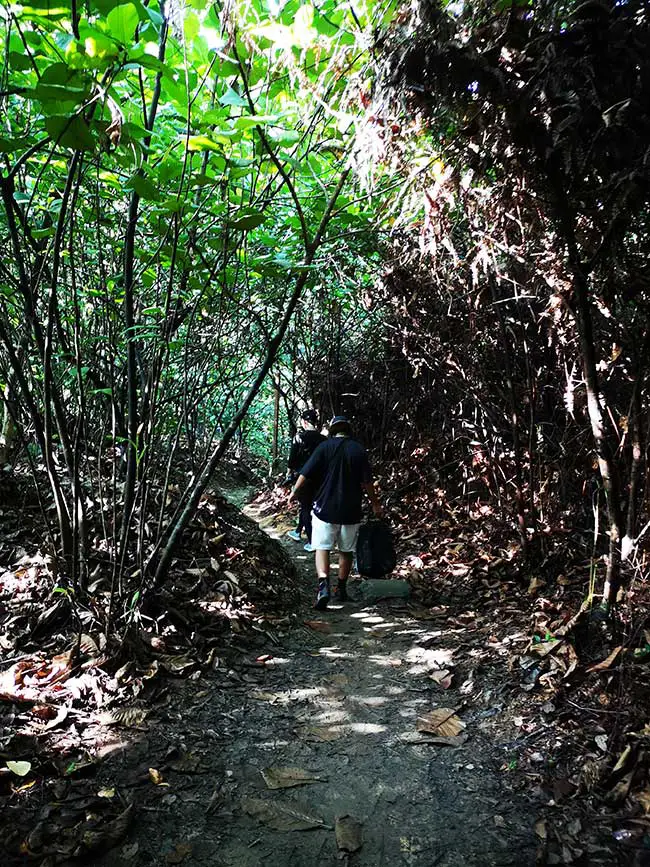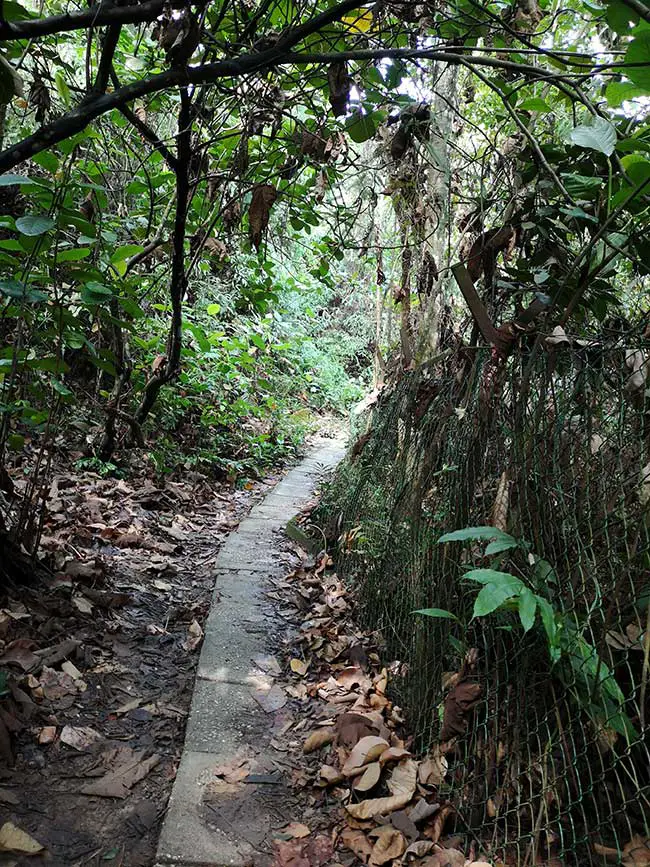 Being encircled by intensely populated regions, Bukit Gasing is a famous spot for adjacent occupants to stretch their legs, get the lungs and heart working and sweat off any additional weight. There are various climbing trails inside Bukit Gasing park to suit all degrees of energy and wellness. There are a lot of benches in the forest where you can take a rest.
You can picnic here! 
Aside from climbing, guests like to have picnics there as well! There's a spot in the main park area in Taman Rimba Bukit Kerinchi with a lot of seats, a streaming river and a pond rich with life-forms. 
There's a lot of little fishes, butterflies and dragonflies that are lovely to look at. The main park makes a nice photography spot as well.  
There's lots of paths inside!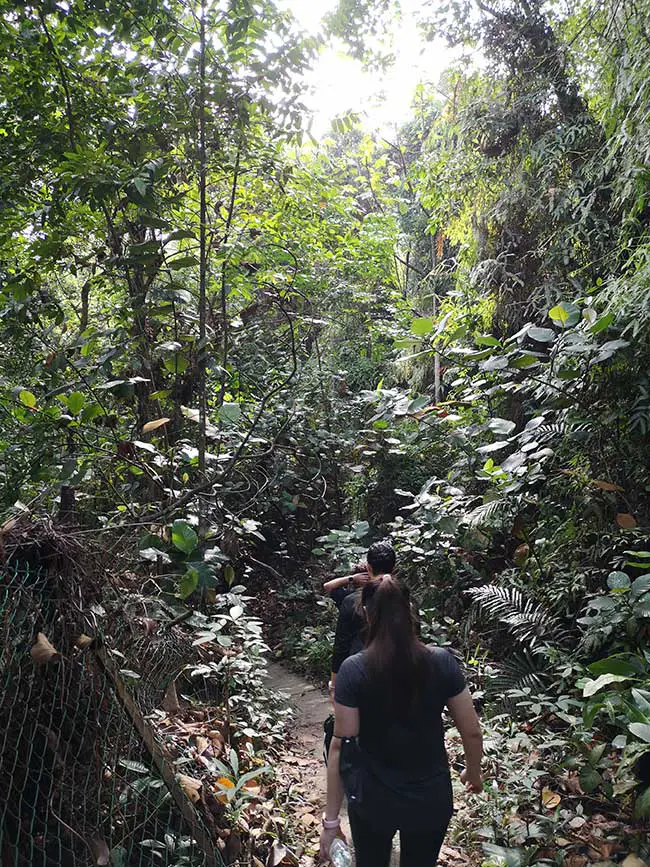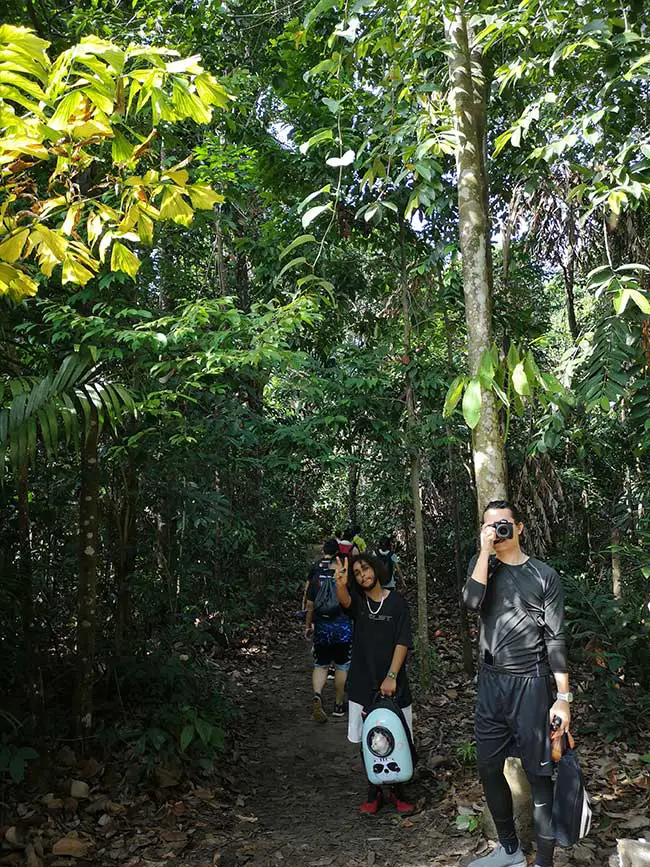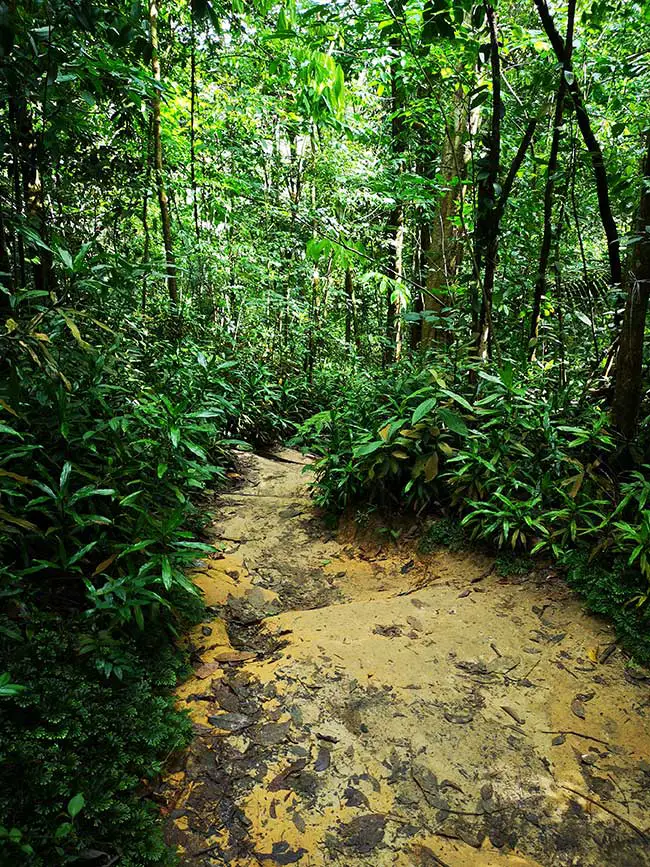 Bukit Gasing hiking offers a lot of different paths, it can seem confounding to a few, however the issue can without much of a stretch be addressed by downloading a path map in your cell phones.
The vast majority of the path here will require one to two hours to wrap up. Contingent upon your wellness level, you can endeavor various paths in a day as they are interconnected. All things considered, Bukit Gasing has many paths, however it likewise has many fascinating tourist spots and features along its path as well!
There's several attractions all around!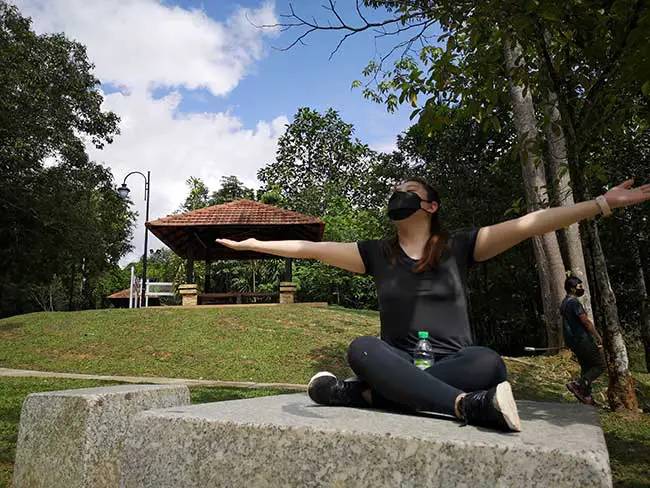 Bukit Gasing is more than just a hiking place. Other than the picnic spot, there's also a steel bridge, the metal staircase, wooden bridges over a small stream, a wooden platform with a view and more to discover.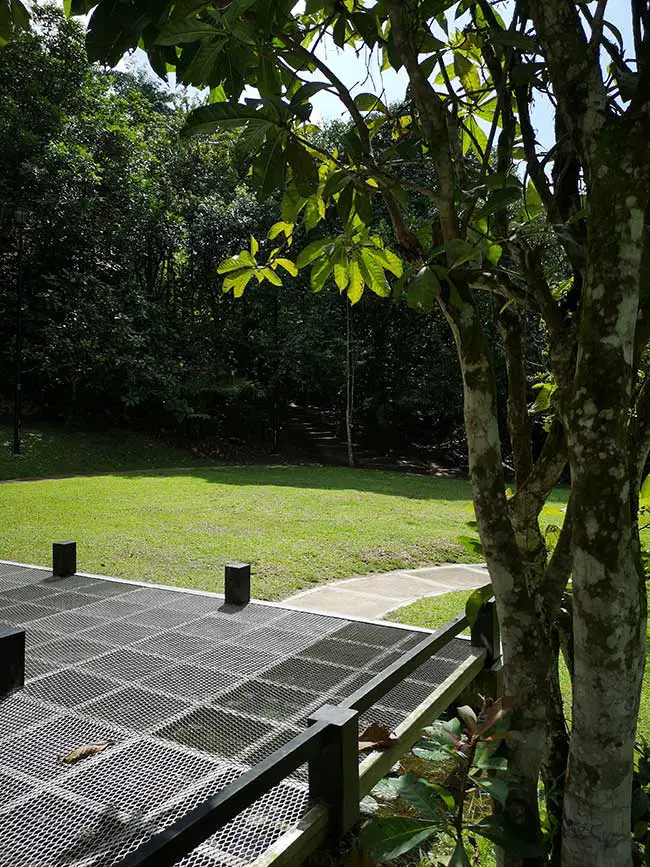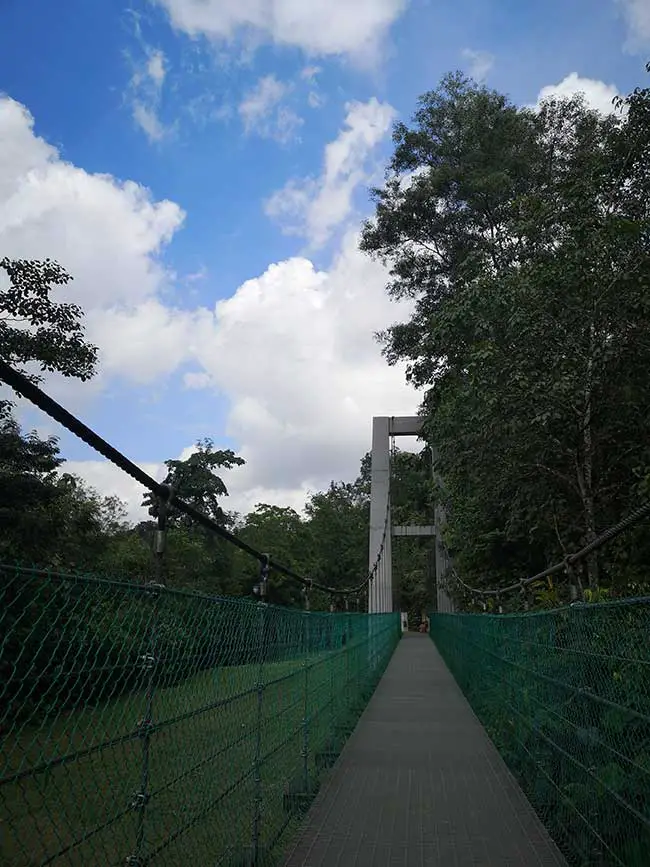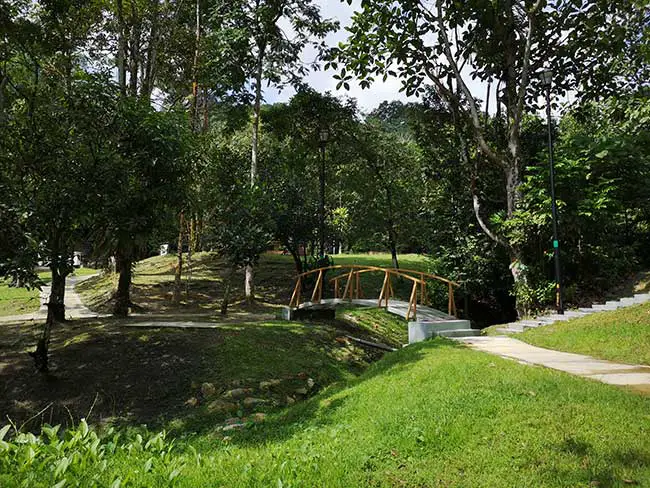 There used to be a watch tower as well but it wasn't there anymore. You can see it on one of the maps. We tried looking for it but couldn't find it. 
If you read some other people's blogs, which I did later, it turns out it was demolished. 
We didn't exactly explore the entire Bukit Gasing trails. So, more to add on this blog later! 
There are monkeys!
What is a forest without its residents right? Our friend managed to spot a monkey but we didn't quite see it. There's also squirrels and lizards. Not sure of any other animals but that's about what we manage to encounter on our hike there. 
Tip: If you hear the sound of rustling branches on top of your head, cover your head and keep moving. Sometimes, it can be curious monkeys checking things out and as they move, rotten branches might fall. 
So, keep moving and don't stand still. Be extra cautious if you're under a tree. 
What to bring to Bukit Gasing hiking? 
To go for a hike, you must be prepared. The place is quite full of waves of people. There's people hiking pass every few minutes whenever we stop at the junction for a short break. So, you probably don't need to bring flares and whistles for S.O.S. purposes. 
Anyway, here's what to bring to Bukit Gasing hiking: 
Water bottle 
This is a no-brainer right? It's hot and humid and you'll be sweating all the way. You need to replenish that water level in your body. A small bottle of 600ml is enough for you to survive the hike. 
Tip: Bring a water bottle that comes with a pouch that works like a sling bag. You want to keep your hands free instead of holding the water bottle all the time. 
Some hiking trails are steep and might need your hands to hold on nearby trees as support. So, you want to keep your hands available at all times just in case. 
Proper hiking shoe
Bukit Gasing hiking trails can be muddy sometimes especially when it rained the night before. Any sports shoes are generally fine.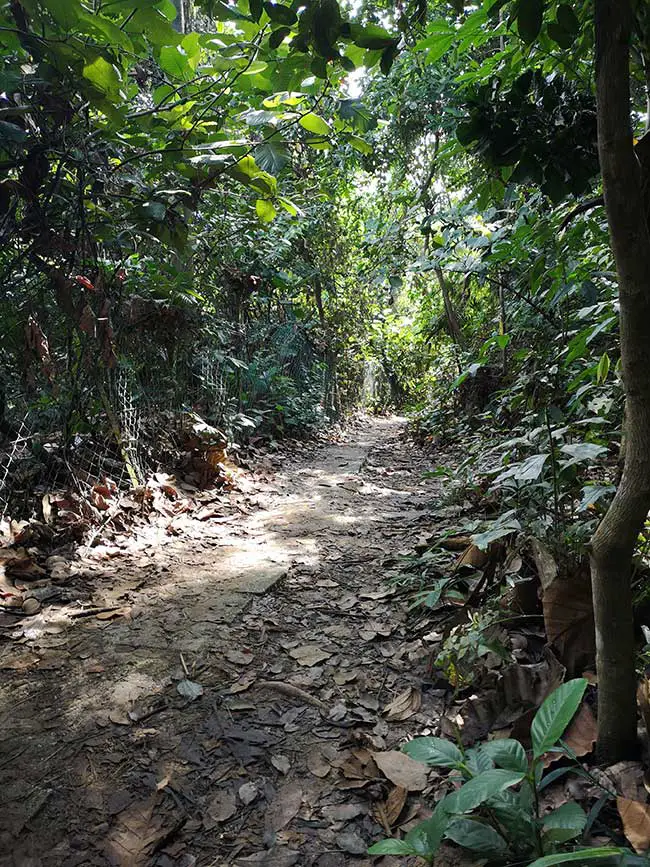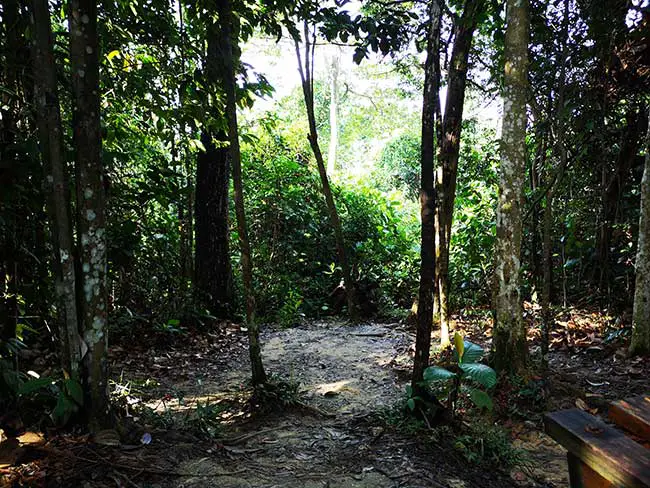 However, along our way, we get to see someone's shoe sole pads laying on the forest floors. It may be best to get those shoes with a solid foam. 
Those shoes with sole pads usually go first and don't last. From our experience, brands don't necessarily equal quality. The hike will truly put your shoes to the test. 
In fact, the sole pads of my shoes just came off one at a time. Fair to mention that the sports shoe has been with me for 3 years. I had to pluck them and stuff them into the pocket. Don't litter!
Mosquito spray
Bukit Gasing hiking won't be comfortable without this! Add up to your body's defense against blood-sucking pests, the mosquitoes. It's a forest after all and we're in their territory. 
I sprayed a generous amount of mosquito repellent spray all over my body before I dive into the forest. We encountered a few mosquitoes floating around us, trying to get a bite. 
One good news is that there's no leeches! At least we haven't encountered any yet. 
Sun block 
Other than mosquitoes, the sun is another formidable opponent that should not be taken lightly. It was all cool in the morning and most of us probably thought about what a little sun would do. 
I kid you not, you won't realize you get sunburn until you get home. The tan is quite obvious. That's fine until you feel a slight sore and have your friends or partner tell you that you have sunburn. 
We didn't do our research too and got out from a different exit. So, we walked all our way to the car from the side of the road. It wasn't sheltered by any forest trees so we got the full blast from the sun. 
Fully-charged phones
If it's your first time, you'll probably be taking a lot of photos. Your phone will get drained fast. Get it fully charged. You can bring a powerbank if it's not too much of a hassle for you to carry. 
Ideally, turn on airplane mode to save more power. That way, you will still have some power left to switch on Google maps and get your way around in case you're lost. 
Don't worry, the telecommunication network connection is still available there. 
Wear proper sports wear 
You will be sweating so get those airy types of sports wear that dries off quickly. It will help you to cool off faster and also smell less bad.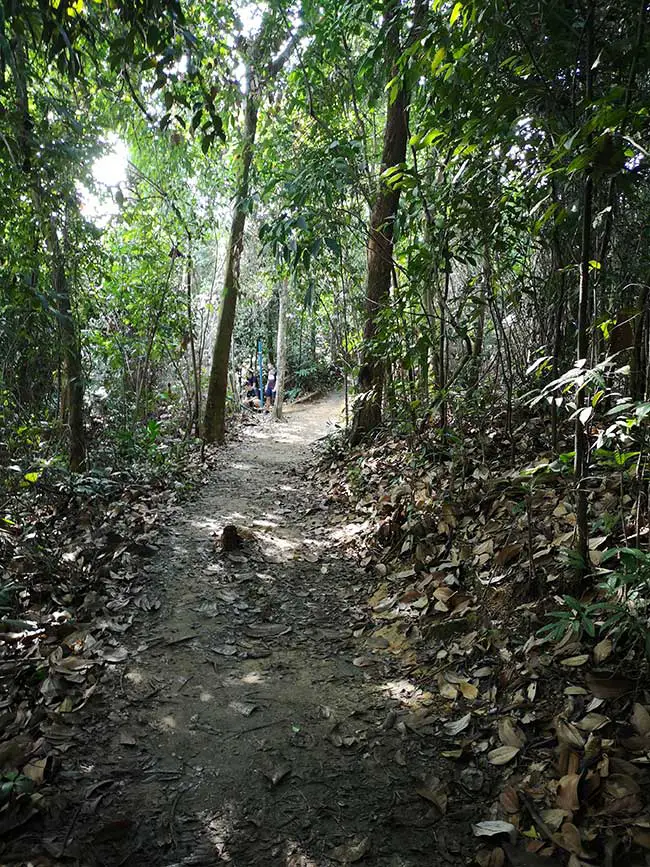 Remember the two natural opponents in hiking, the scorching sun and mosquitoes. If you don't have mosquito repellent, you would want to cover as much skin as possible. 
The same goes with the sun. It'll roast whichever part of you that's exposed. It's no joke. 
Bukit Gasing hiking difficulty
Bukit Gasing hiking difficulty is set at beginner to intermediate level. There aren't many challenges to the trails itself other than the steepness. There's also a lot of junctions and can be confusing for first timers.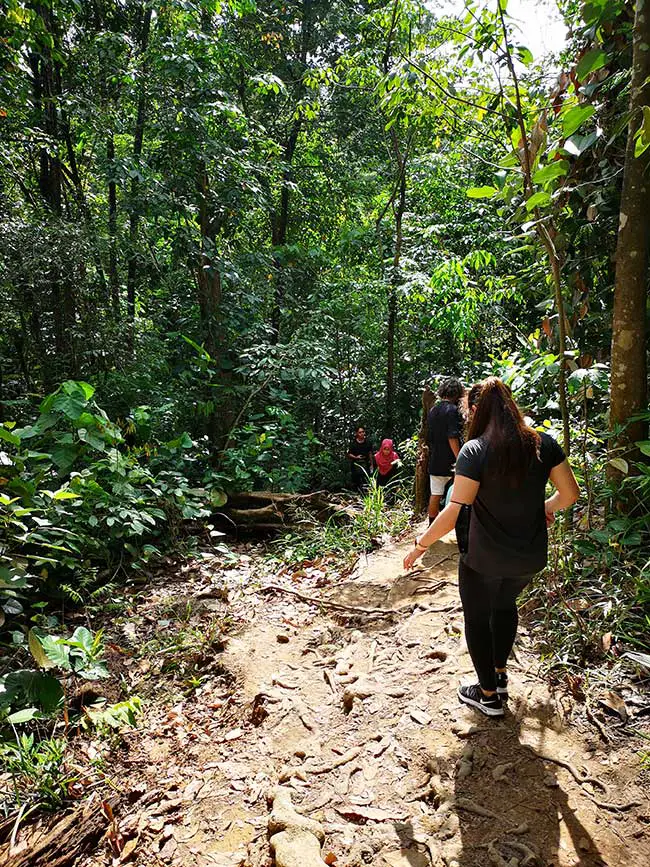 On the bright side, there's a lot of people passing every minute. Most of them are friendly so you can ask your way around. 
It can be hard to tell them where you came from. So, do note your entry point if you came from the Bukit Gasing arc or Taman Rimba Bukit Kerinchi or somewhere else. 
This will help a lot for the experienced hikers to guide you properly. 
Does Bukit Gasing allow dogs? 
Yes, Bukit Gasing allows dogs. Preferably small dogs that you can carry with a dog carrier bag. Note that the trails are tight and some other hikers might be sensitive to dogs. So, it's not recommended to bring big dogs. The steepness too may pose difficulty for your smaller dogs to hike up. So, you may have to carry them by hand at all times.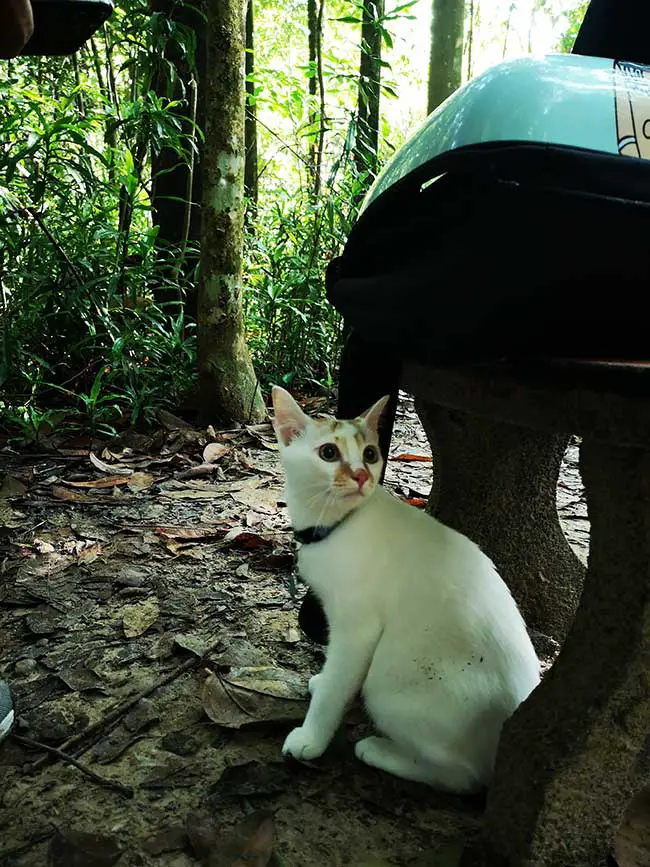 Our friend brought a cat bag to bring Ginger around. It worked out just fine. At one point a friendly hiker jokes, saying that "You brought lunch!" when he saw Ginger in the cat bag. 
It was funny and we all laughed. He was apologetic after that. 
How many entrances to Bukit Gasing? 
There's about 3 entrances to Bukit Gasing which is the main entrance at Hutan Pendidikan Bukit Gasing, the one from Taman Rimba Bukit Kerinchi, and Bukit Gasing via Hillpark Trailhead. These are the locations that you can key into Google maps and get the route to drive there.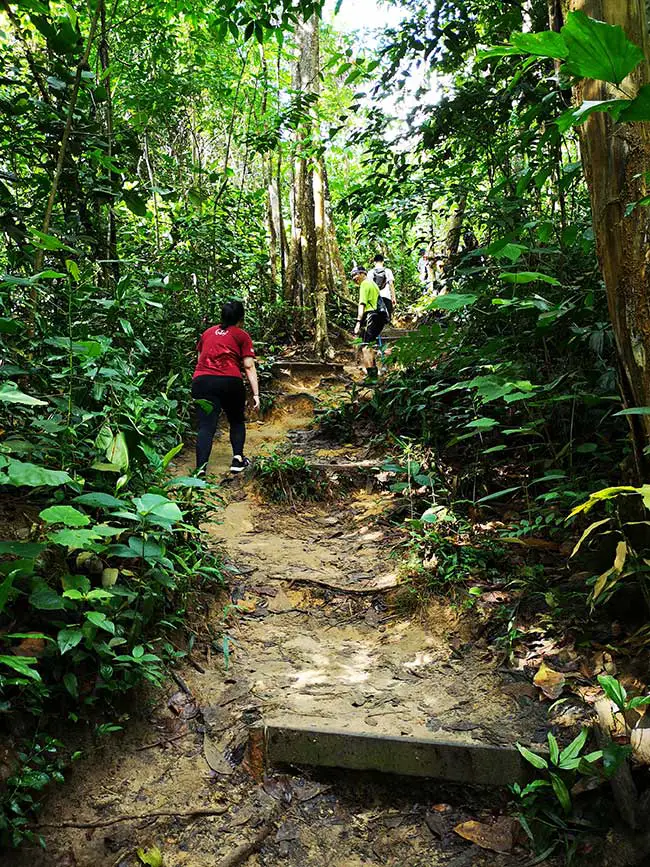 There's probably other entrances as well that the locals would know about. But, it's better to stick to the main ones. 
The entry point that we got from Google was for the Hillpark Trailhead. Just imagine walking our way there from Taman Rimba Bukit Kerinchi. We didn't enjoy it. 
Conclusion
Bukit Gasing hiking is like a personal way to connect with nature. The air smells significantly better. There's also interesting things to take note of like plants and little critters. 
The sweating is good and it has been so long since forever. So, it's a good workout. 
The people are mostly nice. Just be aware that because of some tight trails, the faster hikers might want to bypass you. They will either say "excuse me" or clears their throat which is like their way of honking you. 
So, make way. 
We were pretty tired after the hike. Once we showered, we dried up and went for a nap. It was a day well spent!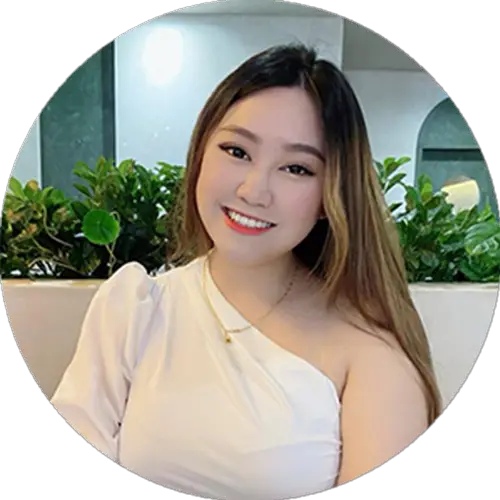 Valerie, Lifestyle Blogger
Valerie is a Malaysia blogger living in the city of KL. Join her as she shares some of her personal interests,  activities and styles in this blog!
Follow her @valerie.seow on Instagram.