Local residents are well acquainted with Putrajaya, known as a federal administrative center of Malaysia. However, Putrajaya is also considered an attractive tourist destination in our country. It was designated as a federal territory in the late 1980s, originally part of Selangor state.
The grandeur of Putrajaya began construction in early 1995 as a planned city to replace Kuala Lumpur as the administrative center.
I want to introduce Putrajaya as a tourist destination with a philosophy that should be explored and appreciated by the public. In line with this, we will explore several symbolic monuments in the city, making it a philosophical center for the country's tourism industry.
You can also head to the neighbouring area for appetizing cafes in Cyberjaya to fill up your tummy!
Below, I have compiled a list of things to do in Putrajaya, making it easier for you to plan your trip:
Things To Do In Putrajaya, Attractions & More
1. Putrajaya Secret Garden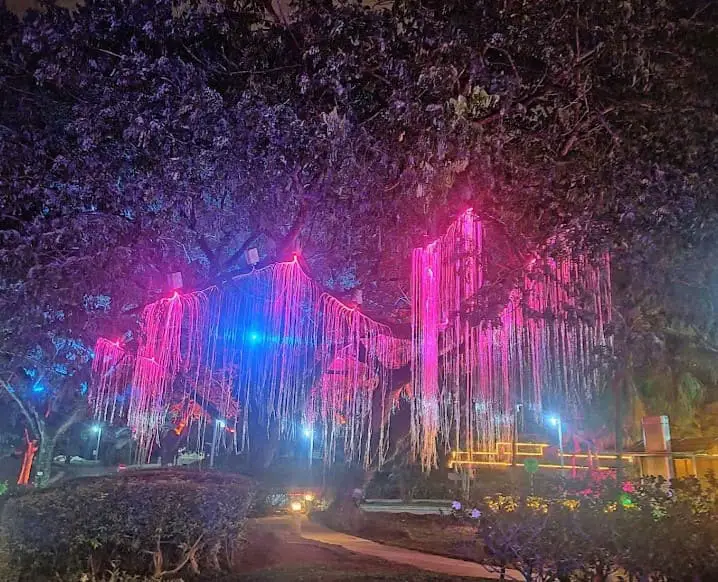 This recently opened garden of lights, known as Putrajaya Secret Garden, will illuminate your life and that of your family during the nighttime. Located in Taman Putra Perdana Presint 1, facing Hotel Pulse Grande, it serves as the finishing line for Putrajaya Steps. Visiting this place can be one of the nice things to do in Putrajaya!
The main attraction of this garden lies in its evening display. At exactly 7 pm, the colorful LED lights that encircle every corner of the park come to life. The mesmerizing LED lights cascading from the trees, scattered among the bushes, and carefully placed around the garden create a scene reminiscent of the magical world of Pandora from the movie Avatar. Visiting this place is one of the best things to do in Putrajaya.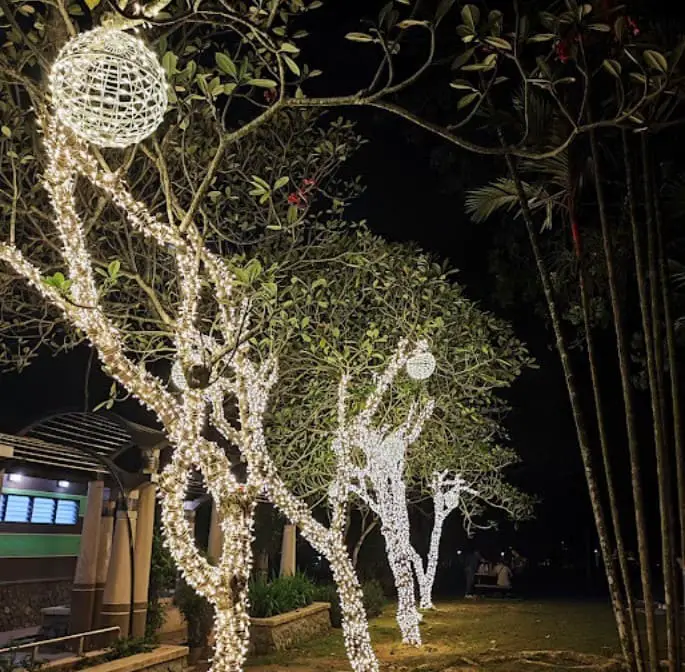 For families visiting, children will be delighted by the 3D sculptures made with LED lights, some even in the shape of dinosaurs. Putrajaya Secret Garden is an enchanting spot, perfect for date nights, taking pictures with friends, or enjoying a night out with family.
Address: Taman Putra Perdana, Jalan Putra Perdana, Presint 1, 62000 Putrajaya, Federal Territory of Putrajaya
2. Dataran Putra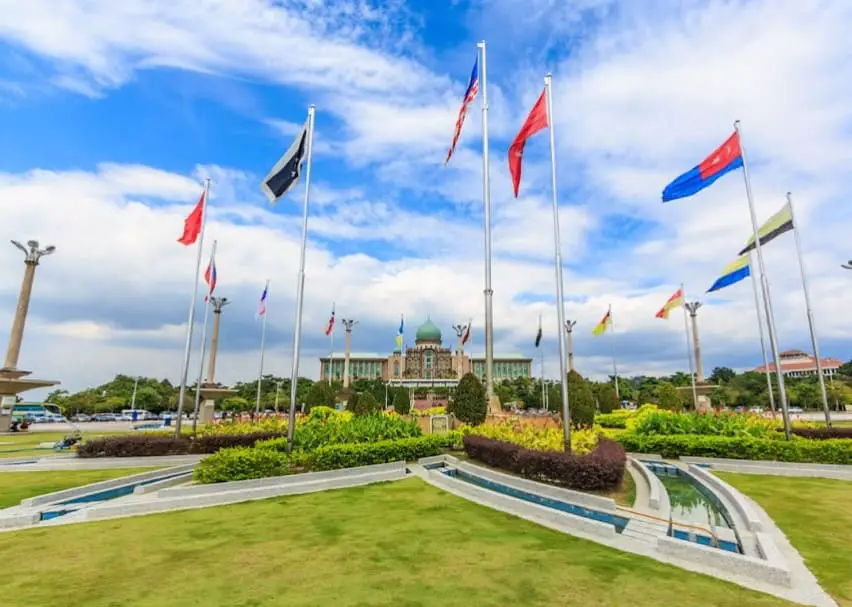 Dataran Putra, situated in Presint 1 Putrajaya, is a spacious circular square facing the Putra Mosque. From here, you can admire the stunning view of government buildings and the Putra Bridge at any time. Don't forget to bring your camera along!
Apart from being a famous photography location, around 6 pm, the square becomes lively with various things to do in Putrajaya like cycling, skating, playing with bubble foam, and more. Wait, there's more things to do in Putrajaya! On Sunday mornings, you can even join Zumba and aerobics sessions.
If you wish to spend a little more, head to the jetty area for boat services that offer scenic views of Putrajaya from the lake.
Relaxing at Putra Square: A Serene Getaway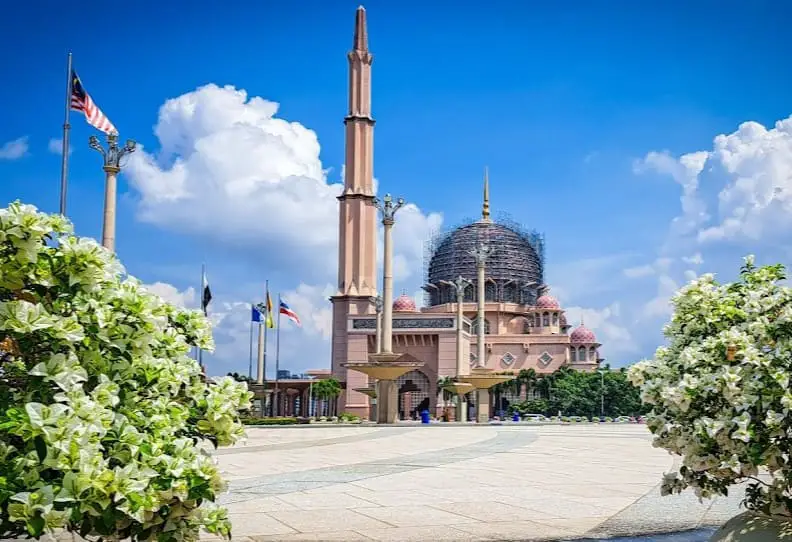 Putra Square is a destination perfect for leisure, with its vast and open landscape facing the iconic Masjid Putra and neighboring landmarks like the Putra Bridge. The square attracts both locals and foreign tourists who come to admire the beauty of the nearby government buildings, Putra Bridge, and Masjid Putra.
The things to do in Putrajaya here are all about relaxation and taking in the surrounding ambiance. If it's your first time vacationing in Putrajaya, consider taking some photos here during the day or at night to create lasting memories with your family. The atmosphere tends to get livelier after 6 pm and continues into the night. You'll find locals enjoying recreational things to do in Putrajaya like cycling and more.
Family-friendly things to do in Putrajaya are the main focus for visitors to Putra Square. You can find interesting dining options here to satisfy your palate, as well as a jetty for those who want to explore the beauty of Putrajaya Lake through boat services. It's a highly recommended open space for those seeking a laid-back things to do in Putrajaya and capturing beautiful photos in the area.
Address: Dataran Putra, Presint 1, 62000 Putrajaya, Selangor
Ticket Price: Free
3. Astaka Morocco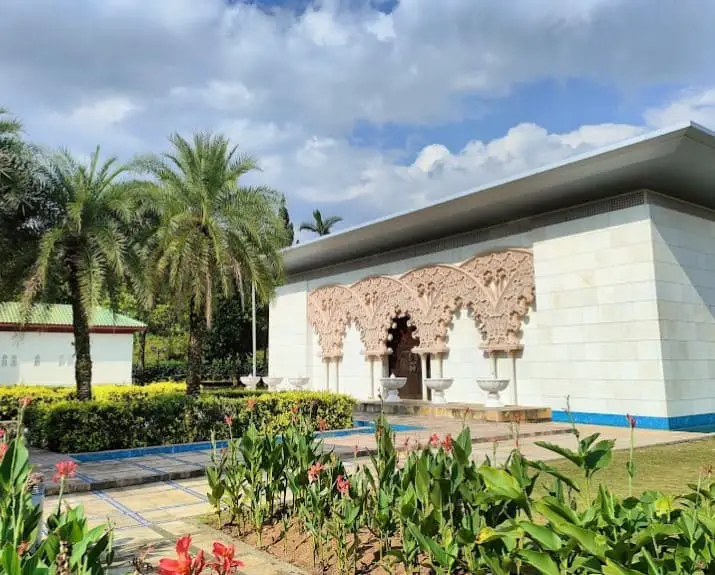 Experience the beauty of Moroccan architecture at Astaka Morocco. Inside this garden, you'll find a meticulous replica of a Moroccan palace adorned with intricate carvings, including verses from the Quran.
Every corner of this palace, from its walls, doors, ceilings, to pillars, is delicately carved, exuding an awe-inspiring ambiance. Although the area is not extensive, the detailed carvings and artistic style are enough to captivate anyone, making them lose track of time.
However, if you plan to take photographs here, remember to obtain permission from the security guard, as there might be an additional fee.
Exploring the Enchanting Moroccan Pavilion in Putrajaya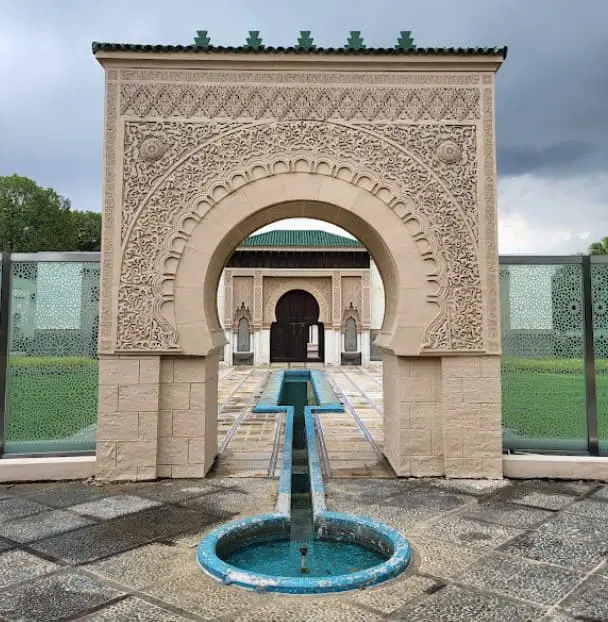 While strolling through Taman Botani Putrajaya, don't forget to make a stop at the Astaka Morocco or Moroccan Pavilion, a mesmerizingly landscaped garden. As the name suggests, the walls are adorned with intricate carvings and verses from the Holy Quran, inspired by the architectural designs of Morocco itself. Interestingly, it is actually a replica of a famous Moroccan palace in Marrakech. With the right filter, photography can be an epic things to do in Putrajaya.
There's no denying that being in the vicinity of the Morocco Pavilion feels like stepping into a sacred place or a 'forbidden garden' abroad. The exquisite artistry of Islamic architecture and geometrical patterns on the doors, walls, columns, and ceiling took considerable time and effort to create. Who knows, if you dream of having your own grand palace one day, visiting this place might provide some inspiration. I highly recommend visiting and taking family photos here to cherish the memories of your vacation in Putrajaya.
Address: Astaka Morocco, Taman Botani Putrajaya, Persiaran Sultan Sallahuddin Abdul Aziz Shah, Presint 1, 62000 Putrajaya
Operating Hours: Wednesday – Monday (9.00 am – 12.00 pm & 2.00 pm – 5.00 pm) | Friday (9.00 am – 11.00 pm & 3.00 pm – 5.00 pm) | Tuesday (Closed)
Ticket Price: Adults RM3 | Children RM1
4. Putrajaya Steps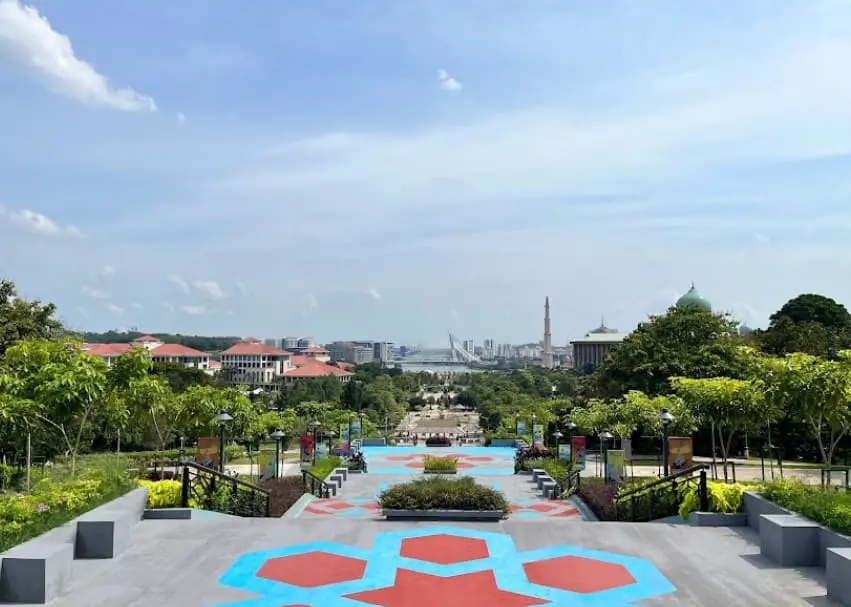 Climb the iconic Putrajaya Steps, which were built in celebration of Putrajaya's 25th Silver Jubilee. Inspired by famous staircases worldwide, such as The Spanish Steps, Potemkin Stairs, and Batu Caves Steps, the staircase starts from Dataran Putra, passes through Laman Perdana, and leads to the Landmark in Taman Putra Perdana, culminating at Hotel Pulse Grande. Testing out your stamina can be a cool things to do in Putrajaya here!
Along the steps, facilities are provided for visitors to relax, exercise, and enjoy the beautiful scenery. It's a perfect opportunity to spend quality time with family while engaging in healthy things to do in Putrajaya.
Address: PPJ-277 Laman Perdana, Persiaran Sultan Sallahuddin Abdul Aziz Shah, Presint 1, 62000, Putrajaya
5. Dataran Pahlawan Negara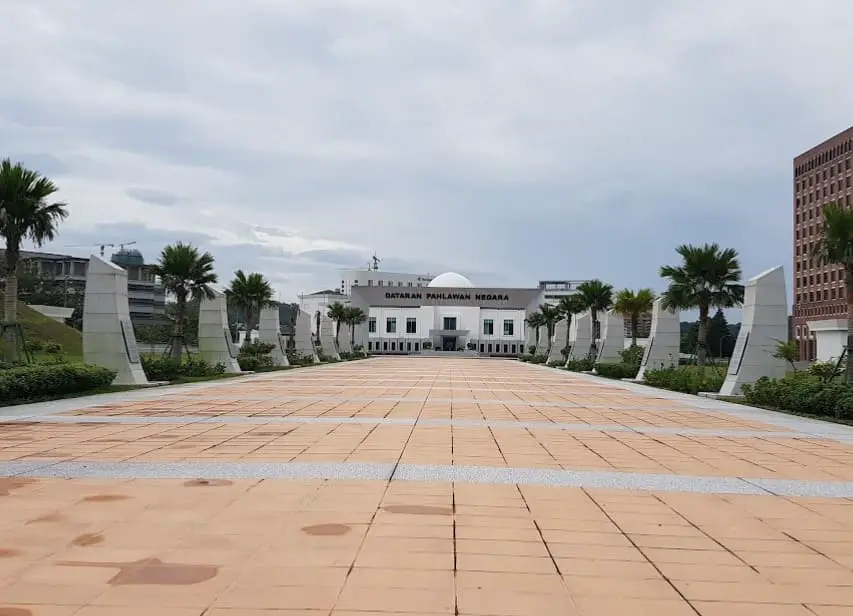 Dataran Pahlawan Negara is a monument and memorial located in Presint 1, Putrajaya. It replaced the National Monument for celebrating Hari Pahlawan (Warriors' Day) on 31st July every year.
Covering an area of 12 acres, this square was completed in 2016. When you visit, you can commemorate and learn about the history of our national heroes who fought for our country. Plaques detailing the struggles and wars our nation went through can be found here. While spending time with family, you can learn about history to ensure our children remember the hardships we endured to achieve independence and continue fostering harmony and progress in the country.
The wide area pretty much allows your creativity to come up with the best things to do in Putrajaya at this location. 
Address: Persiaran Sultan Sallahuddin Abdul Aziz Shah, Presint 1, 62000 Putrajaya, Federal Territory of Putrajaya
6. Pantai Floria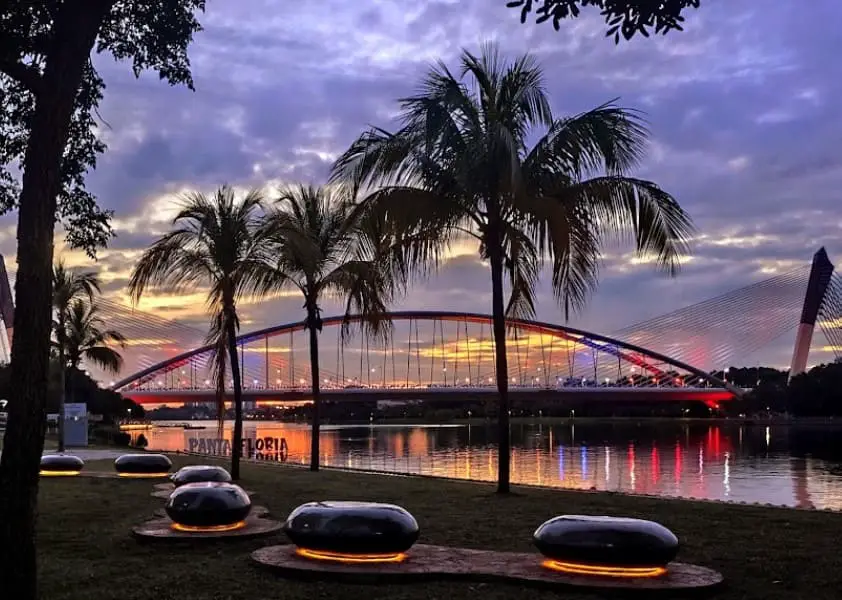 You no longer need to leave the city to enjoy a weekend by the beach. Just head to Pantai Floria, Putrajaya. This man-made beach stretches 100 meters and is located within Anjung Floria. Since its opening on March 1, it has attracted many visitors, especially families, on weekends. Some famous things to do in Putrajaya include taking photo of the water view at sunset.
Pantai Floria is an excellent spot for family picnics, with open spaces, water fountains, and comfortable seating for visitors. You can also engage in other things to do in Putrajaya such as fishing, kayaking, remote-controlled boats, and more. Take some time to relax, relieve stress, and have fun with your family at Pantai Floria.
Address: Pantai Floria, Presint 4, 62000 Putrajaya
Operating Hours: 9 am – 6.30 pm (daily, closed on Mondays)
Ticket Price: Adults RM3 | Children RM1
7. Anjung Floria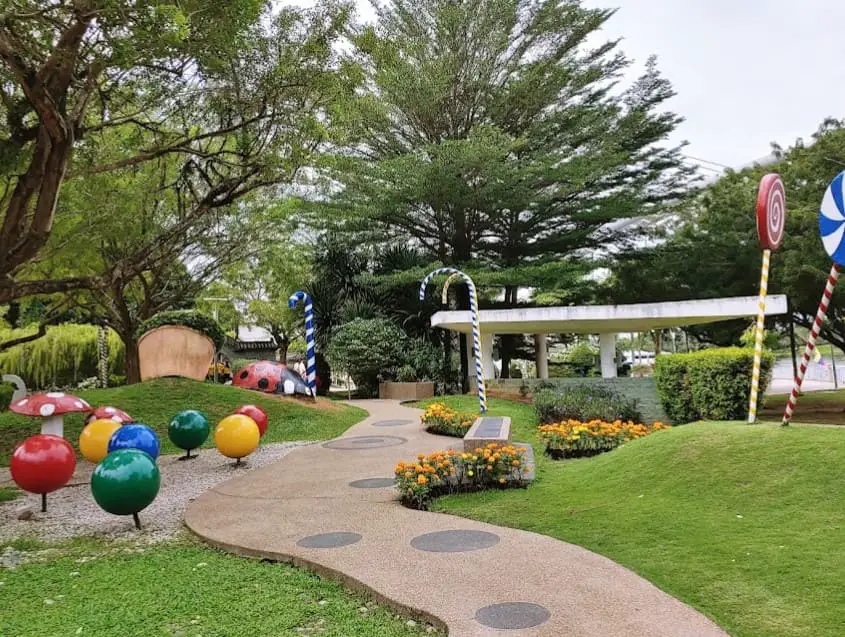 Anjung Floria is one of the most beautifully designed gardens in Malaysia. With cobblestone paths, miniature bridges, and lush natural growth of colorful flowers, the garden is truly a sight to behold. Every year, Anjung Floria hosts various flower festivals in different zones, including the International Orchid Festival.
In the garden, you will come across several zones. The Royal Floria Putrajaya, resembling a greenhouse, houses various captivating plants and serves as the venue for different flower festivals.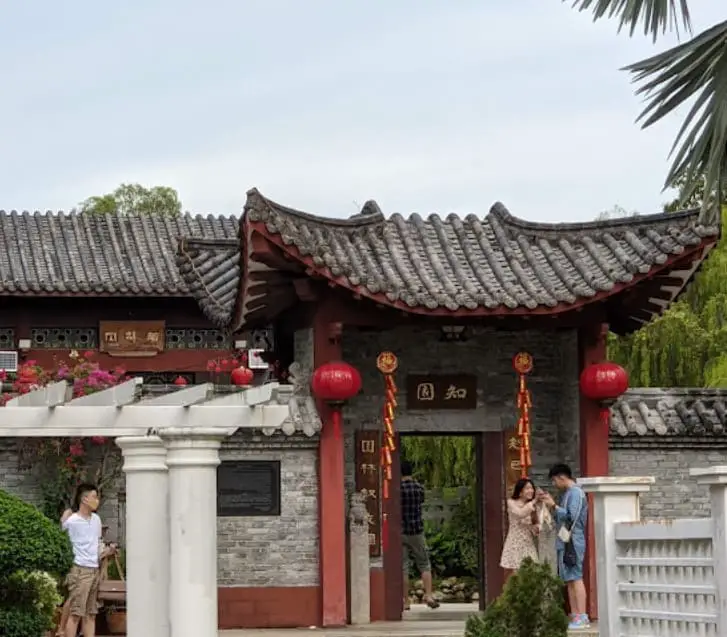 Another zone is the China-Malaysia Friendship Garden, designed to celebrate our country's bilateral ties with China. This garden is adorned with Chinese cultural architecture and landscaping. Dress up right and take a photo! Chinese themed photography is one of the hottest things to do in Putrajaya here! The previously mentioned Pantai Floria is also located here.
Address: Jalan Tuanku Abdul Rahman, Presint 4, 62000 Putrajaya, Federal Territory of Putrajaya
Operating Hours: 7 am – 7 pm (daily)
8. IOI City Mall Putrajaya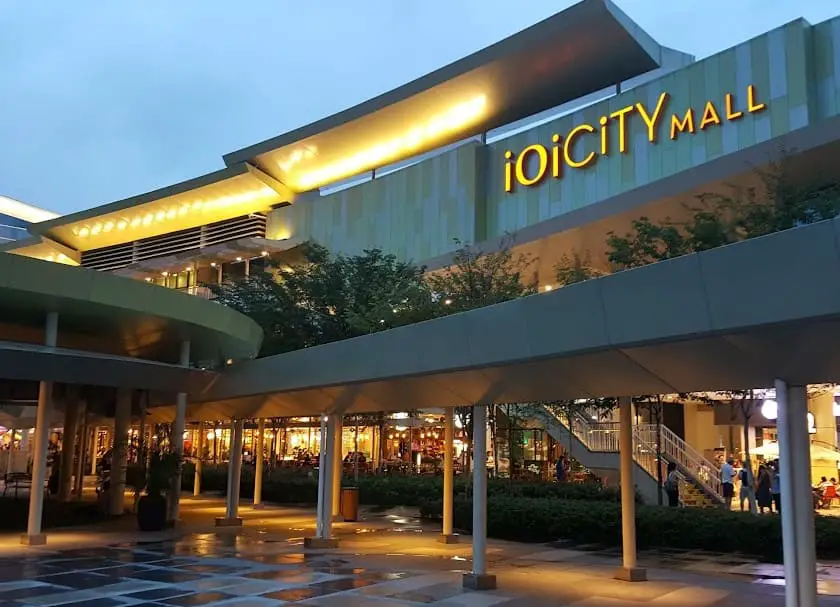 For shopping and fun-filled things to do in Putrajaya, visit IOI City Mall Putrajaya. This spacious shopping mall is not only filled with various shops from different brands but also offers exciting attractions like Icescape, Archery Zone, The Symphony Walk, a bowling center, GSC cinema, District 21 indoor theme park with adventurous things to do in Putrajaya, and much more!
To satisfy your hunger after shopping or entertainment, head to the long stretch of food outlets where you can find your favorite choices like Pizza Hut, Subway, McDonald's, and many more. Tired of hot sun out there? Chilling in the mall can be one of the cool things to do in Putrajaya to cooldown. 
Parking is ample, making it easy for you to find a parking space without wasting much time.
Exploring IOI City Mall Putrajaya – A Shopper's Delight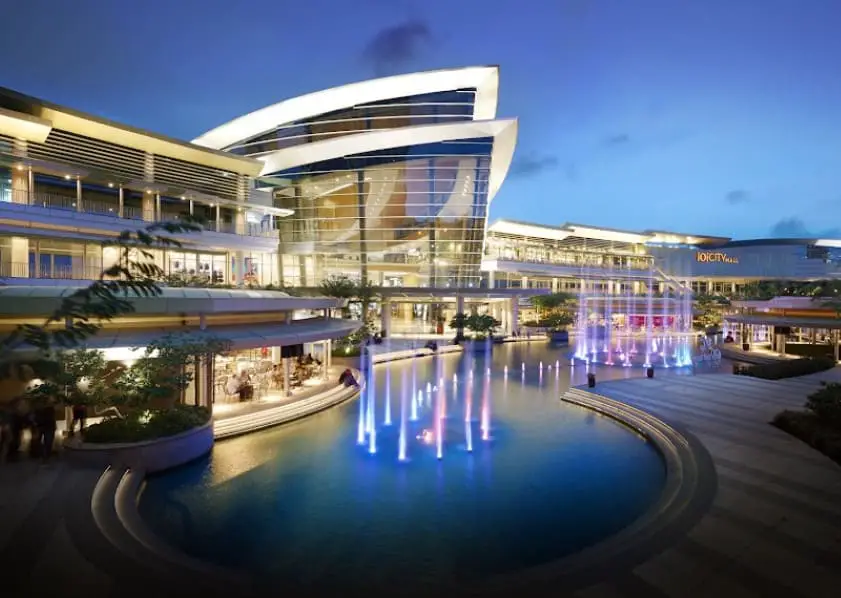 Being a new shopping complex in Putrajaya, IOI City Mall is a must-visit destination, especially if it's our first time on vacation in Putrajaya. This shopping mall can be labeled as a one-stop center for tourists, offering a variety of things to do in Putrajaya, from shopping to indulging in delicious food and enjoying family entertainment. Inside IOI City Mall Putrajaya, there are numerous attractions that we can explore with our children, such as the indoor theme park District 21, Icescape, The Symphony Walk, Archery Zone, Wangsa Bowl, Golden Screen Cinema, and more.
Feeling hungry? No worries! Inside the mall, there are dozens of restaurants and interesting eateries that we can try. Whether it's local cuisine or Western delights, there will definitely be options that cater to our taste buds. Moreover, with over 300 retail lots offering various categories of products, time seems to fly by quickly when strolling around here for three hours.
If we are vacationing in Putrajaya and the weather is unpredictable, it's highly recommended to stay in hotels near IOI City Mall Putrajaya, such as Le Meridien Putrajaya, Palm Garden Hotel, or Putrajaya Marriott Hotel. This way, we can spend our time inside the shopping complex if outdoor attractions in Putrajaya are not accessible due to rainy weather.
Website: http://www.ioicitymall.com.my/ 
Address: IOI City Mall, IOI Resort City, 62502 Putrajaya
9. G2G Animal Garden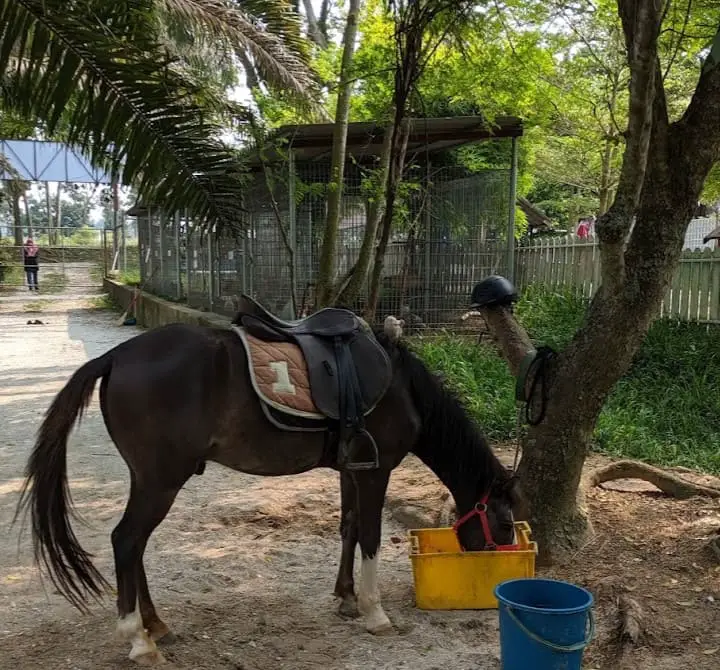 Located in Sri Kembangan, merely 4 km away from IOI City Mall, G2G Animal Garden, also known as Goat 2 Go Animal Garden, is an attraction worth visiting after your trip to IOI. Interact with animals can be one of the fun things to do in Putrajaya. 
Visiting this petting zoo offers you and your family the opportunity to get up close with various animals such as goats, cassowaries, cockatoos, Shetland ponies, rabbits, and more.
Unlike regular zoos, you can touch and interact with the animals here, adding to the excitement. You can also enjoy feeding these adorable creatures. To add to the fun, you can even ride ponies available on-site.
Exploring G2G Animal Garden in Putrajaya with the Kids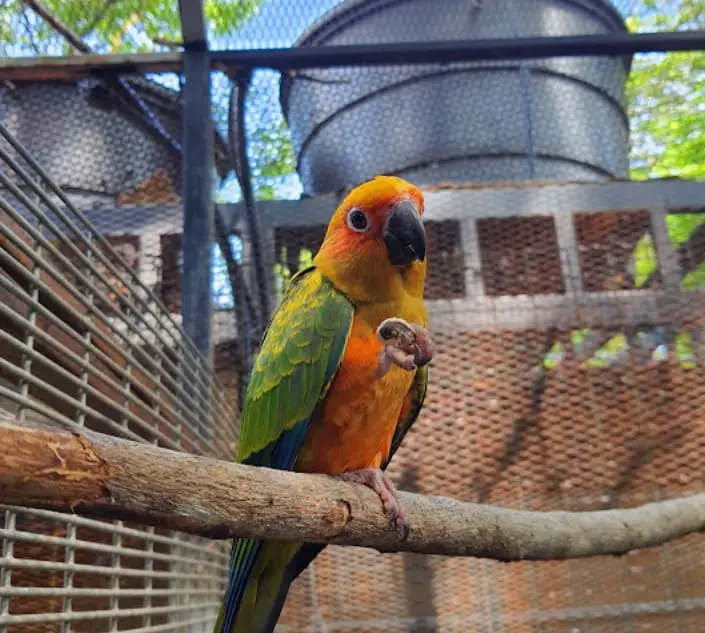 If you're vacationing in Putrajaya with young children, I highly recommend exploring the attractions at Goat 2 Go Animal Garden, or simply known as G2G Animal Garden. Its location is actually in Sri Kembangan and near the border of Putrajaya. Moreover, if you're staying at hotels around IOI City Mall, such as Marriot Putrajaya, Le Meridien Putrajaya, or Palm Garden Putrajaya, it's just a short 4 km drive away.
This destination is a petting zoo concept, housing over 60 fascinating animal species for the whole family to explore. Among them are rabbits, goats, iguanas, parrots, paddy horses, and more. It's a joy to bring the kids here as they get the opportunity to interact closely with the animals, providing them with an early exposure to the animal world.
Furthermore, your kids can also have the chance to feed some of the animals here, which will surely be an enjoyable new things to do in Putrajaya for them. If you're looking for interesting places to eat in Putrajaya, I recommend trying the menus available here, which are truly delectable. Since this destination is also a goat farm, you can indulge in a variety of dishes based on fresh goat meat.
Enjoying mutton based delicacies can be quite an intriguing things to do in Putrajaya.
Website: https://www.g2ganimalgarden.com/ 
Address: Jalan MAEPS 4/1, Fasa 3 Presint 9, 43400 Serdang, Selangor
Operating Hours: Monday, Wednesday – Sunday (10.00 am – 6.00 pm)
Ticket Price: Adults RM29 | Children RM24
10. Icescape Ice Rink @ IOI City Mall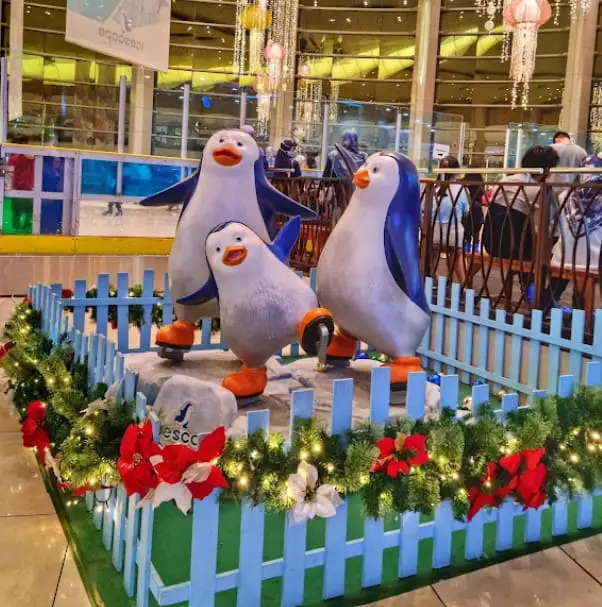 No need to wait for overseas trips or snowy seasons; you can enjoy ice skating in the country, indoors, regardless of the weather. At Icescape Ice Rink in IOI City Mall, you and your family can glide on ice to your heart's content at a reasonable price without any time restrictions.
For those who prefer to watch their children have fun, comfortable seats are provided. While observing, you can bring outside food to enjoy. Yes, outside food is allowed in the rink.
If you don't want to bring your own food, vending machines filled with various snacks and drinks are available. Additional facilities include toilets and lockers.
Sliding on Ice: An Exciting Attraction in Putrajaya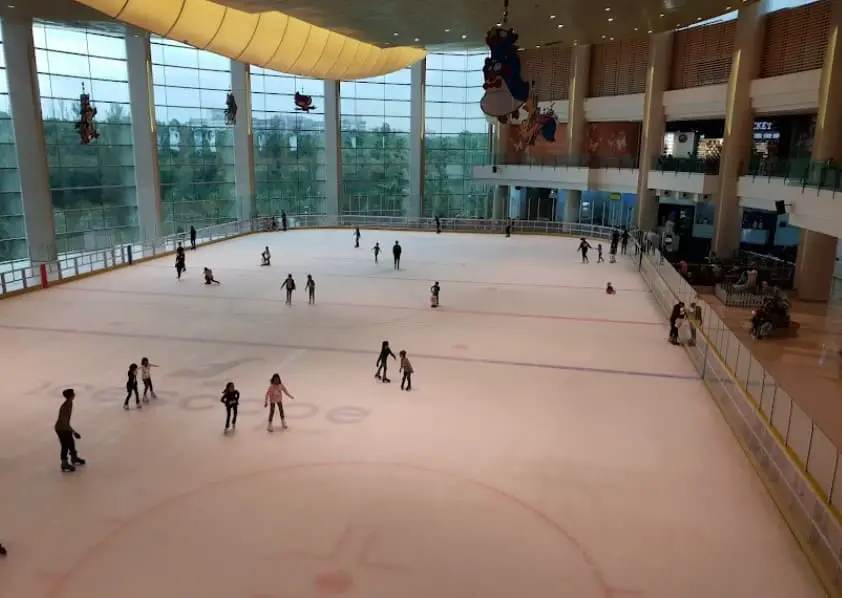 Zooming fast on ice is definitely an attraction in Putrajaya that makes your kids eager to give it a try. After all, ice sliding like this is not something you can find in every state in Malaysia. If this is your first vacation to Putrajaya with your family, try bringing the kids to play this game, and they will surely be thrilled.
You should know that this ice rink is of world-class standard and measures 30m x 60m, specially built to meet Olympic sports standards. It would be a shame if your whole family doesn't give it a try. While vacationing in Putrajaya, I highly recommend trying this things to do in Putrajaya with your family and kids because it's not easy to find such a large ice rink that is suitable for weekend activities or during school holidays.
If you plan to come here, make sure to bring socks and gloves from home as they are mandatory for trying out this things to do in Putrajaya. If not, you can purchase socks and gloves available here.
Address: Icescape iCE Rink, Level 1, IOI City Mall, Lebuh IRC, IOI Resort City, 62502 Putrajaya
Operating Hours: Monday – Sunday (10.00 am – 10.00 pm), Ice Resurfacing Schedule (2.30 pm, 5.00 pm, 7.30 pm)
Ticket Price: RM35
11. Taman Ekuestrian Putrajaya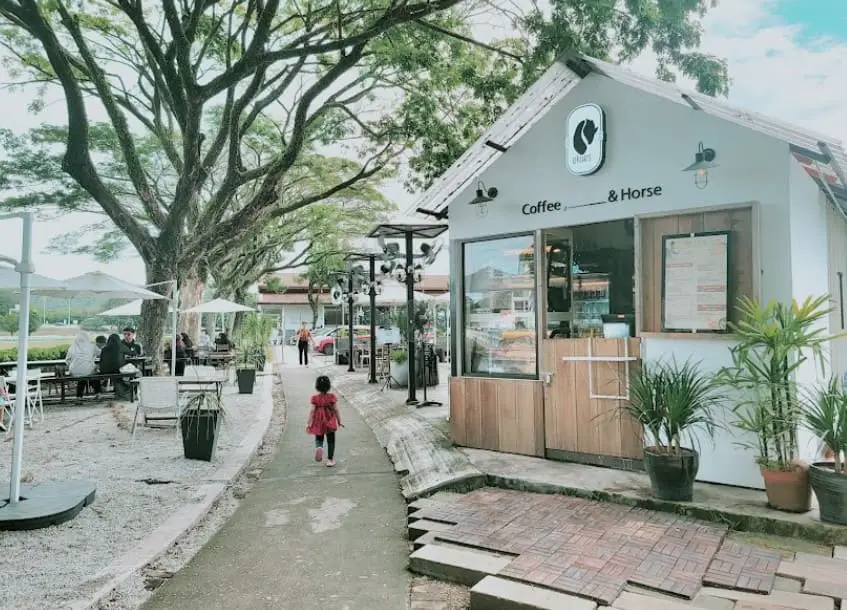 I have been longing to experience horseback riding, just like in cowboy movies, and Taman Ekuestrian Putrajaya is the perfect place to make that dream come true. This vast attraction boasts over 180 stables and offers a variety of packages suitable for all backgrounds, even if you've never ridden a horse before. For those living in Putrajaya or nearby, there are intensive classes available to learn the real techniques of horseback riding, which is an enriching things to do in Putrajaya.
Besides horseback riding, you can take part in Stable Tours where you'll learn about various aspects of horse care, their behavior, grooming, feeding, and much more. It's an opportunity to delve into the world of equestrianism.
Exploring Horseback Riding at Putrajaya Equestrian Park
Ever dreamed of riding a horse for the first time in your life? How about bringing your family to explore the Putrajaya Equestrian Park (TEP) in Presint 5, which houses around 189 horse stables? No prior experience? Don't worry, there are horse riding packages suitable for all levels of visitors. Interestingly, if you live in Putrajaya, you can even take intensive courses here to learn horseback riding professionally.
TEP offers not only horse riding facilities but also other amenities such as restaurants, a multipurpose hall for weddings, and various attractive packages that are ideal for corporate meetings or team building events in Putrajaya. Every year, they also organize a Ramadan buffet, promising a delectable menu for breaking fast.
Address: Taman Ekuestrian Putrajaya, Jalan Kandang Kuda, Presint 5, 62200 Putrajaya  
Operating Hours (Joy Ride & Stable Tour): Tuesday – Sunday (8.30 am – 10.30 am & 4.30 pm – 6.30 pm)
12. Taman Putra Perdana Putrajaya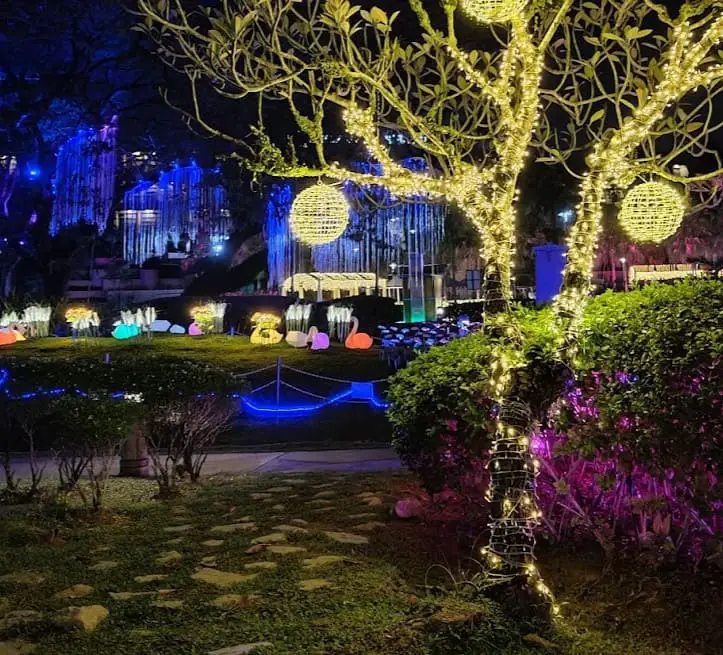 Being a smart city in a garden, it's not surprising that Putrajaya has numerous parks, and one of them is Taman Putra Perdana. Situated beside Pulse Grande Hotel in Presint 1 and at the heart of the main roundabout in Putrajaya, this park features the iconic pyramid-shaped Plaza Mercu Tanda, which was erected to commemorate the establishment of Putrajaya in 1995.
Exploring the park, you can also visit the Fragrance Garden, where the aroma of various flowers such as Cempaka Telor, Bunga Cina, and Bunga Melati fills the air. While enjoying the view and fresh air, you can rest at the provided pavilions.
Exploring the Beautiful Putra Perdana Park in Putrajaya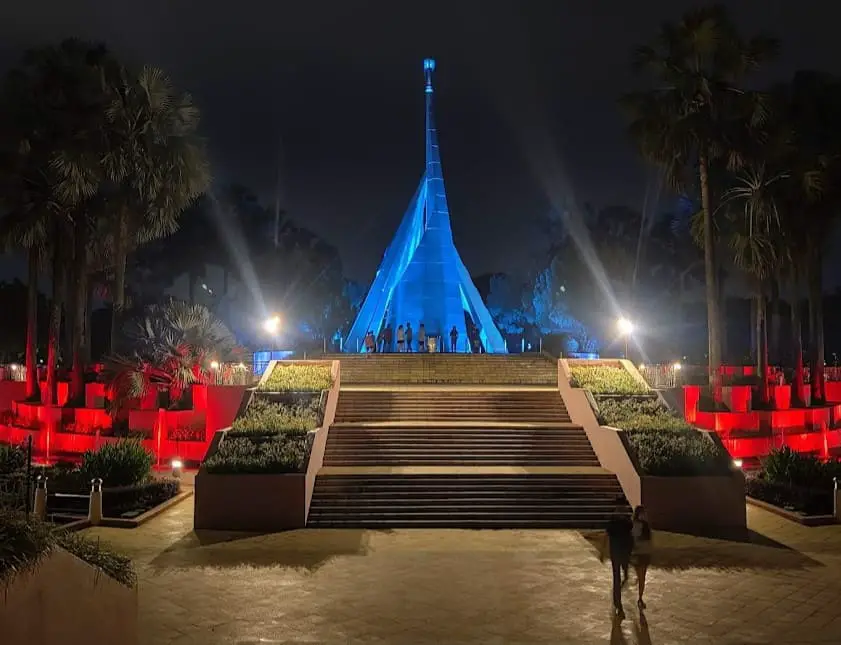 Let me tell you about a charming green landscape park in Putrajaya. This destination is located in the middle of a large roundabout in Putrajaya and adjacent to the Pulse Grande Hotel, which was formerly known as Hotel ShangRi La Putrajaya. The park may not be very big, but it is quite unique due to its hilly location, which allows you to enjoy beautiful views of several iconic landmarks in Putrajaya.
Around the Putra Perdana Park, you can find an iconic landmark of Putrajaya known as the Plaza Mercu Tanda, which was inaugurated by Tun Dr Mahathir in 1995. This spot also features a public telescope that you can use to observe the surrounding scenery of Putrajaya. It's a delightful place for leisure things to do in Putrajaya such as strolling, jogging, or spending time with your family in the morning or evening.
Address: Persiaran Sultan Sallahuddin Abdul Aziz Shah, Presint 1, 62000 Putrajaya, Federal Territory of Putrajaya  
Operating Hours: Monday – Friday (7.00 am – 8.00 pm) | Saturday, Sunday, Public Holidays (7.00 am – 10.00 pm)
13. Kompleks Sukan Air Putrajaya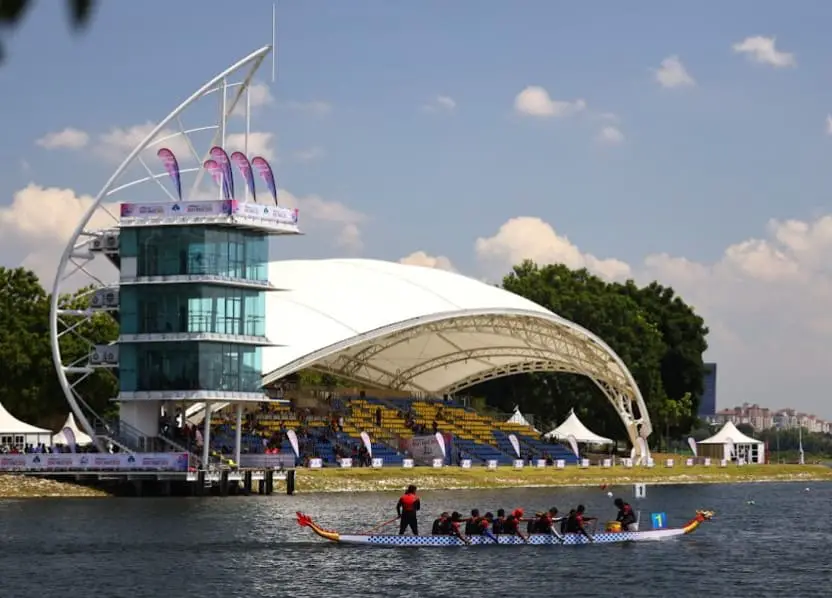 What's not to love about water activities, especially in a country with a perpetually hot climate? For refreshing fun after a day of things to do in Putrajaya, you can head to Kompleks Sukan Air Putrajaya.
The complex features an Olympic-sized swimming pool, which has been used for the Southeast Asian Games. If you're visiting with family, there's also a separate children's pool for kids under 10 years old. Other facilities include changing rooms, a restaurant, and restrooms.
An interesting feature of the complex is a special session exclusively for women, providing a more private atmosphere for their aquatic enjoyment.
A Family-Friendly Destination for Swimming Fun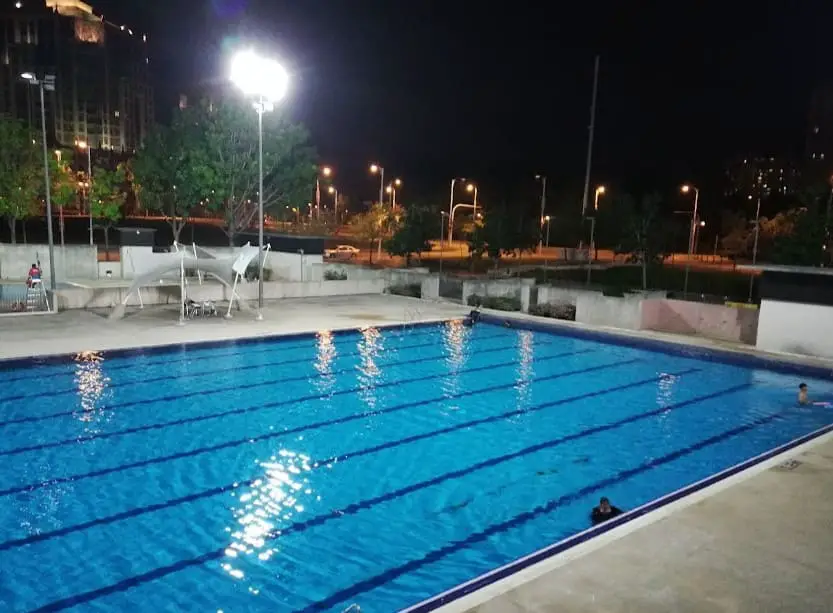 When it comes to enjoying some water fun with my family, I have found the perfect destination with fantastic swimming pools. There are two pools available, suitable for both kids and adults to have a great time. The facilities provided for visitors, such as changing rooms, restrooms, and a restaurant, make the experience even more enjoyable. For those who are skilled swimmers, I recommend taking a dip in the adult pool, which is Olympic-sized and has previously hosted the SEA Games.
The kids' pool here might not be as extensive as the one in Bangi Wonderland Water Park, but it is a small and safe area designed for children under 10 years old. Although there may not be any kids' water slides, the pool is more than sufficient for my kids to have a blast and splash around. It's a perfect option if you're staying in a homestay or budget hotel in the Putrajaya area without a swimming pool. You can simply drop by here for some joyful moments with your children.
Address: Kompleks Sukan Air Presint 6, Presint 6, 62000 Putrajaya, Federal Territory of Putrajaya  
Operating Hours: Daily
14. Monumen Millennium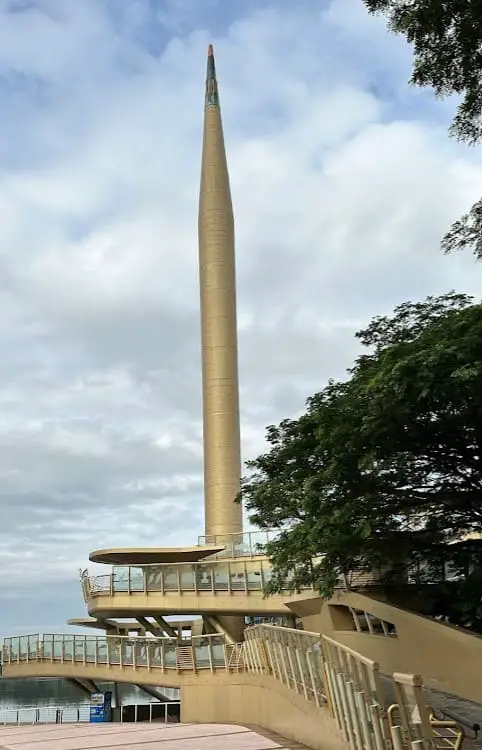 Monumen Millennium, the second national monument built in Putrajaya after Plaza Mercu Tanda, stands 68 meters tall in a 25-hectare park in Presint 2.
The monument offers an excellent spot for photography, allowing visitors to capture the grandeur of Putrajaya's bridges and witness colorful fireworks displays during special events.
Moreover, you can visit the nearby Lake Garden Cafe to quench your thirst and hunger while admiring the beauty of the setting sun. At night, the bright lights illuminate the monument in 360 degrees, guiding sailing boats on the lake.
Exploring the Millennium Monument: A Unique Landmark with Breathtaking Views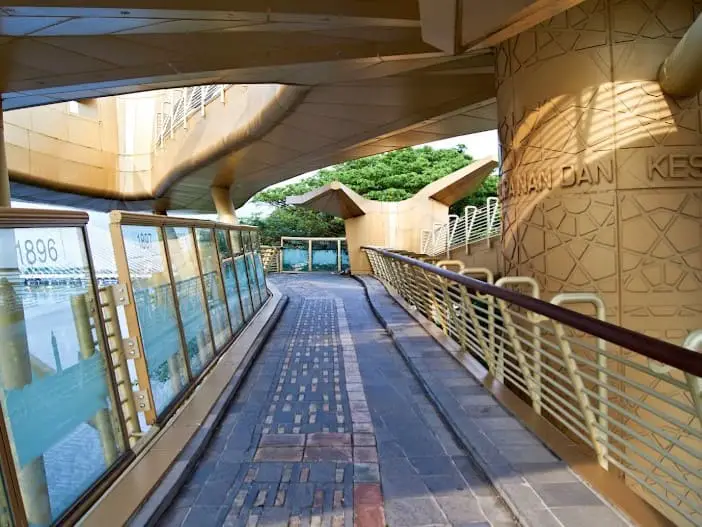 From a distance, it appears like a rocket ready to blast off into space. There are two main reasons why this destination, the Millennium Monument, is incredibly captivating to explore. First, the monument itself is a unique structure resembling a pen, situated in an area rich with natural beauty. Second, the views from the Millennium Monument are simply mesmerizing. You can witness several iconic places in Putrajaya from an awe-inspiring vantage point, such as the Tuanku Mizan Mosque, Putra Mosque, Putrajaya Bridge, Putrajaya Lake and more.
The Millennium Monument, also known as the Alaf Baru Monument, stands on the edge of Putrajaya Lake, creating an illusion as if the Putra Mosque and Tuanku Mizan Mosque are floating. For photography enthusiasts like me, I highly recommend capturing landscape shots from this spot. Especially during sunset, the backdrop of the orange-hued sky will undoubtedly make your photos even more breathtaking. In short, it is an enticing spot in Putrajaya for a photoshoot that will not disappoint any photography enthusiasts.
Address: Lebuh Ehsan, Presint 2, 62100 Putrajaya, Federal Territory of Putrajaya
15. Dataran Gemilang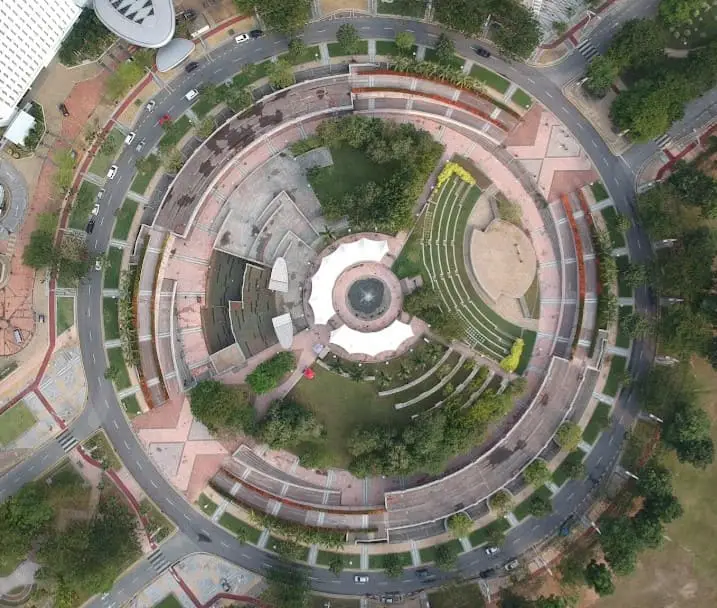 Dataran Gemilang is a circular plaza located at the southern end of Persiaran Perdana. Within the plaza, a pedestrian walkway leads to the Waterfront Promenades. As you stroll, you can enjoy panoramic views showcasing the splendid buildings around Putrajaya.
For those seeking fun, the swimming pool area provides enjoyment for both adults and children. It's a great family spot.
Address: Lingkaran Gemilang Dua, Presint 4, 62100 Putrajaya, Federal Territory of Putrajaya
16. Masjid Putra
Masjid Putra is a stunning religious structure with unique architecture, which captures the attention of both Muslims and non-Muslims alike. Inspired by various mosques from other countries, including Iraq and Morocco, this mosque stands out as a masterpiece of design among Malaysian mosques.
The mosque can accommodate up to 15,000 worshippers in its two levels, with the ground floor designated for male worshippers and the upper floor for female worshippers. Its strategic location near the lake adds a touch of natural serenity, creating a peaceful atmosphere for visitors.
As we step into Masjid Putrajaya, we are greeted by a specially designed pedestrian path that eases the access for government officials to the mosque, which is only open during Friday prayers. The term "masjid" itself is deeply intertwined with religious values, making it a place of spiritual significance and a fulfilling destination for our vacation.
The architectural design of Masjid Putrajaya, with its interconnected pedestrian walkways and surrounding buildings, reflects the philosophy that religion should not be separated from daily activities and administration.
My Visit to Masjid Putra in Putrajaya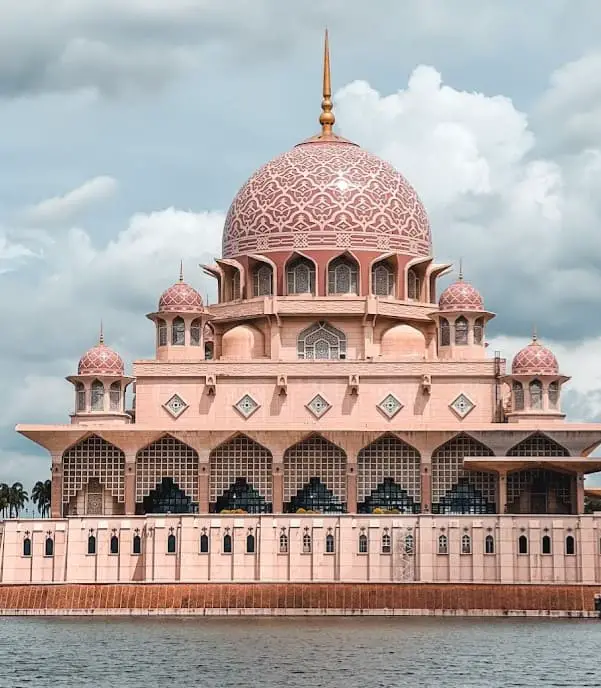 Our vacation in Putrajaya would never be complete without visiting Masjid Putra. This mosque can be labeled as one of the most popular landmarks in Putrajaya. Built with an estimated cost of RM 250 million, the mosque beautifully combines the traditional Malay and Middle Eastern architectural concepts. It would be a missed opportunity if we didn't take the time to visit Masjid Putra for prayers and capture some memorable pictures with our family.
The location of Masjid Putra is strategically situated near government administrative buildings, making it a common place for congregational prayers among dignitaries and our country's top leaders, especially on Fridays. Interestingly, the mosque also has underground access from several locations in Putrajaya, providing convenience to government employees working nearby. This underground passage is only open on Fridays during the Jumaat prayers.
In addition, the mosque's surroundings are adjacent to the beautiful Tasik Putrajaya (Putrajaya Lake) and Dataran Putra (Putra Square), making it an ideal spot for photography enthusiasts to capture breathtaking panoramic landscapes with iconic subjects of Putrajaya. The picturesque setting offers a perfect opportunity for us to capture lasting memories of our time in Putrajaya.
Address: Persiaran Persekutuan, Presint 1, 62502 Putrajaya, Wilayah Persekutuan Putrajaya
17. Masjid Tuanku Mizan Zainal Abidin (The Iron Mosque)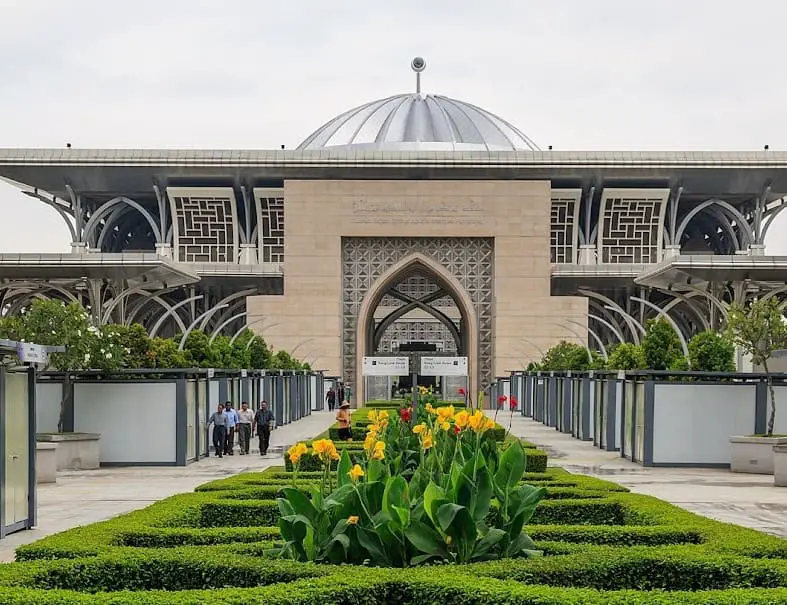 Another captivating mosque in Putrajaya is Masjid Tuanku Mizan Zainal Abidin, also known as The Iron Mosque. Its uniqueness lies in being built using 6000 tons of steel, accommodating up to 24,000 worshippers at a time, and covering twice the area of Masjid Putrajaya, located about 2km away.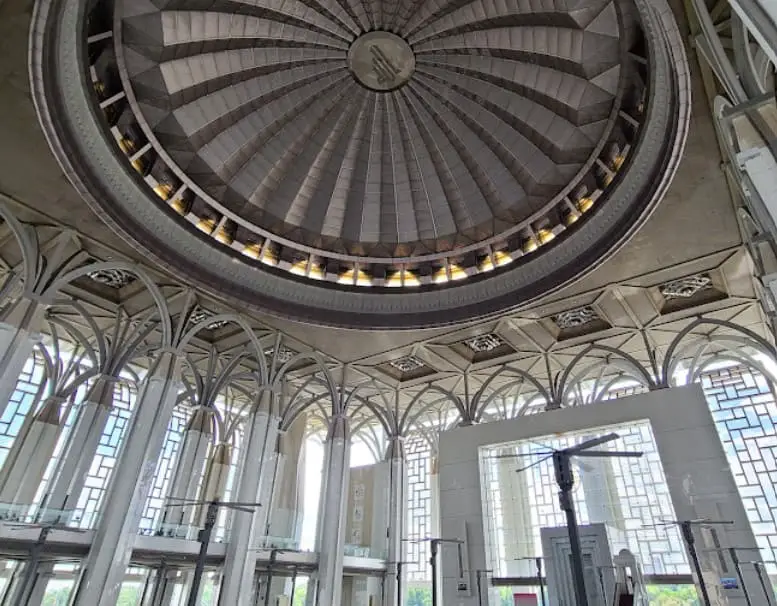 The mesmerizing design sets it apart from other mosques in Malaysia, adorned with artistic calligraphy that enhances its beauty. The mosque is equipped with a gas cooling system, replacing conventional fans. Visitors are warmly welcomed to explore this pride of Putrajaya.
Address: 25, Jalan Tuanku Abdul Rahman, Presint 3, 62100 Putrajaya, Wilayah Persekutuan Putrajaya
18. Taman Botani Putrajaya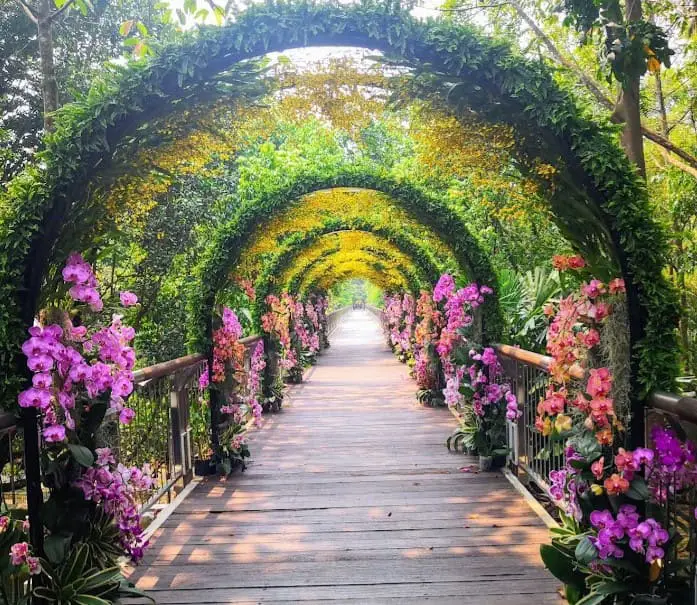 Taman Botani Putrajaya is a must-visit destination for travelers exploring Putrajaya. Recognized as one of the forty most beautiful gardens in Asia, this unique park features thirteen themed gardens with over 700 plant species from various continents.
Visitors can enjoy the beauty of the gardens by strolling along pedestrian pathways or rent bicycles for a more immersive experience. The park not only offers aesthetic pleasures but also educational opportunities to learn about the medicinal properties of the plants, enriching our knowledge.
Exploring Putrajaya's Beauty at Taman Botani Putrajaya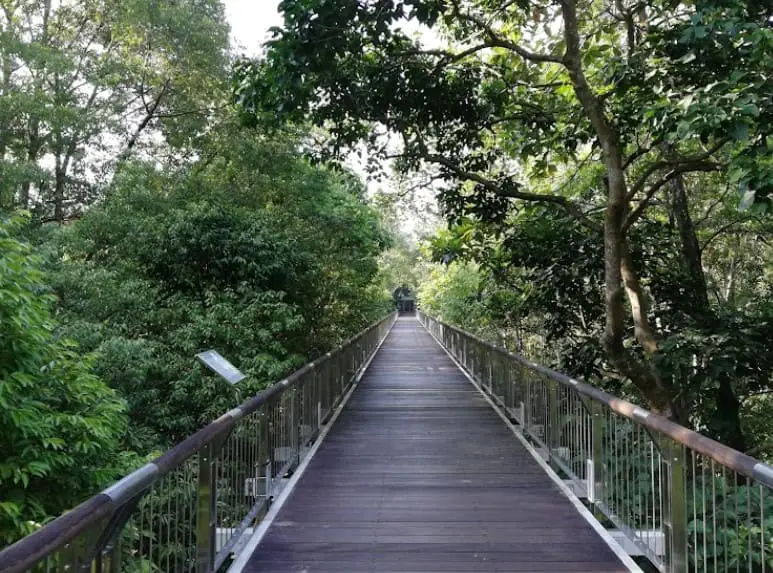 Isn't it enjoyable to take a leisurely stroll in Putrajaya? There are plenty of fascinating destinations where we can explore the beauty of flora and fauna. One recommended destination is Taman Botani Putrajaya, located in Presint 1 and right next to the largest roundabout in Putrajaya. This destination is a man-made botanical garden that houses over 700 species of plants from both within and outside the country. The vast Taman Botani is divided into different themed sections, and if we're not in the mood for walking, we can rent bicycles here or hop on a tram.
The trees planted are also accompanied by scientific information to help visitors recognize the origins of the plant species. One of the highlights within Taman Botani Putrajaya is the Floral Garden, which showcases various types of flowers from around the world. Moreover, there is a canopy walkway that provides a high and more captivating view of the surroundings.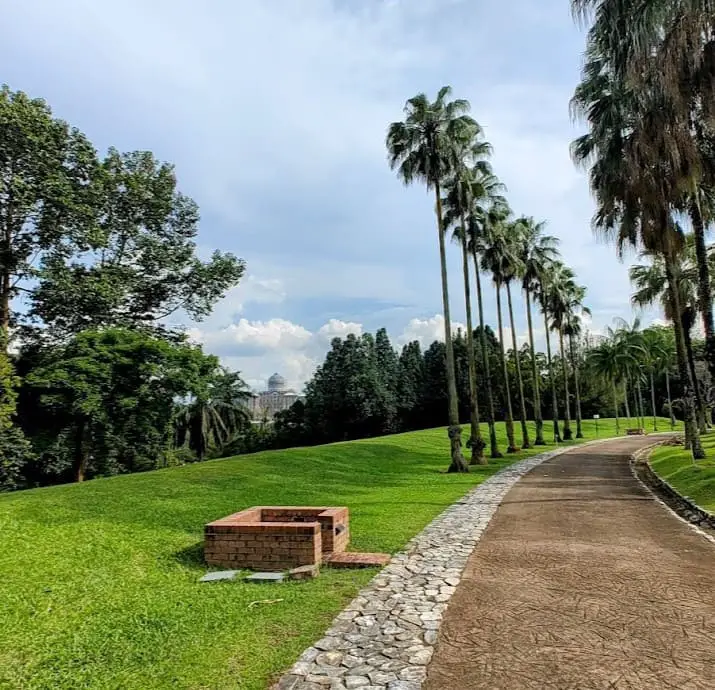 For those who appreciate unique architectural designs, a visit to Astaka Morocco is a must. It will transport us to a different ambiance with its Moroccan-inspired architecture, replicating the famous Moroccan palace in Marrakesh. It's a fascinating spot in Putrajaya, perfect for practicing landscape or macro photography, given its richly adorned walls with unique Islamic carvings and geometric motifs.
Address: Lebuh Perdana Barat, Presint 1, 62000 Putrajaya, Wilayah Persekutuan Putrajaya
19. Taman Wetland Putrajaya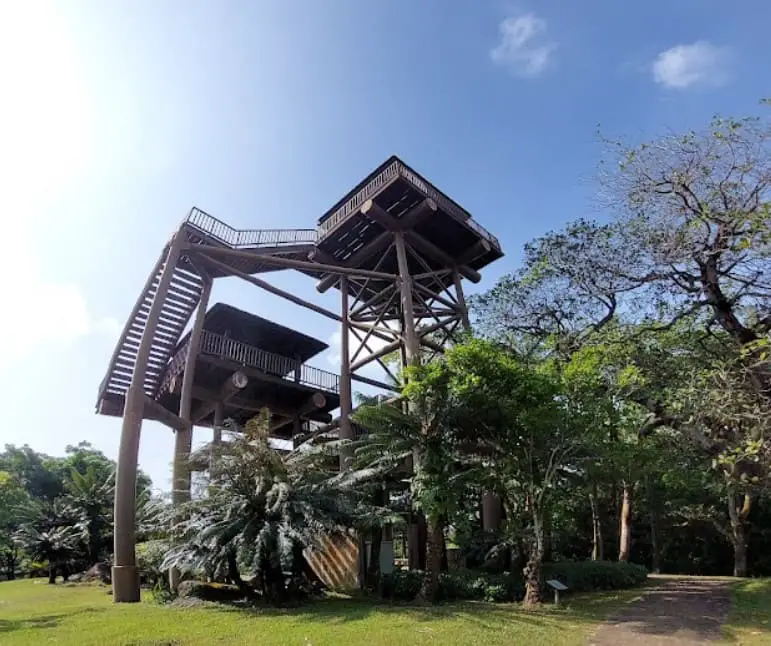 Taman Wetland Putrajaya is a natural oasis amidst the urban landscape, offering a harmonious blend of nature and human-built structures, providing tranquility and an exceptional travel experience.
The park is home to diverse aquatic life, making it a paradise for birdwatchers and children who will be fascinated by the lifelike portrayal of natural habitats. The conservation efforts here symbolize the interdependence between humanity and the natural world.
Exploring the Tranquil Beauty of Taman Wetland Putrajaya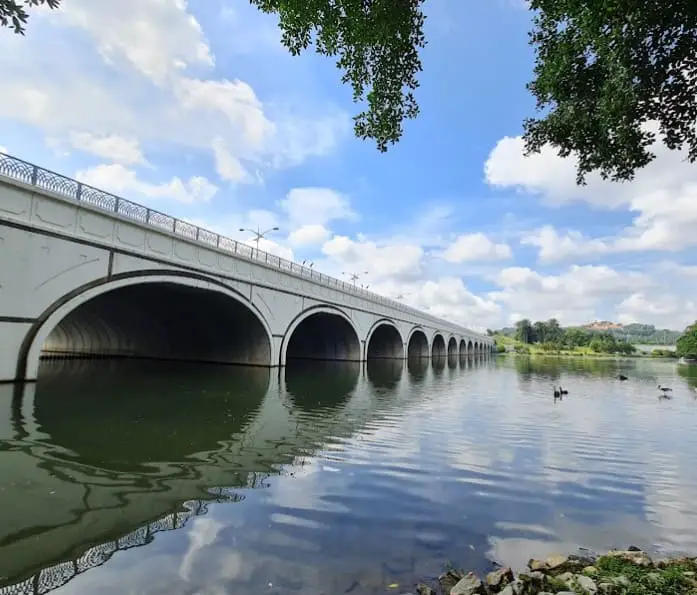 If you're from the city, why not spend some quality time with your kids at an enchanting place in Putrajaya that's rich in flora and fauna? Taman Wetland Putrajaya boasts a serene surrounding landscape that will transport you to a different dimension amidst the modernity of Putrajaya. The concept of this attraction is quite similar to Taman Botani Shah Alam, a 'green park' located within the city of Shah Alam.
There are plenty of exciting outdoor things to do in Putrajaya that you and your family can enjoy at Taman Wetland Putrajaya, such as cycling, jogging, birdwatching, and capturing memorable photos. You can also rent trams and bicycles to leisurely explore the beauty of the area. The landscaped gardens, adorned with fish ponds and small lakes, create a peaceful ambiance that acts as a soothing therapy for your soul during the weekends.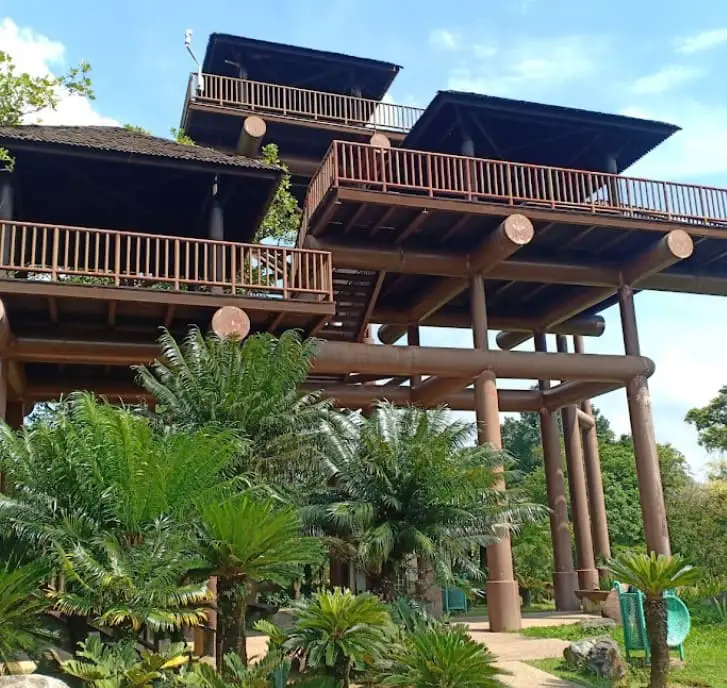 For those seeking a more in-depth understanding, guided tour packages are available for exploring Taman Wetland Putrajaya. If you're a teacher leading an educational trip to Putrajaya, I highly recommend including this destination in your itinerary. For those staying at nearby hotels like Hotel Marriott Putrajaya and Palm Garden Putrajaya, you can make this spot your morning or evening recreational haven.
Address: 62000 Putrajaya
20. Pusat Konvensyen Antarabangsa Putrajaya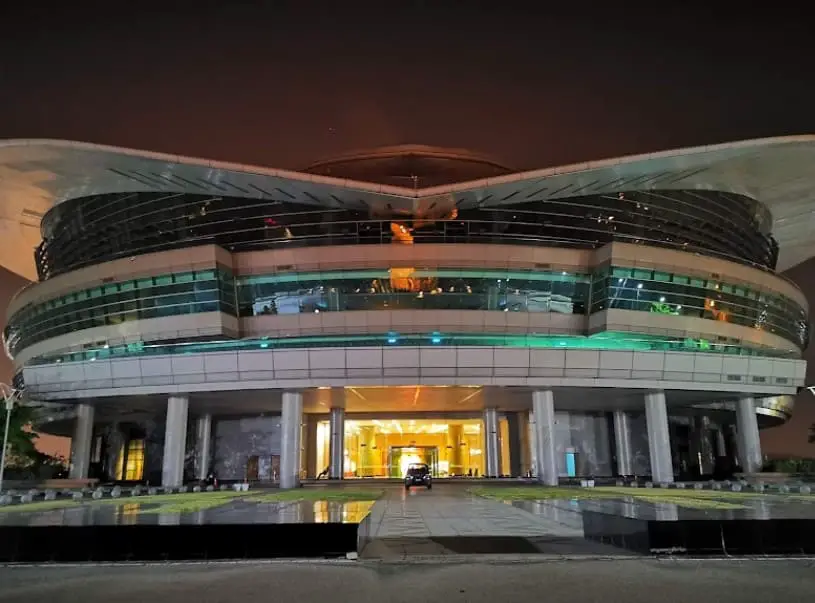 Pusat Konvensyen Antarabangsa Putrajaya, located on a grand roundabout in Putrajaya, is a modern architectural marvel equipped with advanced technology, and it fills us with pride as Malaysians. This convention center is a favored choice for hosting international events such as conferences for the Organization of Islamic Cooperation (OIC), the Malaysia International Fireworks Competition (MIFC), and various other gatherings.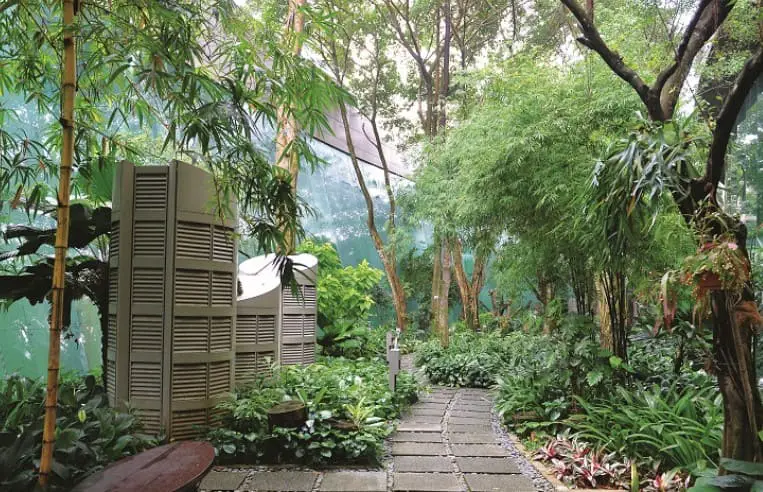 Its strategic location atop a hill provides breathtaking views, making it a popular location for film shoots and commercial advertisements. The convention center boasts various facilities, including halls, meeting rooms, restaurants, and a prayer room, ensuring comfort for all visitors attending events here.
Website: http://www.picc.com.my/ 
Address: Presint 5, 62000, Putrajaya
21. District 21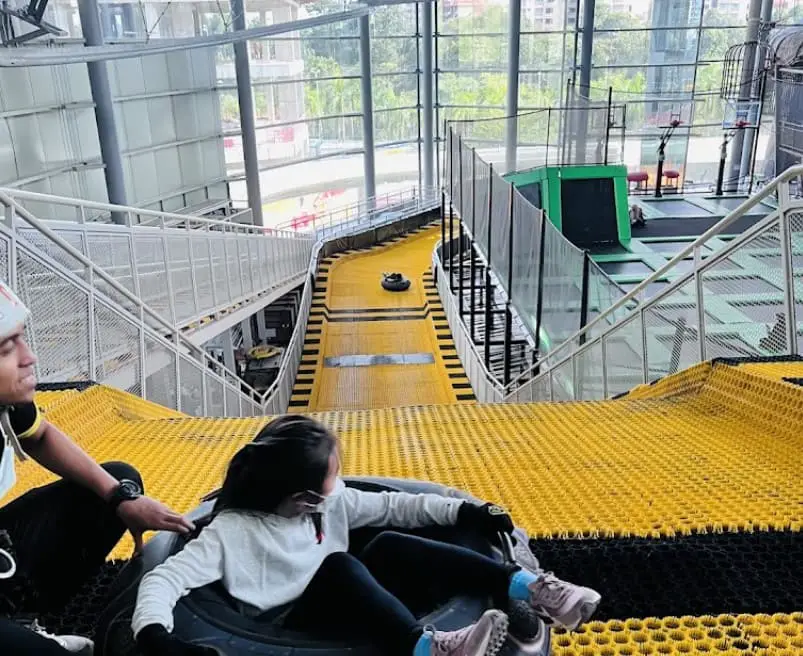 If you're a thrill-seeker, District 21 is the place not to be missed, offering 11 main attractions. This theme park spans an impressive 70,000 square feet and is located within the air-conditioned atrium of IOI City Mall Putrajaya, ensuring a comfortable experience without the scorching heat of the sun. Being Malaysia's first adventure-themed park, it undoubtedly captivates visitors' hearts.
District 21 offers 11 exciting attractions. First, the Power Station awaits those who love challenges and enjoy wall or rock climbing activities. Various wall climbing designs provide a challenging things to do in Putrajaya for climbers. Next, the Roller Glider promises a unique sensation of flying freely through the air.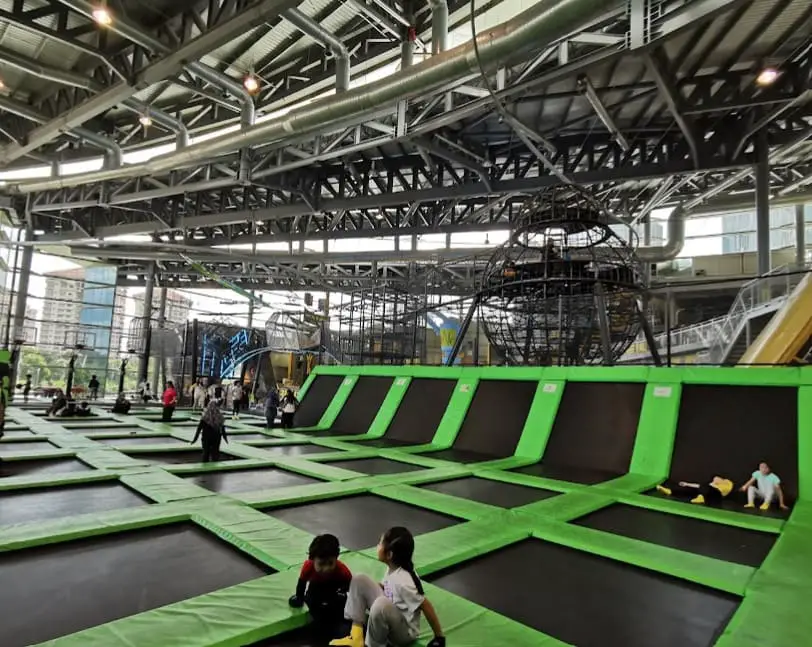 For kids who want to experience the thrill of driving their own toy cars, Go Pedal offers a joyful and new things to do in Putrajaya. The Pump Track is perfect for those who enjoy rough biking activities, with specially designed rolling tracks that allow you to ride continuously without pedaling.
Low Ropes provides young visitors with a mini version of the Sky Trail, specially designed with a balance system for children to navigate seven sections without relying on safety systems.
Don't miss The Maze if you're a fan of the "Maze Runner" movie and seeking excitement and challenges. With heights over 10 meters, it features tunnels, cages, and challenging paths, putting visitors' patience and agility to the test.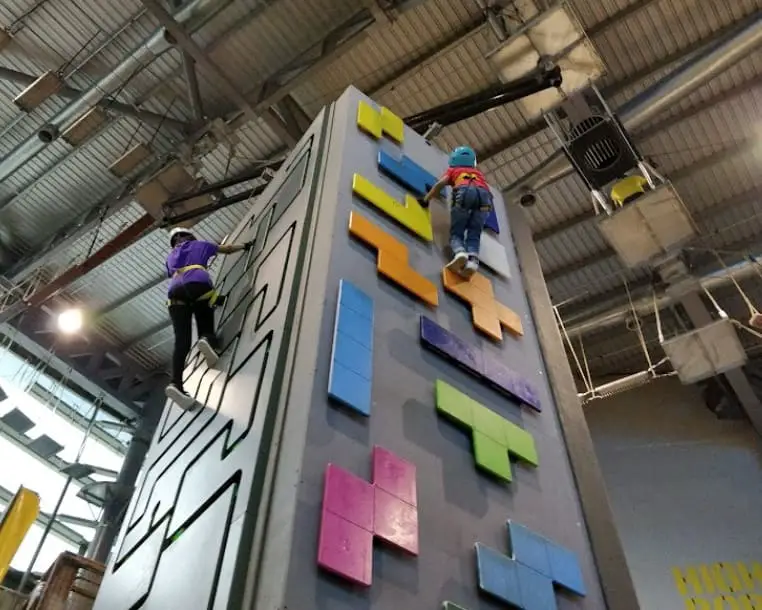 The Free Fall offers an exhilarating experience of skydiving without risking your life. The Sky Trail at District 21 boasts Malaysia's largest rope challenge, offering 23 different elements for visitors to choose from.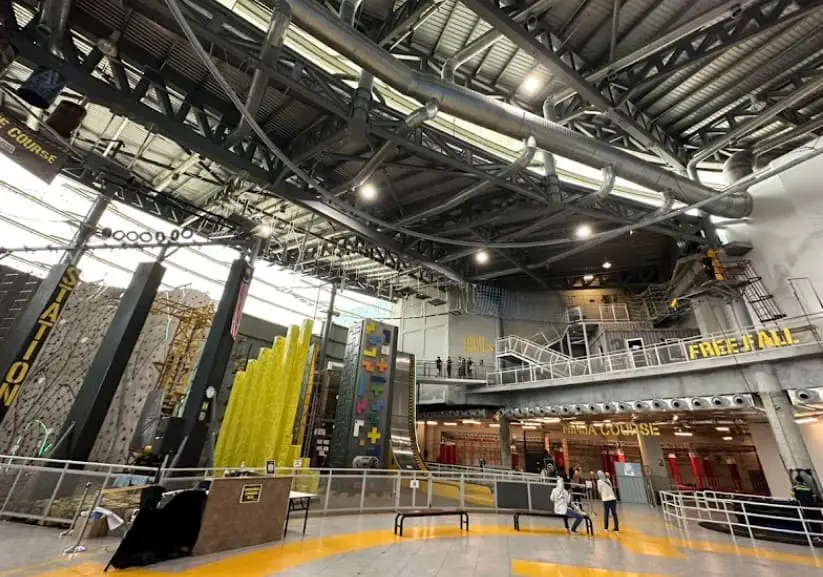 Tubby Ride guarantees fun as you slide down using inflatable tubes, giving you the sensation of being on a snowy slope abroad. The Carousel, designed for kids, doesn't disappoint with its 24 seats, featuring various animal designs like horses, tigers, ostriches, and more.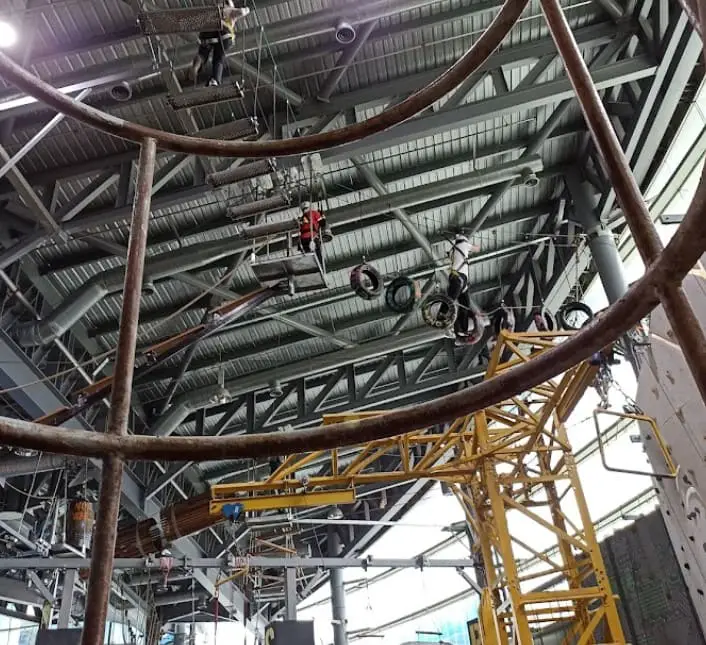 The overall experience at District 21 should not be missed when visiting Putrajaya. The reasonable entrance fee is RM58.00 per person on weekdays (Monday to Friday) and RM75.00 on weekends, school holidays, and public holidays, from 12:00 PM to 8:00 PM on weekdays and 8:00 AM to 8:00 PM on weekends, school holidays, and public holidays.
Website: http://www.ioidistrict21.com.my/ 
Address: 6, Level 1, IOI City Mall, 62502 Putrajaya
Ticket Price: Weekend RM70 | Weekday RM60
22. Jambatan Seri Wawasan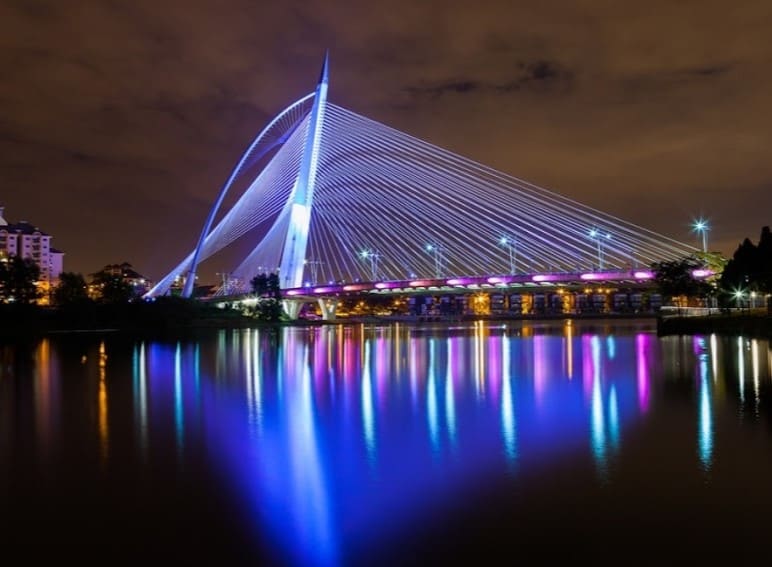 Jambatan Seri Wawasan, also known as the Putrajaya Bridge, is another captivating attraction drawing tourists to Putrajaya. Its unique design provides visitors with a different experience as it is the only bridge of its kind in the country.
Stretching 430 meters long, the bridge becomes even more enchanting when visited at night, illuminated by colorful lights that enhance its beauty.
Visitors are not only drawn to the bridge's beauty but also to the atmosphere that has been featured in local films, piquing their interest to witness the uniqueness of Jambatan Seri Wawasan for themselves.
This tourist destination should be regarded as a place of significance when we consider the symbolism that bridges represent – connecting two land masses. This symbolism is reflected in the beautiful and artistic construction, showcasing the unity between people and their surroundings.
Capturing the Unique Beauty of Putrajaya's Seri Wawasan Bridge
The 430-meter-long Seri Wawasan Bridge is undoubtedly one of the iconic landmarks of Putrajaya. You may have noticed that this bridge has been featured in numerous films, both local and international, making it a popular filming location. One such film is "Evolusi KL Drift" directed by Syamsul Yusof. Additionally, local newlyweds often choose Seri Wawasan Bridge as the backdrop for their wedding photoshoots.
If you enjoy capturing stunning sunset panoramas, I recommend visiting Seri Wawasan Bridge during dusk. The colorful neon lights illuminating the bridge against the backdrop of the evening sky will undoubtedly create a captivating landscape photo. At night, the bridge becomes even more enchanting, as the neon lights beautifully accentuate its unique patterns and create a harmonious and mesmerizing decoration. One of the nice things to do in Putrajaya here is night time photography.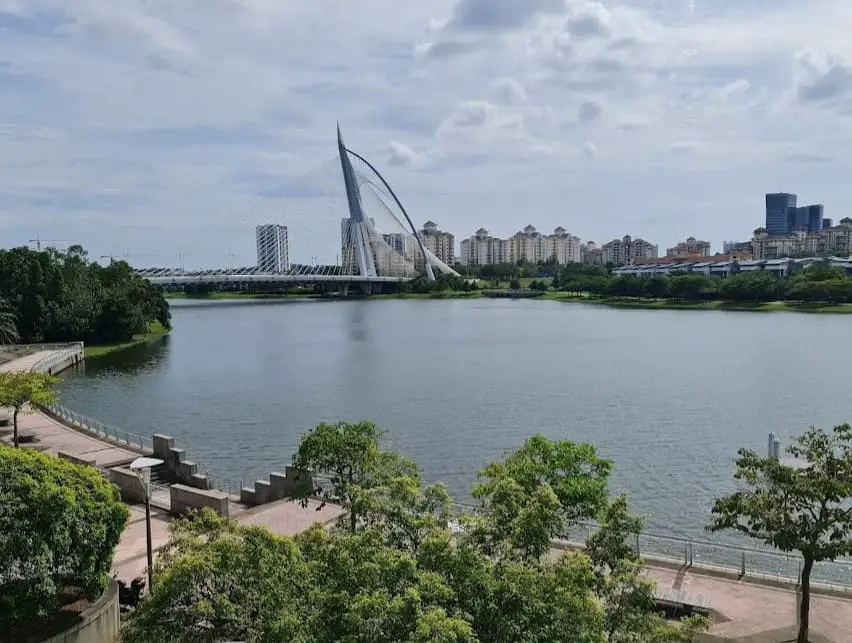 The sight of Seri Wawasan Bridge during night time from a distance is truly breathtaking, thanks to the radiant neon lights that adorn the bridge. The blend of colorful neon lights and the dark sky creates an enchanting spectacle that leaves a lasting impression.
As a photography enthusiast, being at Seri Wawasan Bridge during different times of the day offers a wonderful opportunity to capture its unique beauty from various angles, resulting in a collection of mesmerizing photographs. Whether it's the sunset hues or the vibrant neon lights at night, Seri Wawasan Bridge never fails to impress with its picturesque charm.
Address: Lebuh Wawasan, Presint 2, 62100 Putrajaya
23. Tasik Putrajaya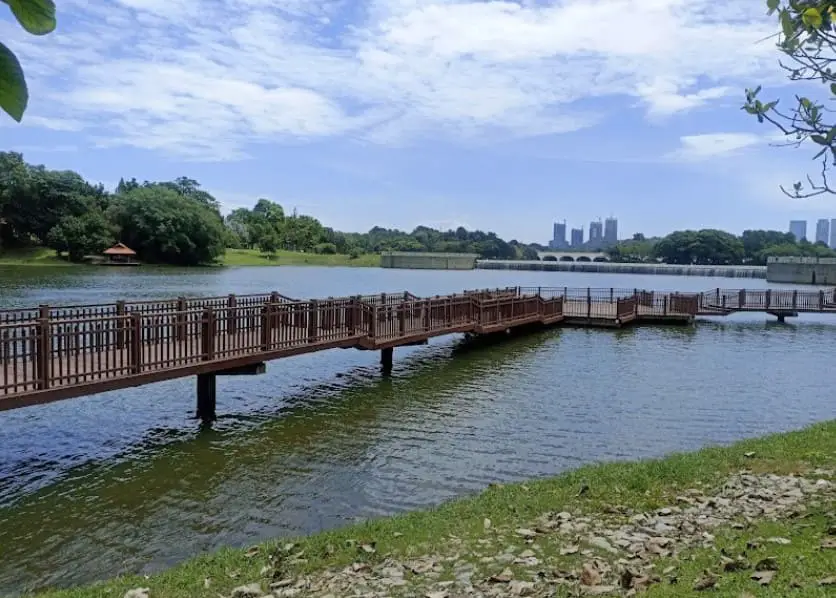 The breathtaking view of Tasik Putrajaya, with its natural beauty created by the divine, offers tranquility and solace to every visitor at the lake.
The cleanliness of the 650-hectare artificial lake, known as the "City in a Garden," captivates visitors with its beautiful landscape. The lake provides a recreational space for families to enjoy things to do in Putrajaya like fishing and water sports.
Built in 1998 and completed in 2002, the lake formed from two dammed rivers, Sungai Chuau and Sungai Bisa.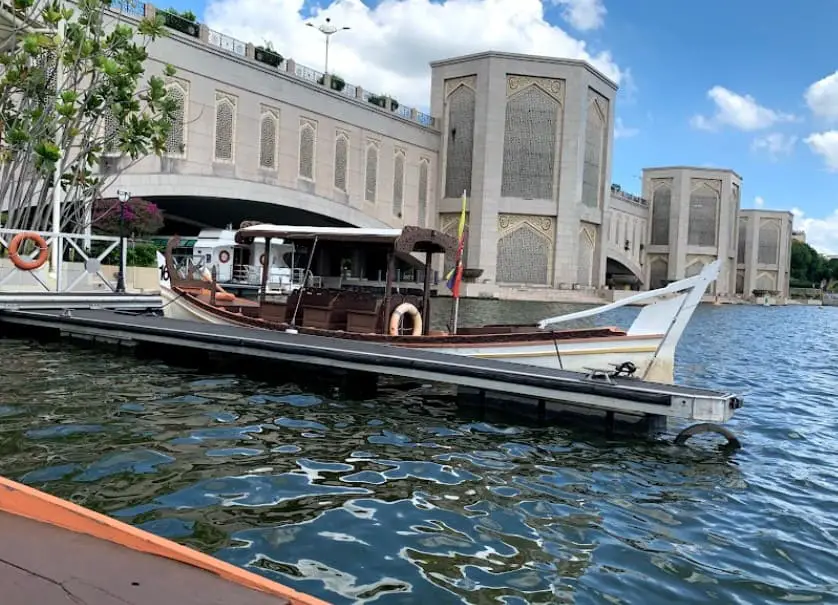 With the existence of Tasik Putrajaya, visitors have the opportunity to experience the joy of recreation in the heart of the country's administrative center.
The beauty of Tasik Putrajaya entices visitors to come with their families, cherishing the peaceful surroundings with trees adorning the artificial lake.
Tasik Putrajaya, also known as the "City in a Garden," should be explored and appreciated as a tourist destination with a philosophical perspective, inspiring the preservation and responsibility towards the beauty of nature.
Address: Presint 1, 62000 Putrajaya
24. Cruise Tasik Putrajaya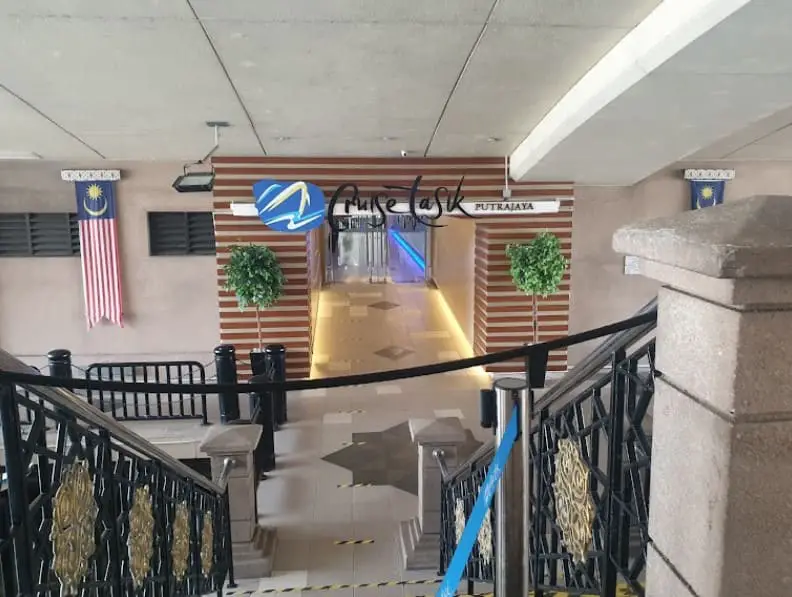 Another appealing location in Putrajaya is the Cruise Tasik Putrajaya. Just the word "cruise" evokes images of luxurious ships sailing across oceans, offering passengers a vacation filled with opulence. However, the "cruise" at Tasik Putrajaya offers a different experience to visitors. It involves traditional boats specially made in Kampung Duyung, Terengganu.
The Malay craftsmanship showcased in the boat's roof and design presents a unique experience that can only be felt on the Cruise Tasik Putrajaya. Visitors who have never ridden a traditional Malay boat should come to this location, where they can enjoy the beautiful scenery while cruising on the boat. Enjoying the lake view can be an astonishing things to do in Putrajaya.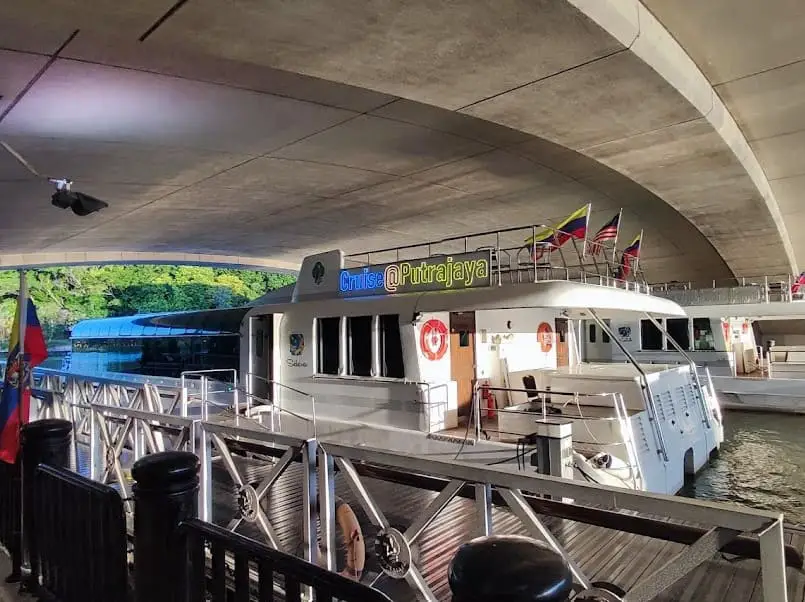 The Cruise Tasik Putrajaya takes you on a scenic journey, passing by notable landmarks such as Masjid Putrajaya, Istana Darul Ehsan Palace, Jambatan Wawasan, Monumen Millennium Monument, Istana Kehakiman, and Jambatan Putera. Besides the scenic ride, visitors can also enjoy the provided meal packages.
Cruise meal packages are available for lunch and dinner times, making it a suitable experience for visitors looking to celebrate special moments with their loved ones or family.
Putrajaya: The City in the Garden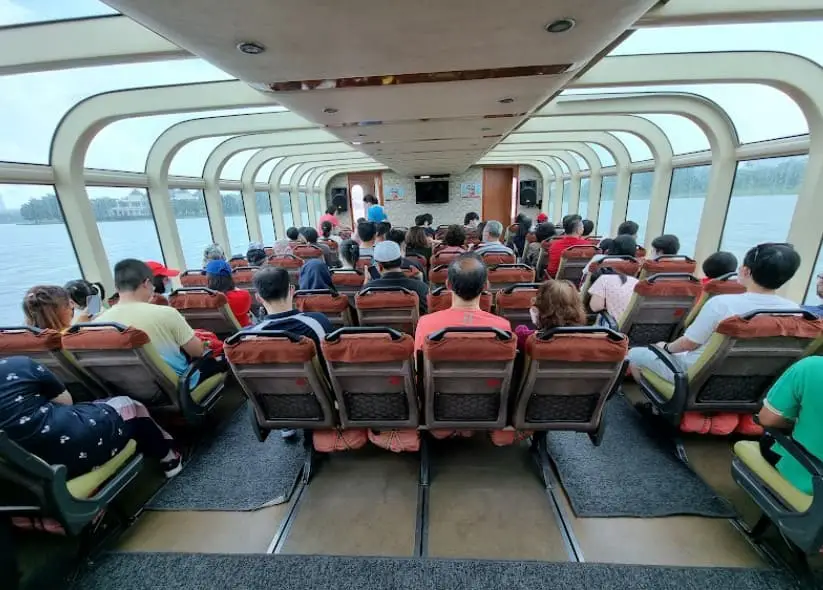 Putrajaya is also known by the nickname "City in the Garden" or "Bandar di Dalam Taman." This nickname is attributed to the beautiful landscape of Putrajaya, which is surrounded by lush greenery and artificial lakes as its main complements. To get a closer look at why Putrajaya earned the name "City in the Garden," one way is to take a boat or cruise tour around the city.
You will be amazed by the beauty of the government buildings with their unique and exquisite architecture, all surrounded by captivating greenery. The jetty for the boat cruise is located in Presint 1, near Dataran Putra and facing Masjid Putra. The ticket prices vary depending on the boat package you choose, whether you opt for a larger air-conditioned boat or a traditional handmade gondola imported from Terengganu.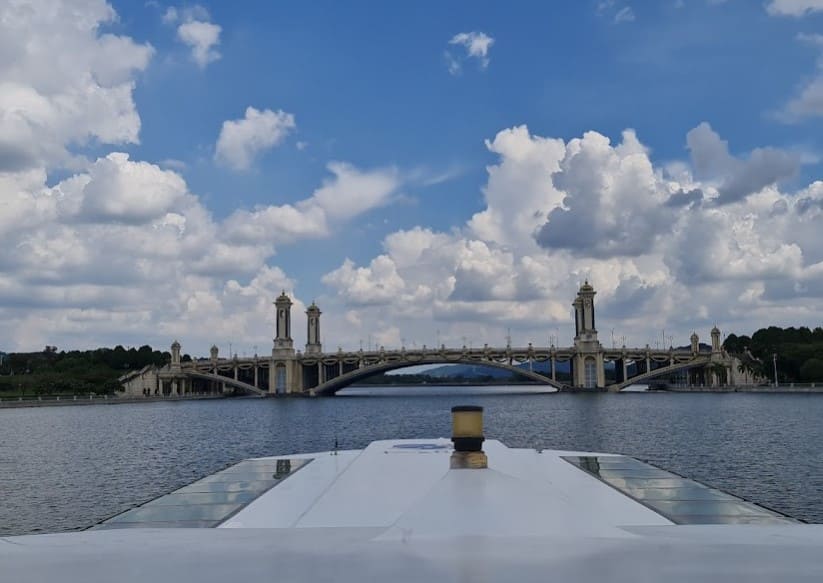 The boat journey takes around 45 minutes, circling through most of the attractive spots in Putrajaya, including Masjid Putra, Istana Darul Ehsan, Millennium Monument, various ministry buildings, Putra Bridge, and Putrajaya Bridge. If you are on a honeymoon in Putrajaya, why not take your partner on the Love Boat? The experience of being on a traditional gondola with your loved one will surely create a beautiful and romantic memory for both of you. Don't miss this best things to do in Putrajaya!
Website: https://www.cruisetasikputrajaya.com/ 
Address: Putrajaya Maritime Centre, Presint 5, 62200 Putrajaya
Ticket Price: Adult RM30 | Child RM20
25. Flyboard Malaysia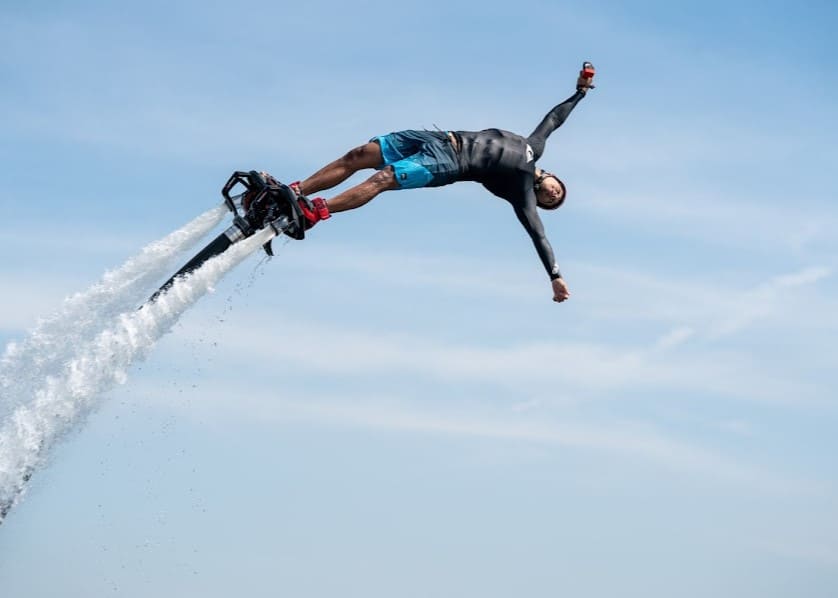 A valuable experience awaits at Flyboard Malaysia, offering an experience that comes with a valuable price tag. This expression fits well to describe what Flyboard Putrajaya offers. Flyboard is a technology from France, created in 2011, allowing visitors to experience flying above the water's surface using a jetpack device connected to a jet ski.
To ensure visitors have a challenging and enjoyable experience when riding the Flyboard, bookings must be made online at least one week in advance before the chosen time slot. Tedious but surely a rewarding things to do in Putrajaya.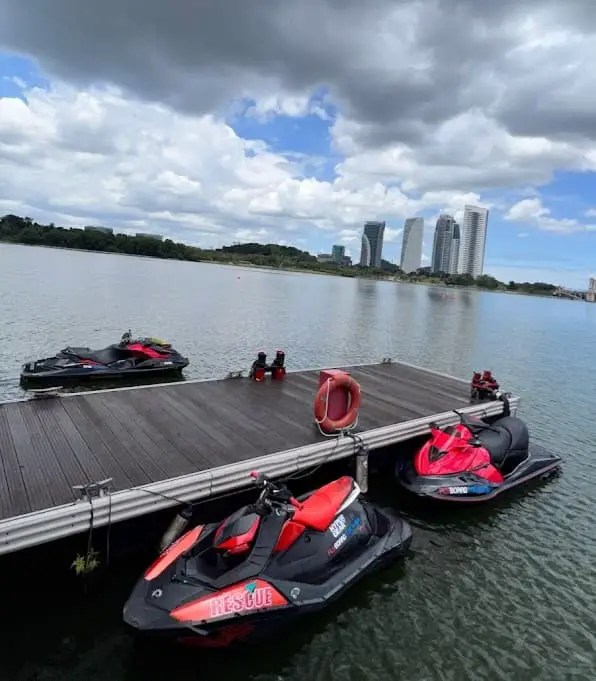 Only eight slots are available per day, with a maximum of three visitors per slot. First-timers need to undergo safety training with instructors to avoid any unwanted accidents. The minimum age limit is 15 years old, and children under 18 must be accompanied by parents or guardians to use the Flyboard.
The package price for this service ranges from RM300 to RM800, depending on the package offerings. Despite the relatively high price, the promised excitement and enjoyment of the experience will not disappoint.
Flyboard Malaysia: Experience the Thrill of Flying like Iron Man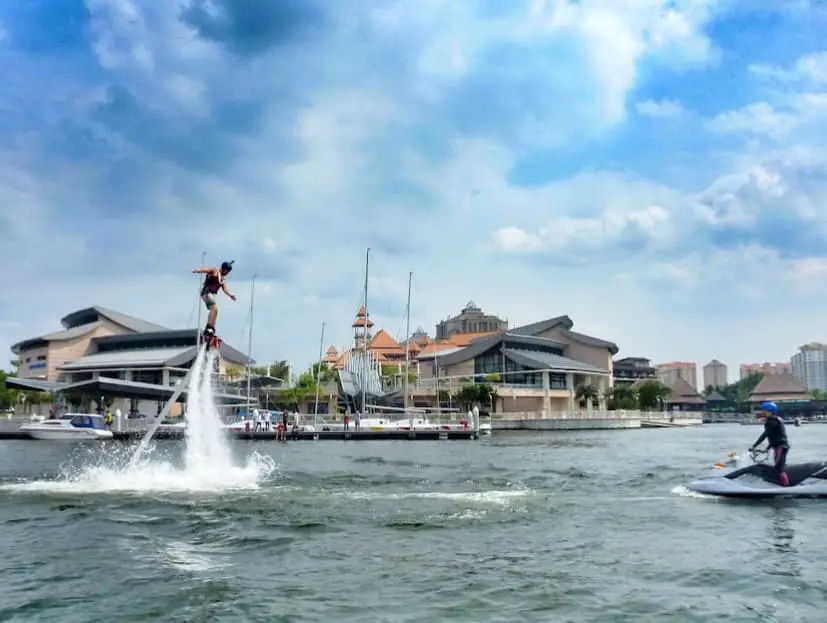 Are you someone who enjoys trying something new? If yes, then you should definitely try this things to do in Putrajaya that allows you to fly through the air like the legendary Iron Man. It's true that there are not many water sports activities like this available in Malaysia. So, while you're in Putrajaya, I highly recommend giving something new a shot. Flyboard Malaysia is the destination to go for this thrilling experience, and it is conveniently located at Marina Putrajaya.
Although flyboarding is labeled as an extreme sport, it's actually not that difficult for first-timers, and it doesn't require high physical exertion like kayaking, for example. Anyone can try it without needing any qualifications or licenses. Who knows, if you happen to be in Putrajaya with colleagues on a work trip, you can invite them to try this exciting things to do in Putrajaya that will surely create wonderful new memories for all of you.
Website: https://www.flyboardmy.com/ 
Address: Putrajaya Maritime Centre, Presint 5, 62200 Putrajaya
Ticket Price: Single Flight Package RM370
26. Alamanda Putrajaya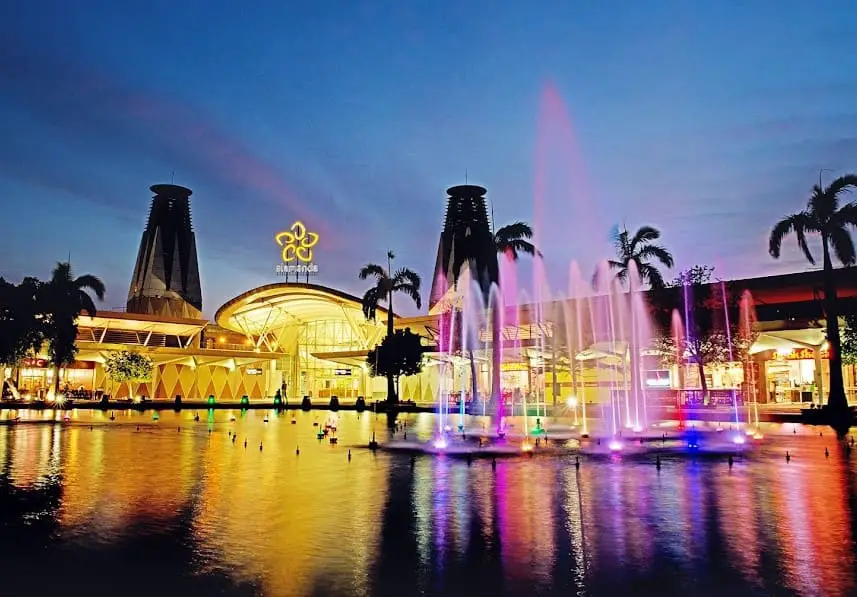 Our vacation in Putrajaya wouldn't be complete without a visit to Alamanda Putrajaya located in Presint 1. Alamanda Putrajaya is a shopping center that offers visitors a variety of desired goods and entertainment services, including a bowling center and a cinema.
Coming here with the family, we definitely wouldn't want to miss the opportunity to have fun and create happy moments while shopping and being entertained at Alamanda Putrajaya.
What's great is that we don't have to go elsewhere to enjoy some delicious food as there's also an exclusive food court here where we can indulge in tasty treats while enjoying the beauty of the natural surroundings. It's safe to say that Alamanda Putrajaya is the family's top choice for a vacation destination, given the great deals and facilities that delight visitors.
Exploring Alamanda Putrajaya: Shopping, Dining, and Family Fun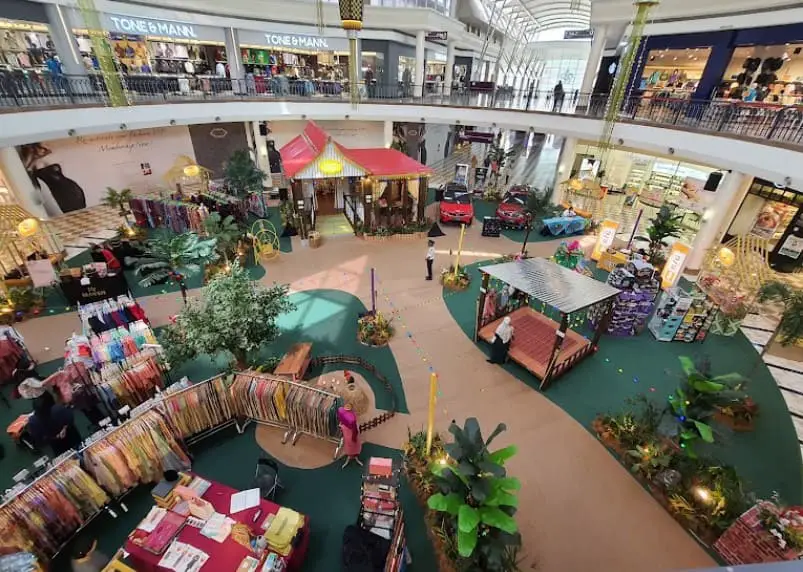 Alamanda Putrajaya is one of the well-established shopping malls in Putrajaya that has been serving the community for a long time. It's the perfect destination for me and my family to indulge in some shopping and dining experiences. With a wide variety of stores selling clothing, books, women's accessories, and more, we always find something interesting here. Every weekend, Alamanda Putrajaya is bustling with locals who come to spend quality time with their families or friends, enjoying the various family entertainment options available, such as watching movies, bowling, or having fun at the mini amusement park.
Feeling hungry? No worries, there are several restaurants, cafes, and fast-food joints here, offering a plethora of dining options that provide us with plenty of choices for a delightful "food-hunting" adventure in Putrajaya. The food court is also quite extensive, presenting a diverse menu of both local and international cuisines. After a satisfying meal, we love to stroll around the outside area of the food court to admire the colorful fountain or take some photos at the Bamboo Walkway.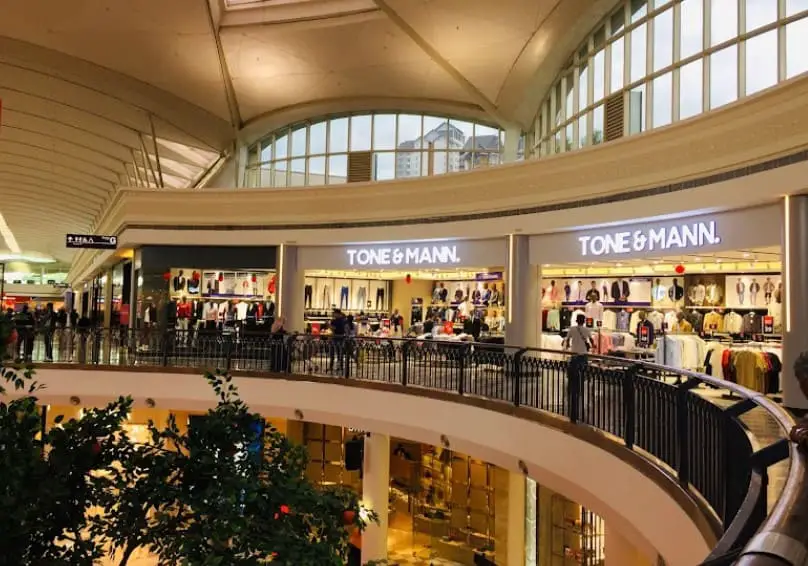 Alamanda Putrajaya truly caters to the entire family, providing a range of things to do in Putrajaya that appeal to different interests. It's a wonderful place to bond with loved ones, whether it's shopping for souvenirs, enjoying delicious meals together, or engaging in exciting entertainment. The mall's vibrant atmosphere and diverse offerings make it a favorite destination for locals and visitors alike. Whenever we plan a day out in Putrajaya, Alamanda Putrajaya is always on our list for a fun and memorable experience.
Website: https://www.alamanda.com.my/ 
Address: Jalan Alamanda Precinct 1, 62000 Putrajaya
27. Taman Saujana Hijau Putrajaya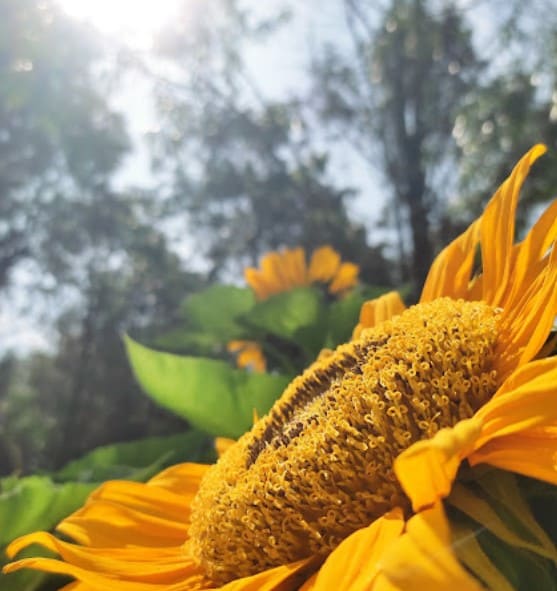 Taman Saujana Hijau Putrajaya definitely mesmerizes us upon arrival. This unique park showcases three different concepts for visitors to enjoy – the European Garden, Oriental Garden, and English Garden. All three concepts cover a vast area of 40 hectares.
As we step into the European Garden, we are treated to a panoramic view of Putrajaya from the high ground. The European atmosphere elevates our spirits as we explore this enchanting garden. Moving on to the Oriental Garden, we are welcomed by a pavilion featuring traditional Chinese architecture. With the right photography angle, you can take nice pics that make you look like you're not in this country! Truly a creative things to do in Putrajaya!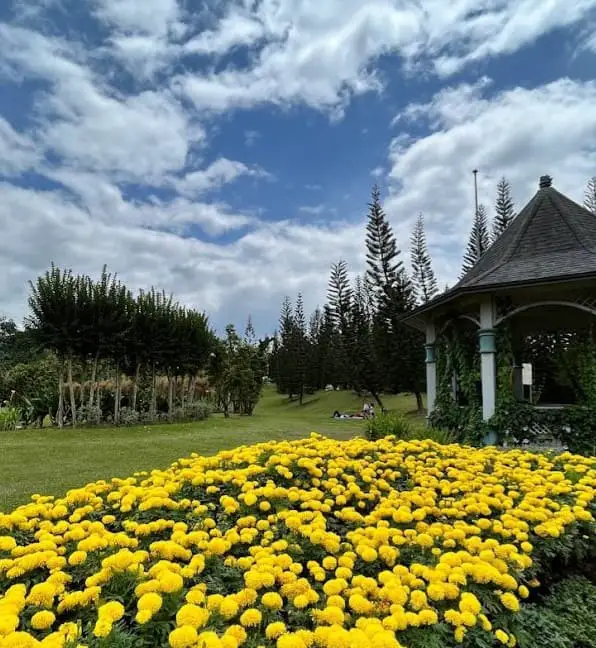 The gate design, courtyard, and intricate carvings transport us to a different world, immersing us in the charm of China. The combination of natural elements like flowering plants and fish ponds with small pebbles enhances the peaceful and serene experience.
The English Garden's beauty leaves a lasting impression on us, making us feel as if we've stepped into Europe. We're fortunate to capture beautiful moments of flora and fauna during the mornings and evenings.
Exploring the Enchanting Landscapes of Taman Saujana Hijau Putrajaya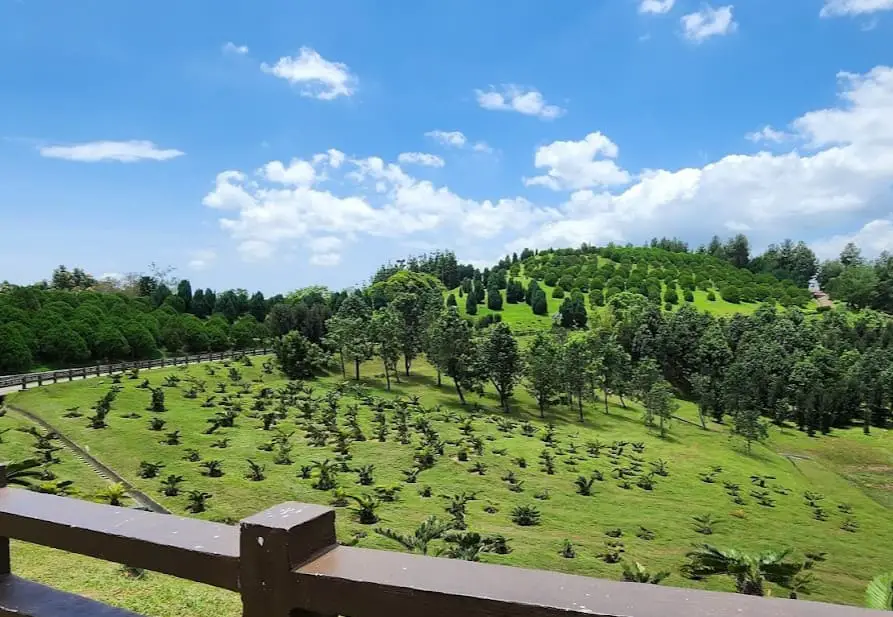 Taman Saujana Hijau Putrajaya is a vast 40-hectare landscaped area that features three main attractions: the European Garden, Oriental Garden, and English Garden. The concept of the 'green park' landscape here is truly awe-inspiring and will make you feel like you're on vacation abroad. If you enjoy witnessing breathtaking sunsets, head to the European Garden, the highest point here, offering a panoramic view of Putrajaya that is truly captivating.
The Oriental Garden, on the other hand, showcases a pavilion with a Chinese cultural theme and features a greater variety of tropical plants. In the English Garden, you'll find a charming gazebo surrounded by colorful blooming flowers, creating an atmosphere reminiscent of a public recreational park in London. It's no wonder that many locals choose this garden for outdoor wedding photoshoots due to its tranquil and captivating surroundings.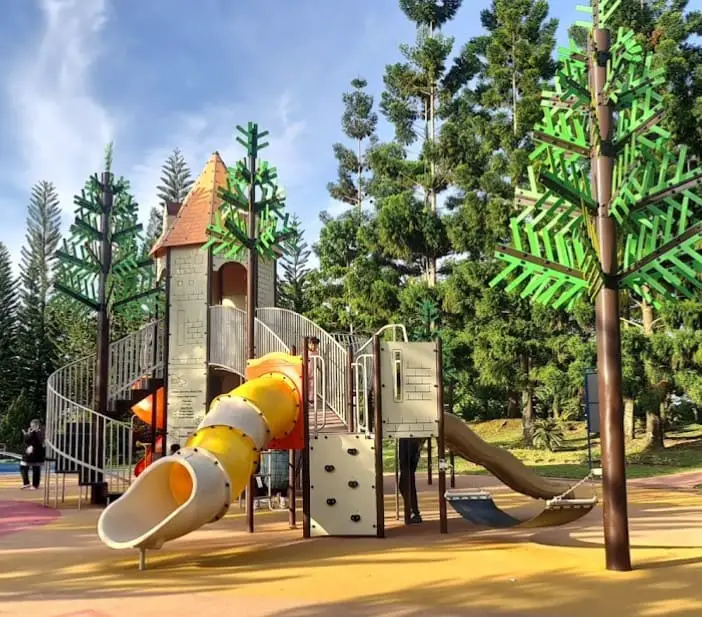 I recommend visiting Taman Saujana Hijau Putrajaya during the cooler hours of the evening or morning to avoid the scorching heat of the sun. In the event of rain and lightning, it is highly discouraged to be on the hilly areas for safety reasons. For photography enthusiasts, being here will undoubtedly provide you with countless ideas for capturing stunning landscape photos that are sure to go viral on social media.
Website: https://www.ppj.gov.my/  
Address: Jalan P11, Presint 11, 62000 Putrajaya
28. Taman Cabaran Putrajaya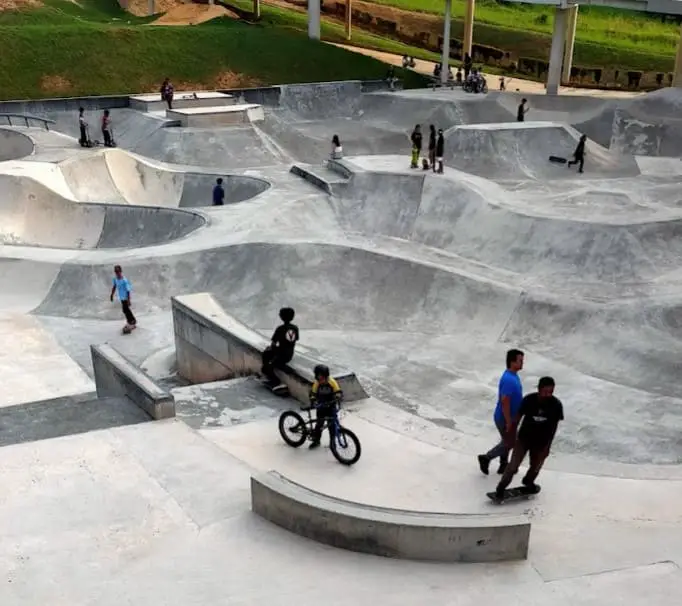 Taman Cabaran Putrajaya will definitely put our stamina to the test. Just hearing the name already gives us a sense of the challenges that await. But the level of difficulty won't be known until we experience it ourselves at this location in Presint 5, Putrajaya. Therefore, we shouldn't miss this chance to show off and test our abilities using the available facilities.
Putrajaya Challenge Park offers us the chance to climb the Wall Climb and for a minimal fee of RM6 for adults and RM3 for children, it's definitely worth it.
The safety at Taman Cabaran Putrajaya is assured as they provide rental safety equipment like shoes, harnesses, bags, and other climbing gear to visitors. For those interested in mountain biking, the park also offers the Mountain Bike Trail.
This challenging trail will undoubtedly excite us and foster a newfound interest in the sport for those new to it. Another beloved sport among the younger generation is skateboarding, one of the fun things to do in Putrajaya. Skateboarding enthusiasts shouldn't miss the opportunity to showcase their skills at Taman Cabaran Putrajaya, as it offers a skateboarding arena rarely found elsewhere.
Address: Jalan P5, Presint 5, 62200 Putrajaya, Wilayah Persekutuan Putrajaya
29. Thrilling Adventure: Wall Climbing at Taman Cabaran Putrajaya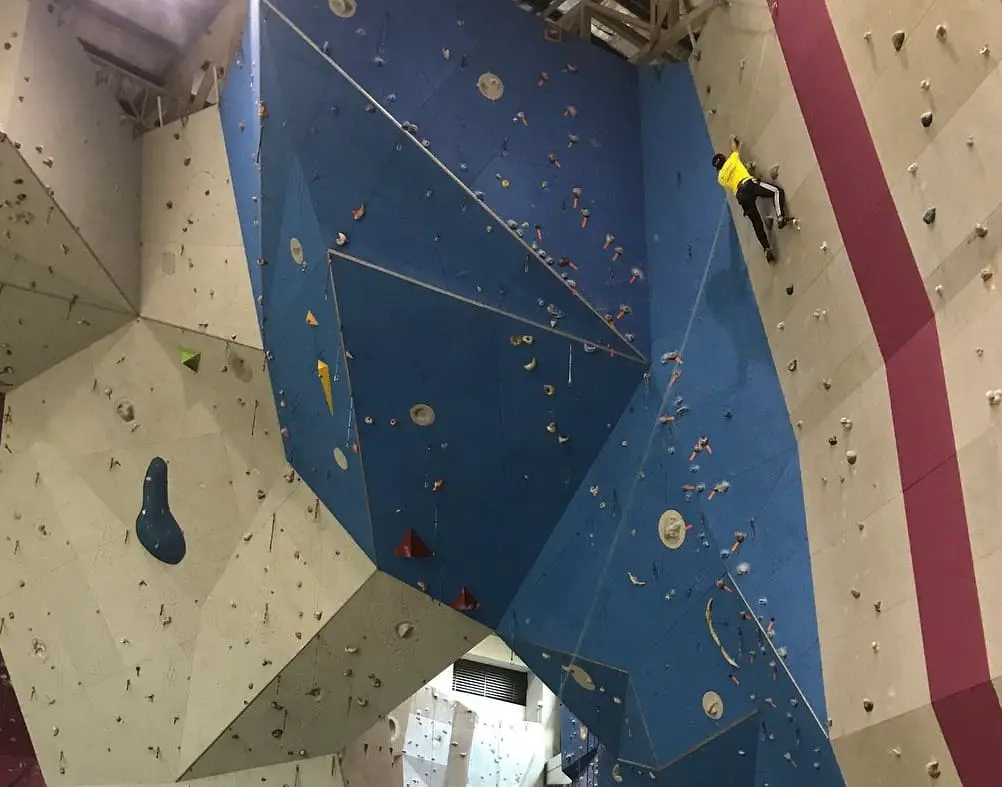 Wall climbing is an exciting sport that many of us are eager to try but might not know where or how to begin. No worries! If you happen to be vacationing in Putrajaya, just explore Taman Cabaran Putrajaya located in Presint 5, which offers user-friendly indoor wall climbing facilities.
Whether you're an amateur or a seasoned professional, the variety of wall climbing challenges here will surely excite you and keep you engaged. Don't have climbing gear like shoes, harness, or chalk bag? No problem, you can easily rent the necessary equipment for wall climbing at the counter at a very reasonable price. What's more, there's a section of wall climbing specifically designed for children, and they can enjoy it for free.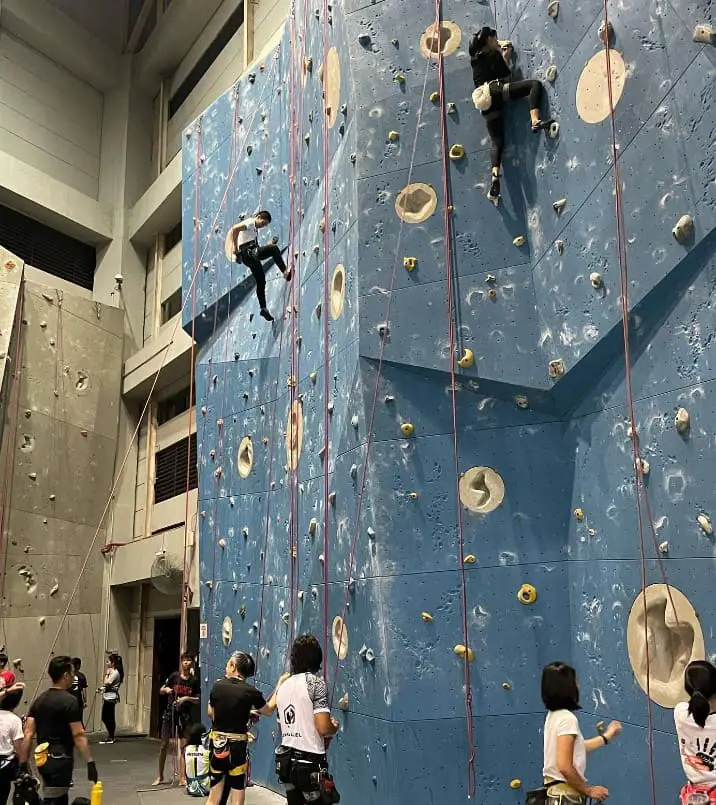 It's no wonder that Taman Cabaran Putrajaya has become one of the intriguing places in Putrajaya, perfect for families to spend quality time together on weekends. Additionally, there are other facilities available for more things to do in Putrajaya special for X-games enthusiasts, such as mountain bike trails, roller blade rinks, and skateboarding areas. After an exhilarating time here, we can head to nearby restaurants that are popular among the locals to satisfy our hunger.
Website: https://m.facebook.com/Putrajaya.Challenge.Park/ 
Address: Jalan P5, Presint 5, 62200 Putrajaya
Ticket Price: Adult RM6 | Child RM3
30. Perdana Putra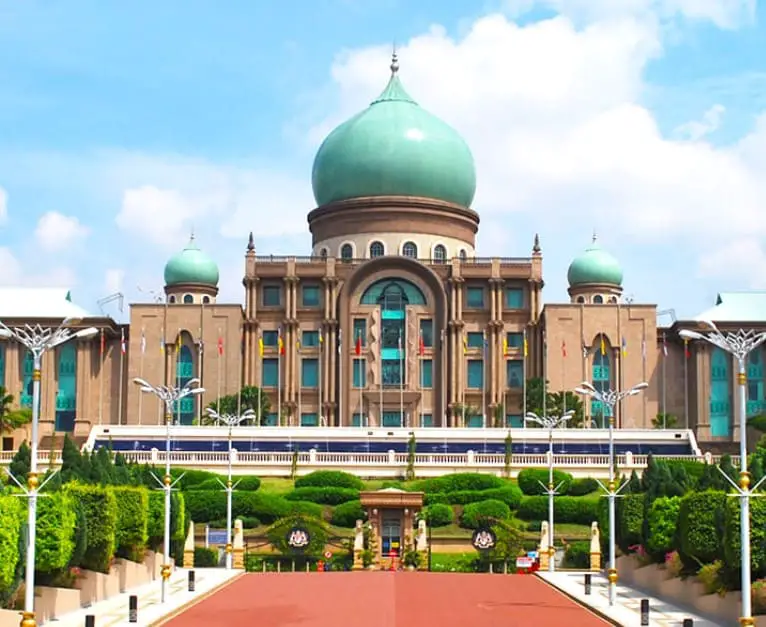 Perdana Putra is the office of the Prime Minister of Malaysia located in Presint 1, Putrajaya. The unique Islamic architectural design, with its green domes symbolizing the greatness of Islam as the official religion of the federation, sets this building apart.
This iconic building stands close to Masjid Putrajaya and Dataran Putrajaya, making it a remarkable attraction as the official residence of the country's number one individual. The grandeur of the building can be admired by the public when it opens from 8:30 AM to 4:30 PM.
Additionally, Seri Perdana is the official residence of the Prime Minister, and its design resembles that of Perdana Putra. Completed in 1999, it was the official residence of Tun Mahathir Mohamad at the time, and now it is the residence of Yang Amat Berhormat Dato Sri Najib Tun Razak. The uniqueness of Malaysia's Prime Minister's official residence adds to its appeal as a tourist attraction in Putrajaya.
Address: Persiaran Sultan Sallahuddin Abdul Aziz Shah, Presint 1, 62000 Putrajaya
Most of the tourist attractions in Putrajaya are indeed very family-friendly. Even if you're staying here, there are still many other interesting places in Selangor that you can explore with your family, such as in Bangi, Seri Kembangan, and Cyberjaya. If you're looking for an exciting water theme park near Putrajaya, I highly recommend visiting Bangi Wonderland Water Park, which is only 20-30 minutes away from Putrajaya.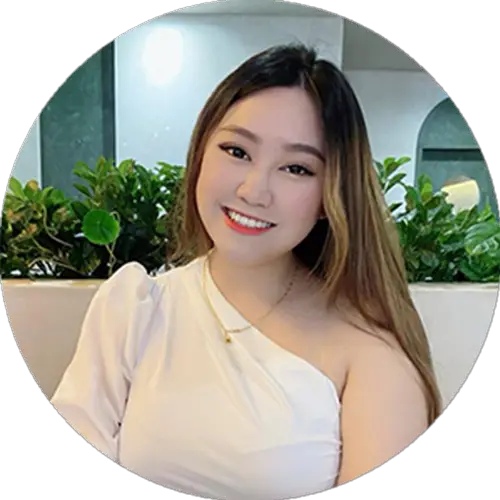 Valerie, Malaysia Food Blogger
Valerie Seow is an exceptional Malaysia travel blogger whose passion for exploration and detailed research shines through in her comprehensive guide to Putrajaya's attractions. 
With her insightful blog post, travelers and locals alike can embark on an enriching journey through the captivating city. From the architectural marvels of Putra Mosque and Perdana Putra to the serene landscapes of Taman Wetland and Millennium Monument, Valerie leaves no stone unturned. Her vivid descriptions and practical tips make it effortless for readers to plan a memorable visit, ensuring that each destination in Putrajaya becomes a delightful experience filled with awe and wonder.