Welcome to the vibrant culinary scene of Canada, where I have personally savored the flavors of exceptional Mexican restaurant Toronto. If you're craving a taste of Mexico's rich and diverse cuisine, you're in for a treat. Toronto boasts a myriad of Mexican restaurants that have left me impressed with their stellar ratings of 4 and above out of 5. From the sizzling fajitas to the zesty guacamole and mouth watering tacos, these establishments have truly transported my taste buds to the heart of Mexico. Prepare yourself for a delightful culinary journey, filled with authentic flavors, warm hospitality, and unforgettable dining experiences.
Not feeling like having Mexican food? Don't you worry, Toronto Italian cuisine won't let you down either!
Best Mexican Restaurant Toronto That Is Worth Your Time
I recently had the pleasure of dining at El Catrin Destileria, and it was an incredible experience from start to finish. Upon arrival to this Mexican restaurant Toronto, we were promptly seated, and the waiter provided excellent service throughout the evening. The drinks and food were simply amazing, leaving us eager to return for another visit. While it was a bit on the pricey side, every penny was well worth it. One unique touch I particularly loved was being spritzed on the patio, adding a refreshing element to the dining experience.
Located in the vibrant Distillery District, this Mexican restaurant Toronto offers a chic and hip ambiance that sets the perfect tone for a memorable meal. The food itself was outstanding, with the guacamole and chips being an absolute must-try. The tacos were also delicious, and the standout dish for me was the large grilled octopus, which was tender and bursting with flavor.
One of the things that made this place even cooler was their innovative approach to combating the summer heat. They had a steam feature that refreshed the entire space, making it a comfortable environment even on hot days.
While most aspects of my dining experience were exceptional, there were a couple of minor drawbacks. The chicken tacos I ordered were a bit underwhelming, lacking the same excitement as the other dishes. However, our waitress, Britney, more than made up for it with her sweet and cool demeanor.
The highlight of this Mexican restaurant Toronto was undoubtedly the patio, especially during the summer season. It offered a unique and enjoyable dining experience that I highly recommend, especially if you're visiting the Distillery District. Keep in mind that there are usually long lineups, so it's a good idea to leave your name and number before exploring the area. I also highly recommend trying the Margarita flight, as it provides a fantastic opportunity to sample different varieties. Additionally, all of the tapas we tried were delicious.
The atmosphere here in this Mexican restaurant Toronto was truly incredible, and the service was quick and attentive. Although we didn't have a reservation, we only had to wait for around 10 minutes before being seated on the patio. Personally, I would have preferred an indoor table since it was a bit chilly, but those were reserved for guests with reservations. Most of the food we tried was quite good, especially the esquites (although I wished the portion was larger) and the barria tacos. However, the flautas fell short in terms of flavor, and the tortilla chips served with the salsa el jefe tasted slightly stale. On the bright side, the drinks were creatively crafted and tasted fantastic, with the puebla margarita standing out as a favorite.
The drinks were not only generously sized but also incredibly flavorful, and the food was absolutely delicious. The restaurant's decor and ambiance added to the overall authenticity and enjoyment of the dining experience. I'm already looking forward to returning during the summer to relish in the patio atmosphere once again!
Website:  https://elcatrin.ca/menus 
During my visit to La Carnita, we were delighted by the helpful and charming staff as we stopped by for a quick drink and taco snack. I opted for the sangria, which unfortunately fell short of expectations. While it had an okay and refreshing flavor profile, it lacked fruit, with only a small slice of orange as garnish. However, the pork belly taco more than made up for it with its deliciousness.
We had the pleasure of trying various items from the menu, including the Mexican street corn, three different tacos, and the churros. La Carnita offers a wide range of options to cater to different dietary restrictions and preferences, and their prices are reasonable. The service was prompt, and the food was excellent. We especially enjoyed dining on the outdoor patio of this Mexican restaurant Toronto. I highly recommend trying the sweet potato tacos, which offer the perfect balance of flavors with a hint of heat. They were easily the best vegetarian tacos I've had so far.
The service at La Carnita was good, with reasonable wait times for our food to be served. They also have vegetarian options such as sweet potato, vegan chorizo tacos, and mushroom tostadas.
Making a reservation was hassle-free, and we came here for a meal before a show. The service was efficient, and our food arrived promptly. However, we did find that we sometimes had to flag someone down to request items like water, cutlery, or napkins, although they were promptly provided once requested. Since I've been here several times before, I knew what to expect. I must note that the food tends to be on the spicier side, but it has remained consistent across my visits.
La Carnita is undoubtedly a fantastic choice for ending an evening on a high note. I highly recommend trying their margaritas and nachos, which are simply delightful. However, every dish we tried was packed with flavor and savory goodness. We had a wonderful time dining outside on their terrace, adding to the overall experience. One charming touch of this place is that they serve water in tequila bottles, which adds a unique twist. Give it a try!
Website: https://www.lacarnita.com/ 
When I visited Wilbur Mexicana, I decided to order three tacos, and boy, did they leave me feeling full! While I've been to places where tacos are cheaper, I found that these tacos were generously stuffed, making them reasonably worth their slightly higher price point. Each taco was incredibly flavorful, but my absolute favorite was the bulgogi. I particularly enjoyed the salsa bar, where I could sample various salsas and add even more excitement to my meal. We arrived around lunchtime when it was relatively quiet, but by 12:30, the place had picked up quite a bit. Trust me, it's definitely worth a try!
Wilbur Mexicana is a pretty good taco place, and you can't beat the price point. I loved the "salad bar" of different salsa choices and the extensive variety of hot sauces available. However, there were so many options that I ended up not finding one that I particularly liked.
What impressed me most about this Mexican restaurant Toronto were their delicious fajita tacos. The portion size was generous, and I thoroughly enjoyed the wide range of toppings and dressing choices that allowed me to personalize my taco. The presentation on a hot cast iron added a fun touch, creating a sizzling and visually appealing experience. Although I felt the meat could have had a bit more taste, the ability to add different toppings and dressings allowed me to enhance the flavor to my liking. Overall, Wilbur Mexicana is a fantastic choice for fajita taco enthusiasts who enjoy customization.
If you're looking for a quick and healthy meal,  Mexican restaurant Torontois perfect. I love getting the bowl and experimenting with different hot sauces each time I visit. Additionally, the condiment bar offers a wide variety of toppings, allowing you to customize your bowl or taco to your heart's content.
I did try the fish taco, and while it tasted okay, I felt that it lacked flavor and salt. The fish was crispy, but it needed that extra kick. Furthermore, the tortilla itself was somewhat bland and had a strange chewy texture and taste.
Wilbur Mexicana is an easygoing and casual taco spot located in the heart of downtown. It's quite popular, so expect it to be busy during peak times. However, they're efficient, and the wait time is generally not too long. The chips they serve are wonderfully salty and perfectly complemented by the creamy guacamole. We also tried three tacos and the classic quesadilla, and all of them were incredibly tasty. To top it off, the total cost for all that food plus a drink was only $30, making it definitely worth a try! And don't forget to explore the salsa bar—it's a must!
Milagro Cantina is an absolute must-visit when you're in Toronto. This spacious Mexican restaurant Toronto offers authentic Mexican cuisine, reminiscent of what you would find in a cozy little eatery. The service is top-notch, with knowledgeable staff who made excellent menu recommendations. They skillfully described each dish, capturing the accent flavors perfectly.
My personal favorites were the quesadillas and tacos. The food wasn't overly oily, and we couldn't resist asking for more hot sauce. I would definitely dine here again without hesitation!
Milagro Cantina has a cool vibe and friendly service. However, be aware that the table sizes are on the smaller side, so they cleared the appetizers before serving the main course (they enthusiastically removed mine while I was still enjoying it, haha!). They have a nice selection of drinks, including various margarita variations (although I didn't try them myself, my friends seemed to thoroughly enjoy theirs) and Mexican beer. 
The food offers the usual Mexican fare, but with a good range of options (I'm not overly familiar with Mexican cuisine, but the menu seemed quite extensive to me). I opted for the ribeye, and it tasted absolutely fantastic. It's a great place to catch up with friends. When we arrived at 7 pm, it was reasonably busy, but by the time we left at 8:30 pm, it had become less crowded.
The food at this Mexican restaurant Toronto was pretty good. Surprisingly, my favorite part was the homemade hot sauces—they had a fantastic flavor. The ceviche options were also quite impressive. We tried the red snapper with mango, although it was slightly overpowered by the red onion.
The enchiladas were excellent, made with corn tortillas and smothered in a flavorful green sauce. The beans were some of the tastiest I've ever had, and the Tecate beer was quite enjoyable as well. I will definitely be returning to Milagro Cantina in the future.
The food here at Mexican restaurant Toronto was truly authentic and mouthwatering. We had the opportunity to try cactus for the first time and absolutely loved it. It was cooked to perfection. The salsa platter, as well as the refried beans and guacamole platter, were excellent for sharing with friends and family.
Website: https://milagrocantina.ca/mercer/ 
Playa Cabana has undoubtedly one of the top three fish tacos I've ever tasted. I ordered it through UberEats, and to my surprise, the fish was still crispy when it arrived. The seasoning and sauce were absolutely delightful, and the portion size was generous, packed with plenty of veggies. I was completely satisfied with just three pieces of tacos and didn't feel the need to eat or drink anything else. I spotted the lobster taco on the menu and can't wait to come back and try it.
We also tried the Ceviche Del Dia, which was decent but nothing particularly outstanding. However, the chips served alongside were fresh and delicious.
For our taco choices, we opted for the Carnitas on soft tortillas and the Pollo Tinga on hard shells. Both were fantastic, boasting a wonderful combination of toppings and sauces. Personally, I preferred the Pollo Tinga as it had a nice spicy kick to it, and the side of guacamole complemented it perfectly.
This Mexican restaurant Toronto is a small and bustling restaurant with a cozy ambiance enhanced by dimmed lighting. The bartender, an older gentleman, provided attentive and friendly service. I will definitely be returning!
Their house hot sauces are incredibly delicious. I couldn't resist drizzling the milder one on everything—it had the perfect level of spiciness!
To start, we ordered grilled corn and salsa with chips. The grilled corn was tasty, although it lacked the charred flavor I expected. The salsa was fresh and flavorful, and the portion of tortilla chips was generous.
We ordered a set of shrimp and al pastor tacos, and both were outstanding! The al pastor tacos were bursting with flavor—the seasoning of the pork was spot on, and the combination of the juicy sweetness from the grilled pineapple and the slice of orange on top was absolutely delightful. The shrimp tacos had a milder flavor, but they were incredibly juicy and delicious. The addition of the fried taco shell was a nice touch.
To end our meal, we indulged in the tres leches cake, which was massive and not overly sweet. It was a perfect shared dessert for two.
Overall, it was an incredible dining experience here at Mexican restaurant Toronto, and I can't wait to return and try their other taco options. The burrito was also quite good—while I've had better near the border, Playa Cabana's version is impressive, especially considering its location so far north. I particularly enjoyed having both sauce options on half of the burrito, allowing me to savor both flavors (although the green sauce was my favorite, both were delicious).
The restaurant's eclectic and well-thought-out decor adds to its vibrant atmosphere. Despite its small size, the space is efficiently utilized, allowing for pleasant conversations without excessive noise.
While the experience could have been improved by having some ice in the water (which was lukewarm), and complimentary chips would have been a nice touch, I still highly recommend stopping by Playa Cabana if you're in the mood for fresh and flavorful Mexican cuisine.
Website: https://playacabana.ca 
Address: 111 Dupont St, Toronto, ON M5R 1V4, Canada
6. Fonda Lola Mexican Bistro
Fonda Lola Mexican Bistro is a visually appealing Mexican restaurant Toronto located on Queen's Street. We opted to sit on the patio, which offered a delightful ambiance. The service was prompt and friendly, and the drinks were excellent. However, I found the food to be a bit on the dry side. I ordered the fish tacos, but they lacked the juiciness I was hoping for. Additionally, the nachos came with hard and overly set cheese.
Nevertheless, the service at Fonda Lola was amazing, as they were accommodating and attentive. The patio vibe was truly enjoyable. I'm definitely planning to return and try their tacos. I recommend making a reservation in advance, as the place fills up quickly. Although the Mexican restaurant Toronto is small, they have made excellent use of the space. I also highly recommend exploring their drink menu, although it is on the pricier side. The presentation of the dishes was adorable and appealing.
Fonda Lola is renowned for having the best fish tacos in town. While the Mexican food is good, it can be a little bland. However, they offer various sauces that you can request with your tacos to add some spice. I'm giving them five stars solely for their fish tacos. I haven't found better fish tacos anywhere else.
One hidden gem of Fonda Lola is the super cute patio located in the back of the bistro. I highly recommend trying the shrimp tacos, as they were incredibly delicious. And of course, you can never go wrong with a spicy margarita!
The food at Fonda Lola is truly authentic and amazing. The overall vibe of Mexican restaurant Toronto is perfect for a night out with friends or a romantic date. The queso fundido and mezcal margarita are absolute must-tries. If possible, I suggest requesting a table on their back patio, as it is a true hidden gem. I would like to express my gratitude to Rafa and the entire team for providing great service and creating an amazing dining experience.
The Lola margarita is a perfect 10/10 drink that you must try. The back patio offers a lovely and intimate setting, which is exactly the type of ambiance I look for. We thoroughly enjoyed our vegetarian tacos, specifically the Portobello and jicama tacos. The dishes were not only delicious but also beautifully presented with vibrant colors. One minor critique is that the toppings on the nachos should have been layered throughout, rather than just on top. 
Nonetheless, it was evident that the chips were homemade and incredibly tasty. Our waiter was kind, informative, and enthusiastic, adding to the overall positive experience. I can't wait to come back to Fonda Lola!
Website: https://fondalola.com/fonda-lola 
7. Chula Taberna Mexicana
My visit to Chula Taberna Mexicana was absolutely delightful. We spent a lovely afternoon enjoying the beautiful back patio. Our server, Wilson, was incredibly welcoming and friendly. The Margarita I ordered was delightful, and the food was truly great. The only minor complaint I have is regarding the calamari; while it was good, the portion size of 6-7 bite-sized pieces for $16 seemed a bit steep. Other than that, everything else was fantastic. We will definitely be returning.
The Mexican food at this Mexican restaurant Toronto is simply amazing, and it's the best I've had in Toronto so far. The patio is a wonderful spot to enjoy during the summer, and I can't wait to spend more time there.
The chicken enchilada I tried was outstanding, and all of the tacos were super delicious. My personal favorite was the pork taco. We also ordered churros for dessert, which were also very good.
Everything about our experience was perfect, and the service was excellent. I can't wait to come back to Chula Taberna Mexicana!
The margarita, priced at half price for $6, was good for that price, but I don't think it's worth paying the full price. However, overall, the Chula experience is everything you need when it comes to Mexican food. They offer a wide variety of menu options, and their new brunch menu is a great addition. I should also mention that they have fantastic Margarita Monday and Taco Tuesday specials this summer that you should definitely take advantage of. Although it's a bit outside the city, it's well worth the trip.
I thoroughly enjoyed the patio at Chula Taberna Mexicana, and the food was absolutely delicious. The corn dish was the best I've had in the city, and the beef blow was incredibly flavorful with the perfect seasoning on the meat. I will definitely be coming back, and I highly recommend it to anyone who hasn't been—it's a must-try.
Chula Taberna Mexicana is a great place to enjoy Mexican fare. The menu offers a variety of selections, the cocktails are beautifully crafted, and the back patio is a nice addition.
The only downside was that the tortilla chips felt dry and stale, but the guacamole was fresh and delicious, leaving us wanting more of it.
The tres leches cake was a bit disappointing as it was dry and lacked sufficient soaking in different types of milk. I couldn't taste any condensed milk, and there was too much cream. However, the fried ice cream was quite good.
The food at this Mexican restaurant Toronto is consistently delicious, and the atmosphere is always welcoming. They have updated their menu with a few new options while still offering the favorites. We have thoroughly enjoyed everything we've eaten so far and always look forward to returning.
Website: https://www.chula.ca 
XOLA is hands down the most authentic Mexican restaurant Toronto I've been to in the city. It's an absolute must-try, especially for those near the beaches. The owner was incredibly welcoming and accommodating, even though it's a smaller restaurant. This place is truly unique and unlike any other Mexican restaurant I've experienced. We ordered a variety of dishes, including the veggie main, fish tacos, traditional guacamole, and smoked salmon guacamole, among others. Everything was worth getting—the flavors were incredibly fresh and delicious!
When our tacos arrived, they were beautifully plated, with the tortillas served separately in a tortillero. They provided enough tortillas so we didn't even have to ask for more, and they tasted really good. We ordered the duck confit and barbacoa tacos, and they were not only visually appealing but also incredibly delicious. The only suggestion I have is that you might want to consider ordering appetizers as well, as the main course alone may not be enough.
XOLA is a very cute Mexican restaurant Toronto with an authentic and friendly staff. The owner herself took the time to welcome me and chat for a bit, which added a personal touch. The food was absolutely delicious, and I'm already looking forward to my next visit.
The food at XOLA is incredibly fresh, vibrant, and bursting with flavor. We ordered the classic guacamole, which was outstanding. The coconut milk ceviche and Sopa Azteca (traditional Mexican soup) were real standouts. The Mole and Beef Adobo with soft tortillas were rich and packed with flavor. The drinks were impactful, made with fresh ingredients, including fresh strawberries. This was our second visit to XOLA, and we definitely plan on returning again!
I have to say that XOLA is my favorite Mexican restaurant Toronto. The food is absolutely outstanding—unique, vibrant, and flavorful. The portions are generous, and my husband and I left the restaurant delightfully full. We ordered some of their house specials and enjoyed delicious drinks. The owners and staff were all professional and friendly, and what stood out to us was their love for dogs! We brought our dog to the patio, and one of the staff members instantly welcomed our furry friend with a bowl of cold water. Such a thoughtful gesture! By the end of our meal, we were already planning our next visit to XOLA to try more of their fantastic dishes. Thank you, XOLA, for a great dinner experience.
Website: https://www.xolarestaurant.com/ 
9. Mariachi's Restaurant Mexican Cuisine
Mariachi's Restaurant Mexican Cuisine provided a very nice and pleasant experience. The food was incredibly flavorful and satisfying. I decided to try the plate that included both the burrito and the enchilada, and both dishes were absolutely amazing!
I have had the pleasure of dining at Mariachi's several times, and there's one word that perfectly describes this restaurant—CONSISTENT! The food is consistently incredibly good.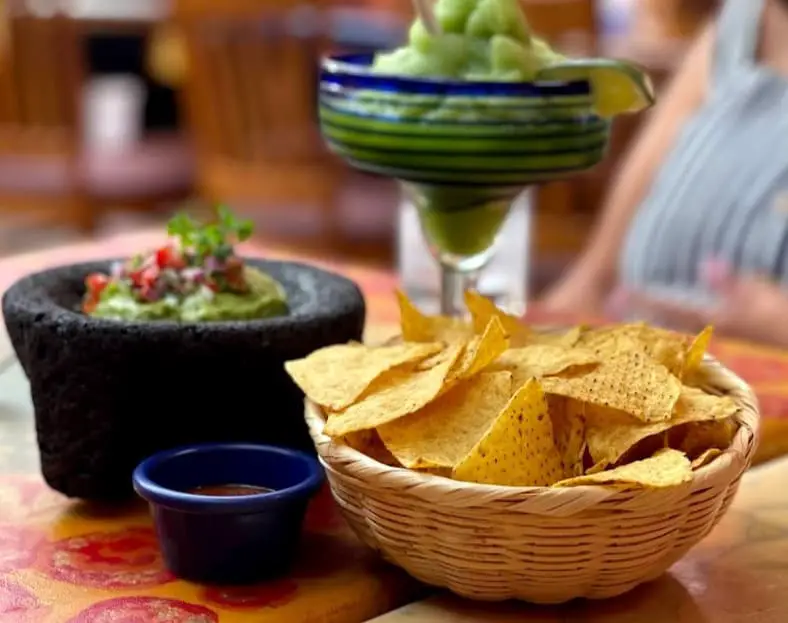 The tacos, in particular, are my favorite. Every bite takes me back to Mexico, and the flavors are simply outstanding. I can't wait for summer to return so I can relax on their patio and enjoy a refreshing beer margarita. In fact, you can't go wrong with any of the margaritas they offer—they are the best in town!
I absolutely love the cozy and private backyard patio at this Mexican restaurant Toronto. It's a great spot for a quick bite. The food at this restaurant never ceases to amaze me; every bite brings me happiness. I highly recommend that everyone gives it a try.
During our visit, we ordered Nachos, the Morelia combo, and the Cancun combo. Every dish we tried was absolutely delicious, and I couldn't get enough of them! The combination of flavors felt like a taste of heaven—it was so, so, so delicious!
We opted for chorizo on the Nachos, and they were incredibly tasty. Each ingredient on the tortilla chips had a perfect bite, making it an absolutely delightful experience.
If you're a seafood lover, I highly recommend the Cancun combo. It features shrimp and crab, and the seafood flavors are vibrant and delicious. As for the Morelia combo, it includes beef and chicken.
Choosing Mariachi's was a fantastic decision that made our day! The portions were generous, the servers were friendly, and the decor of this Mexican restaurant Toronto added a charming touch to the overall experience. If I could, I would give this restaurant ten stars! We will definitely be returning in the future!
Website: https://mariachis.ca/menu.html 
Our dinner at Quetzal was absolutely fabulous. We were lucky enough to secure seats at the chef's table, where we had an amazing view of the chefs cooking and plating their delicious dishes. I highly recommend trying to get these seats for an incredible experience.
During our time at this Mexican restaurant Toronto, we had a great dining experience. We sat at the bar, watching the talented chefs at work. The service was friendly, interactive, and perfectly matched the food and vibe of the restaurant.
Speaking of the food, every dish was truly spectacular. I particularly enjoyed the endive and mushrooms, but honestly, there were no low points in our meal. The smell and heat from the fire added another layer to the sensory experience of the evening. Overall, it was a fantastic night, and I would definitely come back to try more items from their menu or even enjoy the same dishes again.
The interior of Quetzal had a fun and chic vibe, creating a wonderful ambiance for a date or special occasion. The service was excellent, and while the food was good, it didn't leave a lasting impression. Among the dishes we tried, the standout was the lamb enchiladas, followed by the mushrooms, the duck breast with added tortillas, and the octopus. The coconut meringue dessert was another highlight of the night. I would recommend this Mexican restaurant Toronto for the experience and atmosphere of a nice romantic date night, but I wouldn't necessarily return solely for the food.
We opted for the tasting menu, and it was truly divine. We got to sample a bit of everything on the menu, and my personal favorites were the scallops, the mushrooms (and I don't typically enjoy mushrooms!), and the coconut nicuatole. Quetzal offers an elevated Mexican cuisine that you don't often see in Toronto. Although the tasting menu was fantastic, I'm already excited to go back and try other dishes from their menu.
The Mexican restaurant Toronto had a pleasant smokey aroma, adding to the cozy atmosphere created by the dimmed lights. Our table was slightly small for the amount of food we received, but we managed just fine.
Quetzal is a wonderful place to indulge in elevated Mexican-fusion cuisine. The highlights of our meal were the shrimp, bone marrow, tres leches cake, and their impressive beverage menu. It's a great spot to experience a Michelin-level dining experience without straying too far from your comfort zone. The flavors are elevated but still familiar enough to appeal to everyone at the table.
We had a great time at Quetzal. The food and vibe were both amazing. The prices might be a bit shocking at first, but keep in mind that the dishes are meant for sharing and are suitable for 2-3 people. We ordered 5 dishes for our group of 4, and it was more than enough. If there's one dish you must try, it's the Al Pastor—it's a definite must-have! The flavors were outstanding, and I'm already looking forward to returning for more.
Website: https://www.quetzaltoronto.com/ 
Campechano Adelaide is definitely one of the best Mexican restaurant Toronto. I highly recommend making a reservation, especially if you plan to visit after 7:30 pm, as the waitlist can be up to 2 hours long and they may not allow you to join the list. It was surprising to discover that each order consists of only one taco (if you're ordering tacos), but trust me, after enjoying 2-3 tacos, you'll feel satisfied. Don't miss out on their braised beef—it's absolutely delicious.
The service at this Mexican restaurant Toronto was friendly and attentive. The staff was more than happy to explain and answer any questions we had. The guacamole was incredibly tasty, and while the salsa was good, it didn't blow me away. The tacos themselves cost around $10 each, and although they are made fresh and come in a decent portion size, they are on the pricey side. Nevertheless, it's a fantastic place for Mexican food, especially tacos and nachos.
Despite the slightly higher price, the fact that they make their own tortillas and serve delicious drinks definitely adds value to the dining experience. During our visit, we ordered the ceviche with chips, the mushroom taco, the chorizo taco, and the beer battered fried haddock taco. 
Every dish was excellent. I particularly loved the mushroom and bacon taco—it's a definite must-try! The ceviche was good, but considering the price, it wasn't extraordinary. I'm deducting one star solely for the pricing. The tacos may be a bit expensive, but I will definitely return to try their other taco options because every taco we had was absolutely delicious!
My experience at Campechano Adelaide was one of the best I've had when it comes to exploring the realm of tacos. I thoroughly enjoyed my beef steak taco along with a spicy margarita. The guacamole and chips were also amazing. I must go back there again soon, even though I devoured my tacos too quickly and forgot to capture a photo! Oops!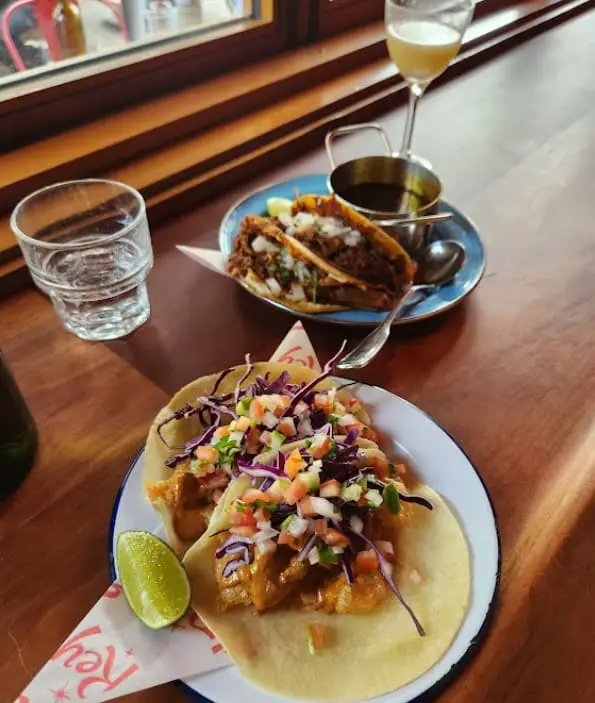 El Rey Mezcal Bar is such a great place! The vibes both inside and on the patio were fantastic. We enjoyed the delicious and flavor-packed tacos, especially when paired with the recommended "Open Windows" cocktail made by the bartender. The service provided by Lance and Thai was incredibly friendly and attentive. They made sure we had a wonderful experience. Although they don't take reservations, the wait is definitely worth it.
The cool and fun vibes at this Mexican restaurant Toronto were complemented by their amazing cocktails. The "Coco Amarilla" was a delightful twist on a regular Piña Colada, enhanced with yellow chartreuse that added a fresh herb note to the overall flavor. I also tried the "Open Windows" cocktail, which was a perfect balance of sweet, spicy, and smoky notes, thanks to the combination of Tequila and Mezcal. I absolutely love this place!
El Rey Mezcal Bar was the perfect spot for indulging in some delicious Mexican cuisine. The food was incredible, and the service provided was kind and attentive. Whether you choose to sit inside or on the patio, the vibes are great. I particularly enjoyed the mezcal cocktails. During our visit, we tried the aguachile, birria quesadilla, steak taco, and tres leches cake. Every dish was delicious and reasonably priced. We will definitely be returning and highly recommend this place.
The shrimp tacos and birria quesadillas at this Mexican restaurant Toronto were simply amazing. We had a fantastic time here! The staff was incredibly friendly and attentive, and the music selection added to the fun atmosphere. We opted to sit outside on their spacious patio, which was equipped with heaters. 
The food was absolutely outstanding. We ordered the al pastor tacos and the daily special, and both dishes were full of flavor and freshness. If you find yourself in Kensington, this place is a must-try.
Website: https://elreybar.com/ 
At El Charro Broadview, I had the opportunity to try their chicken, steak, and pork tacos. Each one was tasty, but the standout was definitely the pork taco with its delicious pineapple topping. The portion sizes were generous, providing a satisfying amount of protein in each taco.
The food at El Charro Broadview was absolutely amazing! It was packed with flavor, not overly salty, and beautifully presented. The Mexican restaurant Toronto itself had a cute and quaint atmosphere, making it a comfortable place to enjoy delicious food. The server was incredibly kind and charismatic, adding to the overall enjoyable experience. Our food arrived quickly, allowing us to dig in and savor every bite.
I can't rave enough about the tacos of nopal and hongos (sautéed cactus and mushroom) that I had at El Charro Broadview. They were simply the best! I also indulged in their torta de chorizo/queso (sausage/cheese sandwich), which was delicious. For dessert, the tres leches cake and churros were amazing. And let me tell you, the Birria tacos were the best I've had in the city so far. It's worth mentioning that they also offer horchata, a traditional Mexican drink. This place was a gem of a discovery, and I'll definitely be returning to try more of their delicious offerings!
During our visit, we couldn't resist ordering the Tacos de Birria con Queso. This dish comes with four tacos that are grilled together with cheese, topped with slow-cooked beef marinated in Mexican chiles salsa. It also comes with a side of birria consommé, cilantro, onions, limes, and salsa. Let me tell you, it was super delicious!
We also decided to try the Tacos Baja Style, specifically the Pescado (deep-fried battered fish served in a blue corn tortilla). While it was good, it didn't quite match the outstanding flavors of the birria. Next time, I'll definitely opt for the birria or explore other new dishes on their menu. Speaking of birria, I must emphasize that the birria at El Charro Broadview is excellent. I couldn't find a single fault in the textures, flavors, or anything else related to this place.
Overall, the cuisine at El Charro Broadview was incredibly delicious and brought a comforting feeling. The staff who attended to our orders were fast and friendly, enhancing our dining experience.
Website: https://elcharrocanada.com/menu 
Barrio Cervecería is an absolute favorite of mine when it comes to food! It's the perfect spot for dining out, especially during the summer and fall when their patio is open. I've been here multiple times, and let me tell you, it's always a challenge to finish the plate because the food is just that good! 
During our visit, we ordered the enchiladas and the barrio bowl, both of which we really enjoyed. The portion sizes were generous for each dish, and they left us satisfied. The ceviche had a good amount of shrimp, although it was a bit on the watery side.
Now, let's talk about the food itself. It was beyond delicious, and we were truly blown away. So far, we've tried the enchiladas, flautas, and barrio bowl, and every bite was an explosion of flavors and textures with just the right amount of spiciness. We absolutely love this place!
The overall vibe of this Mexican restaurant Toronto is incredible. From the music to the colorful theme, everything adds to the experience. They have two wonderful patios, one shaded and more private, and the other facing the park with plenty of sunshine. If you're looking to sit on the patio, I highly recommend making a reservation, as there aren't many patios along Queen St. in that stretch.
One highlight of my visit was trying the "Show Me The Passion" cocktail. It's a unique drink made with the skin of a passion fruit on top, filled with Tequila, and set on fire! Yes, you read that right, on fire! Before pouring it back into the glass, you need to blow it out. It's a fun and impressive presentation. As for the enchiladas, they were absolutely delicious, and I highly recommend giving them a try.
Barrio Cervecería offers an amazing experience with its vibrant atmosphere, friendly service, and, most importantly, incredible food. Don't miss out on their fantastic patio seating in this Mexican restaurant Toronto.
Website: https://barrioonqueen.com/ 
El Nahual Tacos is a hidden gem with a welcoming and warm atmosphere. The vibrant decor and unique artwork create a lively ambiance that adds to the dining experience. But let's talk about the real star of the show – the tacos! The menu int his Mexican restaurant Toronto offers a wide variety of flavorful options, catering to different tastes and dietary preferences. Whether you prefer traditional beef and chicken or want to try something different like fish tacos, each bite is filled with fresh ingredients and bursting with flavor.
What sets El Nahual Tacos apart is their attention to detail. Each taco is made to order with care and precision, ensuring a perfect balance of flavors and textures. Whether you crave bold and spicy or mild and comforting, there's a taco here to satisfy your cravings. Located in the Annex, a food joint/food hall on Bloor Street, El Nahual Tacos incorporates Mexican flavors with simple garnishes, allowing the quality of the ingredients to shine.
While I initially thought they served my favorite Filipino dessert, Leche Flan, they actually offer a Mexican version called Tres Leches Cake, topped with strawberry jam, which is just as delicious. If tacos aren't your thing, their burritos are equally delicious, featuring fresh Mexican ingredients.
Don't forget to indulge in their sides – the chips and guacamole are the perfect accompaniment to your meal. And if you're thirsty, their drink selection, including margaritas and refreshing beers, won't disappoint.
During my first visit, I was inspired by Luis, the owner, and his passion for bringing authenticity to the food market. The food products, including their nachos and tortilla chips, are made from scratch, adding an extra level of freshness and quality. The taco flavors are rich and succulent, and I particularly enjoyed the tiger shrimps, fish, and Yucatan chicken. On my next visit, I look forward to trying even more delicious offerings.
This Mexican restaurant Toronto may be small and cozy, and it can get busy, but it's definitely worth the wait. If I had one request for my next visit, it would be to increase the spice level in the sauces. Overall, El Nahual Tacos is a true culinary gem that delivers on taste, atmosphere, and authenticity.
Website: https://elnahualtacos.com/ 
Address: 556 Parliament St, Toronto, ON M4X 1P6, Canada
El Trompo is an authentic Mexican taco restaurant that offers a simple menu bursting with flavors. The food is fresh and delicious, and the service is quick, making it a great choice for a group outing in Kensington Market. The vibrant colors and decor create a lively atmosphere, and the friendly staff is accommodating and welcoming. During my visit, many popular restaurants in the area were packed, but I'm glad I had the opportunity to try El Trompo. The staff is fluent in both Spanish and English, ensuring smooth communication, and the service was prompt and efficient.
We started with the guacamole and chips as an appetizer, and let me tell you, their guacamole is a must-try! It's incredibly delicious and one of the best I've had. I also sampled the Mexican version of horchata, which had a sweeter and more cinnamon-forward flavor compared to other types. It was quite enjoyable. The michelada I tried had a spicy kick, which may vary depending on the beer you choose. One standout dish I tried was the "Gringa Hawaiana," which had the perfect combination of sweet and savory flavors.
The interior atmosphere of this Mexican restaurant Toronto is well-maintained and authentic, creating a warm and inviting ambiance that adds to the overall dining experience. The staff's charm and helpfulness further enhanced the enjoyable atmosphere.
Overall, El Trompo offers a great combination of delicious food, refreshing drinks, and excellent service. It's definitely a must-visit if you're in the area. I stumbled upon this happy find in Kensington Market and opted to sit on their lovely patio on a beautiful warm evening. We ordered the guacamole, which was absolutely delicious, followed by the chicken fajitas, which were equally satisfying. The horchata was decent, although not exceptional, and the Al pastor tacos were simply mouthwatering. The menu offers an extensive selection, the prices are reasonable, and the overall vibe is just right.
Website: https://www.eltrompo.ca/ 
Address: 277 Augusta Ave, Toronto, ON M5T 2L7, Canada
In conclusion, Toronto offers a diverse and vibrant Mexican culinary scene with a range of restaurants to satisfy any craving. From traditional flavors to modern twists, these Mexican eateries deliver delicious dishes with authentic ingredients and attentive service. 
Whether it's the mouthwatering tacos, flavorful guacamole, or refreshing margaritas, these restaurants showcase the richness and depth of Mexican cuisine. Whether you're in the mood for a cozy dinner, a lively patio experience, or an elevated dining adventure, these Mexican restaurants in Toronto provide an unforgettable culinary journey that will leave you craving more.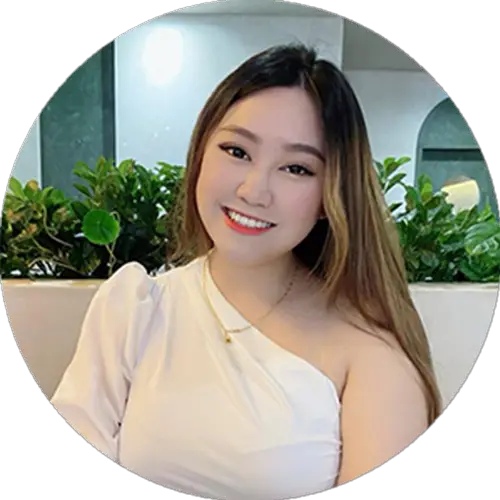 Valerie Seow is a talented blogger hailing from Malaysia who has also found her passion for the vibrant city of Toronto. 
With her unique perspective and diverse cultural background, Valerie seamlessly combines her love for both Malaysia and Toronto in her captivating blog posts. 
From sharing her insights into the rich Malaysian culture to showcasing the hidden gems and exciting experiences in Toronto, Valerie's engaging storytelling and vibrant photographs make her a trusted source for travel enthusiasts seeking the best of both worlds. 
Her passion for exploration, coupled with her genuine appreciation for these two incredible destinations, has established Valerie as a prominent voice in the blogging community.