As someone who resides in KL, I have been captivated by the vibrant and diverse Thai food scene in PJ. From the bustling streets adorned with Thai eateries to the enticing aroma of exotic spices and herbs, the experience promises a delightful gastronomic adventure. 
Each Thai food PJ restaurant and food stall offers a unique charm, presenting traditional favorites like Tom Yum, Pad Thai, and Green Curry alongside innovative fusion creations. Exploring the richness of Thai cuisine in PJ has become a delightful journey, where I can savor the perfect balance of sweet, spicy, sour, and savory flavors that make it a true haven for Thai food enthusiasts like me.
More: 
Petaling Jaya is more than just about awesome Thai food, they're also known for their Japanese restaurant in PJ and outstanding PJ cafes with lovely ambiance to chill. Feeling a bit more oriental? Try out these Chinese restaurants in PJ area!
1. Boran, Thai Food PJ
At Boran, I had a scrumptious meal, with highlights like the Panaang Curry, Pork Neck Meat with Mama Noodles, and Pork Belly Skewers, all of which were delicious. However, I found the Green Curry to be a bit too minty for my liking and lacking in spice. Despite that, I will definitely come back again for more!
During my visit to Boran Seapark, I had a wonderful experience. The Pork Shoulder Rice, Minced Pork Rice, Chicken Wings Platter, and Coconut Ice Cream were all great Thai food PJ, just as I've had before through food delivery. However, dining in added to the enjoyment with the nice vibes of the shop. I look forward to trying other dishes on my next visit.
Parking can be a hassle at Boran, but they have a sweet gesture of providing a double park camera in the shop to alert you if someone is honking when you double park and dine in. 
The Tom Yum soup was amazing, and the prices are reasonable. I've also tried their Roasted Pork before, and it was not bad. Their Thai Milk Tea is a must-try, and I highly recommend their Coconut Ice Cream.
The Thai food PJ at Boran never disappoints; it's always delicious. My top favorite dishes are the Green Curry Pork Rice, Thai Basil Mince Pork, and Pork Skewers. The service can be a bit difficult due to a language barrier or accent problems, but overall, it's a great place to dine in.
Website: https://www.facebook.com/boranthaifood 
Address: 25 G, Jalan 21/11a, Sea Park, 46300 Petaling Jaya, Selangor
2. AROI Mak Mak Thai Restaurant
I recently had a delightful dining experience at AROI Mak Mak Thai Restaurant. The food was absolutely delicious, and I particularly enjoyed trying their unique dish, "Complicating Noodle," which I couldn't find anywhere else in Malaysia. 
The red ruby dessert is a must-try and highly recommended. The pricing for the dishes was reasonable, and the staff provided professional and efficient service, making the whole experience even better. Overall, I had a great time at the Thai food PJ restaurant.
AROI Mak Mak Thai Restaurant offers authentic and delicious Thai food served by friendly and efficient staff in a clean and inviting environment. The menu has a wide variety of selections at affordable prices, making it a highly recommended spot for Thai cuisine lovers. 
The coconut ice cream is a standout, not too sweet and perfect for dessert. The butter chicken with rice is also delicious, not too spicy or oily. The Spicy Glass Noodle Seafood was enjoyable, but I asked for it to be less spicy to suit my taste. Nevertheless, it was still a nice dish.
This Thai food PJ restaurant truly stands out for its authentic Thai food. Whether it's lunch or dinner, you can enjoy your meal with long tables for safety during the pandemic. 
The restaurant provides free parking for diners, and you can even make table reservations in advance or order online for takeaways. Don't miss out on trying their crispy chicken skin, moo ping, pork neck, and Thai milk tea, as they are absolutely delightful.
Located in a corner lot away from the hustle and bustle of SS2, AROI Mak Mak Thai Restaurant has a nicely dressed-up ambiance that feels clean, warm, and inviting. The Thai food PJ restaurant can accommodate about 50 people, but due to current SOPs, they allow a maximum of 30 people inside at any one time. However, the food is the real star here – it is simply bloody delicious! 
From the piping hot dishes to the well-executed Thai classics like Tom Yum, Pandan Fried Chicken, and Pad Thai, you can taste the finesse in every bite. While the prices are reasonable, some dishes could be a bit more affordable. 
Luckily, the set lunches offer a great way to try their popular dishes at a better value, as they come bundled with a drink and dessert. Overall, AROI Mak Mak Thai Restaurant is a gem that deserves a visit for any Thai food enthusiast.
Website: https://www.facebook.com/aroimakmakpj 
Address: 1, Jalan 17/45, Seksyen 17, 46400 Petaling Jaya, Selangor
3. Frame Thai
We've been frequenting Frame Thai for years, and it's surprising that this is the first time I'm writing a review. It's a place run by friendly Thai folks, and I must say, it's one of the very few Thai food PJ spots where you can find truly flavourful Thai food. 
Their kha-nom (desserts) are also delightful additions to the menu. Although my friend isn't a fan of their Pad Thai, I can't complain. They adjusted the spiciness to our liking even though we ordered in Thai. Overall, it's a must-try restaurant for me.
Frame Thai offers an authentic Thai dining experience that goes beyond the ordinary Malaysian Thai food. They prepare some dishes with unique Thai herbs, giving us a taste of Bangkok's vibrant street food scene.
Tucked away in Happy Mansion, the restaurant cleverly disguises itself as a grocery store, but inside, you'll find a hidden gem. The grilled pork, a must-try appetizer, is complemented perfectly by their mellow-sweet chili sauce. With each dip, the spiciness gradually builds up, leaving a delightful burst of flavors in your mouth. 
The Pad Thai was a bit too sweet for my liking, but what stood out was their Tom Yum Nam Sai. This clear soup awakened my taste buds to a whole new world of taste. Its sourness was perfectly balanced, and the addition of basil leaves added another layer of aromatic goodness to the dish. Although it might look unassuming, don't judge it too soon; the flavors will surprise you. I highly recommend trying this soup. 
No matter how many meat dishes you order, this Tom Yum will wash away any heaviness, leaving you craving for the next delectable bite. While Tom Yum with coconut milk is a usual go-to, their version without it avoids the greasiness and creaminess that might bore you after a while.
Website: https://www.facebook.com/profile.php?id=100064318111107 
Address: AG-3, Ground Floor,Block A, Happy Mansion, Jaya,, Jalan 17/13, Seksyen 17, 46400 Petaling Jaya, Selangor
4. STREAT Thai
At STREAT Thai, we ordered the Red Ruby dessert, and it was a delightful treat with the water chestnut inside being super crunchy, earning it a 10/10 rating. The Stir-fried Chicken with garlic sauce was a perfect match with sticky rice, and its crispiness and tenderness earned it another 10/10. 
Similarly, the Fried Chicken Chop Rice was incredibly crispy and tender, receiving another perfect score. However, the Belacan Kangkung was rated 8/10 as it didn't stand out as something exceptional.
On our revisit, we were pleased to find that the food and drinks were still excellent, served in generous portions, and at reasonable prices. The service remained fast and efficient, making the dining experience enjoyable.
Among the dishes we tried were the Chicken with Cashew Nuts, Thai Fried Chicken, and Thai Papaya Salad with Salted Eggs. The flavors of the Thai street food transported us to the bustling streets of Thailand, adding to the authenticity of the meal.
The Thai food PJ restaurant provided a relaxing environment, and during our visit, it was fairly quiet, likely due to off-peak hours. The spacious seating arrangement and the shade from trees made the atmosphere comfortable. The premises were clean and well-maintained, adding to the overall pleasant experience.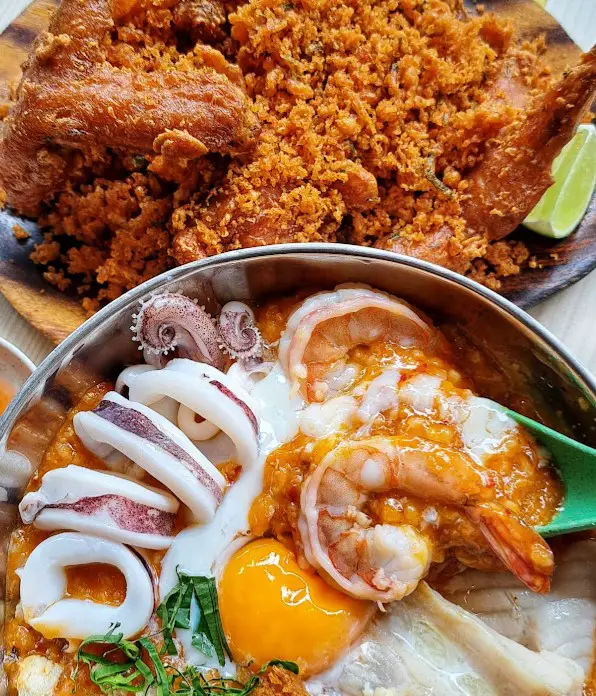 STREAT Thai is a fantastic open-air foodie spot offering delectable Thai cuisine, reminiscent of the taste back in Bangkok. The staff were friendly and polite, providing excellent service. It's a great place to hang out and chill while enjoying authentic and flavorful Thai dishes.
Website: http://www.eatatstreat.com/ 
Address: 100-G.001 Jaya One No. 72A Jalan Prof Diraja, Jln Profesor Diraja Ungku Aziz, Seksyen 13, 46200 Petaling Jaya, Selangor
5. Jatujak Bangkok Street Food
At Jatujak Bangkok Street Food, we had an authentic Thai dining experience. The red seafood Tom Yam stood out with its perfect balance of sourness and spiciness. The sour steam fish was a hit among all tables, and we loved it too. The chicken green curry impressed us with its generous portion and reasonable price. 
Overall, every dish we ordered was delicious, and we look forward to returning soon. It's worth noting that the place can get crowded, so we recommend making an early reservation to secure a table.
The food was simply amazing, and the fact that it's pet-friendly made it even better as I brought my furry friend along. Despite the crowd, the service remained top-notch, making it a very satisfying meal with my family.
In the Ara Damansara area, Jatujak is undoubtedly the go-to Thai food PJ place for authentic Thai street food. Since my first visit, I've been hooked, and I even brought my family here. The recent renovation has given the place a modern and refreshed look.
The blanched cockles were a delightful treat, perfectly complemented by the green chili sauce. The Tom Yam Goong had a vibrant color and a well-balanced blend of spiciness, sourness, and saltiness. The Khao Kha Moo Rice with its tender chopped pork trotter was simply delicious. To me, som tam is only authentic with salted egg, and their version didn't disappoint. The mango sticky rice was a hit with the kids, who even ordered a second helping.
Keep in mind that on weekends, there might be a queue for tables during peak hours, so plan accordingly to enjoy this fantastic Thai street food experience.
Website: https://www.facebook.com/jatujakbkkstreetfood/  
Address: B-G, 31, Jalan PJU 1a/3j, Ara Damansara, 47301 Petaling Jaya, Selangor
6. Pim's & the Rama
At Pim's & the Rama, we started with the Thai Basil Pork Rice, and it was a burst of flavors – sweet, salty, and spicy all at once, making it irresistible. The Pad Thai was good, though it could have been better with a squeeze of lime and slightly softer noodles. Nevertheless, it still tasted like authentic Thai style with a hint of sambal tumis. The Prawn Cake, or Donut as they call it, was a highlight – the batter was super crunchy, and the prawn meat inside was succulent. Definitely my favorite!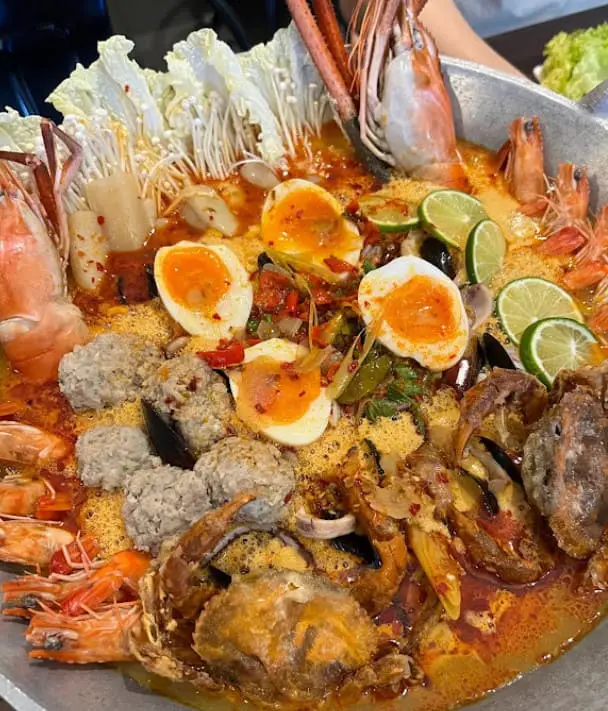 Overall, this Thai food PJ restaurant is worth a visit, and it won't break the bank either. It offers an interesting variety of drinks if you're into that. The Pad Thai was a standout with its delightful crunch from peanuts and spicy pepper flakes. The Prawn Donut was savory and crispy, adding to the fantastic dining experience.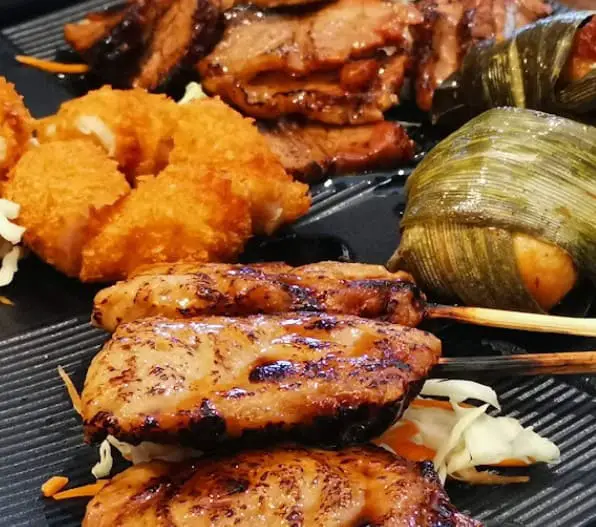 The ambiance of this Thai food PJ eatery is enjoyable, and the staff, especially Miss Bee and her team, provided wonderful service with promptness. The portions are generous, making it a great place to chill and enjoy some fresh beer and liquor. I've been here multiple times and will continue to come back for their quality and delicious Thai cuisine.
The grilled pork neck, steamed fish with lime, green curry, prawn cake, mooping, deep-fried pork, and tomyum are some of the dishes that I absolutely love. The Thai food PJ restaurant offers a great hangout spot with friends, and the drinks selection is impressive too. The only downside is the parking situation due to nearby public transport construction, but it's definitely worth overcoming that for the fantastic food and dining experience at Pim's & the Rama.
Website: https://pimsramathai.business.site/  
Address: 22, Jalan PJU 1/43, Aman Suria, 47301 Petaling Jaya, Selangor
7. Tommy Thongchai
At Tommy Thongchai, an urban Bangkok cafe, we enjoyed a delightful array of Thai classic dishes and fusion favorites. The Pork Trotter Rice, Pad Kee Mao, and Pork Rib Tom Yum Soup were all flavorsome choices. Additionally, we savored their fusion delights like Thongchai Nachos, Chiang Mai Chili Dog, and Pork Tonkatsu Rice. It was a perfect place to eat, drink, chill, and celebrate.
Arriving on a weekend, we discovered that many dishes were sold out by 7.30pm, so we made a mental note to come earlier next time to try their best offerings. Today, we relished the Seafood Toyama Noodle and Grilled Pork, accompanied by milk tea and lemongrass tea, which were super duper yummy. Though some burgers and the grilled chicken chop were already sold out, we still had a fantastic dining experience.
The Thai food PJ cafe offered a comfortable environment for our meal, and we decided to share the meat platter among four people, which was just right to fill our tummies. The Coconut Ice Cream and Mango with Glutinous Rice dessert was a delightful treat to end the meal.
We couldn't resist trying the "nachos," which turned out to be fried wanton skin, but they were surprisingly delicious and crunchy—a sinful yet perfect appetizer. The must-try dish was the Pork Trotter, which left us thoroughly impressed.
For starters, we ordered the Moo Ping, and the sauce paired perfectly with the tender meat. Following a friend's recommendation, we tried the Chiang Mai Fried Rice, which was an explosion of unique flavors and taste that we hadn't encountered elsewhere. The generous portion of meat made it even more satisfying.
We appreciated the small charge of RM1 for water, and the convenience of a physical menu, with the staff taking our orders at the table. They also accepted credit card payment, which was convenient.
Overall, we fell in love with Tommy Thongchai's incredible Thai food PJ. The Chilli Dog and Seafood Tom Yum Noodles were standouts, and we're looking forward to returning to try more of their enticing offerings.
Website: https://www.instagram.com/tommythongchai/ 
Address: The Square, G.005, Jaya One, 46200 Petaling Jaya, Selangor
8. Thai Street Food @ Mayang Oasis Food court
I absolutely adore Thai Street Food @ Mayang Oasis Food court and believe places like this deserve more love and support from foodies like me. Every time I dine here, it feels like I'm transported to the streets of Bangkok. 
The mom & son team behind this Thai hawker stall truly brings out the authentic flavors in their dishes, and the best part is the super reasonable prices. For just RM40, I can enjoy all styles of fish, ala-carte—it's truly a fantastic deal. They even offer Mookata, which is a delightful bonus.
When visiting, I always try to come early and be considerate of the limited table space, as it's a hawker food court meant for smaller groups. Nevertheless, the Thai Street food stall provides quick service without compromising on authentic Thai flavors. I highly recommend it!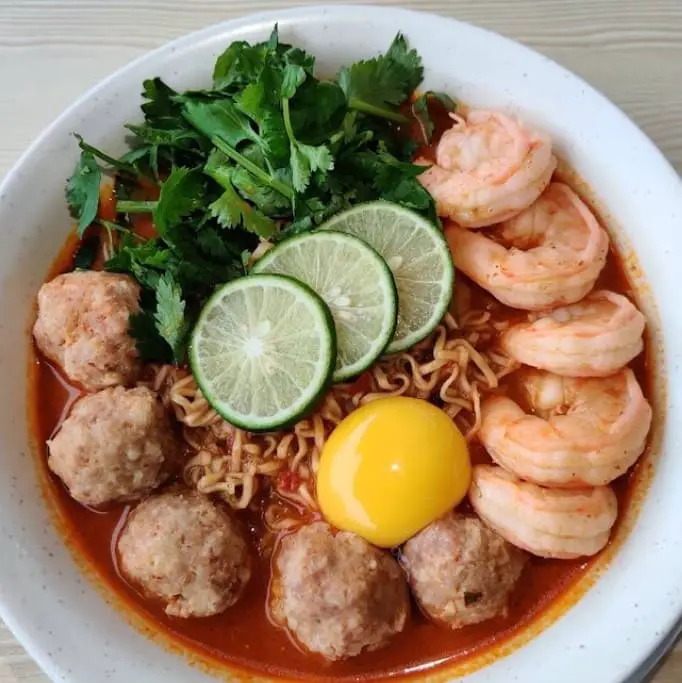 In my personal opinion, the Thai food PJ served here stands out as one of the best in terms of taste and value for money. I particularly love their grilled pork skewers, which have the perfect balance of sweetness and spice. The tender and moist meat is enriched with delightful spices, making it an absolute treat.
The Miang Pla Pao, with its crispy fried fish, is also a highlight, and the stir-fried broccoli and cauliflower retain their satisfying crunch. When I'm craving spice, their super spicy yellow curry and tantalizing tomyam are my go-to choices, and I can't get enough of their speciality— the all drinks! Personally, I find their spicy fried rice to be absolutely superb!
The variety of Thai street food here is impressive, and I hope they bring back the khao soi dish. One thing's for sure—the mama noodles they serve are amazing, and the portions are generous, which makes the dining experience even more enjoyable.
Website: https://www.facebook.com/stall23thaistreetfood/ 
Address: Stall 22-23, 98, Jalan SS 26/9, Taman Mayang Jaya, 47301 Petaling Jaya, Selangor
9. Eat Drink Thai @ Kota Damansara
Eat Drink Thai is a hidden gem with very good and affordable Thai food that will surely keep you coming back for more. Their fried fish and omelette are must-order dishes, offering delightful flavors and satisfying portions. While most of their dishes impress, the mango salad was the only one that disappointed. 
The Thai food PJ restaurant's unassuming ambiance adds to its charm, and the straightforward menu highlights their specialities. I absolutely loved the Thai omelette, which was flawlessly fluffy and crispy—a true standout. The tom yam seafood pot was also flavorful with the perfect balance of sourness. Service was quick and efficient, making the dining experience enjoyable.
The green Thai curry is a star dish, boasting an amazing combination of mild milky coconut and well-balanced spices, making it one of the best in KL at just RM15. It's generously packed with vegetables and meat, enough to satisfy two people. The fried omelette, priced at RM5 for a two-person portion, was also a delightful treat. Their Thai milk tea stood out for its perfect level of sweetness and well-balanced tea aroma.
Be sure to try the fried omelette, which is a must-try, and enjoy the fresh and crunchy fried morning glory. The seafood tom yum is quite good, and with affordable prices, it's a great place for a delicious and budget-friendly meal.
The set lunch at RM6.90 and the seafood pot for sharing are excellent options. The restaurant's clean and modern environment, coupled with Thai cooks and good service, make it a fantastic dining choice.
Website: https://www.facebook.com/eatdrinkthai 
Address: 9, Jalan PJU 5/9, Kota Damansara, 47810 Petaling Jaya, Selangor
10. Sukhumvit Two Restaurant
At Sukhumvit Two Restaurant, we were impressed by the cleanliness and the friendly staff. The food was undeniably delicious, and they offered a wide range of choices to satisfy our cravings. We also discovered some special dishes on the menu that intrigued us. We highly recommend coming to this Thai food PJ restaurant, especially for families with kids, as the ambiance was very comfortable.
If you're on the lookout for traditional and cost-effective Thai food PJ in town, this place is a must-visit. We found the taste of the dishes to be truly authentic Thai, and even with a crowd, the service was surprisingly quick.
During our visit, we decided to try their shell out, and it turned out to be an excellent choice. The shell out was not only delicious but also served promptly. It's available from the evening onwards, and we opted for the one for 2 pax, which only cost RM38 and was absolutely delightful. However, we found that their goreng2 cuisine was just average and slightly pricey, so we suggest going for the shell out for a more satisfying experience.
For those who love tomyam, this is the best Thai food PJ place to enjoy a delicious dinner with your family. The tomyam here is exceptionally flavorful and beats other Thai tomyams we've tried in KL. It's so good that it could rival the ones in Kelantan!
Lastly, we couldn't resist trying their mango sticky rice, and we were not disappointed. It was truly one of the best mango sticky rice dishes we've ever had.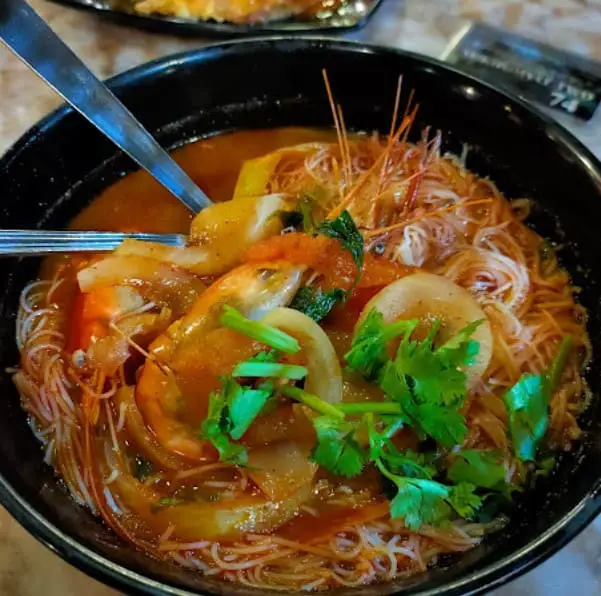 The authentic taste of real Thai food made our dining experience at Sukhumvit Two Restaurant memorable. However, it's worth noting that dinner time can get a bit tricky due to the large number of people queuing, and finding parking can be a real challenge. To avoid this, we recommend using ride-hailing services like Uber or Grab to make your visit more convenient and enjoyable.
Website: https://www.facebook.com/profile.php?id=100057362772876 
Address: 15, Jalan 12, Taman Dato Harun, 46000 Petaling Jaya, Selangor
11. Kompassion
Kompassion is truly a gem when it comes to Thai fusion food. Usually, I'm not a fan of fusion restaurants, but they have mastered the art of blending Thai elements with other flavors so well. The authenticity of Thai taste in their dishes is incredibly impressive, and the flavors they manage to create are outstanding.
During our visit, we ordered a variety of dishes from the menu and enjoyed most of them. What's remarkable is that not only were the savory dishes delicious, but the desserts were also exceptional. The Thai food PJ restaurant is quite spacious, but finding a spot during peak meal times can be a challenge due to its popularity. Additionally, parking can be a bit of a nightmare.
However, all the inconveniences are definitely worth it if you're a fan of Thai food. Kompassion offers a creative and flavorful dining experience that is worth a visit! The staff is attentive, and the food from appetizers to desserts was exceptional. The ambience and good vibes of the place add to the overall experience.
Make sure not to miss out on their Pork Belly Curry, which is at the top of the chef's recommended list. The Jay Fai style crab meat Omelette is also a must-try and truly satisfying. Their Thai Milk tea has a unique smooth texture and is not overly sweet, making it a delightful drink.
Every dish we tried was worth it, but if I were to pick my top three favorites, they would be the duck, the squid, and the soup. We were thoroughly impressed with everything – the food, service, ambiance, and cleanliness. Despite the crowd, the kitchen and front-of-house staff managed to serve flawlessly. We've been raving about this place to everyone who wants to experience fantastic Thai food. We'll definitely be coming back for more!
Website: https://www.facebook.com/KomPassion.Thai/
Address: 5, Jalan SS 20/11, Damansara Kim, 47400 Petaling Jaya, Selangor
12. Restoran Thai Nyonya BBQ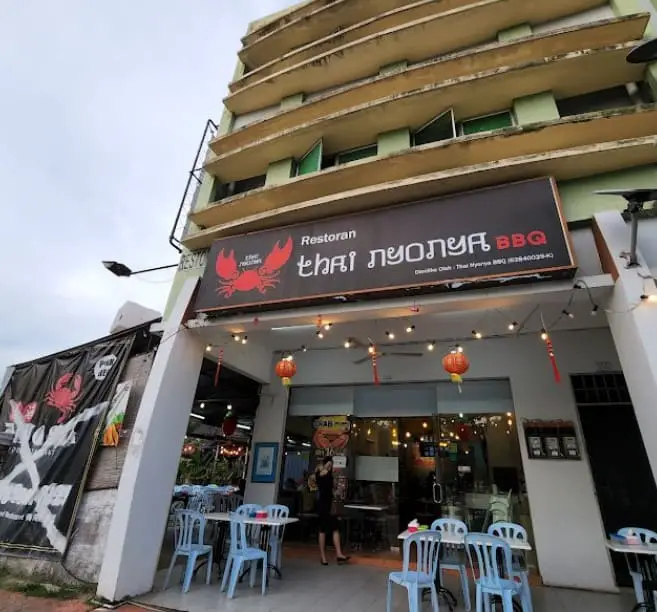 Restoran Thai Nyonya BBQ has become my go-to place for dinner, especially when I'm with my partner. The food is simply delicious! The Bangkok Chicken, though spicy, is incredibly flavorful. The portion sizes are reasonable, and it's a great spot for casual dinners with friends or loved ones. 
If you haven't tried it yet, you definitely should! I've been a regular patron of this restaurant since their old location, and I love their set menus and lunch offerings. The prices are fair for the quality of Thai food they serve. It's also Muslim-friendly, with Muslim customers often dining here. The staff, including the lady boss, are friendly and responsive. The authentic Thai flavors transport me to Thailand.
The Thai Nyonya food here is top-notch. I particularly enjoyed the prawn and mud crab dishes. Their nasi goreng is also fantastic. It's a must-try for anyone who loves good food. The restaurant is conveniently located, easy to find, and has ample parking for evening dining. However, lunchtime can be a bit crowded due to nearby offices and shops.
The Thai food PJ restaurant has a comfortable seating area inside and an open-air section where you can see the BBQ items being grilled. The menu offers a variety of dishes, with set dinners being a popular choice due to their reasonable prices. The crab special (3 for RM50) is also a big hit.
The food here is above average, with generous portions and delicious flavors. Their Thai classics like Tom Yam, green curry, pad kra pao, egg omelettes, and pad thai are excellent. Other dishes are worth exploring too.
The staff mostly speak Thai, with some Mandarin speakers as well. While communication might be a bit slower, they are generally helpful. I've had dinner here twice, and both times, I left satisfied with the experience. The consistency might vary between lunch and dinner, but so far, my dinner experiences have been consistently delightful.
Website: https://www.facebook.com/thainyonya2u 
Address: 2, Jalan PJU 1a/1, Ara Damansara, 47301 Petaling Jaya, Selangor
13. Thai Syok
Thai Syok is a casual and friendly restaurant that offers authentic Southern Thai cuisine at an affordable price, with the added benefit of 0% SST. They are dedicated to preserving the original taste of Thailand, ensuring that every dish is prepared by their experienced Thai Head Chef using ingredients imported directly from Thailand. 
We opted for the set lunch, which came with 7 portions of rice and 7 dishes, and added an ala carte dish. The bill was RM160+, and considering the generous portions and variety of dishes, it was undoubtedly a reasonable price. The fish was fresh, and all the food tasted delicious. The service was prompt, and we didn't have to wait long for our food to be served.
One of the highlights was the steam lemon fish, which was the best we've had so far. Their tomyam and green curry were equally impressive. We also tried the BBQ pork on a stick with potato leaf vegetables, and it was worth every penny. For a meal like that, the price felt justified. We paid around RM30-40 per person for all of us. 
The lunch set for two people included Thai-style steam ikan siakap, stir-fried sweet potato leaves, and deep-fried squids—all dishes were delicious with an authentic Thai taste. The portions were generous, and the prices were reasonable. 
The Thai food PJ restaurant offers both indoor and outdoor seating, with friendly and efficient staff. Despite it being lunchtime, finding ample parking was not an issue. We'll definitely be back for more of their delicious Thai food.
Overall, Thai Syok offers a great dining experience with its excellent location, tasty food, and attentive service. Their prices are moderate, and the food tends to have a sweet flavor (which can be adjusted upon request). We had a pleasant time at this Thai food PJ restaurant and would highly recommend it to anyone craving authentic Thai cuisine.
Website: https://www.thaisyok.com/ 
Address: 15, Jalan PJS 8/18, Bandar Sunway, 46150 Petaling Jaya, Selangor
14. Siam Eatery House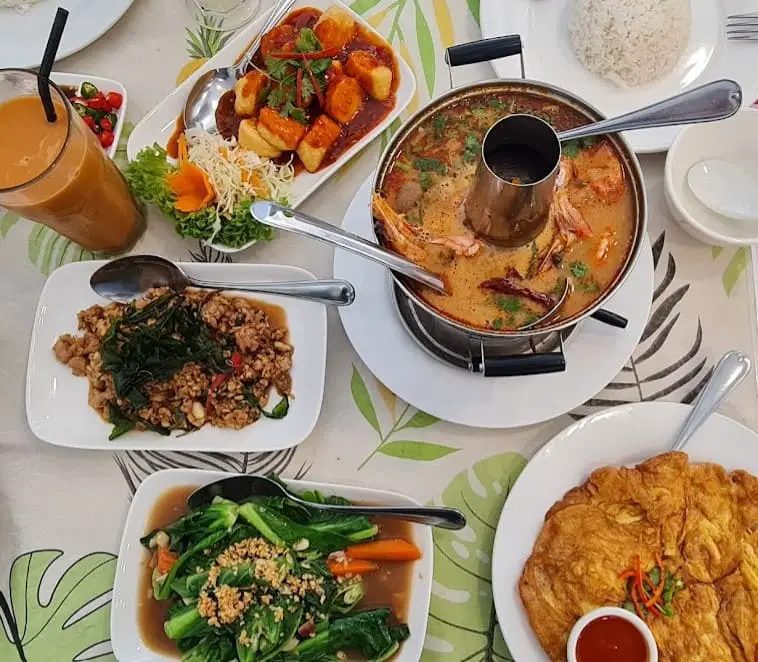 Siam Eatery House is a hidden gem in Kota Damansara, and I must say, it's one of the best places I've found in the Klang Valley for authentic and delicious Thai food. The interior may be simple, but don't let that fool you—the flavors in their dishes are incredible. 
Despite the seemingly small portion sizes, the dishes are surprisingly filling. In fact, one rice portion can easily satisfy two people. The best part is that the prices are affordable, and the servers are friendly and attentive. I stumbled upon this gem by accident once, and I've already been back three times. It's rare to find such good Thai food in Selangor that doesn't break the bank but still delivers on taste.
During my visits, I tried the Cashew Nut & Dried Chillies Beef, which was decent but nothing too impressive—somewhat similar to Chinese cuisine. The Thai milk tea was as expected, which is a good thing. However, the real showstopper was the Mango Sticky Rice. 
I can confidently say that it's the best Thai food PJ I've had in town. The rice was soft and warm, complementing the rich coconut milk sauce perfectly. The mango was incredibly fragrant and not overly sweet, making for a delicious dessert.
I'm already looking forward to my next visit to Siam Eatery House. I plan to try their tomyam and mamamee next time, and of course, I'll be ordering the mango sticky rice again. Some of my favorites from their menu include the Thai fried rice, green curry, mango sticky rice, and pineapple fried rice. 
Oh, and if you're looking for a refreshing drink, do give their Muay Thai Punch a try. The whole experience feels comforting, like being at home, and the friendly service only adds to the overall enjoyment of dining here.
Website: https://www.facebook.com/siameateryhouse/menu  
Address: 28-01, Jalan PJU 5/10 Dataran Sunway, Kota Damansara, 47810 Petaling Jaya, Selangor
15. SOI 55 THAI KITCHEN
SOI 55 Thai Kitchen has become one of my favorite Thai restaurants because almost every dish they serve is delicious! They offer a set menu that includes Large Tom Yum, Pandan Chicken, and Stir-Fried Vegetables, and the prices are quite reasonable. I particularly enjoyed their Pineapple Fried Rice—it's simply delightful!
The staff at SOI 55 Thai Kitchen are friendly and welcoming. Their Tom Yum is an absolute standout; it's spicy and bursting with flavors. I feel fortunate to have this restaurant just a few minutes away from my home. The food here is stunning, and I must mention how much I loved their Ayam Pandan and the refreshing Lemongrass Juice. They also offer a wide selection of fish dishes, which is great.
During my visit, I tried their Tom Yum, and I found it to be spicy and full of flavor. The staff was kind enough to accommodate my preference for extra lime. It's worth noting that their Tom Yum doesn't have any milk or cream in it, which is a plus for me.
The Prawn Omelette was another highlight. It was crispy, and the prawns inside were juicy, making it a treat for those who enjoy crispy fried food.
One dish that didn't impress me as much was the Kangkung Belacan. The vegetable was a bit tough and left me feeling underwhelmed.
For dessert, I tried the Mango Sticky Rice. While the coconut cream was balanced in sweetness and saltiness, the consistency could have been a bit thicker. Nonetheless, the mango was sweet and fresh, and overall, it was a decent rendition of this classic Thai dessert.
The Thai food PJ restaurant's environment is pleasant, and the staff were polite and helpful. Even without air conditioning, the place felt airy and comfortable. As you step in, the smell of lemongrass welcomes you. While the prices can be on the higher side, they do offer a lunch menu with more affordable options ranging from RM15 to RM25. Overall, I enjoyed my experience at SOI 55 Thai Kitchen and will certainly be back for more of their delightful dishes.
Website: https://www.soi55.my/ 
Address: B-01 Block B Casa Tropicana 5 Jalan Persiaran Tropicana TGCR, PJU 3, 47410 Petaling Jaya, Selangor
Thai food in PJ offers a delightful and authentic culinary journey that I thoroughly enjoy. With a wide array of Thai food PJ restaurants to choose from, I have had the pleasure of savoring various dishes that showcase the rich flavors and unique combinations of Thai cuisine. From the aromatic and spicy Tom Yum to the flavorful Pad Thai and mouth watering Mango Sticky Rice, each dish has left a lasting impression on my taste buds. 
The warmth and hospitality of the Thai restaurants in PJ, coupled with the expertly prepared dishes, make dining experiences truly memorable. Whether it's indulging in traditional street food or savoring the fusion delights, the Thai food scene in PJ continues to impress, making it a go-to destination for my cravings and culinary adventures.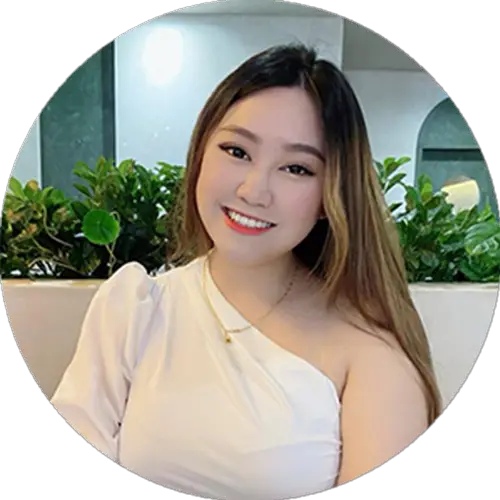 Valerie, Food Blogger In Malaysia
Valerie Seow, a prominent Malaysian blogger, has earned a well-deserved reputation as a reliable explorer of cafes in Petaling Jaya (PJ).
With an insatiable passion for food and a keen eye for detail, Valerie has taken the local cafe scene by storm. Her engaging blog posts showcase not only her impeccable taste in coffee and delectable treats but also her knack for uncovering hidden gems in the bustling city of PJ. 
Through her vivid descriptions and captivating photography, Valerie manages to transport her readers into the cozy ambiance of each cafe she visits. As a trusted source for cafe enthusiasts, her recommendations have become a go-to guide for those seeking delightful culinary experiences in PJ.