What If It Rains At Universal Studios Singapore?
Universal Studios is one of the greatest award winning attractions in Singapore. It tops as one of the places to go when visiting this country. With tons of indoor and outdoor rides, this place is packed with amazing attractions for both young and adults. But, what if it rains at Universal Studios Singapore? 
If it rains in Universal Studios Singapore, don't worry. It is still open. There's a lot of shelter built around the area outside the gate of this amusement park. The stretch from the entry point to the Transformers ride is also sheltered as well. So, you can hangout in the diner or enjoy the frontal amusement park here while waiting for the rain to stop. 
What to do if it rains at Universal Studios Singapore? 
You've traveled all the way here and it rains. Is this the end? Worry not. There's actually a lot of other things that you can partake in while waiting for the rain to stop. The amusement park is also sheltered at some frontal parts of the whole park. This is a pretty smart design. Keep the customers entertained for a while and keep the more exciting outdoor rides at the back. 
Anyway, here's some activities to do if it rains at Universal Studios Singapore. 
1. Checkout Their Souvenir Shops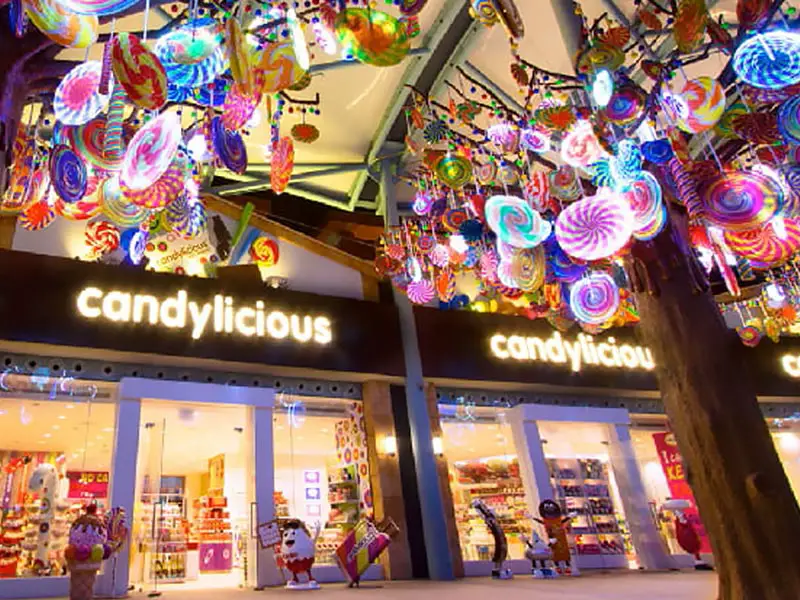 Just right outside the gate of Universal Studios Singapore, there's some stores that are worth checking out. The Lego store itself is like a museum not just for kids but adults as well. There's sculptures made with Lego. Literally! 
A whole amusement park is constructed with Lego bricks and it even has an underwater level! It's just so cool to watch. Because dinosaurs were a thing at the time we visited, Jurassic Park Dominion was just released in the theaters, they have a giant Lego of Blue all built up! It's pretty amazing. 
On the side of the wall, there's a painting made with Lego as well. You can imagine it as how people do it with rubik's cube, but this one with Lego bricks. 
Inside the park also houses a few souvenir shops. At the point where we visited, they had their Minion attraction rolled out so most stores sell their merchandise. They also sell merchs for Hello Kitty, Sesame Street, How To Train A Dragon and more! 
Tip: If you plan to get souvenirs, get them early and put them in the locker. Because, these places will be super crowded near the closing time!  
Don't forget to hit their food truck along the street! These food booths are nicely decorated and they serve yummy foods like popcorn too. 
There's also a Candylicious somewhere outside. It's near the area with a lot of food that also leads to the cable car to get to the casino. It's more of a place for parents with their kids. Hey, not judging if you want to walk down the memory lane and be a kid again.
2. Take A Light Meal In The Restaurants Outside
USS has a few eateries inside and outside the gate. The most attractive ones are located inside the gate. Duh. They have a retro designed eatery with all the neon lights. Just a good vibe to kick you back into the 1930's. There's also another themed cafe where you can get Instagram-worthy foods. 
They also have food courts that serve local food. You can pretty much taste Malaysian food as well without going to the country. Walk around. Order this and that to share. It's an exploration for the mouth in there!  
Right down the escalator on the signboard that says "Casino" will lead you to a stretch of restaurants. There are quite a lot of reputable franchises here. Like you guessed it, McDonald's is on the list. From fast food to eastern dishes, it's all about picking what your tummy feels like eating at that point of time. 
When I visited here, we had to wait for the USS to open at 12.00 pm. It would be great if they update their Google opening hours considering that most of the visitors will be checking that first. 
Cleaning robots is a huge thing here in Singapore. From MRT to even Universal Studios Singapore. We saw one huge cleaning robot slightly bigger than the shape of a washing machine diligently beeping and mopping the floor at a distance. 
Everyone was staring at it. It is quite well designed too. I saw some people try to take photos with it but it kept moving. Even a cleaning robot becomes part of the attraction. Pretty cool. 
They also placed giant fans pointing towards the seating area. We sat there for a while to conserve our strength. Because once that gate opens, we're running in and overtake all those children to grab ourselves a seat!  
Clock strikes 11 and we went to fill our tummy with food at a food area called Malaysian Street Food. Maybe I got that name wrong. Anyway, it serves Malaysian food from almost all the states. We got nasi lemak and Singapore laksa. It even has the recommended icon on it. So, it's a must-try. 
3. Have A Look at S.E.A. Aquarium 
Just a stone's throw away, the S.E.A. Aquarium holds one of the most fascinating underwater sights that you've ever set your eyes upon. They have long and tall stretches of glass window that gives you a wide view of the sea creature in their tank. 
Priced at about SGD 30 ish for both kids and adults, it's certainly one of the greater attractions nearby while waiting for the rain to stop. 
The best part is that they open around 9 am. So it's the perfect place to hangout and be amazed while waiting for the USS to open. Do note that they do have shows in the aquarium. Not sure of the timing. This is perhaps a better attraction to go for when you have a full day with you. Just to squeeze your money's worth. 
4. Take Photos Around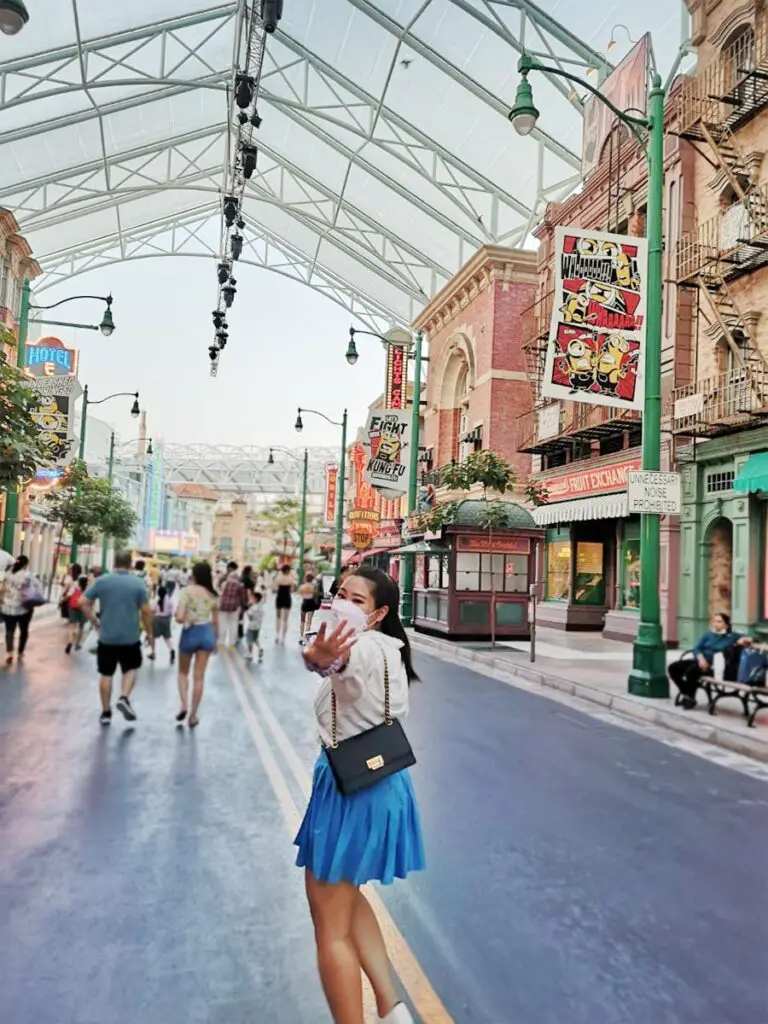 The street in front of the Spaghetti Space Chase is quite sheltered with a sunroof. There's a lot of architectural designs around the area that you don't get to see elsewhere. And no, you can't exactly go into some of them. At some point, it felt like I'm in GTA. Yes, Grand Theft Auto the game. You can't go into most of the buildings. 
But hey, they do make nice backgrounds for photos! These exterior design wraps around the entire building so well that you won't even think that it's actually just one building that houses the attraction you're walking into. 
At some point of the street you will see the statues of iconic characters such as minions and Sesame Streets. Don't forget to keep an eye out. See if you can take photos with each and everyone of them! 
5. Go for Spaghetti Space Chase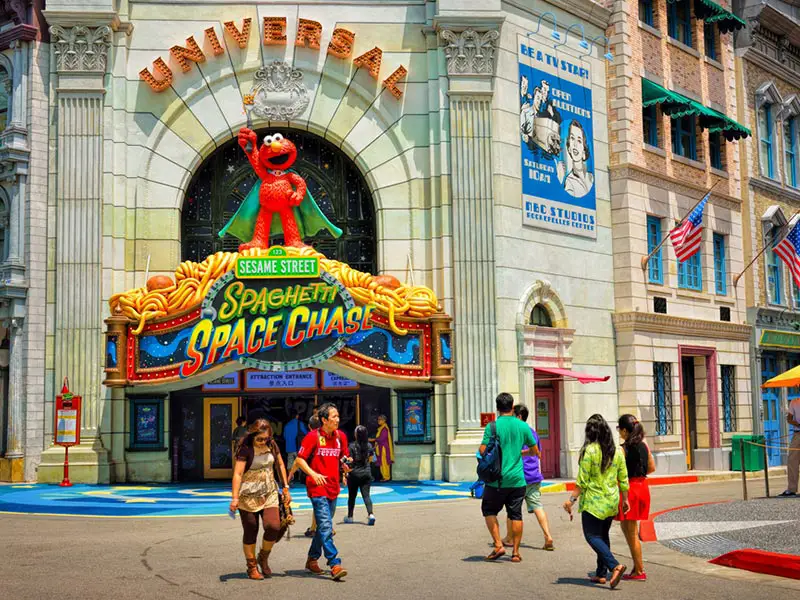 This is one of the earlier rides that you will encounter. When it rains, just hop in. It'll work better if you have the express ticket and skip the queue. Otherwise, you still need to wait somewhere because the entrance of this ride is not sheltered. 
Right at the entrance you can see the giant Elmo standing and ready to greet you into his ride. You can pretty much guess it's geared towards the children audience. So, let the inner child out. Enjoy the ride. 
6. Go For The Cinema Hall 
So what if it rains at Universal Studios Singapore? Rewind the memory of the movies that you watched with your parents as a kid. Go to the Cinema Hall! Okay, I'm not sure what this attraction is called but there's a lot of movie posters involved. This is yet another attraction that is at the front of the entire USS route. It's not really a cinema. Right outside, you can see a lot of movie posters that probably remind you of your childhood.
Well, at least it did for me. It's quite hard to guess what's in store. To me, not knowing what you're getting into is one of the thrills that make the entire experience exciting and fun! So, no spoilers here. Go find out for yourself! 
7. Go For Transformers Ride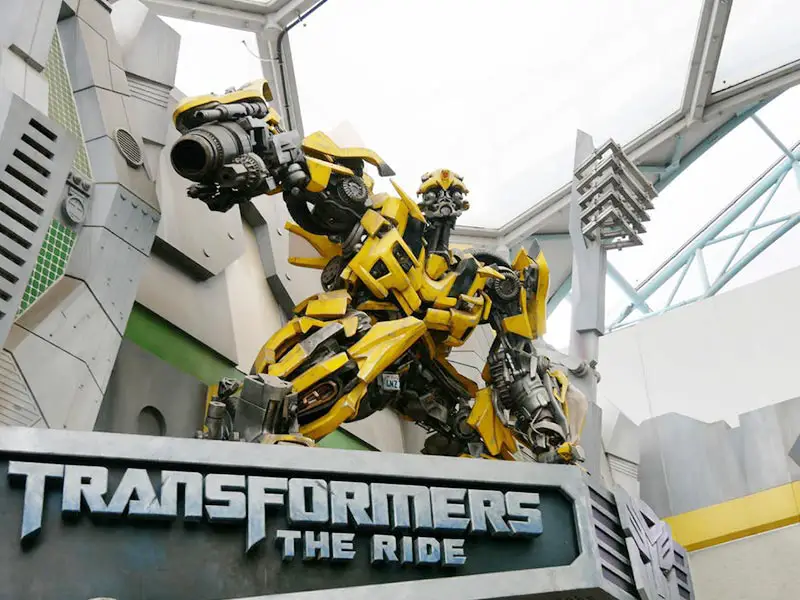 The Transformers Ride is epic and tops one of the best spots of rides in the whole Universal Studios Singapore. It's a 3D non-stop action surreal non-stop screaming ride that will make you thrilled for more!
Alright! So, what if it rains at Universal Studios Singapore? Try these things out! You can still enjoy the little moments scattered around comfortably without getting wet from the rain. With my understanding of Singapore weather, even if it rains heavily, it will slow down to a stop quite quickly. If you don't mind the hassle of putting things into the locker in and out, bring an umbrella along! Or better yet, bring a bag along with other essential things to bring to the USS.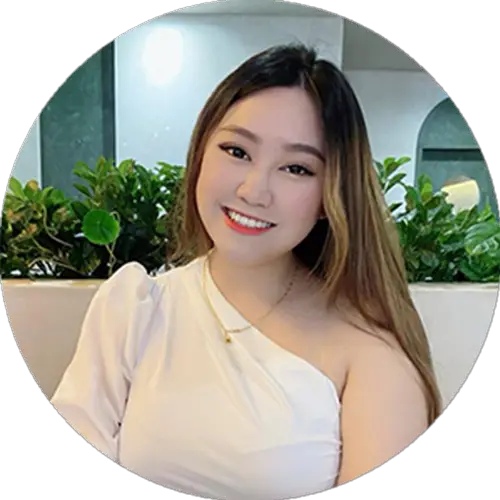 Valerie, Malaysia Travel Blogger
Valerie is a Malaysia blogger that is adventurous and love to explore nice places. This has helped polish her luggage packing skills to an expert level. Drop by to catch some nice travel spots that she recommends!
Follow her @valerie.seow on Instagram.